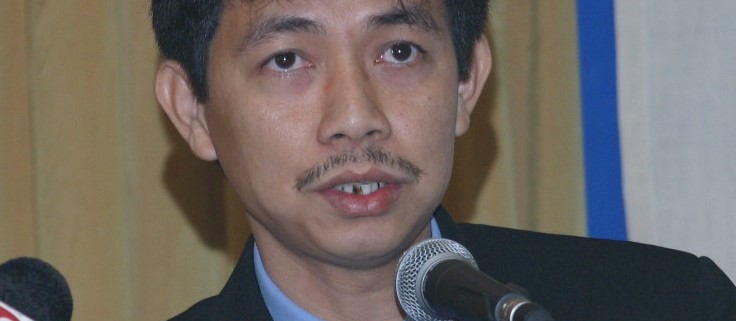 Tran Huynh Duy Thuc, from the Edge of Death
In 2010, tech entrepreneur and democracy activist Tran Huynh Duy Thuc was convicted by a Hanoi court for "activities aimed at subverting the administration," according to Article 79 of the 1999 Criminal Code. He was sentenced to 16 years in prison followed by five years of house arrest — one of the most severe punishments ever handed down against a Vietnamese dissident.
In 2015 a new Criminal Code was passed which superseded the 1999 law. According to the new Code, the maximum prison sentence for the type of activities Thuc was accused of is only five years. The new Code was supposed to go into effect in 2017, pending amendments and changes. In July 2018, Thuc wrote a letter to the People's Supreme Court to request a review of his sentence, which by law should result in his release:
"By applying the new Code to my case, the Court will bring not only justice to my situation but also many benefits to our country, not least of which is better relations with other nations. At the same time, the Court's action will help shore up our citizens' trust in the rule of law and reaffirm the new Code's stated goal of 'respect for different points of view which do not subvert the common good.'"
His letter was never answered. And so for the past three years, Thuc has carried out several hunger strikes to demand that the Court hear his appeal — all to no avail.
In December of 2020, Thuc launched what he called a "hunger strike to the death" which lasted for 70 days, but still ended without any resolution. Barely two weeks after that, in April of this year, Thuc began another hunger strike that is still ongoing. After six weeks not hearing any news from him, on July 30 his family finally received a call from a clearly weakened Thuc, telling them that he was coming back "from the edge of Death."
Speaking to his daughters, Thuc said he didn't know how much he weighed, but he was essentially "all bones" and certainly less than the 55kg he reported the last time they talked. He said he refused to let prison health workers examine him, and he measured his blood pressure himself. He did not let anyone give him any I.V., either.
On June 20, he was forced to crawl because his hips were too weak for him to walk, even with a cane. On the morning of June 24, his hips were so weak that he could not sit up. He had to turn his body face down and push up with both arms to sit up in bed. On the night of June 25, he said he saw that "the walls were coming down and I started to float away." He told his daughters that "I prayed that I could go in peace and then I passed out. When I came to at around 2:30am, I realized I hadn't died yet."
Two days later, on June 28, Thuc had a bad fall while reaching for a bag hung on the wall because his hips and back gave way again. Fortunately, he was still alert enough to not let his head hit the floor, only his arms, shoulders and back were badly bruised.
By July 2, Thuc was no longer able to walk; he had to be carried by other prisoners on their backs. That afternoon, the assistant warden Ngo Ky Tri came in to ask him to eat something because they were concerned that he might die, and they did not want to see him deteriorate any further. But Thuc remained defiant. He told his daughters:
"I want to reiterate that I will go on this hunger strike to the death. I'm not playing games with my life. At this point I can no longer accept being so illogically imprisoned. I will be liberated — either physically or metaphysically. I am ready to die in order to open up the sources of light that will lead us to a revolution of light. The People's Supreme Court will be responsible for my death because of their total disregard for the law. Prison No. 6 is not responsible for this."
By July 8, Thuc's blood pressure had dropped to 65/35. He couldn't even drink water, he said it tasted too bitter. That afternoon an official named Bui Xuan Thang came into the cell to let him know that they had sent a written report on his conditions to Bureau C10 of the Ministry of Public Security and asked them to forward it to the Supreme Court to let them know that none of Thuc's requests for the past three years had been answered. Thang also brought Thuc some Ensure, a nutritional supplement drink, out of concern that he was too weak and could die at anytime. Thuc did drink the Ensure and ate a little bit of congee.
In the days that followed Thuc ate small amounts of congee and vegetables given to him by other prisoners. But he repeated to his daughters: "I have not stopped protesting against the Supreme Court and their inhumane treatment of our citizens. I'm only accepting a little bit of food from my brothers here in order to stay alive to see how the Court will respond. I'm not eating to recover, and I'm not buying any food from the cafeteria either. So don't send me any milk, food, medicine or money."
From that day until July 30, when he made the call home, Thuc was able to walk a little bit with the help of other prisoners. In the presence of prison officials as witnesses, Thuc declared on the phone to his daughters:
"If the Court does not answer me according to the law within a reasonable time frame, I will enter the extreme phase. I am prepared to exchange my life for the enlightenment of our people and for the rights of our citizens."
And in a calm voice Thuc said what might be construed as his last words:
"During the most critical periods, I wrote down my last words in letters 139 and DA39, with these important details: cremate me, spread my ashes from Thu Thiem bank to the Saigon River as you look up to the Thu Ngu flag pole; send me the look of hope in your eyes. When possible, put a small bust of me in a garden and place a small blue silk roll in front of it. In the packages I sent home there are four books of poetry — 'So Much Love.' Books 2 through 5 are finished. See that they're published."
Regarding phone calls, he warned: "When I was in critical condition they didn't let me make an emergency phone call. So don't wait for emergency calls from me. If anything bad happens to me, prison officials have the responsibility to notify you. No need to call them to inquire about my status, just make sure that they guarantee to call if I'm late."
Before his phone time was up, Thuc had this to say: "Post the story about my journey from the edge of Death, send it to all the necessary places. Be accurate with what I said, including location and time."
Tran Huynh Duy Thuc is being held at Prison No. 6 in Thanh Chuong, Nghe An. His family requested that the People's Supreme Court swiftly hear his case and bring it to a resolution after three years of doing nothing. The family noted that after the previous hunger strike of 162 days, Thuc's current strike is truly taking its toll. If the Court continues to shirk its duties and disrespect the law, it could very well be held accountable for Tran Huynh Duy Thuc's death.
Thuc's brother, Tran Huynh Duy Tan, told The 88 Project that Thuc understands that the United States sees Vietnam as an important partner in the region, both economically and geopolitically. In order to fulfill that role, however, Thuc insisted that Vietnam must show the United States and the world that it respects not just universally accepted human rights norms but also its very own laws. Ahead of US Vice President Kamala Harris' planned visit to Vietnam, the family has asked that the United States bring Thuc's three-year-old request for a court hearing to Hanoi's attention as a test case of that commitment. They said that Thuc himself would never back down. Therefore the family also asked the US delegation, should it get a chance to contact Tran Huynh Duy Thuc, persuade him to stop his hunger strike.
© 2021 The 88 Project
https://the88project.org/wp-content/uploads/2018/05/thdt-smaller-image.jpg
737
736
Huong Nguyen
https://the88project.org/wp-content/uploads/2019/01/88project.png
Huong Nguyen
2021-08-06 03:23:16
2021-08-06 03:23:50
Tran Huynh Duy Thuc, from the Edge of Death