Top 5 Human Rights Stories of 2021
From a human rights point of view, the Year of the Buffalo was indeed an eventful one in Vietnam, with many arrests and trials happening throughout the year, all the way up to the very last day of 2021. To give you a sense of what received the most attention from our readers, here are five stories published by The 88 Project that garnered the most views—in chronological order.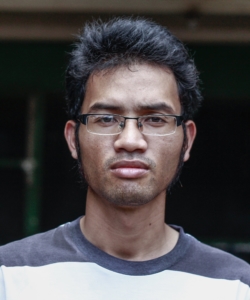 Le Huu Minh Tuan
We kicked off January with a story about Le Huu Minh Tuan — a young professional who was a member of the Independent Journalists Association of Vietnam (IJAVN) – accompanied by a video of him giving a speech (with English subtitles provided by our team). Arrested in June, 2020, Tuan was convicted in January for allegedly publishing articles that "distort the truth, incite individuals to rise up and overthrow the people's government, or even incite hatred and extremism." Here are some excerpts taken from that video:
"First of all, I'd like to state unequivocally that the organization I've joined is purely a civil and professional entity. It simply exercises the rights enshrined in the Constitution of Vietnam, specifically Article 25, which allows freedom of association, freedom of the press and freedom of speech. It also encourages freedom of expression… etc.

Its mission and goal, that which attracted me and led me to become a member, is to provide the most truthful and unbiased news, something we don't often see from the huge state-run media and propaganda machine.

Secondly, it does not oppose the regime. That is, it does not have grand political ambitions, nor does it seek to topple the government. No, that is not what AIJV is about at all.

Thirdly, it protects the right to speak, to critique, to criticize the government just as Mr Nguyễn Ái Quốc [Ho Chi Minh] once spoke about, gave guidance on, pointed out and demanded from the French in his An-Nam Manifesto.

.… In case the IJAV is disrupted, disbanded or stopped due to circumstances beyond our control or due to pressure from the government, I hope it will have served as the starting point for other civil organizations working for freedom of speech. That is to say, I hope it's a catalyst for similar organizations to appear."
The People's Court did not seem to agree. Le Huu Minh Tuan was given a stiff 11-year prison sentence.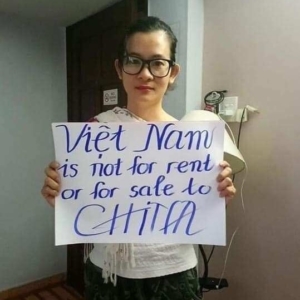 Dinh Thi Thu Thuy
In March, our story about the role of women activists and how they're targeted by the regime seems to have struck a nerve. And rightly so, since women not only represent a disproportionately large segment of political prisoners but many also have to bear a heavy economic and psychological toll when their spouses become prisoners of the state:
"Exploring The 88 Project's database, nine out of 26 activists arrested in 2020 were female. That is a surprising 1:2.8 ratio against the male counterpart. Even in 2018, the most serious year of state persecution against human rights defenders in recent years, women activists still accounted for 20 percent of all the arrests.

The 88 Project has also documented a record number of female activists who faced administrative fines and other forms of harassment. From former political prisoners to the wives of jailed activists to ordinary citizens, many women have been subjected to mistreatment and harassment one way or another. According to our research, 22 percent of at-risk activists in Vietnam are women. 

Besides their enthusiastic participation in grassroots activism, Vietnamese women have the highest share of labor-force participation rates (i.e., the proportion of women who are in paid work or looking for it) in the world. Some 79 percent of women aged 15 to 64 are in the labor force, compared to 86 of men. That figure is higher than in all the members of the OECD except Iceland, Sweden, and Switzerland, and 10 percentage points above China, Vietnam's northern neighbor.

These facts do not add up with the role of women in Vietnamese politics. And despite all the sugar-coating provisions in many legislations concerning women rights, the fact remains that the system is inherently misogynistic."
In April, our annual report and recap on the previous year's human rights abuses in Vietnam became the most viewed article. This reinforces our belief that the most critical and useful component of The 88 Project is our database — a flexible and searchable repository of political prisoners and activists at risk, accompanied by an abundance of related material including private interviews with family members. Our report reveals, for example:
"In 2020, Vietnam continued to repress free speech and target human rights defenders and civil society groups for their peaceful dissent. This included:

35 individuals arrested for peaceful activism; 

27 individuals tried for "national security" crimes; 

26 activists at risk who faced harassment in 59 incidents;

Numerous documented cases of physical and psychological abuse of political prisoners.

Fewer people were arrested and tried in Vietnam in 2020 than in 2019, but more women were arrested this year than last, as well as more communication professionals, such as journalists. A larger proportion of those tried under so-called "national security laws" in 2020 were sentenced to 5+ years in prison in 2020 than 2019 as well, and two people were sentenced to life in prison. 

Arrests of key civil society leaders in 2020, such as Pham Doan Trang, land rights activist Can Thi Theu of Duong Noi Commune, and Le Huu Minh Tuan and Nguyen Tuong Thuy of the Independent Journalists Association of Vietnam, showed that the government continues to try to dismantle successful civil society groups and hone in on areas of activism it finds particularly worrisome. Many activists were harassed multiple times throughout the year or harassed in the weeks leading up to their eventual arrests."
Our readers, partners and followers can be assured that reports such as this will continue to be an important part of The 88 Project, and they can look forward to even more in-depth information in the future. Our mid-year report following a spate of arrests in July was another top five article. This one was different because it had two atypical victims who were respected but low-key players in the activist community. In fact, they were not even charged with the typical "anti-State propaganda" at all:
"On July 2, the police arrested journalist Mai Phan Loi and lawyer Dang Dinh Bach and charged them with 'tax evasion,' a typical method of political persecution for those for whom the government does not have a strong, clear case.

Loi, 50, is the founder and director of the non-profit Center for Media in Educating Community (MEC) in Hanoi.  MEC has a communication channel called GTV which airs, among other things, several popular talk shows aimed at educating the community on various communication skills and techniques.

Loi was also editor-in-chief of Phap Luat, the most prominent state-run magazine focusing on the law. In 2016, he even got to meet former President Barack Obama in Hanoi.

… The second person arrested on the same day as Loi was Dang Dinh Bach, director of the non-profit Law & Policy of Sustainable Development. LPSD is a member of the Vietnam Environmental Network (VEN), Vietnam Sustainable Energy Alliance (VSEA), and the Vietnam Non-Communicable Diseases Prevention and Control Alliance (NCDs-VN)."
These two men were convicted in January of this year after a short and cursory trial. Mai Phan Loi received a 4-year prison sentence while Dang Dinh Bach got five years.
Looking back, our ability to bring highly accurate and sometimes even personal details about political prisoners and activists comes from our intensive networking efforts and the trusted relationships we have been able to forge with the victims' families. The heart-breaking story about Tran Huynh Duy Thuc, in which we got details from interviewing his daughter and from Thuc's own letters, was the second most read story in 2021 and it perfectly illustrates this point:
"In December of 2020, Thuc launched what he called a 'hunger strike to the death' which lasted for 70 days, but still ended without any resolution. Barely two weeks after that, in April of this year, Thuc began another hunger strike that is still ongoing. After six weeks not hearing any news from him, on July 30 his family finally received a call from a clearly weakened Thuc, telling them that he was coming back 'from the edge of Death.'

Speaking to his daughters, Thuc said he didn't know how much he weighed, but he was essentially 'all bones' and certainly less than the 55kg he reported the last time they talked. He said he refused to let prison health workers examine him, and he measured his blood pressure himself. He did not let anyone give him any I.V., either.

On June 20, he was forced to crawl because his hips were too weak for him to walk, even with a cane. On the morning of June 24, his hips were so weak that he could not sit up. He had to turn his body face down and push up with both arms to sit up in bed. On the night of June 25, he said he saw that 'the walls were coming down and I started to float away.' He told his daughters that 'I prayed that I could go in peace and then I passed out. When I came to at around 2:30am, I realized I hadn't died yet.'

Two days later, on June 28, Thuc had a bad fall while reaching for a bag hung on the wall because his hips and back gave way again. Fortunately, he was still alert enough to not let his head hit the floor, only his arms, shoulders and back were badly bruised.

By July 2, Thuc was no longer able to walk; he had to be carried by other prisoners on their backs. That afternoon, the assistant warden Ngo Ky Tri came in to ask him to eat something because they were concerned that he might die, and they did not want to see him deteriorate any further. But Thuc remained defiant. He told his daughters:

'I want to reiterate that I will go on this hunger strike to the death. I'm not playing games with my life. At this point I can no longer accept being so illogically imprisoned. I will be liberated — either physically or metaphysically. I am ready to die in order to open up the sources of light that will lead us to a revolution of light.'"
Based on what we've seen thus far, 2022 looks to be yet another eventful year. Already there have been numerous arrests and trials of prominent activists; meanwhile, Pham Doan Trang has just been given the Martin Ennals Human Rights Award and the Canada and UK 2022 Media Freedom Award. The 88 Project will continue to provide our readers with the most up to date and relevant news to keep you informed. Toward that end, we look forward to strengthening our relationship with our partners both in Vietnam and abroad in the coming years.
© 2022 The 88 Project
https://the88project.org/wp-content/uploads/2020/12/Tran_Huynh_Duy_Thuc_5a446327ce292.jpg
737
736
kayleedolen
https://the88project.org/wp-content/uploads/2019/01/88project.png
kayleedolen
2022-02-10 04:42:58
2022-02-11 21:58:17
Top 5 Human Rights Stories of 2021