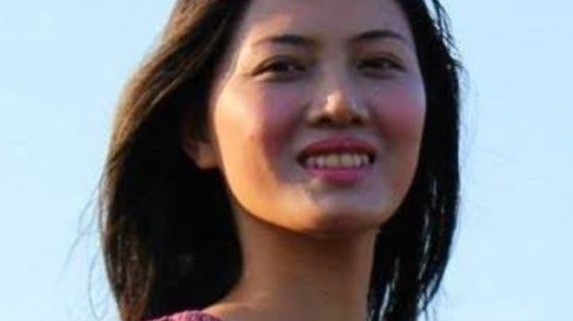 Vietnam Free Expression Newsletter No. 22/2019 – Week of May 27-June 2
Featured Image: Political prisoner Huynh Thuc Vy
Greetings from The 88 Project! We are bringing you news, analysis, and actions regarding human rights and civil society in Vietnam during the week of May 27-June 2. Read about Doan Dinh Nam's family's attempts to have his sentence canceled as he battles kidney disease, as well as the latest update on Nguyen Van Hoa's condition after being in solitary confinement for ten days, and his fellow prisoners' hunger strikes. Authorities have set a trial for Facebooker Nguyen Ngoc Anh for June 6. Another activist, Nguyen Nang Tinh, was arrested this week. And after almost 2 1/2 years, the international community has an update on political prisoner Nguyen Danh Dung. Several activists were at risk this week, including a group of former political prisoners who were detained at a border crossing station. Activists have spoken out against tactics used across the country to suppress their freedom of movement. And several members of the US Congress are calling for more pressure on Vietnam to promote freedom of expression. In the news, read about the current state of Vietnam's draft law on Special Economic Zones, as well as Vietnam-EU relations. In case you missed it, we'll soon be releasing our full interview with environmental activist Khiem Nhu. And please take action for Hoang Duc Binh and his fellow political prisoners by sharing an appeal from Binh's mother.
Please subscribe to the newsletter!
HUMAN RIGHTS & CIVIL SOCIETY
Prisoners of Conscience
Doan Dinh Nam
, 68, currently serving his 16-year sentence at Xuyen Moc Detention Center, is in a 
dangerous health situation
, with damaged kidneys. Therefore, his family sent a request to cancel his sentence and allow him to be taken care of in the last days of his life and die at home. However, instead of approving their request, the public security of Phu Yen Province went to their house and threatened them to not attempt to generate support for Nam. Nam's family is so poor that they have hardly visited Nam since he has been in prison. Nam is one of 22 members of the An Dan Dai Dao Buddhist sect arrested in February 2012 under Article 258 and tried under Article 79 of the 1999 Penal Code by Phú Yên People's Court in January 2013. The group was charged with subversion and accused of writing documents critical of the government, and setting up two companies and investing in an eco-tourism park as a cover for recruiting supporters. However, those affiliated with the group maintained that the activities of the group were purely religious and that the authorities interpreted their religious teaching in political terms.
According to an update from imprisoned journalist 
Nguyen Van Hoa
's sister, who went to visit him at An Diem Detention Center on May 28, 2019, Hoa's health is fine now in spite of being beaten and held in solitary confinement for ten days. He 
was released but will still have to be isolated
 in one room at camp K1 for the next six months. Authorities isolated Hoa due to his complaints against them for not sending home letters on prison conditions and treatment. Authorities then made a report with many blank spaces and forced him to sign. He refused, and thus, Hoa was punished for ten days. As of May 27, there was one prisoner who stopped his hunger strike, while political prisoners 
Hoang Duc Binh
 and 
Nguyen Bac Truyen
, as well as one other, kept 
striking in solidarity with Hoa
, Hoa said. Those striking are said to be unaware of Hoa's current condition.
Hoang Duc Binh
's mother 
sent a letter
 to international governments and organizations pleading with them to intervene and free Binh and other political prisoners: "As a mother, I cannot stay silent and let my child perish in prison while my other children are denied honest work and threatened about their life."
Nguyen Ngoc Anh
's first
 instance trial will be held
 at 7:30 am at the People's Court of Ben Tre Province, Ben Tre City, on June 6, 2019. Nguyen Thi Chau, Nguyen Ngoc Anh's wife, was summoned to this trial as a witness, according to a summons from the People's Court on May 22, 2019. Anh, a shrimp farmer who often shared his views on national matters online, was arrested on August 30, 2018 and charged under Article 117 of the 2015 Penal Code for "Making, storing, spreading information, materials, items for the purpose of opposing the State of Socialist Republic of Vietnam," for allegedly creating Facebook content and videos against the state and calling for protests ahead of Vietnam's National Day on September 2.
In a report about an administrative fine, issued by the People's Committe of Thong Nhat Ward, Buon Ho Town, Dak Lak Province, the Committee said that 
Huynh Thuc Vy
 did not comply with a police invitation on three separate occasions. She was asked to work on issues related to her suspended prison sentence, despite approaching her due date with her second child. They also 
banned her from leaving her residence
 even though she needs to receive healthcare services. Huynh Thuc Vy is a well-known blogger and women's rights advocate sentenced to two years and nine months in prison on November 30, 2018 for "offending the national flag" for spray-painting a flag in 2017 as a sign of protest. At the time of the trial, she had a toddler and was pregnant with her second child. As such, her sentence will be put on hold until the unborn child turns three, but she will still have to serve it out in its entirety.
Authorities arrested Nguyen Nang Tinh, 43, on May 29, 2019,  when having breakfast with his sons. Security forces searched his residence, confiscated documents, and then brought Tinh and his sons to the commune people's committee. A few hours later, they called Tinh's father to come bring Tinh's sons back home. Tinh was accused of being member of Viet Tan, a pro-democracy organization based in the US, which Vietnam deems a terrorist organization. Tinh's wife denied the accusation. Nguyen Nang Tinh is an  activist and member of "NoU FC Vinh," "Bao ve su song (Save Life)," "Quy Phat Trien Con Nguoi (Human Development Fund)," and "Truyen Thong Cong Giao (Catholic Media)," which the authorities consider to be "opposition groups". Tinh has been a music teacher at the Nghe An College of Art and Culture and sang many songs with content allegedly "distorting the policy and guidance of state and party." He is said to be charged under Article 117 of the 2015 Criminal Code for "making, storing, spreading information, materials, items for the purpose of opposing the State of Socialist Republic of Vietnam." After his arrest, the Catholic community rallied around him in support.
According to Facebooker Vu Quoc Ngu, blogger 
Nguyen Danh Dung
, arrested on December 16, 2016, was 
sentenced to two years and six months in prison and released three months earlier than his scheduled release date
, in mid-March 2019. This news was revealed by Dung's mother in a meeting with Facebooker Pham Van Diep, who then shared the news with Vu Quoc Ngu. Many were worried about Dung's condition, as very little information has been available since his arrest.
This week, we remember the arrest and trial anniversaries, as well as the birthdays, of the following political prisoners:
Nguyen Trung Linh (left) and Nguyen Van Tuc (right)
Activists at Risk
On May 23, 2019, Quach Duy, an officer with the People's Committee of Ho Chi Minh City, was 
fined 7.5 million VND
 (approximately 320 USD) because of his post on Facebook, which was alleged to "slander, offend the honor and reputation of other individuals." According to the decision on the administrative fine, on April 9, 2019 Quach Duy posted on Facebook about distributing land in a project, in which he said that "the Public Security Ministry investigates the Vice President of the People's Committee in Ho Chi Minh City for distributing premium land at a cheap price."
According to Facebooker Vu Quoc Ngu, a group of seven citizens was detained at Moc Bai border gate when they were on the way back from Cambodia for a trip. Four of them are former prisoners of conscience: Nguyen Thi Ngoc Phuong, Nguyen Thi Truc Anh, Ho Cong Di, and Vo Nhu Huynh. Three others are Huynh's mother, Huynh's five-year-old child, and independent journalist Le Thu. On May 26, 2019, Phuong contacted her family to tell them about their detention. Their phones were then confiscated. At 4:00 pm on May 27, 2019, they were all finally released.
On May 27, 2019, Le Thu was arrested by Tuan 67, a public security officer of Dong Nai province, and some undercover collaborators, while she was at a coffee shop far from the Moc Bai border gate. At the border guard station, they accused Thu of entering Vietnam illegally. When Thu questioned them about evidence showing her "illegal" entrance, they called some witnesses, including a motorcycle taxi driver, a bus driver, and an observer, who seemed to be under the command of officers. However, those people could not prove her guilt. Still, the border guard station made a decision to issue an administrative fine against her, in which she was fined four million VND (approximately 170 USD) for "entering Vietnam illegally." She refused to plead guilty and sign the report, which the officers finally accepted. Instead, they confiscated her phone, laptops and 200 USD. During her detention, Thu went on hunger strike to protest her arbitrary arrest.
On May 24, 2019, 44 activists in Vietnam jointly issued a "Collective Declaration by Those Whose Freedom of Movement Has Been Violated"  in which they denounced the restriction of their movement by people believed to be working for the government. According to the Declaration, this violation of the basic right to freedom of movement routinely happens in the country, with around 600 victims in Ho Chi Minh City alone. Read more about this worrisome tactic, 
here
.
International Advocacy
Le Anh Hung (left), Truong Duy Nhat (middle), and Tran Thi Nga (right)
Twenty-five members of the US Congress 
sent a letter
 to the US Secretary of State urging the US to press for better protections for freedom of expression in Vietnam, citing Vietnam's obligations under the International Covenant on Civil and Political Rights. The letter highlighted the cases of imprisoned journalists 
Nguyen Van Hoa
 and 
Le Anh Hung
 and blogger 
Truong Duy Nhat
, who was kidnapped from Thailand while attempting to seek asylum and imprisoned back in Vietnam. A US diplomat told Radio Free Asia that the 
US raised concerns about the crackdown
 on dissent during the US-Vietnam Human Rights Dialogue in May. He expressed concerns that some activists were barred from meeting with the delegation for the dialogue. The delegation was able to meet with imprisoned land and labor rights advocate 
Tran Thi Nga
. Read the letter in its entirety, 
h
ere
.
NEWS & ANALYSIS
Vietnam-EU Security Ties in Focus with Defense Visit
, The Diplomat, May 28, 2019: "As I have observed before in these pages, while Vietnam has long had ties with select European states, ties between Hanoi and the European Union as a bloc have gotten greater traction over the past few years, with a Partnership and Cooperation Agreement signed in 2012 and taking effect in 2016 laying the framework for the relationship. As this has occurred, there has been a focus on opportunities in the security realm as well despite lingering challenges including those related to Vietnam's human rights record."
Vietnam seeks to slow China inflows
, Asia Times, May 30, 2019: "Other prominent economists and vocal rights activists suggested the foreign-invested SEZs could exacerbate already tense land rights issues, a major cause of intensifying anti-Party protests across the country that often have links to Chinese investments. In 2009, nationwide protests erupted over concerns about Chinese businesses mining bauxite in central Vietnam, with some historic Party luminaries airing criticism of the government and its perceived as sovereignty-eroding deals with China."
IN CASE YOU MISSED IT
"To a lot of people from the outside, Vietnam seems open, but it's not at all." –Khiem Nhu
Khiem Nhu was watched for six months; her complete private life was under a magnifying glass because she spoke up against the Vietnamese regime. Watch the preview of her interview, 
here
! It is part of our 
video interview series
 with female activists. The complete interview is coming soon!
TAKE ACTION
Hoang Duc Binh (left), Nguyen Van Hoa (middle), and Nguyen Bac Truyen (right)
Take action for imprisoned environmental activist 
Hoang Duc Binh
, and his fellow political prisoners 
Nguyen Van Hoa
 and 
Nguyen Bac Truyen
, who are all in a precarious situation in prison, by sharing this 
appeal to the international community
 from Binh's mother.
https://the88project.org/wp-content/uploads/2019/01/huynh-thuc-vy_undated-social-media_square.jpg
573
573
kayleedolen
https://the88project.org/wp-content/uploads/2019/01/88project.png
kayleedolen
2019-06-03 13:22:00
2019-06-03 13:22:00
Vietnam Free Expression Newsletter No. 22/2019 – Week of May 27-June 2