Bui Van Thuan
Current Status: At risk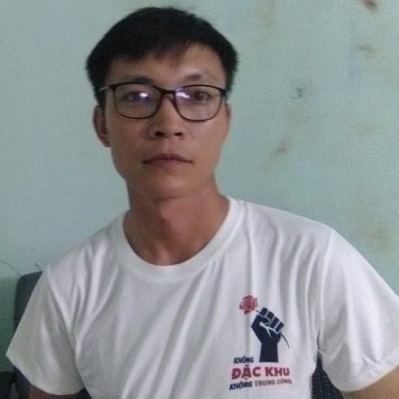 Other Names: Bùi Văn Thuận, Người Mường, Cha Già Dân Tộc
Date of Birth: May 1, 1981
Gender: M
Ethnicity: Muong (Mường)
Occupation: Blogger
Areas of Activism:
Known Afilliations:
Brotherhood for Democracy
Details - Background, History of Activism, Family Situation.
Bui Van Thuan is from the Muong ethnic minority. He used to be a teacher, and now lives in Hoa Binh Province.
Profile photo source: Facebook Thuan Van Bui
July 27, 2018: laptop and t-shirts with No-U logo confiscated
Property confiscation
July 27-28, 2018
Public security
Bao Hieu Commune, Yen Thuy District, Hoa Binh Province (
map
)
freedom of expression
respect of privacy, family, home, and correspondence
On the afternoon of July 26, 2018, Thuan and two others had dinner together and he gave them his two t-shirts with prints protesting against the Nine Dash Lines's claim of China (No-U logo) and the draft law on Special Economic Zones. His friends put on the t-shirts right away and wore them into the next day.
On July 27, a man live-streamed them singing and wearing the t-shirts with the No-U logo. Public security suddenly came to Thuan's friend's house at 4:00 pm and searched it without any legal documents.
They confiscated Thuan's laptop, as well as t-shirts with that logo. Thuan was detained at the public security post for questioning on the origin of those t-shirts and released at noon on July 28.
However, police did not return his laptop. After many failed attempts to log in, his laptop automatically locked and was unable to start.
Profile last updated: 2019-04-27 04:14:30