Bui Van Thuan
Current Status: Pre-trial detention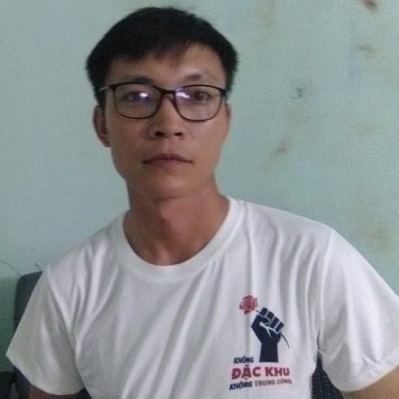 Other Names: Bùi Văn Thuận, Người Mường, Cha Già Dân Tộc
Date of Birth: May 1, 1981
Gender: M
Ethnicity: Muong (Mường)
Occupation: Blogger, Entrepreneur, Teaching professional
Areas of Activism:
Public health
Democracy
Sovereignty
Known Affiliations:
October 2021:
After not hearing from Bui Van Thuan for a month and a half, his wife, Trinh Nhung, received a notice from prison authorities telling her that he'd been admitted to the hospital. Thuan has been diagnosed with gout and a liver infection. Thuan is accused of "anti-state propaganda" under Article 117 and is being held in a pretrial detention center in Thanh Hoa Province.
Details - Background, History of Activism, Family Situation.
Bui Van Thuan is from the Muong ethnic minority. He used to be a teacher, and now lives in Hoa Binh Province.
Profile photo source: Facebook Thuan Van Bui
Thuan has a Facebook page called "Cha Dà Dân Tộc," which is a word play on "Cha Già Dân Tộc" (Father of the Nation, i.e. Ho Chi Minh), with over 25,000 followers. On his page, Thuan posts news, jokes, and parodies that criticize the Communist Party and the corruption in government, sometimes using colorful language. More recently, he's been focusing his criticisms on how the government is handling the COVID-19 pandemic.
Thuan joined the Brotherhood for Democracy (BFD) in 2013 through fellow activist Pham Van Troi. Between 2014-2016, he participated in protests against China's 9-dash line territorial claim. In June 2017, together with Nguyen Vu Binh and Le Anh Hung, Thuan founded a group called Legal Research whose purpose was to design a new "democratic model" for Vietnam. In October 2017, he became a member of the Communication group within BFD, in charge of Facebook and Fan Page administration.
July 27, 2018: laptop and t-shirts with No-U logo confiscated
Property confiscation
July 27-28, 2018
Public security
Bao Hieu Commune, Yen Thuy District, Hoa Binh Province (
map
)
freedom of expression
respect of privacy, family, home, and correspondence
On the afternoon of July 26, 2018, Thuan and two others had dinner together and he gave them his two t-shirts with prints protesting against the Nine Dash Lines's claim of China (No-U logo) and the draft law on Special Economic Zones. His friends put on the t-shirts right away and wore them into the next day.
On July 27, a man live-streamed them singing and wearing the t-shirts with the No-U logo. Public security suddenly came to Thuan's friend's house at 4:00 pm and searched it without any legal documents.
They confiscated Thuan's laptop, as well as t-shirts with that logo. Thuan was detained at the public security post for questioning on the origin of those t-shirts and released at noon on July 28.
However, police did not return his laptop. After many failed attempts to log in, his laptop automatically locked and was unable to start.
Arrested August 30, 2021. Charged under Art. 117 (2015 Code).
August 30, 2021
Thanh Hoa province public security, Thanh Hoa province
His private residence in Nghi Son (
map
)
freedom from arbitrary arrest or detention
liberty and security of the person
freedom of expression
respect of privacy, family, home, and correspondence
About one hundred uniformed and non-uniformed police officers surrounded Thuan's house around 8 a.m. on August 30. Dozens of vehicles were present, according to neighbors. Three men in medical protective clothing told his wife they needed to enter to do COVID testing. Once inside, they pretended to ask to use the bathroom then entered Thuan's bedroom and handcuffed him as he was getting up. It was only then that they read the arrest warrant. They confiscated six computers, three iPads, three mobile phones, and one jar of honey.
Profile last updated: 2021-10-19 02:04:30