Vietnam Free Expression Newsletter No. 37/2023 – Week of September 26-October 2
Greetings from The 88 Project. We bring you news, analysis, and actions regarding human rights and civil society in Vietnam during the week of Sept. 26-Oct. 2.
"This conviction is a total fraud, nobody should be fooled by it." -Ben Swanton, Co-Director of Project 88 on the conviction of Hoang Thi Minh Hong for tax evasion
***
The conviction of a prominent environmental activist and the arrest of yet another raise concerns that Vietnam is ignoring its JET-P obligations. Arrests and convictions of online users continue unabated. A police officer gets a rare slap on the wrist for a death in custody. An ailing senior citizen almost died on the stand at her trial. Meanwhile, the U.S. plans to open a hub called the Coalition for Climate Entrepreneurship in Hanoi after most major environmental NGO leaders have been put behind bars.
HUMAN RIGHTS & CIVIL SOCIETY
Human Rights and Political Prisoner Updates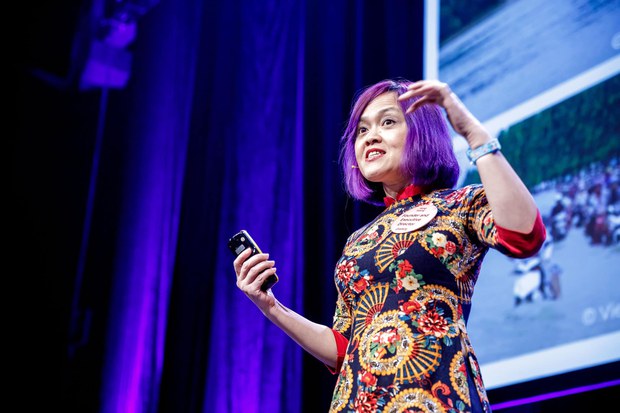 Hoang Thi Minh Hong
Environmental activist and Obama Foundation Scholar Hoang Thi Minh Hong was sentenced to three years in prison on tax evasion charges on September 28. She was also fined VND 100 million (approximately $4,000) and ordered to pay VND 6.7 Billion ($260,000) in back taxes. Her lawyer argued in court that the charges against his client were not applicable because the tax laws used against her organization are only meant for for-profit businesses.
Project 88's Ben Swanton was quoted about the conviction in Reuters, The Guardian, CNN, and Al Jazeera, among others. "This is yet another example of the law being weaponised to persecute climate activists who are fighting to save the planet," he said.
Many international organizations and governments have also condemned the conviction. From the U.S. Department of State spokesperson Matthew Miller: "NGO leaders like Hoang Thi Minh Hong play a vital role in tackling global challenges, proposing sustainable solutions in the global fight against the climate crisis, and combating wildlife and timber trafficking." For more international reactions to her trial, see the International Advocacy section below.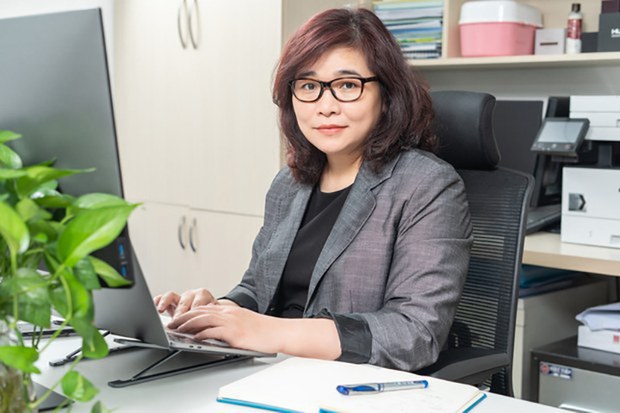 Ngo Thi To Nhien
On the heels of Hoang Thi Minh Hong's trial, the Vietnamese government also admitted that it has detained Ngo Thi To Nhien, a prominent environmental activist and leader of the Vietnam Initiative for Energy Transition (VIET), after news of her arrest was broken by Project 88 last week. According to the Ministry of Public Security, Nhien is charged with "appropriating state documents and/or secrets" under Article 342.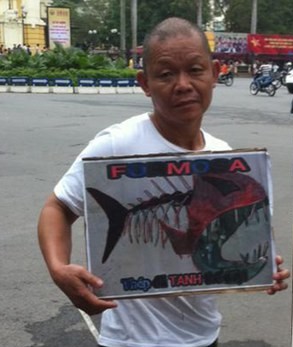 Nguyen Minh Son
In other arrest and trial news, Facebook user Nguyen Minh Son was sentenced to six years in prison on September 29 for spreading "anti-state propaganda." His wife was barred from attending the trial. According to state media, Son posted "one video clip" that allegedly insulted the leadership in order to propagandize against the government and the Party.
Tran Dac Thang, a Facebook user from Binh Duong Province, was arrested on Sept. 29 for "abusing democratic freedoms." The police accuse Thang of making Facebook postings that "discredit the leadership and the Party."
Buddhist monk Thich Nhat Hue, birth name Phan Trung, was released from prison almost a year early, on July 16. No reason was given for his early release.  Trung was a member of the group Liên Minh Dân Tộc Tự Quyết (National Alliance for Self-Determination). He was sentenced in 2016 to eight years in prison under Article 79 of the 1999 Criminal Code for "subversion."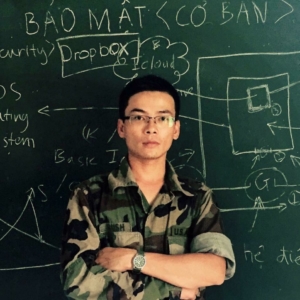 Nguyen Viet Dung
Democracy activist Nguyen Viet Dung completed his six-year sentence for disseminating "anti-state propaganda" and was released from Nam Ha Prison on Sept. 27. This was Dung's second incarceration. In 2015, he was sentenced to one year in prison for "disturbing public order," ostensibly for displaying and wearing the flag of the former South Vietnam.
Former political prisoner Huynh Thi To Nga told Project 88 that she and her husband have been constantly harassed by police who kept sending her "invitations" to come to the police station without cause. On Sept. 15, they even went to the hospital where her husband works and "invited" him to come in for a talk, which he refused. Nga believes the police want her to stop posting her personal story on social media, which violates no law.
Deaths in Custody
Le Huu Tung, a senior lieutenant and investigator, was stripped of his title as a result of the death of suspect Bui Van Hai on Sept. 3 while in police custody in Binh Thuan Province. State media Nhan Dan did not specify the reasons for Tung's dismissal; no charges have been filed. Hai's family still has not received any information regarding his death, which is just the latest in a string of suspicious deaths in custody in the past several months.
International Advocacy
Regarding the trial and conviction of climate activist Hoang Thi Minh Hong:
Spokesperson for the UN High Commissioner for Human Rights Jeremy Laurence: "Arrests of environmental human rights defenders are taking place amid Viet Nam's implementation of the Just Energy Transition Partnership."
France Ministry of European and Foreign Affairs: "France was already alarmed by her arrest on May 31. We will raise her case during upcoming discussions with the Vietnamese authorities."
The UK Foreign, Commonwealth and Development Office (FCDO) has released a statement on the sentencing.
The International Federation for Human Rights (FIDH) issued an urgent appeal on behalf of Hoang Thi Minh Hong.
***
In other news:
UN expert appalled by execution in Viet Nam: "I am disturbed by the execution of Le Van Manh despite calls for clemency, in light of serious doubts about the fairness of his trial proceedings and credible allegations of torture or ill-treatment to extract a confession," said Morris Tidball-Binz, the UN Special Rapporteur on extrajudicial, summary or arbitrary executions.
Oral presentation by the Assistant Secretary-General for Human Rights on the report of the Secretary-General on cooperation with the United Nations, its representatives, and mechanisms in the field of human rights
U.S. State Department: On September 27, Special Representative for Global Partnerships Dorothy McAuliffe signed a memorandum of understanding (MOU) launching a Coalition for Climate Entrepreneurship (CCE) Hub in Hanoi, Vietnam.
NEWS
Vietnam detains energy thinktank chief in latest arrest of environmental expert. The Guardian; Oct. 1, 2023: "The security investigation agency of Hanoi city police issued … an arrest warrant to Ngo Thi To Nhien," a government spokesperson, To An Xo, told a press conference late on Saturday, state media reported. Should she be charged, she faces up to up to five years in prison, according to the country's criminal code. Two other people, Le Duc Anh and Duong Quoc Viet, were also arrested. Nhien was working on the implementation plan for Vietnam's just energy transition partnership (JETP), a $15bn G7-funded project to help wean Vietnam off fossil fuels, according to freedom of expression group Project88 last month.
Albemarle To Pay Over $218M To Resolve Foreign Corrupt Practices Act Investigation. U.S. Department of Justice Press Release; Sept. 29, 2023: According to the company's admissions in connection with the Department's resolution, between 2009 and 2017, Albemarle, through its third-party sales agents and subsidiary employees, conspired to pay bribes to government officials to obtain and retain chemical catalyst business with state-owned oil refineries in Vietnam, Indonesia, and India. Albemarle obtained profits of approximately $98.5 million as a result of the scheme.
In Vietnamese
A 66-year-old woman with declining health was forced by a judge to stand trial for hours despite pleas from her family. The woman finally collapsed on the stand from a heart attack and had to be taken to the hospital. She and two other female defendants were being tried in a land dispute case in Hai Phong Province.
ANALYSIS
The foreign policy that was missing from the GOP debate. Washington Post Editorial Board, Sept. 28, 2023: "As part of the administration's efforts to contain China's assertiveness in the Indo-Pacific, President Biden recently traveled to Hanoi to upgrade U.S. relations with Vietnam to the level of a 'strategic partnership.' But Vietnam is an authoritarian one-party Communist state with a horrendous human rights record, and it is holding nearly 200 political prisoners, including climate activists. Do the candidates think forging a new military alliance with Vietnam while ignoring its human rights record is the right approach?"
© 2023 The 88 Project
https://the88project.org/wp-content/uploads/2023/10/Ngo-Thi-To-Nhien.jpeg
413
620
kayleedolen
https://the88project.org/wp-content/uploads/2019/01/88project.png
kayleedolen
2023-10-04 17:54:37
2023-10-04 17:54:37
Vietnam Free Expression Newsletter No. 37/2023 – Week of September 26-October 2