Vietnam Free Expression Newsletter No. 39/2022 – Week of October 10-16
Greetings from The 88 Project. We bring you news, analysis, and actions regarding human rights and civil society in Vietnam during the week of October 10-16. Vietnam followed its highly anticipated election to the UN Human Rights Council with a disappointing abstention on the vote to condemn Russia's annexation of Ukrainian territories. The UN Secretary General is slated to visit the country later this week; U.S. Special Envoy John Kerry will also visit Vietnam around the same time. A prominent political prisoner has been allowed to play her guitar; another alleged she was beaten in prison. A former lawyer is charged with violating Article 331 for raising red flags about corruption. The Bong Lai Temple appeal trial is put on hold at the very last moment. A detained livestreamer asked for bail in a country that does not have such a practice. A prisoner did not come out to see his family when they visited, with suspicious reasons cited. The surprise arrest of the CEO of Van Thinh Phat Holdings and some of its officers is having major repercussions.
HUMAN RIGHTS & CIVIL SOCIETY
Political Prisoners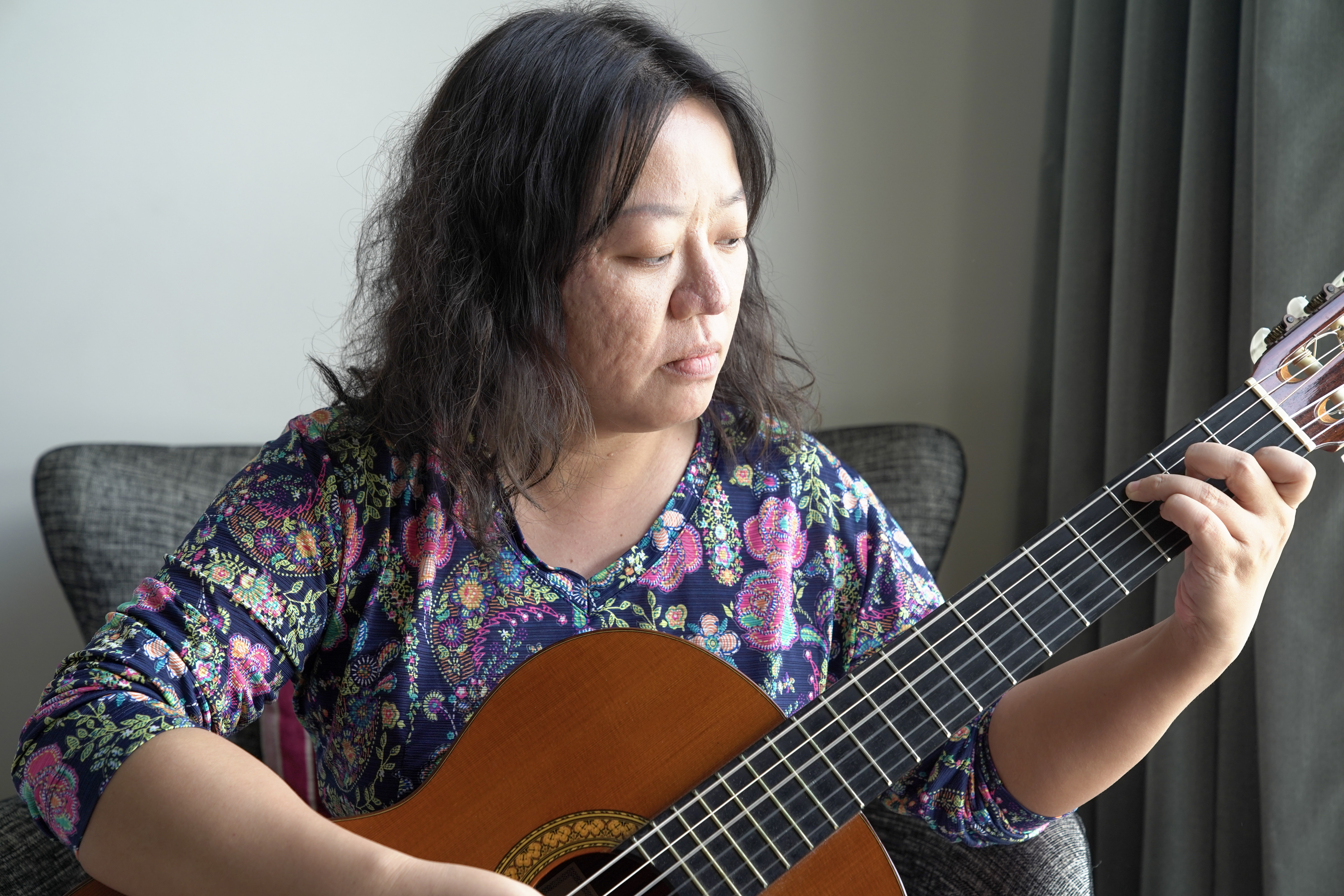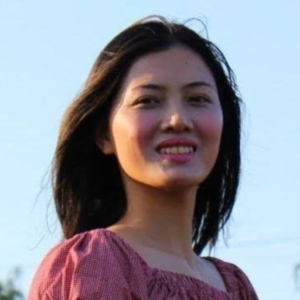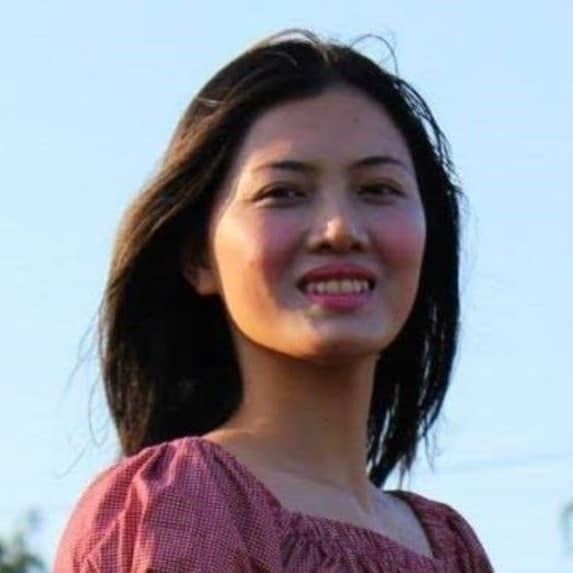 Pham Doan Trang and Huynh Thuc Vy
Pham Doan Trang's mother, brother, and a few friends, were able to visit her at An Phuoc Prison in Binh Duong Province on October 12. They reported that "her health has deteriorated a little bit but she was mentally stable." They also said she was allowed to receive her guitar, although it had to be kept in the activities room where she could play it. The award-winning, music-loving journalist and independent publisher is serving a nine-year sentence for "anti-state propaganda."
Huynh Thuc Vy's family visited her at Gia Trung Prison in Gia Lai Province on October 9. Her brother, Huynh Trong Hieu, reported that during the last five minutes of the visit, when Vy was allowed to hug her children, she whispered to her six-year-old daughter that she had been "beaten and choked by the neck." Hieu also said that at the last visit on August 10, Vy slammed the phone on the floor after being told she could not hug her children, but she later said she was not disciplined for it. Hieu said Vy might have been targeted by officials for helping other prisoners, sharing her food with them, giving their families' phone numbers to Hieu so he could update them about their imprisoned loved ones. Vy was convicted in November 2018 for "desecrating the national flag" but did not start serving her 33-month sentence until November 2021 due to having a child under three years old.
Phan Thi Huong Thuy, a former member of the Hanoi Lawyers Association (HLA), has been charged with "abusing democratic freedoms" by Hanoi Police. In 2018, Thuy wrote three articles accusing Nguyen Van Chien, former chairman of HLA and a current member of the Standing Committee of the National Assembly, of financial misconduct. After her membership in HLA was revoked in 2018, Thuy sent a formal complaint to the Ministry of Justice. Her complaint was dismissed in March 2019 and again in January 2020 by Vice Minister Phan Chi Hieu, stating that her complaint was without merit. The government now says she's being charged under Article 331 of the criminal code for "defaming and insulting the reputation" of Chien, the former head of the Attorneys Union of Vietnam.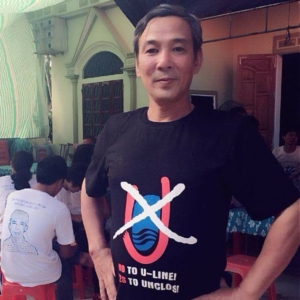 Le Dinh Luong
When Le Dinh Luong's family went to visit him at Nam Ha Prison on October 7, they were told by a prison official that Luong did not want to see them because he did not want to wear the prison uniform. When the family pressed them to see a statement signed by Luong confirming that, the official only showed a piece of paper with Luong's signature but did not let them read its content. When the official was asked how long Luong had refused to wear prison uniforms, he responded: "Today." The family then remembered that Luong once told them that "If one day I cannot come out to see our family, know that something has happened to me in prison." Luong's family is asking for any help they can get to find out what has happened to him. The 88 Project encourages supporters to share the news and contact Nam Ha Prison for an official statement.
The appeal trial for six Buddhists in the Bong Lai Temple case was postponed at the last minute after the defendants had already been transported to the courthouse on the morning of October 14. The People's Court of Long An Province said it agreed to postpone the hearing after receiving a request to do so from lawyers for both the defendants and the plaintiffs. Le Tung Van, the 90-year-old headmaster of the temple, is currently out on bail due to his frail health; five other defendants are in detention. All are charged with "abusing democratic freedoms" under Article 331 of the Criminal Code for online videos that allegedly defamed the reputation of a high-ranking leader of the state-sanctioned Buddhist church and the Long An police department.
The family of Nguyen Phuong Hang, the 52-year-old YouTube influencer arrested in March for "abusing democratic freedoms" by defaming several famous entertainers in Vietnam, on October 14 requested that she be given bail to treat unspecified "health issues." Vietnamese law does not provide for bail for detainees except under extraordinary circumstances, such as for severe health problems. It is not known whether Phuong Hang's request has been granted.
At Risk
A 28-year-old Facebook user with the initials T.H.Q., who lives in Cam Pha City, in Quang Ninh Province, has been fined the equivalent of US$310. Police say the social media user "posted false information about people withdrawing money from banks, simultaneously creating a sense of insecurity and causing confusion among the public."
***
Note: The above incident is related to a spate of recent events regarding Van Thinh Phat Holdings (VTP). While we note that the VTP news is outside of the usual scope of our newsletter, we report a brief summary to provide context for the above blurb and the lack of government transparency in the ongoing developments of the case: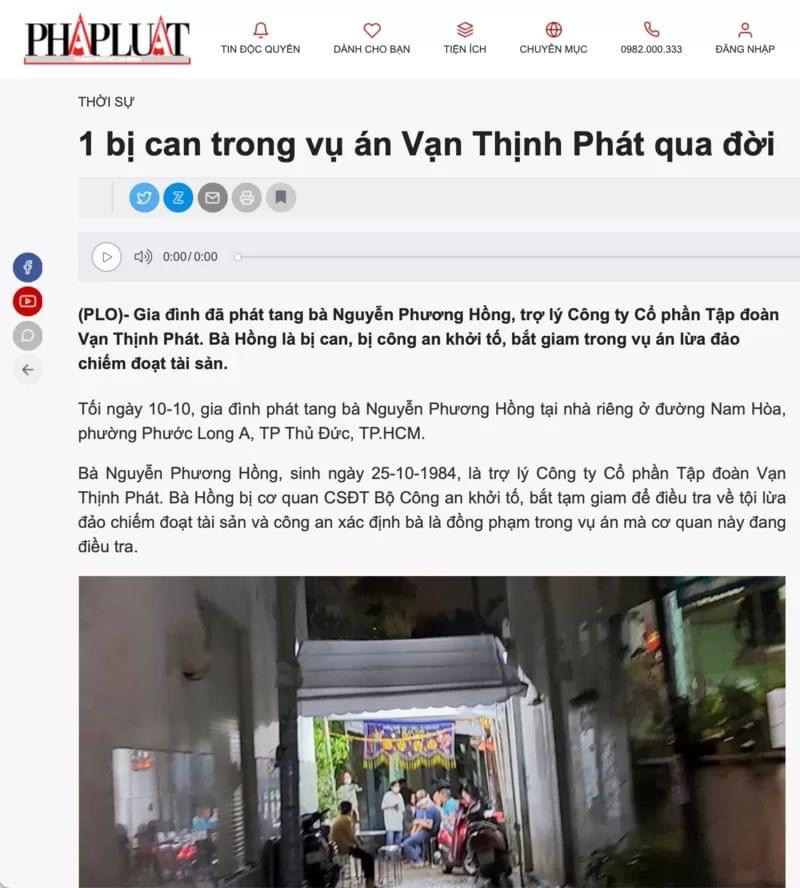 A screenshot of an article from state media reporting Nguyen Phuong Hong's death; the article was later removed
Nguyen Phuong Hong, a 39-year-old associate at VTP arrested together with its chairwoman, died in custody two days after being detained by the police. Her death was first reported by Phap Luat (The Law), an online newspaper. The article was quickly removed from the website; however, screenshot captures show that the family made preparations for her funeral on October 10. The cause of her death remains unknown.
On the day Phuong Hong was arrested, the chairman of Tan Viet Securities, a company belonging to VTP, passed away. Nguyen Tien Thanh was 59 years old; the cause of his death remains unknown.
On October 14, firefighters had to put out a small fire at a VTP building in Ho Chi Minh City. According to the police, "a freezer in the office caught fire due to a short circuit." Also on October 14, Nguyen Ngoc Duong, CEO of Saigon Peninsula, another company owned by VTP, passed away at the age of 49.
Van Thinh Phat's Chairwoman Truong My Lan is under investigation for a massive bond fraud scheme. Her arrest has shaken Vietnam's stock market and caused panic withdrawals by depositors at Saigon Commercial Bank (SCB) whose CEO was the recently deceased Nguyen Tien Thanh – husband of Van Thinh Phat's vice-president Tong Thi Thanh Hoang. The government had to step in and put SCB under "special scrutiny" to prevent further erosion of confidence.
International Advocacy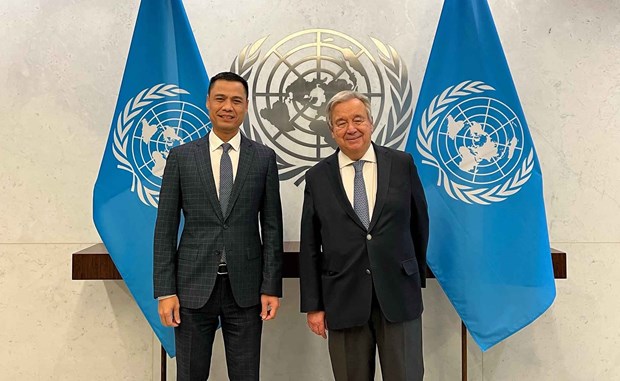 UN Secretary General Guterres (R) with Vietnam's Ambassador to the UN, Dang Hoang Giang, on October 13, Source: Vietnam Plus/VNA
Vietnam received 145 of 189 valid votes, becoming one of 14 countries elected by members of the UN General Assembly in New York to a three-year term on the council beginning on January 1, 2023. UN Secretary General Guterres congratulated Vietnam's election to the Council. The 88 Project has been told that Guterres will be in Vietnam from October 21-23.
Special Presidential Envoy for Climate John Kerry will also travel to Hanoi, October 20-22, and will further engage in discussions on climate cooperation and the clean energy transition ahead of COP27 in Sharm el-Sheikh, Egypt November 6-18, 2022.
A letter co-signed by several major organizations such as Amnesty International and Article 19 demands that Vietnam accept requests by the UN Human Rights Council Special Procedures to visit the country to monitor the situation and report their findings to the Council. It also recommends that Vietnam modify its criminal code, particularly Articles 117 and 331 "to ensure compliance with obligations under the ICCPR and other international human rights law per Viet Nam's pledges."
NEWS & ANALYSIS
Vietnam and Thailand abstain from UN vote to condemn Russia's Ukraine annexation. RFA; October 13, 2022: Vietnamese state media on Thursday reported on the United Nations General Assembly vote that overwhelmingly condemned Russia's attempts to annex four regions of Ukraine, but did not mention that Hanoi, along with Thailand, Laos and 32 other countries had abstained from the vote.
(Note: this opinion appears in a state media outlet): OP-ED: Vietnam working hard to ensure all human rights, for all. VNA, Vietnam Plus; October 13, 2022: Vietnam's success in running for the seat also deals a heavy blow on slanderous allegations and ill-intentioned prejudices against the Southeast Asian nation ahead of the voting at the UN General Assembly. Speaking at a regular press conference of the Ministry of Foreign Affairs, Spokesperson Le Thi Thu Hang said Vietnam totally rejects the wrongful and unobjective information based on ill-intentioned prejudices that some foreign organisations have spread about Vietnam's human rights situation.
No laughing matter: the Vietnam Communist Party's thin skin. Zachary Abuza, RFA; October 10, 2022: Projected onto a screen that served as a backdrop to the 17 September 2022 Ministry of Health-sponsored event at Hanoi Medical University was the ministry's logo, the familiar snake wrapped around a lancet. But this logo was different, for in the snake's mouth was an envelope. And no one in Vietnam needs to be told what the envelope symbolizes.
BBC accused of endangering World Service Vietnamese staff. Jim Waterson, BBC; September 30, 2022: Journalists at the BBC World Service have said plans to move its Vietnamese service from London to Thailand pose a danger to press freedom. Several reporters at the World Service raised concerns that the Vietnamese state had a history of abducting journalists from Thailand.
© 2022 The 88 Project
https://the88project.org/wp-content/uploads/2022/10/Un-Sec-General-and-VN-Ambassador-October-2022.jpg
381
620
kayleedolen
https://the88project.org/wp-content/uploads/2019/01/88project.png
kayleedolen
2022-10-17 16:53:26
2022-10-17 16:53:26
Vietnam Free Expression Newsletter No. 39/2022 – Week of October 10-16