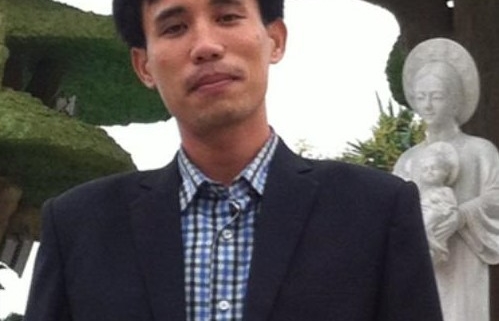 Update on Political Prisoner Hoang Duc Binh from his Family, October 2022
Political prisoner Hoang Duc Binh's family updated The 88 Project on his prison conditions. Binh is an environmental and labor activist who is serving 14 years in prison for "resisting officers in the performance of their official duties" and "abusing democratic freedoms."
***
Update, October 7, 2022:
According to Hoang Nguyen, the younger brother of Hoang Duc Binh, Binh was subjected to denial of family visits for most of 2021, as Binh refused to wear a prison uniform when the family visited, insisting that he was wrongly imprisoned. Father Nguyen Dinh Thuc and Binh's mother wrote Binh many letters, convincing him to wear the uniform so that they would be allowed to see each other. Otherwise, his mother was afraid that she would not see Binh before she died. Out of respect for his mother, Binh decided to comply with the prison's rule starting in March 2022.
Since the Covid restrictions had been lifted by that time, Binh's family has thus been able to visit him monthly. They are able talk for about one hour each visit, and Binh is allowed to receive about 10 kgs of food and necessities from his family. Between March to July 2022, Binh felt unwell, suffering from sinus issues, backaches, and stomachaches. Binh requested check-ups and treatment from the prison authorities, but his petitions were denied. Instead, the prison doctor went to visit Binh, examined him, and gave him medication for his stomachaches and a calcium supplement. The latest family visit was on September 20, 2022, and Binh was reported to be fairly healthy.
***
Hoang Duc Binh was the vice president of the independent Viet Labour Movement and a member of "No-U Saigon," a soccer group that protests China's sweeping claims on the South China Sea. He is also a well-known blogger and actively worked with the Catholic community in Nghe An province to help them obtain compensation for the damages caused by the Formosa environmental disaster. Binh was arrested on May 15, 2017, in Nghe An province when he escorted Catholic priest Nguyen Dinh Thuc from the Song Ngoc parish in Dien Chau district to Vinh city.
Watch an interview (in Vietnamese, with English subtitles) with Hoang Duc Binh, where he explains in his own words why he was inspired to begin his activism.
© 2022 The 88 Project
https://the88project.org/wp-content/uploads/2019/01/hoang-duc-binh_square.jpg
499
499
kayleedolen
https://the88project.org/wp-content/uploads/2019/01/88project.png
kayleedolen
2022-10-21 19:46:36
2022-10-21 19:46:36
Update on Political Prisoner Hoang Duc Binh from his Family, October 2022