Vietnam Free Expression Newsletter No. 6/2023 – Week of February 6-12
Greetings from The 88 Project. We bring you news, analysis, and actions regarding human rights and civil society in Vietnam during the week of February 6-12. A democracy activist became nearly blind while in prison and was released a few months early. An activist engineer finally got legal counsel and medical care after almost a year in pre-trial detention. Some relatively good news gleaned from a political prisoner's letters to his wife. Dang Dinh Bach – and Vietnam's 208 political prisoners – are highlighted in a Washington Post editorial. Justice for Myanmar exposes a connection between the military junta and a Vietnamese oil company. Speeches from the former president of Vietnam, who abruptly resigned last month, were scrubbed from government websites. Premature news of Intel's planned investment in Vietnam was also surreptitiously removed. More analysis on the implications of the anti-corruption campaign.

HUMAN RIGHTS & CIVIL SOCIETY
Political Prisoners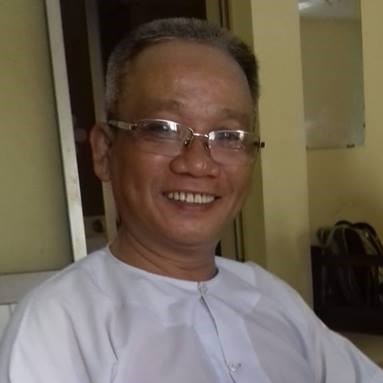 Do The Hoa
Do The Hoa, a member of the Hien Phap "Constitution Group," who was arrested in 2018 and sentenced to five years in prison on "public disturbance" charges, was released seven months early ostensibly for "good behavior," but only after he had become nearly totally blind due to an alleged lack of timely healthcare. Hoa told RFA: "I started to suffer from the pain [caused by sore eyes] in October 2020 but could not see a doctor or get medicine to reduce my intraocular pressure until December, and my surgery did not take place until March 2021." By that time it was too late for doctors to do anything to reverse his condition. "The vision in my eye with glaucoma has decreased to only 20%," he said, "making me only able to differentiate between light and dark … but unable to recognize human faces, while my other eye cannot see anything at all."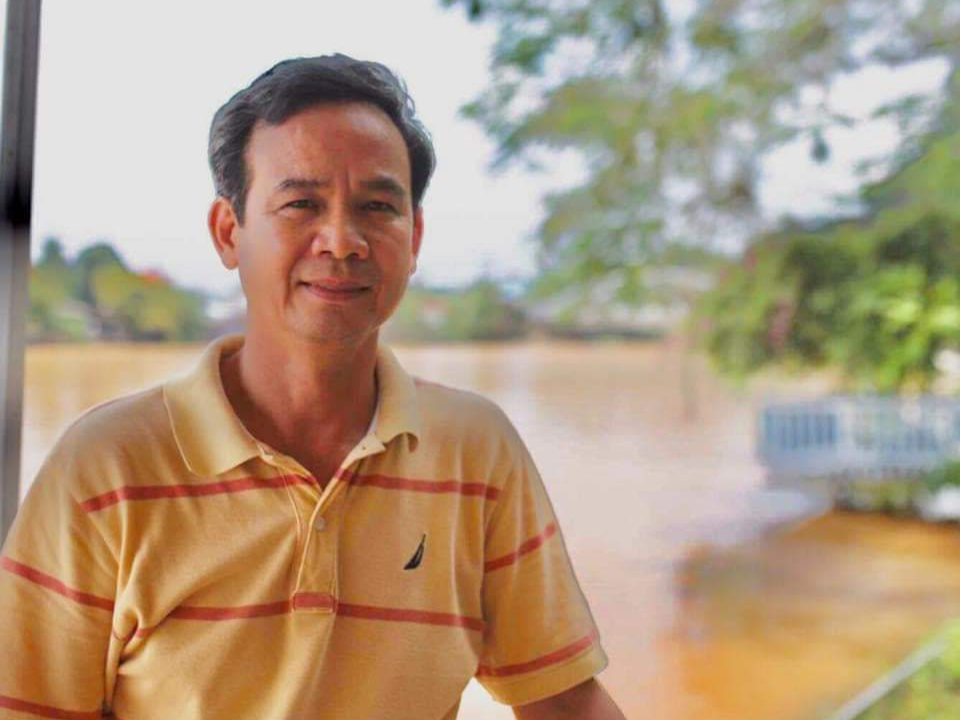 Tran Van Bang
Tran Van Bang, an engineer who's been charged with "anti-state propaganda," was allowed to see his lawyers for the first time since his arrest in March of last year, after the state concluded their investigation into his online activism. Even though his health has reportedly been deteriorating while in detention, he was only allowed to be examined by doctors after his lawyers sent a petition earlier this month requesting that he receive medical help. It is not clear what the prognosis was.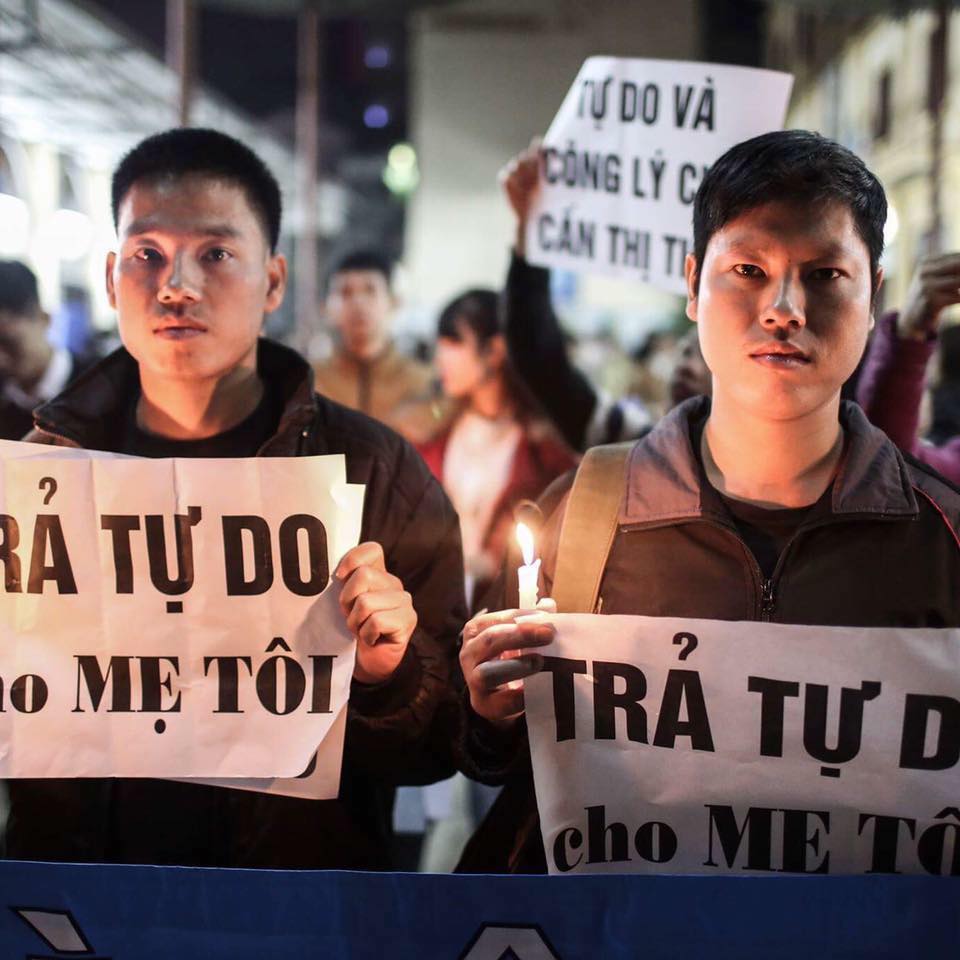 Trinh Ba Phuong (right) and his brother Trinh Ba Tu holding the signs: "Freedom for my Mother (Can Thi Theu)" at a praying mass for victims of injustice. Source: Facebook Trinh Ba Phuong

Trinh Ba Phuong's wife, Thu Do, has posted two new letters from her husband – one from December and one from January (he's allowed to send home one letter a month). Phuong says he has been able to play badminton regularly and that he has also taken up weightlifting. From the letters, it appears Phuong is in good physical and mental health. He also was allowed to call home on February 10 to talk to his wife and children. Arrested shortly after the deadly Dong Tam police raid, Phuong is serving a 10-year sentence for spreading "anti-state propaganda." His mother and brother are also serving multi-year sentences on the same charge.
International Advocacy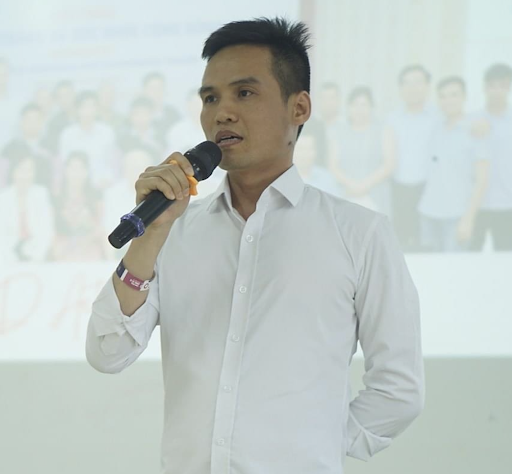 Dang Dinh Bach
NGO leader and environmentalist Dang Dinh Bach's case was one of several featured in an opinion article by the Washington Post about a recent wave of arrests of globally-minded, social media savvy political prisoners.
Read the details of this investigation by Justice for Myanmar shedding light on international companies worldwide that are secretly backing the military junta through oil sales, including Vietnam's state-owned PetroVietnam. "Now newly-leaked documents and corporate records reveal that some of the world's biggest oilfield services companies…have continued to work in Myanmar after the military's attempted coup, helping the flow of gas – and revenues vital to the junta – to continue."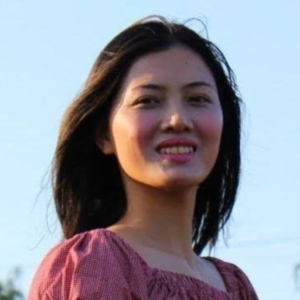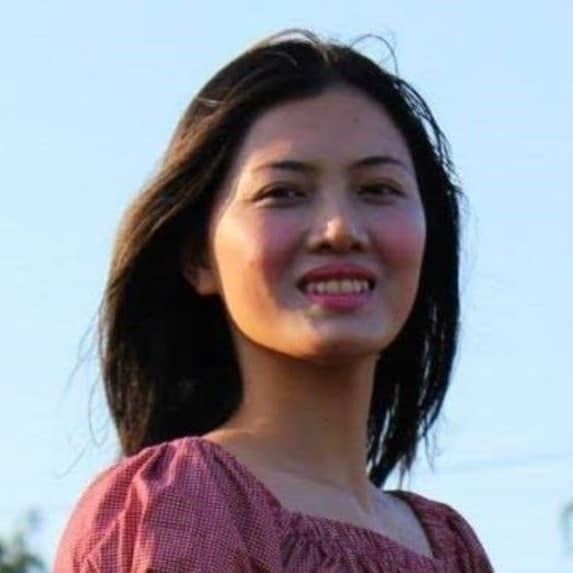 Huynh Thuc Vy
U.S. Representative Gerald Connolly (D-VA) has written a letter to Secretary of State Antony Blinken urging the U.S. government to call for the release of Huynh Thuc Vy, who is serving a 33-month sentence for spraying paint on Vietnam's national flag. "Vietnam's politically motivated imprisonment and physical abuse of Ms. Huynh," wrote Mr Connolly, "is an affront to freedom of expression and press freedom. She and the 20 other journalists imprisoned in Vietnam as of December 1, 2022, should be released immediately." On the same day, Rep. Ro Khanna (D-CA) also sent Blinken a letter with a similar request.
NEWS & ANALYSIS
Vietnam's environmental NGOs face uncertain status, shrinking civic space. Huong Thien; Mongabay, February 13, 2023: "For the staff of these organizations, faith in their causes was often overshadowed by the fear of the government, which has recently moved to dampen the voices of NGOs. Prominent activists and NGO leaders have been arrested, even as they reaped significant achievements. In addition, many NGO workers have found themselves exhausted by treading the line between following their hearts to act for their causes and adhering to ambiguous top-down rules."
Former president's speech vanishes from Vietnam news sites. RFA Vietnamese; February 7, 2023: "My family, wife, and children are not self-interested and corrupt in relation to Viet A, and have never met the Director of Viet A. This has been clearly concluded by the Central Inspection Commission," [Nguyen Xuan] Phuc said. At the time, most domestic online news sites quoted the former president's sentence verbatim, while some put the comments in their headlines. Now the comments have vanished from the Tuoi Tre, Thanh Nien, Lao Dong, Zing and VTC News sites.
Not so good morning Vietnam, as government announces, then buries news of Intel investment. Laura Dobberstein, The Register; February 9, 2023: On Tuesday, the government of Vietnam reported 2023 foreign direct investment in Ho Chi Minh City had reached $7.4 billion. In the announcement, city official Pham Tuan Anh indicated the $7.4 billion figure was contingent on the success of a multi-billion dollar deal with Chipzilla, plus a more stable socio-economic and inflation situation. The next morning, written mentions of Intel had disappeared from the site and foreign direct investment totals had been reduced – to between $4.1 and $4.5 billion. However, a photo of Ho Chi Minh's Intel facility remained in the announcement posted on the country's Central Economic Commission website.
Vietnam's Anti-Corruption Drive Can Never Go Far Enough. David Hutt, The Diplomat; February 9, 2023: The root of Vietnam's endemic corruption is a one-party state in which officials are accountable only to their superiors (who now can receive a lighter punishment than their underlings), and where investigators and the courts won't rule on anything the party doesn't want them to. Indeed, the lesson of the purges is that the party is judge and jury, not any other institution. As such, the anti-corruption campaign will only persist for as long as a true believer like Trong remains at the helm. More perniciously, it tends towards greater centralization of power within the hands of a party whose dictatorial rule is the reason in the first place for such corruption.
© 2023 The 88 Project
https://the88project.org/wp-content/uploads/2023/02/Do-The-Hoa.jpg
383
383
kayleedolen
https://the88project.org/wp-content/uploads/2019/01/88project.png
kayleedolen
2023-02-14 16:18:45
2023-02-14 16:18:45
Vietnam Free Expression Newsletter No. 6/2023 – Week of February 6-12