Vietnam Free Expression Newsletter No. 7/2023 – Week of February 13-19
Greetings from The 88 Project. We bring you news, analysis, and actions regarding human rights and civil society in Vietnam during the week of February 13-19. A surprise post-Valentine's Day present for two political prisoners' families. Yet another appeal trial that resulted in no change. More allegations of bullying against political prisoners at a notorious prison in southern Vietnam. The well-known activist and descendant of the famed Nguyen Lan family was finally allowed to see his lawyers in jail. A retired general was arrested on tax charges. The Catholic diocese in Vinh where the Formosa toxic spill occurred– which led to multiple protests and arrests in 2016– is embroiled in controversy over the murky ordination of a man formerly convicted of bribery. UN Special Rapporteurs are concerned that a Chinese activist arrested in Vietnam will be sent back to China. Indonesia and Vietnam send a firm message to China via their mutual pact on an Exclusive Economic Zone in the South China Sea. In case you missed it, our arrest data and the case of NGO leader and environmentalist Dang Dinh Bach were both featured in an opinion article by the Washington Post.

HUMAN RIGHTS & CIVIL SOCIETY
Political Prisoners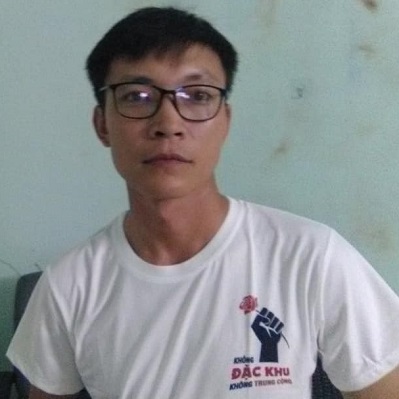 Bui Van Thuan
Vietnam continues to hold many political prisoners incommunicado from their lawyers, family, or both – in blatant contravention of international legal standards and norms. In the case of Bui Van Thuan, his wife Trinh Thi Nhung said she received a 10-minute call from her husband on February 15; it was the first time she talked to Thuan since his imprisonment in August 2021.
He was transferred to Prison No. 6 in Nghe An Province one day before the Lunar New Year,  according to Nhung. Thuan told her his health is good and that he has been allowed to go outside to exercise regularly. A honey seller by trade, Thuan was sentenced in November 2022 to eight years in prison plus five years of probation for spreading "anti-state propaganda."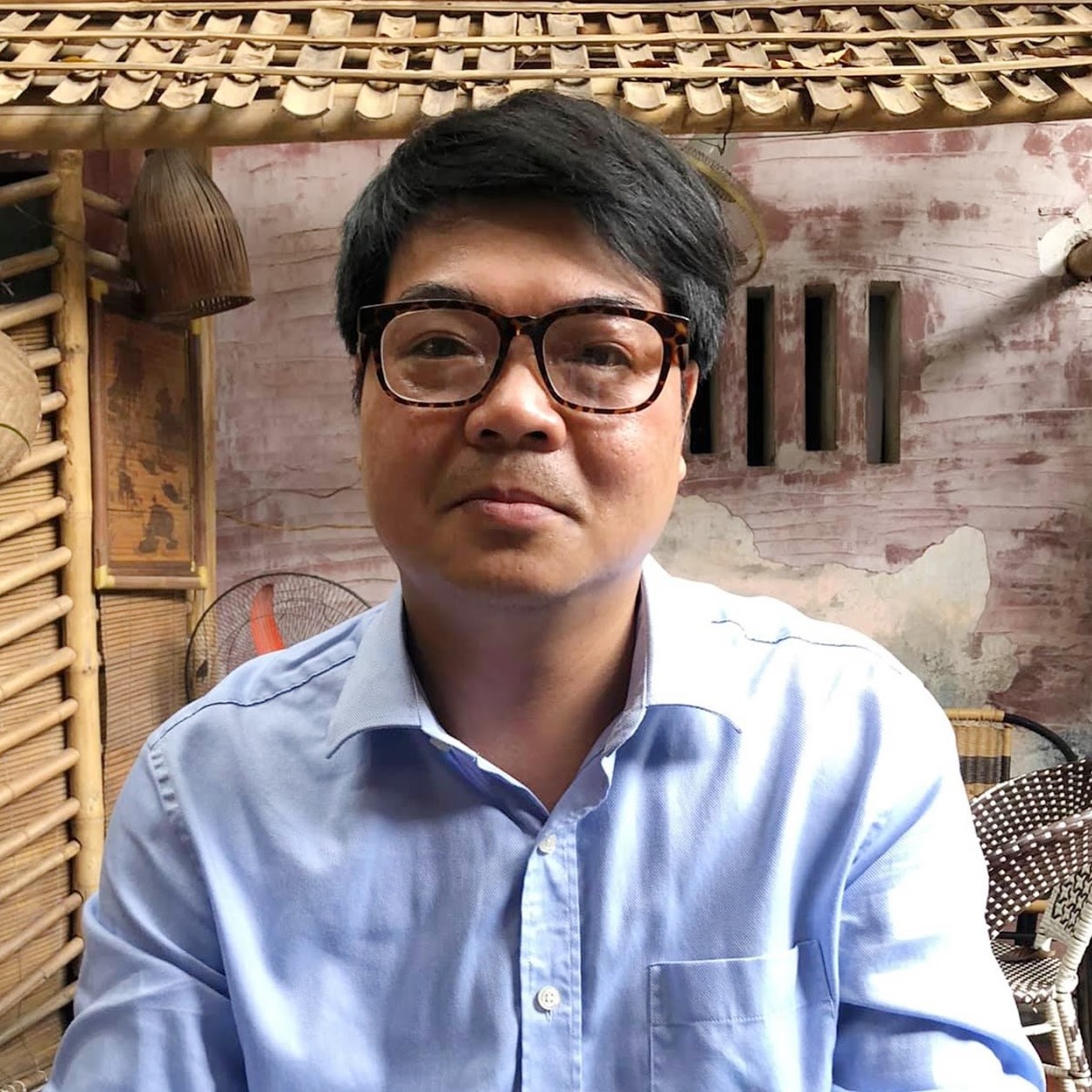 Le Trong Hung
On the same day, another prisoner from No. 6 Nghe An also was allowed to call home. Le Trong Hung told his wife, Do La Na, during the 10-minute conversation that his health had stabilized. Trong, arrested in March 2021, wasn't permitted to visit with his lawyer until October 2021. He waited more than a year after his arrest to be able to meet with his wife.
In her recent Facebook post, Na noted that she still has to regularly send her husband medications for multiple ailments, including for his eyes, toothaches and backaches. Hung founded and worked as an independent journalist at "Strengthening Vietnam TV" (Chấn hưng Việt Nam TV) for four years. He focused on supporting land petitioners, consulting on legal procedures, and disseminating information to the public. He was sentenced to five years in prison for disseminating "anti-state propaganda."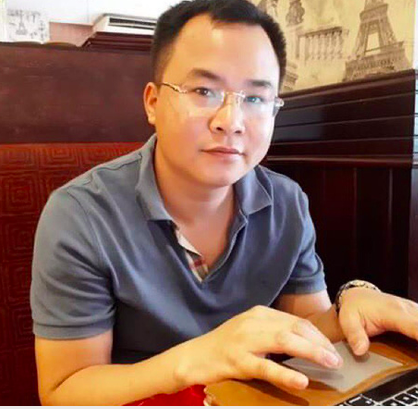 Dang Nhu Quynh
The appeal trial of 43-year-old Facebooker Dang Nhu Quynh, unsurprisingly, resulted in no change to his two-year sentence for posting "anti-state propaganda" on his social media account. Additionally, the Hanoi court denied Quynh's request to return the Samsung phone that belongs to his daughter, even though he never used it to post the "anti-state" comments.
Nguyen Duy Linh, who is serving a five-year sentence for spreading "anti-state propaganda," is reported to have been bullied by fellow inmates when he was moved to An Phuoc Prison in Binh Duong Province. Linh's wife told RFA that her husband complained of being harassed day and night. Linh is not the first person to be subjected to such harassment at An Phuoc. Two former inmates there – Tran Thanh Phuong and Doan Thi Hong, after their releases, also accused An Phuoc Prison of similar abuses against them.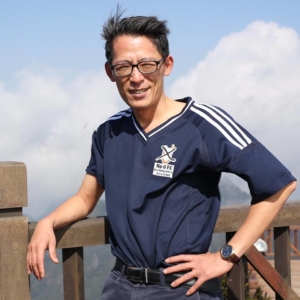 Nguyen Lan Thang
The government has concluded its investigation into Nguyen Lan Thang and has charged him with spreading "anti-state propaganda" according to Article 117. Thang's lawyers were allowed to meet with him on February 16 to plan their defense. Thang is accused of spreading 12 videos and two books with contents that allegedly defame the Party and the State. Thang said he'd gained over 10 pounds (6Kg) while in detention and was afraid unhealthy prison food would exacerbate his high blood pressure and other pre-existing conditions. A trial date has not yet been set.
Land Rights
Retired Brig. Gen. Do Huu Ca, former head of Public Security in Hai Phong Province, was arrested on Feb. 18 and charged with "tax evasion." In 2012, Ca directed a police raid of shrimp farmer Doan Van Vuon, of Tien Lang village, which caused injuries to eight policemen and one death when Vuon and his three brothers fought back with homemade firearms. The four men and two of their wives were laters sentenced to multi-year prison terms. The uprising was the result of government land grab against hundreds of Tien Lang villagers. An investigation a year later determined that the land confiscation was illegal; two years later Vuon and his family were pardoned.
International Advocacy
The U.S. Department of State has released its Fact Sheet "Marking One Year Since the Release of the Administration's Indo-Pacific Strategy," which includes, among many other things, the 26th U.S.-Vietnam Human Rights Dialogue (HRD), held in November 2022, and the ILGA Asia Conference in Vietnam, also held in November 2022, where Special Envoy for the advancement LGBTQI+ Jessica Stern met with civil society activists.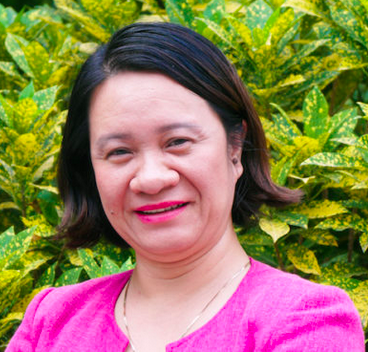 Nguy Thi Khanh
The fact sheet also highlights the establishment of a Just Energy Transition Partnerships (JETP) with Vietnam. We note that the Vietnamese government has jailed at least four environmental NGO leaders since 2021 (including Goldman Environmental Prize winner Nguy Thi Khanh), hindering potential progress on clean energy goals.
NEWS & ANALYSIS
Facebook and Instagram to get paid verification as Twitter charges for two-factor SMS authentication. Josh Taylor, The Guardian; February 19, 2023: Separately, Twitter announced on Friday it would provide SMS-based two-factor authentication only to users who are subscribed to the US$8-a-month ($11.65) Twitter Blue service from 20 March. The company currently provides free two-factor authentication through third-party apps and a security key, which are considered more secure than SMS-based systems. If non-subscriber accounts that use SMS authentication do not switch before the deadline, Twitter said it would disable two-factor authentication for that account. The move has sparked concerns that it could lead to widespread hacks on accounts next month if they fail to switch over.
Bishop in Vietnam disowns 'fake' priest. Cathnews; February 16, 2023: Bishop Alfonse Nguyen Huu Long of Vinh diocese in central Vietnam issued a statement on February 10 disowning Fr John Baptist Ho Huu Hoa, three months after he was ordained by Bishop Precioso Cantillas of Maasin in the Philippines. … The priestly ordination of the 38-year-old came just over a year after he was released from prison, according to local reports, which shows he could not have had the mandatory four years of theology training in a seminary. Fr Hoa was arrested in 2019 for allegedly helping a former police intelligence colonel to bribe a lieutenant-general to the tune of 5 billion dong ($A306,000) to interfere with a criminal case against him, Radio Free Asia reported.
4 Men Sentenced to Jail for Smuggling 200 Fake Experts Into Vietnam. Koh Ewe, Vice News; February 17, 2023: Working with dozens of local businesses to falsify official immigration documents, the smugglers brought four groups of South Koreans into Da Nang, a coastal city in central Vietnam, between December 2020 and March 2021. They earned around $46,000 from the illicit operation, local media reported. The racket was designed as a workaround for Vietnam's strict COVID policies that denied entry to most foreigners to curb the spread of the virus. Under the country's COVID rules, in place from March 2020 to 2022, only those with specific designations—such as experts, diplomats, business managers, and investors—were allowed into the country.
UN rapporteurs concerned that Chinese activist arrested in Vietnam will be sent back. RFA Vietnamese; February 16, 2023: The Vietnamese government has failed to respond to a request by three U.N. special rapporteurs as to the whereabouts of a Chinese human rights defender arrested by Vietnamese police. They are concerned that Dong Guangping will face persecution if sent back to China. Vietnamese police in Hanoi arrested Dong, 65, in August 2022, though the official reason for his detention is unknown. At the time, Dong was seeking political asylum status in a third country. Dong, a former police officer from Henan province, was criminally prosecuted in China three times for his work in support of human rights and democracy, including advocacy for activities commemorating victims of the 1989 Tiananmen Square massacre.
Indonesia-Vietnam EEZ pact sends firm message to China. Bich Tran, Asia Times; February 17, 2023: Vietnam and Indonesia agreed to delimit their respective Exclusive Economic Zones (EEZs) on 22 December 2022 after 12 years of negotiations. The agreement provides hope for the strengthening of the region's commitment to international maritime norms and principles encapsulated in the 1982 United Nations Convention on the Law of the Sea (UNCLOS). The two countries previously had longstanding and overlapping EEZ claims in the waters surrounding the Natuna islands in the South China Sea. After agreeing on the Indonesia-Vietnam continental shelf boundary in 2003, Vietnam wanted to use the same boundary for their EEZ delimitation.
IN CASE YOU MISSED IT
The 88 Project's arrest data and the case of NGO leader and environmentalist Dang Dinh Bach were both featured in an opinion article by the Washington Post.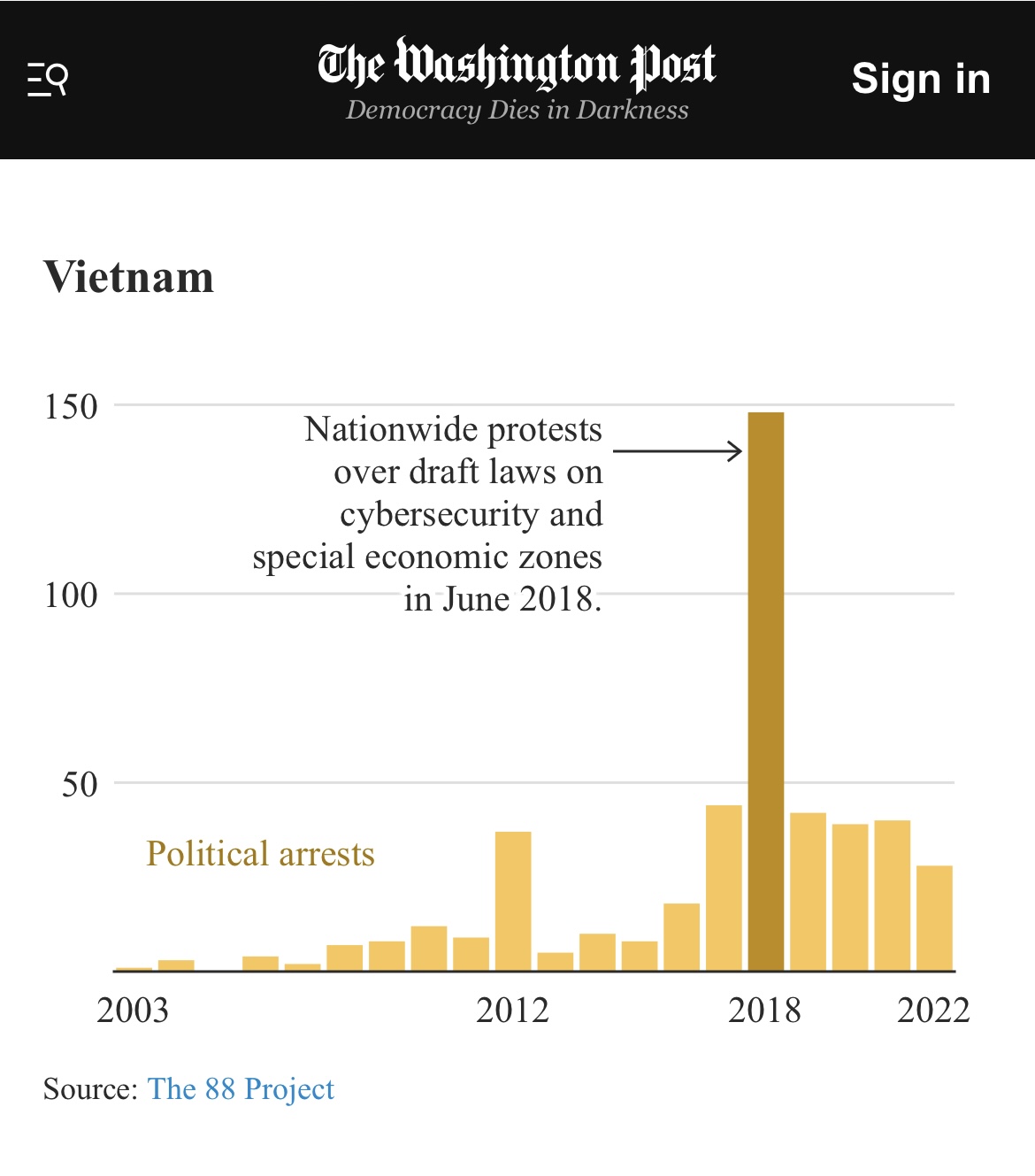 Political arrests in Vietnam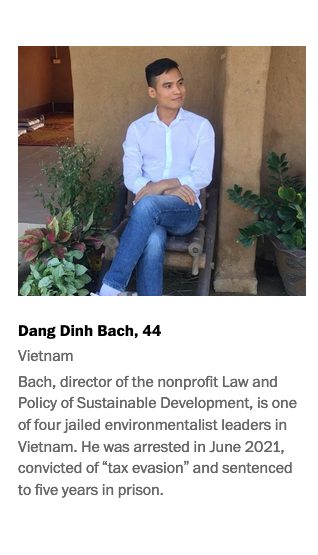 Dang Dinh Bach featured in the Washington Post's interactive editorial on political prisoners worldwide
© 2023 The 88 Project
https://the88project.org/wp-content/uploads/2023/02/IMG_3298.jpg
1329
1170
kayleedolen
https://the88project.org/wp-content/uploads/2019/01/88project.png
kayleedolen
2023-02-21 16:22:52
2023-02-21 16:22:52
Vietnam Free Expression Newsletter No. 7/2023 – Week of February 13-19