Vietnam Free Expression Newsletter No. 46/2022 – Week of December 5-11
Greetings from The 88 Project. We bring you news, analysis, and actions regarding human rights and civil society in Vietnam during the week of December 4-11. Lack of proper healthcare continues to be a major issue in Vietnamese prisons. Seven people were convicted for defending their parish land. A college student was kicked out of school allegedly for participating in protests years ago. Front Line Defenders issued an open letter calling for the protection of human rights defenders, which was signed by current and past parliamentarians from ASEAN and members of the European Parliament. The Vietnamese government touts its achievements in protecting human rights while international groups continue calling on the country to act like a member of the Human Rights Council. A draft law to create a black list of websites is under consideration. Hanoi's support for the brutal military junta in Myanmar is seen as part of a dictatorial brotherhood. Spiritual leaders warn that it's not enough for the US to focus only on Vietnam's religious record. Meanwhile, Vietnam's first large-scale arms expo features weaponry from both the US and Russia.
HUMAN RIGHTS & CIVIL SOCIETY
Political Prisoners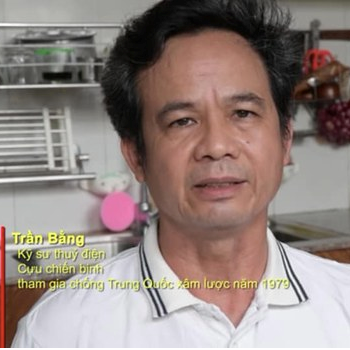 Tran Van Bang
Facebooker Tran Van Bang, held in pretrial detention since his arrest in March, told his family that his health had taken a turn for the worse with several symptoms such as yellow fluid in both ears, fluid in both eyes, and a growing lump in one part of his body. Bang said he needed medical attention. He also asked for help drafting a will. His lawyers, Nguyen Van Mieng and Dang Dinh Manh, have requested that Bang be immediately taken to a hospital for treatment. Bang is accused of writing 31 posts critical of the government from 2016 to 2021. Prosecutors have recommended that he be charged with "anti-state propaganda" under Article 117 of the Criminal Code.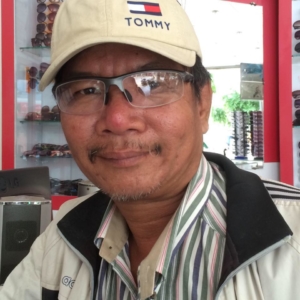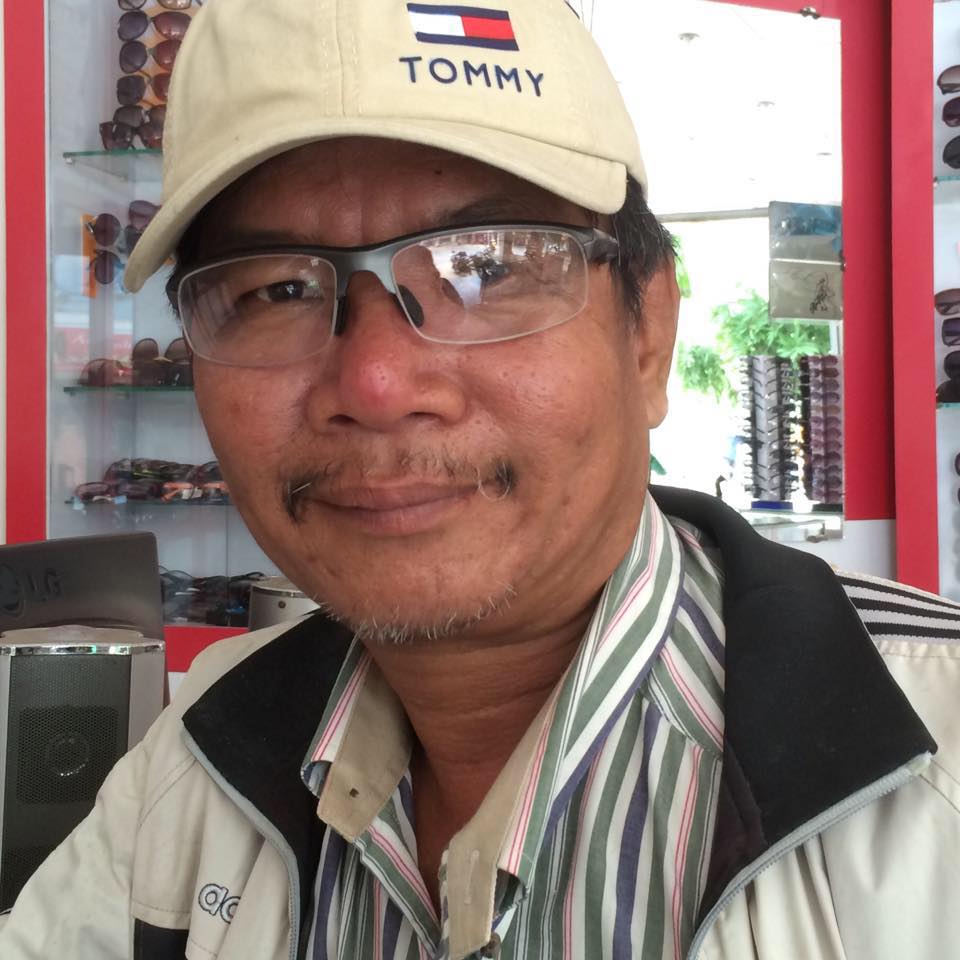 Huynh Truong Ca
Huynh Truong Ca's children were able to visit him at Xuan Loc prison on December 4. They reported that he was still waiting to be scheduled for surgery. In the meantime, doctors have allowed him to take the medication his family has been sending to ease some of the pain. Ca is reported to have diabetes, high blood pressure, and kidney stones. Arrested in 2018, he was sentenced to five years and six months for Facebook postings deemed to be "anti-state propaganda."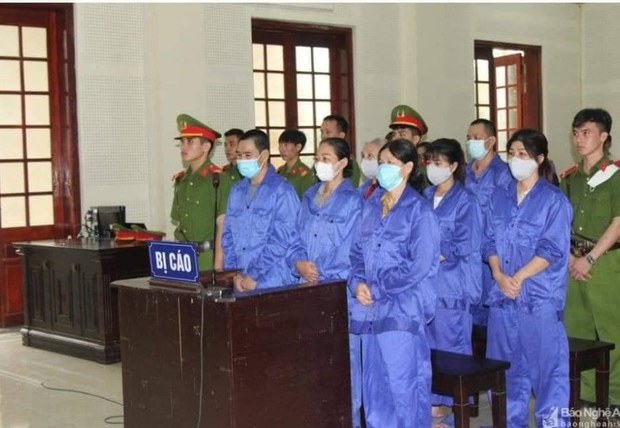 The defendants at trial on November 30, Source: Bao Nghe An via RFA
A court in Nghe An Province has convicted seven Binh Thuan parishioners for "resisting officials carrying state duties" based on Article 330 of the Criminal Code. The defendants allegedly tried to prevent the demolition of a road that ran through their parish. Their prison sentences range from several months to one year each. The oldest among them, Bach Thi Hoa, 70, was released after being sentenced to the exact amount of time she spent in pretrial detention – four months and 17 days.
At Risk
A student was dismissed from the University of Transport in Ho Chi Minh City with no official reason given after he had been attending classes for a few months. Dang Ngoc Thanh said he believed the real reason was because he had taken an active part in protests against the Special Economic Zone in 2018. Days after the protests, Thanh was detained by police in Tra Vinh Province and later arrested by Binh Chanh district police, who he said beat him and fined him $300.
International Advocacy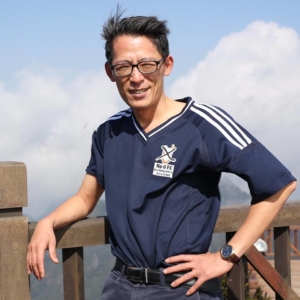 Nguyen Lan Thang
Front Line Defenders issued an open letter on the occasion of the first ASEAN-EU Summit on the situation of human rights defenders in Southeast Asia. The letter, which called for reiterating "the importance of protecting human rights defenders and of properly investigating offenses committed against them," was signed by current and past parliamentarians from ASEAN and members of the European Parliament. It also called explicitly for the release of Tran Huynh Duy Thuc, Pham Doan Trang and Nguyen Lan Thang.
Hanoi held a conference on December 8 to give an update on its implementation of the third cycle of the Universal Periodic Review in the areas of "labour and society." According to the government, "Vietnam has completed 82.6% of recommendations with many positive results in terms of ensuring and promoting human rights in the fields of labour, society, gender equality and human trafficking combat."
Five local and international faith groups have issued a letter calling on the government of Vietnam to respect the religious freedom of non-state sanctioned churches and justify its election to the UN Human Rights Council. The letter requests that the government "[a]ccept the essential role of independent civil society organizations in areas such as religion, environment – ​​climate change, union activism, and media; create conditions for civil society organizations to contribute to the development process of the country without being hindered or repressed."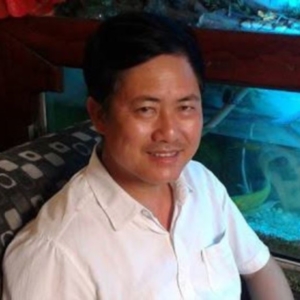 Luu Van Vinh
The Vietnam Human Rights Network held its award ceremony in Frankfurt, Germany on December 10. The recipients of its Human Rights Award for this year are Nguyen Tuong Thuy, Luu Van Vinh and Tran Duc Thach – all are serving multi-year sentences in Vietnam. Their wives appeared on a video link from Vietnam to thank the organization and the international community for advocating on their husbands' behalf.
NEWS & ANALYSIS
Vietnam to block ads on 'toxic' online content in further crackdown. Lien Hoang, Nikkei Asia; December 9, 2022: Vietnam is drafting a blacklist of websites — including individual user accounts on YouTube and Facebook — that will be barred from receiving advertising revenue if they are deemed to have posted anti-government or otherwise "toxic" content. Hanoi said it will "strictly punish" companies that advertise on such sites, a move campaigners fear will add to a climate of less "free expression than ever."
US focus on Vietnam's religious record may not be enough, spiritual leaders say. RFA Vietnamese; December 7, 2022: Thich Khong Tanh was the abbot of Ho Chi Minh City's Lien Tri Pagoda, which was demolished by local authorities in 2016. After its destruction he sought refuge in other temples, but said he was still closely monitored, especially at religious events. Tanh told RFA that when Vietnam wanted to join the World Trade Organization in 2007 the government released some prisoners of conscience in order to be removed from the U.S. list of Countries of Particular Concern but resumed human rights violations after being admitted to the trade group.
US seeks to boost arms sales to Vietnam as the Southeast Asian nation looks to diversify supply. Tung Ngo & Jalela Abu Baker, CNA; December 9, 2022: The defence trade show, which attracted about 170 manufacturers from 30 countries, is the first large-scale expo of its kind in Vietnam as the country looks to diversify its supply of weapons. "It will be very difficult to fulfil our duties in defence industrial production, as well as in protecting our country, if we are reliant on one particular country or region for defence material or equipment," said Major General Nguyen Viet Hung, Deputy Political Commissar of Vietnam's General Department of Defence Industry. He added that Russia's war in Ukraine posed "great impact" on the supply chain of materials for defence industries.
The Prospect for Human Rights amid Warmer Sino-Vietnamese Ties. Jason Nguyen, The Vietnamese; December 10, 2022: What's happening in Iran is perhaps the last thing that the Vietnamese and Chinese governments want to occur in their countries. Both Vietnam's and China's propaganda machines have habitually denounced similar pro-democracy revolutions in the Middle East and the mass protests in Hong Kong as "color revolutions," which were allegedly ignited by the United States to "intervene in other countries' internal affairs" and "compel citizens to engage in anti-State activities."
© 2022 The 88 Project
https://the88project.org/wp-content/uploads/2022/12/Defendants-at-trial-on-11.30.22_Source-Bao-Nghe-An-via-RFA.jpeg
428
620
kayleedolen
https://the88project.org/wp-content/uploads/2019/01/88project.png
kayleedolen
2022-12-13 04:34:01
2022-12-13 04:34:01
Vietnam Free Expression Newsletter No. 46/2022 – Week of December 5-11