Huynh Truong Ca
Current Status: Sentenced to prison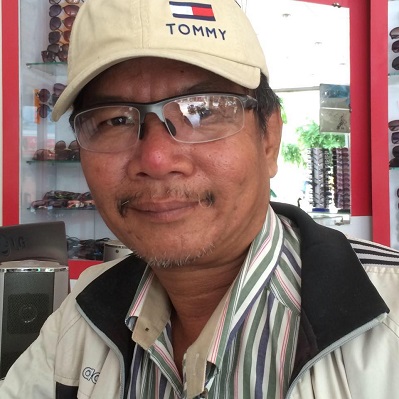 Other Names: Huỳnh Trương Ca, Thằng Nhà Quê
Date of Birth: 1971
Gender: M
Ethnicity: Kinh
Last Known Prison: Temporary Detention Center, Dong Thap Province
Areas of Activism:
Environment
Freedom of expression
Human rights
Sovereignty
Known Affiliations:
Highlighted Human Rights Concerns:
Torture
Denial of Adequate Medical Treatment or Supplies
Harsh Physical and Administrative Conditions
Denial of Family Visit/Punitive Prison Transfer
Infliction of Physical and Psychological Pain
December 2022:
Huynh Truong Ca's children were able to visit him at Xuan Loc prison on December 4. They reported that he was still waiting to be scheduled for an unknown surgery. In the meantime, doctors have allowed him to take the medication his family has been sending to ease some of the pain. Ca is reported to have diabetes, high blood pressure, and kidney stones.
Details - Background, History of Activism.
Prior to arrest, Ca lived in Dong Thap Province.
Huynh Truong Ca is a co-founder of Hien Phap (Constitution) group, established on June 16, 2017 to promote people's understanding of their human rights in the 2013 Constitution.
Huynh Truong Ca and other members planned to call for a peaceful demonstration on September 4, to raise their voice on social issues, including human rights violations, corruption, territorial disputes, and environmental pollution.
In addition, he and his colleagues in the Hien Phap group were said to play key roles in the demonstrations on June 10, protesting against two bills on Special Economic Zones and Cybersecurity. Therefore, on June 16, he was summoned by police of Hong Ngu District, Dong Thap Province.
On his Facebook account, namely Huỳnh Trương Ca, he usually live-streams about social issues.
Arrested September 4, 2018. Sentenced to 5 years 6 months in prison under Art. 117 (2015 Code).
September 4, 2018
Dong Thap province public security, Dong Thap province
Tan Hiep Town, Chau Thanh District, Tien Giang Province (
map
)
December 28, 2018
The People's Court of Dong Thap Province
None
5 years 6 months in prison
freedom from arbitrary arrest or detention
liberty and security of the person
freedom of expression
freedom of peaceful assembly
freedom of association
fair trial
political participation
Amnesty International
On September 4, Huynh Truong Ca was arrested on the way from Tien Giang to Ho Chi Minh City, where he and other Hien Phap members had called for a demonstration.
On September 14, the Investigation Agency of Dong Thap Province prosecuted him on the allegation of "Making, storing, spreading information, materials, items for the purpose of opposing the State of Socialist Republic of Vietnam" under Article 117 of the 2015 Penal Code. They accused him of using Facebook to share, post, and live-stream anti-state content.
On November 14, the investigation process was completed. Police of Dong Thap sent this result to the province's People's Procuracy, proposing to prosecute him under the charge of Article 117 of the 2015 Penal Code, which carries a sentence of seven to 12 years.
December 2018:
On December 28, 2018, Huynh Truong Ca was tried by the People's Court of Dong Thap Province and sentenced to five years and six months in prison. Ca represented himself at trial and maintained his innocence, saying he acted out of patriotism. Family was permitted at the trial, but their electronics were banned in the courtroom.
February 2019:
Huynh Truong Ca has revealed that police tried to get him to incriminate other activists during questioning in prison. He was pressured to talk about friends in Ho Chi Minh City but refused to do so. Prison authorities have put him in a cell with aggressive prisoners who have reportedly assaulted him. Ca has diabetes, high blood pressure, and kidney stones, which are a concern for his long sentence.
April 2019:
On April 2, 2019, Dong Thap Public Security sent an "invitation" to Pham Thanh Tam, Huynh Truong Ca's wife, to question her on issues relating to the 50k Fund, which supports families of imprisoned activists.
March:
Please take Amnesty International's Urgent Action for Huynh Truong Ca. He is battling several ailments while in prison, including diabetes, high blood pressure, and lung disease. Earlier in March, he was transferred to a new prison, which is farther away from his family.
Profile last updated: 2022-12-13 04:40:31