Vietnam Free Expression Newsletter No. 42/2022 – Week of October 31-November 6
Greetings from The 88 Project. We bring you news, analysis, and actions regarding human rights and civil society in Vietnam during the week of October 31-November 6. Although there were no surprises in the verdicts at the Bong Lai Temple appeal trial, video clips of defendants getting cut off during closing statements quickly went viral. A major online influencer accused of revealing secrets about famous celebrities will be criminally charged. A father keeps fighting in vain to see his imprisoned son. Vietnam News Agency retains its seat on the executive board of an international news organization. A proposed decree will allow the state to remove digital content it deems "toxic" within hours of detection. The annual US-Vietnam Human Rights Dialogue has come and gone; read is a report by an attorney who was invited to a pre-meeting Q&A. Other activists invited were unable to attend due to security concerns. Read a new report from the UN Special Rapporteur on freedom of belief or religion. Party chief Nguyen Phu Trong visited Beijing. Vietnam is considered a perfect example of how dictatorial regimes use climate policies to greenwash their authoritarianism. Lastly, a candid revelation by the Army of its online propaganda role.
HUMAN RIGHTS & CIVIL SOCIETY
Political Prisoners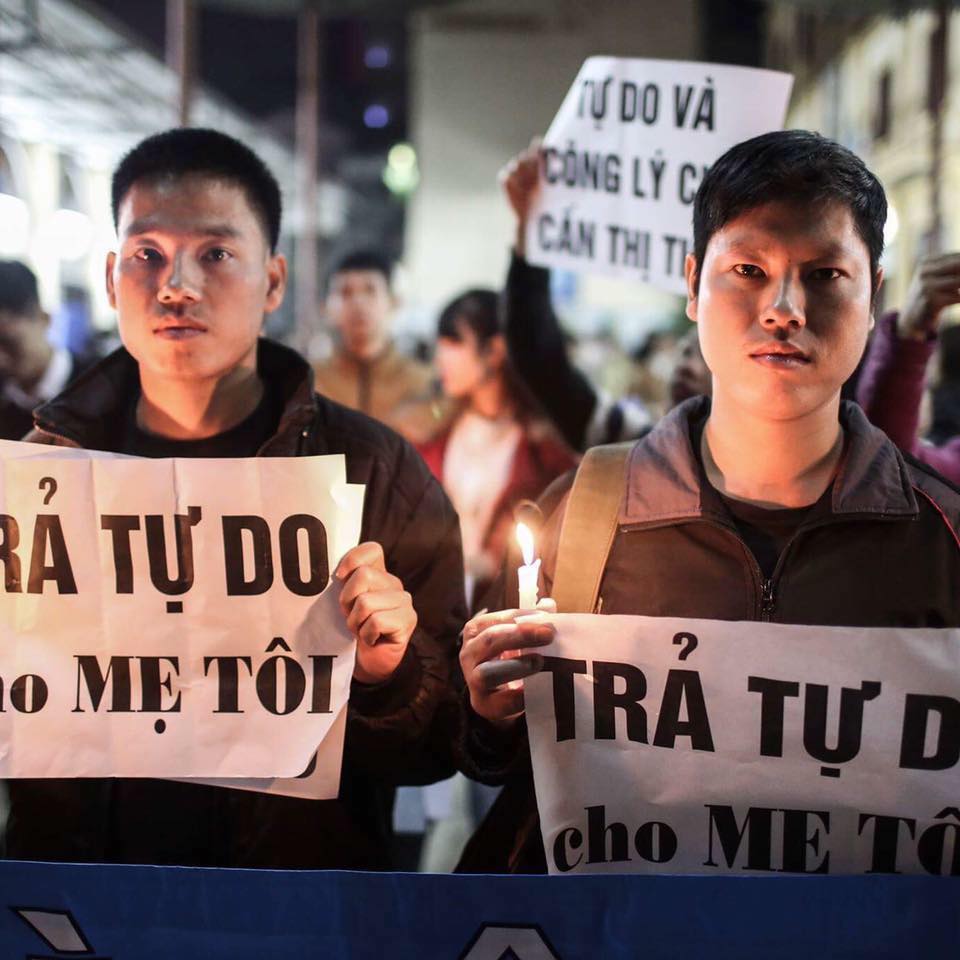 Brothers Trinh Ba Tu (left) and Trinh Ba Phuong, both currently in prison for their activism
Trinh Ba Khiem, father of jailed activist Trinh Ba Tu, attempted to visit his son at No. 6 Nghe An Prison again on November 3, but was told that Tu was being "disciplined and not allowed to see any visitor until November 21." Khiem was not told why his son was disciplined or whether Tu was still on a hunger strike to protest mistreatment. This was the third time in the past 30 days that Khiem had made the long round trip journey from Hanoi to Nghe An to check on the well-being of his son, only to be turned away.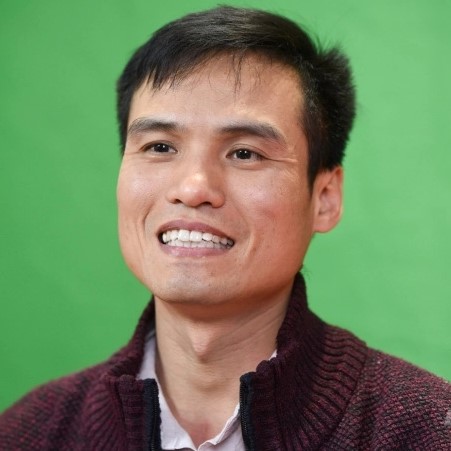 Dang Dinh Bach
Environmental activist Dang Dinh Bach was moved to a new prison without the family's knowledge. Bach's wife only found out when she went to visit him at Detention Center 1 in Hanoi, where he had been held since his arrest in June 2021. Bach is serving a five-year sentence for what is believed to be a politically motivated "tax evasion" charge.
Popular social media influencer Nguyen Phuong Hang, arrested in March for "abusing democratic freedoms," has been recommended to be tried under Article 331 of the 2015 Criminal Code. She is accused of using a dozen social media accounts to reveal personal secrets of comedian Hoai Linh, singer Vy Oanh, and journalist Han Ni, allegedly violating their rights and interests. Hang's family has applied to have her freed on bail, citing her charity work and her health, but their request is still under consideration. A trial date has not yet been set.


Le Tung Van
As expected, the appeal trial for six defendants from Bong Lai Temple resulted in no change to their prison sentences: five years for 90-year-old headmaster Le Tung Van; four years each for Le Thanh Hoan Nguyen,32, Le Thanh Nhat Nguyen 31, Le Thanh Trung Duong 27; three and a half years for Le Thanh Nhi Nguyen, 34; and three years for Cao Thi Cuc, the 62-year-old landlady who has stage-four cancer.  All were convicted of "abusing democratic freedoms." Before the appeal trial took place, the prosecution announced that a new charge of "fraud and theft of property" would be added against the defendants.  According to a video recording from the two-day trial, defendants were repeatedly cut off by the judge during their closing statements.Last but not least, test results of DNA samples from members of Bong Lai Temple – illegally obtained,  according to their lawyers – were not introduced at the trial.
Press Freedom
In yet another sign of the international community's acquiescence to Vietnam in spite of its horrific record on freedom of the press, Vietnam News Agency (VNA) was re-elected to the Executive Board of the Organisation of Asia-Pacific News Agencies (OANA) for 2022 – 2025. What's more, the rest of the organization's leadership comprises countries that aren't exactly champions of press freedom. The Islamic Republic News Agency (IRNA) of Iran was elected president of OANA. Vice presidents for the group include the Russian Federation's TASS, the AZERTAC News Agency of Azerbaijan, the Xinhua News Agency of China, and the Anadolu Agency of Turkey.
Internet Freedom
Vietnam Weighs 3-Hour Pulldown of Some 'Toxic' Internet Info. Bloomberg; November 4, 2022: Vietnam's communications ministry is proposing a decree requiring some "toxic" information in some situations be removed from social media within three hours and other false news pulled down within 24 hours. "Fake news on the Internet, if handled slowly, will spread very widely," Minister of Information and Communications Nguyen Manh Hung told the National Assembly.
International Advocacy
On the eve of the 26th annual US-Vietnam Human Rights Dialogue on November 2, a group of four NGOs sent a joint letter to Erin Barclay, senior official from the U.S. Bureau of Democracy, Human Rights and Labor, who would be taking part in the talks. Signed by the Vietnam Human Rights Network, Defend the Defenders, the Vietnam Democracy Federation and Vietnam Democracy Radio, the petition calls on the U.S. delegation to urge Vietnam to make an effort to earn its place on the UN Human Rights Council to which it was recently elected.
Ahead of the conference, Attorney Tuan Ngo was invited to a meeting with representatives from the U.S. State Department, the US Embassy and family members of several political prisoners. A U.S. representative asked Tuan Ngo what he thought could be done to improve the situation. Tuan responded that even if he gave an answer, would they be able to do anything about it? According to Tuan Ngo, their answer was essentially, "Not much." However, the American representatives said that although they couldn't change things on a macro level, there are small steps that they've been working on. The parties acknowledged that both the United States and Vietnam would continue to stick to their positions and that hopefully things would improve at the next dialogue.
The 88 Project has been informed through private channels that some activists declined the invitation to meet with the U.S. delegation out of safety concerns; one chose to send in a letter instead; and several activists who were invited, but did not attend the meeting, were later visited by Public Security.
The UN Special Rapporteur on freedom of belief or religion has published its report on the arbitrary arrests and imprisonment of three Montagnard Christians. The report can be viewed here.
NEWS & ANALYSIS
China, Vietnam vow closer ties, to 'manage' South China Sea dispute in joint focus on external challenges. Shi Jiangtao, South China Morning Post; November 2, 2022: Beijing and Hanoi have agreed to "properly manage" the South China Sea and other disputes and join hands in tackling external challenges – including "colour revolutions" and criticism of their human rights records – as Vietnam continues its balancing act amid a deepening US-China rivalry.
Climate Change Diplomacy Has an Authoritarianism Problem. Kirk Herbertson, Just Security; November 2, 2022: Democratic and authoritarian regimes alike have much at stake and have participated actively in international climate negotiations. But it is becoming increasingly clear that authoritarian regimes are using their seat at the table to greenwash their reputational standing in the global community, potentially undermining the climate change commitments that will be announced at COP27. … Vietnam is an emblematic example.
IN CASE YOU MISSED IT
In a highly revealing speech at a Science Forum in May, 2022, Lt General Trinh Van Quyet provided a candid and detailed account of how the People's Army helps propagate the Party's narrative on human rights by unleashing cyber armies and manufacturing a vast network of social media accounts to combat "evil forces" such as the BBC, VOA, etc. In particular, Quyet emphasized the importance of elite units such as Force 47 and Guidance Committee 35 in the propaganda war and the need for continued funding to fight against "enemies of the people."
© 2022 The 88 Project
https://the88project.org/wp-content/uploads/2017/01/15977089_1799682443626784_7659747046232042186_n.jpg
960
960
kayleedolen
https://the88project.org/wp-content/uploads/2019/01/88project.png
kayleedolen
2022-11-07 15:25:42
2022-11-07 15:25:42
Vietnam Free Expression Newsletter No. 42/2022 – Week of October 31-November 6