Le Trong Hung
Current Status: Sentenced to prison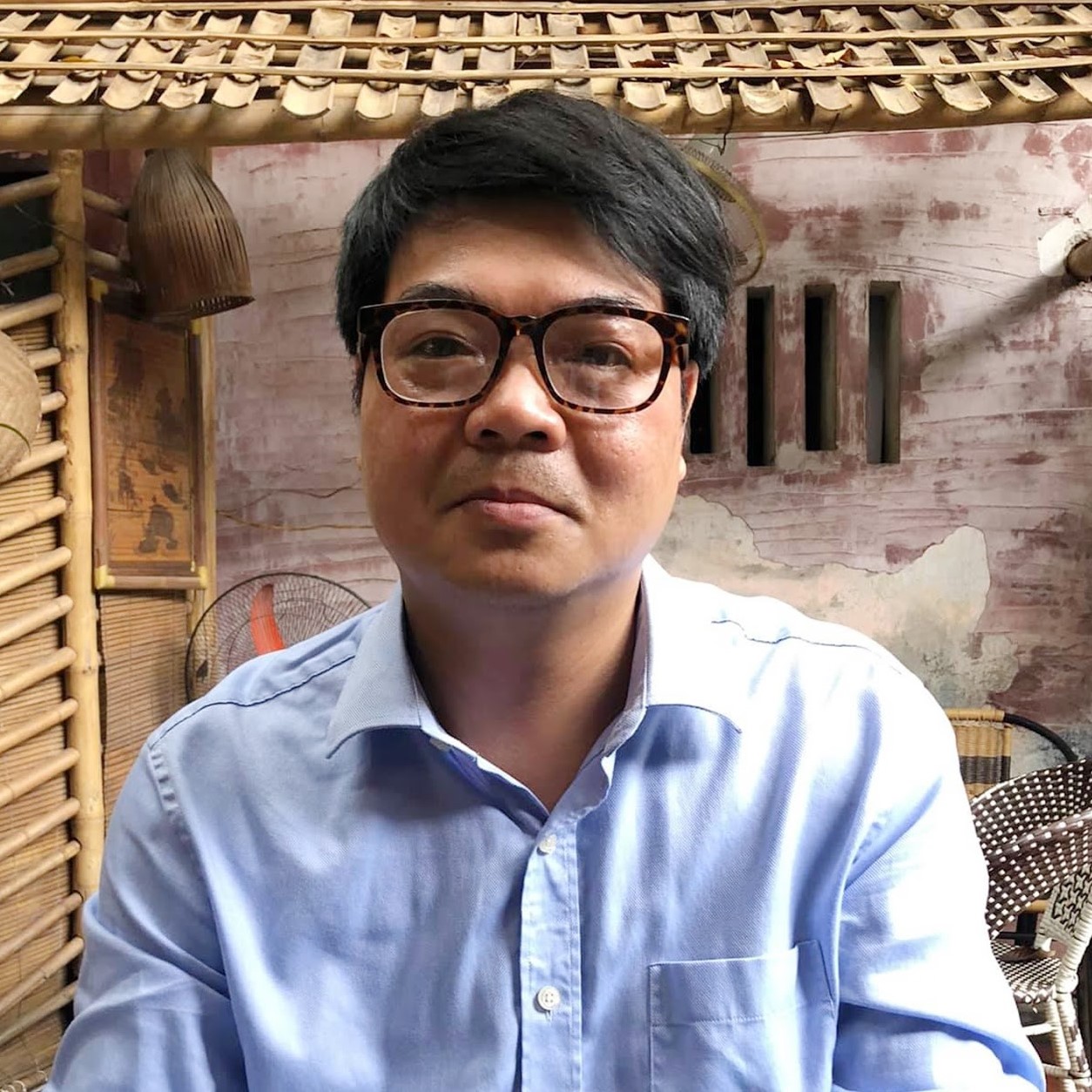 Other Names: Lê Trọng Hùng
Date of Birth: March 18, 1979
Gender: M
Ethnicity: Kinh
Occupation: Journalist
Areas of Activism:
Democracy
Freedom of expression
Land rights
Press
Known Affiliations:
Highlighted Human Rights Concerns:
Denial of Legal Representation
Denial of Adequate Medical Treatment or Supplies
Prolonged Incommunicado Detention
Harsh Physical and Administrative Conditions
Denial of Family Visit/Punitive Prison Transfer
Infliction of Physical and Psychological Pain
Do Le Na, wife of Le Trong Hung, and Hung's mother, were able to visit him on April 22 for the first time since his arrest more than a year ago. Read her moving letter recounting the visit here.
April 2022:
An appellate court upheld Le Trong Hung's five-year sentence in a trial that took place on April 19 without his family's knowledge. Hung's wife, Do Le Na, didn't know that there would be an appeal trial, so she never made arrangements for Hung's lawyers to be there. Visually impaired, Na had to go to the prison three days later to confirm the news.
According to lawyer Ha Huy Son, Vietnam's current law does not require the court to notify the family of the accused about trial dates. Typically, family members of political prisoners can tell something is up if they suddenly see police posted around their house to prevent them from leaving. In Do Le Na's case, however, she didn't see anything and was only alerted about it later by a relative whose house was guarded. Hung's wife was later told by her husband during the most recent visit, the first time they had seen each other since he was arrested 389 days before, that he was forced to have this appeal trial against his will.
Details - Background, History of Activism, Family Situation, Contact Information.
Hung lives and works in Hai Ba Trung District, Hanoi City.
Profile photo source
Hung was a founder and has worked as an independent journalist at Chấn hưng Việt Nam TV' (CHTV) for four years. He focuses on supporting land petitioners, guiding related legal procedures, and disseminating information to the public.
Quay trở lại "Người thứ hai tự 'ứng cử đại biểu Quốc Hội' bị bắt", Nguoi-Viet, March 27, 2021
Bắt giữ Lê Trọng Hùng về tội tuyên truyền chống phá Nhà nước, Cong Luan, March 29, 2021
Bắt tạm giam người tuyên truyền chống phá Nhà nước, Tuoi Tre Online, March 29, 2021
Interview with Do Le Na, Le Trong Hung's wife, The 88 Project, May 2021
Letter Update from Do Le Na, Political Prisoner Le Trong Hung's Wife, The 88 Project, October 18, 2021
Arrested March 29, 2021. Sentenced to 5 years in prison and 5 years probation under Art. 117 (2015 Code). Expected Release is March 29, 2026.
March 29, 2021
Hanoi city public security, Hanoi
Hai Ba Trung District (
map
)
December 31, 2021
The People's Court of Hanoi, Hanoi
Ha Huy Son
5 years in prison and 5 years probation
March 29, 2026
freedom from arbitrary arrest or detention
liberty and security of the person
freedom of expression
fair trial
political participation
Hung, also known as "Hung gan," is an independent journalist with a long history of activism. He is one of a few journalists (alongside other members of CHTV) within the country that dare to be involved in grassroots issues and land disputes with the authorities. CHTV has been a target of state media since 2018.
Hung first confirmed his candidacy for the upcoming National Assembly Election on March 14 via his Facebook account. Two weeks later, on March 27, Hung was arrested and his house was also searched by the Investigating Agency of the Public Security of Hanoi. They charged him under Article 117 of the 2015 Criminal Code.
May 2021:
Do Le Na, the visually-impaired wife of Le Trong Hung, told The 88 Project that when she brought supplies to her husband at Prison Camp No. 1 she was told to wait. After about half an hour someone gave her a written note allegedly signed by her husband that said he no longer would accept money or supplies from the family. Being blind, Na was unable to verify if it was her husband's signature. A friend of Hung, who accompanied her, did not know his handwriting, and so he also could not confirm. Na suspects that her husband might be on a hunger strike. Read more about her concerns about Hung's situation in her open letter to the international community.
Also, watch our interview with Do Le Na, with both English and Vietnamese subtitles, here, to understand more about who Hung is and what motivates him to do his work and run for the elections, as well as the challenges that his family is facing.
On Election day, Do Le Na was given a citation for not going to the polls in the National Assembly election. Na said that she was harassed for days by election enforcers who called, sent messages, and then finally showed up at her house with the citation, which she could not read due to her condition. They demanded that she cast her ballot.
October 2021:
Le Trong Hung's wife said that on October 26 her husband met his lawyer for the first time since his arrest in late March. He asked for a copy of the Bible and 50 copies of Vietnam's Constitution to give to prison guards and officials. On October 29, the visually-impaired woman brought the books to the detention center, but the guard at the front desk refused to let her see her husband or give him the books, so she had to take them home.
Earlier in the month, his wife went to the detention center No. 1 in Hanoi to bring him warm clothes, but was told her husband did not want to receive anything from outside. On her Facebook post, Na said the guard told her that her husband said he would only accept old clothes, but no money. She said that he had only accepted the 1.5 million dong that she sent to him six months ago, but nothing else, saying he didn't want to "bite into her meager teacher's salary."

November 2021:
Do Le Na, the visually-impaired wife of Le Trong Hung, said that her husband was allowed to see his lawyer, Ha Huy Son, on November 22 and reported that his eyesight had gotten worse since his detention in March. She also claimed that even though her husband is not physically abused, he has been discriminated against as some of his basic requests, such as for books, are routinely denied.
December 2021:
On New Year's Eve, a court in Hanoi sentenced Le Trong Hung to five years in prison, plus five years probation. Hung was charged with conducting "anti-State propaganda" for distributing copies of the Constitution and advocating for independents running for seats in the National Assembly. The trial lasted less than four hours, during which Hung's visually-impaired wife, Do Le Na, was not allowed into the courtroom.
She recently gave an update on Hung's poor health condition. Hung's lawyer said his client would appeal. Na sent out a plea for help as her home was being surveilled, her in-laws have been bombarded with misinformation, and she has been harassed at her workplace.
Hung's trial was originally scheduled for December 16, then delayed until the 31st, according to his wife, who was notified of the change by Hung's lawyer. The reason given was scheduling conflicts.
March 2022:
On March 18, 2022, Do Le Na, wife of Le Trong Hung, visited the prison to see him on his first anniversary in jail. She was not allowed to meet with him in person but was able to give him some food and necessities. Na shared on her Facebook account that she and her friend were treated nicely by the prison guards.
November 2021:
Do Le Na, the wife of Le Trong Hung, sent a letter to several UN Human Rights organizations seeking help to get her husband released. Hung tried to run as an independent for a seat on the National Assembly and was arrested in March. Na told RFA "I would also like people living in Vietnam—and especially the families of detainees who don't dare to speak up—to know that it is everyone's right to speak out against injustice, and that we shouldn't be afraid of [the government] if we are in the right."
Profile last updated: 2022-05-12 01:04:00