Y Wo Nie
Current Status: Sentenced to prison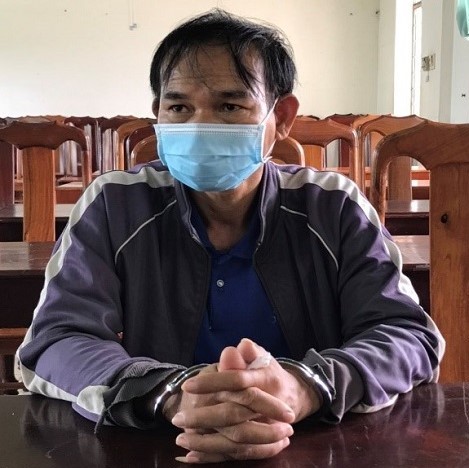 Other Names: Y Wô Niê, Ama Quynh
Date of Birth: 1970
Gender: M
Religion: Christian
Ethnicity: Montagnard (Ede)
Occupation: Farmer
Areas of Activism:
Indigenous rights
Religious freedom
Communities At Risk:
Highlighted Human Rights Concerns:
Former Political Prisoner
Denial of Legal Representation
On August 16, Pastor Y Wo Nie had his five-year prison sentence upheld by an appeals court in Dak Lak Province. No government judicial expert or witnesses were present for the hearing. Nie's family members were not allowed in the courtroom, so they and about a hundred Ede supporters stood in the courtyard.
He did not have a lawyer in the first trial but had counsel at the appeal hearing.
Details - Background, History of Activism, Family Situation.
Y Wo Nie lives and works in Puk Prong Commune, Ea Ning Ward, Cu Kuin District, Dak Lak Province.
Profile photo-- Y Wo Nie at the Public Security office; Source
According to official information of the People's Court of Cu Kuin District, Y Wo Nie was previously arrested and sentenced to nine years in prison for sabotaging the "unity policy" of the State (this incident allegedly happened in 2005; Y Wo Nie was accused of participating in protests and operating an illegal border-crossing operation for local minority people).
Arrested September 20, 2021. Sentenced to 4 years in prison under Art. 331 (2015 Code). Expected Release is September 20, 2025.
September 20, 2021
Cu Kuin district public security, Dak Lak province
May 20, 2022
The People's Court of Cu Kuin District, Dak Lak province
Nguyen Van Mieng
4 years in prison
September 20, 2025
freedom from arbitrary arrest or detention
liberty and security of the person
freedom of expression
fair trial
The Public Security of Cu Kuin District arrested Y Wo Nie on September 20, 2021. The accusation at the time was that Nie had exploited democratic rights to infringe on the rights and legitimacy of the Vietnamese government under Article 331.
The district court further claimed that Y Wo Nie was invited to meet representatives of the U.S. Embassy in Vietnam. Nie then participated in several online workshops on religious beliefs and protection, Vietnam's civil law, international human rights law and methods on gathering data and report writing offered by "reactionary individuals." Under reasonable standards of international law, those topics are not considered reactionary.
Nevertheless, the procuracy also alleged that Nie had used the WhatsApp account name "Jing" to publish content, articles and pictures that distort and libel the policies and the images of both local and national authorities in order to provoke and threaten national security and social safety.
They also claimed that Y Wo Nie had written three reports and sent them to "reactionary forces" via WhatsApp. The first report is titled "On the religious and human rights conditions of the Ede ethnic in the Central Highlands." The second report had no official title, but was sent to the UN Human Right Council and the United States Commission on International Religious Freedom. The final report was titled "On religious freedom in Vietnam, and for Montagnard people specifically."
On May 22, 2022, Nie was sentenced to four years in prison.
Profile last updated: 2022-08-22 15:00:24