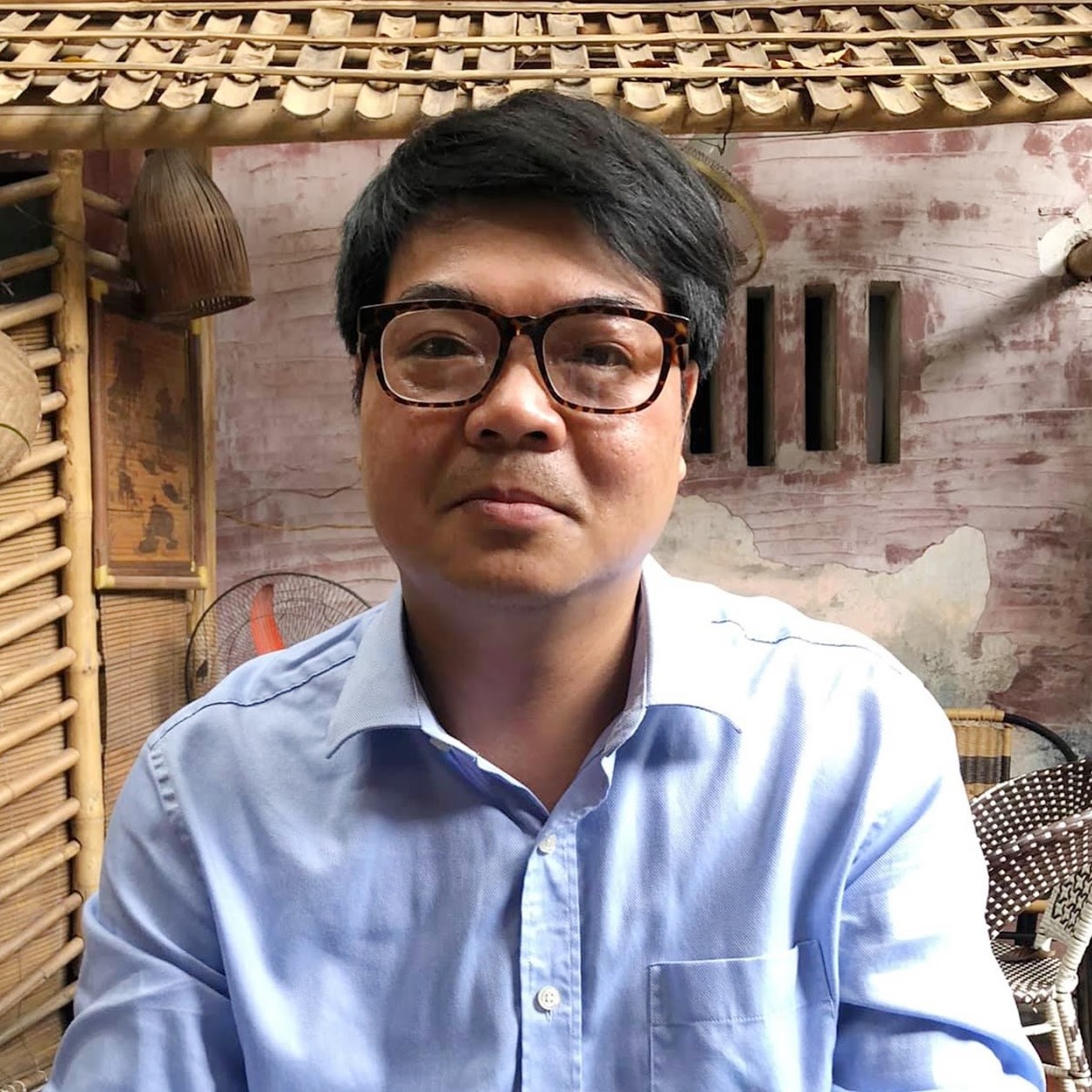 Family Permitted Visit After Political Prisoner Forced to Attend Appeal Trial: An Update on Le Trong Hung's Life in Prison
Political prisoner Le Trong Hung (pictured above), sentenced on New Year's Eve 2021 to five years in prison, was forced to attend an appeal trial without his consent and with no lawyers present. Hung was an independent journalist for four years at Chen Hung Viet Nam TV (CHTV), a social media TV channel, where he focused on supporting land petitioners and disseminating information to the public.
In early 2021 Hung tried to run as an independent for a seat in the National Assembly. He was arrested in March 2021 and charged with "anti-State propaganda" according to Article 117 of the Criminal Code.
Do Le Na, Hung's visually impaired wife, told RFA she was not aware that the appeal trial was to take place on April 19. Consequently, she did not have a chance to alert Hung's three lawyers, one of whom, Ha Huy Son, said that Vietnamese law does not require the State to notify family members when a trial is scheduled.
However, many families say they can always sense something is afoot anytime they see plainclothes police hanging around their homes for surveillance. But Na said she didn't see anything that day because she was indoors the whole day. She told RFA:
"On April 19, I didn't have any business to go outside so I didn't know that we were being watched. But around 11am, when my son came home from school, he said there were men guarding our house.
After my son and I had lunch, I got a text message from one of Hung's friends asking me if today was Hung's appeal trial."
Hung's friend told Na that his house was also under surveillance, and that one of the men told him the reason was because of Hung's trial. Upon learning this, Na began searching the internet for some news about the trial but she could not find anything.
It wasn't until April 22, when she went to Prison No.1 in Hanoi to find out what was going on, that prison officials confirmed to her that Hung indeed had an appeal trial on April 19 and that his sentence was upheld by the court. Na said she was very angry upon learning this but was also told she would be allowed to visit Hung, for the first time since his arrest on March 27, 2021, in a few days.
After the visit, Na described the emotional meeting on her Facebook page:
"This morning, after 389 days apart, Tu Dinh Huong (her Facebook name) was allowed to visit Le Trong Hung in Prison No.1 in Hanoi, together with his 79-year-old mother. The visit went smoothly. I'd like to summarize it here for you:
On the morning of April 22, I went to the prison to send Hung some supplies. There I was told that his appeal trial had taken place on April 19, and I was given instructions on how to visit him. That same afternoon, I went to get my Covid test and took care of some needed work, then I let Hung's family know.
Evening of April 23: Hung's mother and his sister rushed to Hanoi. It was an emotional meeting between us. We could barely sleep.
Morning of April 24: We were at the gate early. At exactly 8 am our family (Hung's mother and sister, plus his wife and children) filled out all the necessary paperwork. Around 8:30 Hung's mother and I were allowed in first. Our meeting lasted about 40 minutes.
Hung told us:
Healthwise he was doing fair. His vision was still having some issues (not better, not worse). He had been injected with Russian Covid vaccines, after which his hearing deteriorated a little bit.
Inside prison: He shares a cell with 34 other prisoners of all social stripes and professions, even some security police and local policemen. In general, he treated everyone kindly and was treated nicely in return. Except one time he had some things stolen and insisted that the thief return his property because Hung knew who the thief was and why he did it.
About the appeal trial on April 19: Hung said he was kidnapped and taken to the courthouse. He strongly protested the illegal act but they didn't care. And so, when it came time to make his statement in his defense, Hung did not care to make one and just let them do whatever they wanted. Since the prison guards kept reminding us not to ask Hung about the trial or they would have to cut short our visit, that was all we were able to learn.
Hung especially wanted to know what was happening to Pham Doan Trang, Nguyen Thuy Hanh and several other political prisoners. He also mentioned that his room is only two doors down from where Le Dung Vova was being held. They crossed paths every day and always tried to cheer each other up.
Finally, Hung would like to send his thanks to all the human rights organizations and the foreign embassies in Hanoi who have been advocating for him during his campaign and supporting him since his arrest. He would also like to thank everyone who has been giving support to Tu Dinh Huong all this time. He said not to worry, while in prison he's been praying for everybody.
The biggest regret is that Bao An and Bao Minh were not allowed to see their father; they have been missing him so much."
Translation © 2022 The 88 Project
https://the88project.org/wp-content/uploads/2021/05/Le-Trong-Hung_Source-Nguoi-Viet_square.jpg
1254
1254
kayleedolen
https://the88project.org/wp-content/uploads/2019/01/88project.png
kayleedolen
2022-05-02 21:36:34
2022-05-02 21:36:34
Family Permitted Visit After Political Prisoner Forced to Attend Appeal Trial: An Update on Le Trong Hung's Life in Prison