Vietnam Free Expression Newsletter No. 36/2022 – Week of September 19-25
Greetings from The 88 Project. The family of a prominent political prisoner says he's been severely tortured in prison and has called for help from the international community. Another Facebooker was arrested for defaming Ho Chi Minh. After years of detention and forced mental treatment, a blogger was tried and immediately filed an appeal. A new decree could have effects on foreign NGOs operating in Vietnam. A YouTuber was assaulted by police while filming in public. Allegedly fighting fake news is the latest mantra as the state steps up its crackdown on online dissent. Residents forcibly removed from their neighborhood file a petition demanding justice.
HUMAN RIGHTS & CIVIL SOCIETY
Political Prisoners
Trinh Ba Tu
The family of Trinh Ba Tu has sent an urgent letter to multiple government agencies asking them to immediately investigate and respond to allegations that Tu has been beaten and tortured. In the letter, they say that Tu had gone on a hunger strike for 14 days, until they were able to visit him on September 20, to protest being physically abused. It is unclear if Tu continued the hunger strike after the family visit. The letter was sent to the Ministry of Public Security, the president, the chairman of the National Assembly, the office of Procuracy General, and the Procuracy of Nghe An Province.
On her Facebook page, Tu's sister-in-law, Thu Do, said that he told her and his father, Trinh Ba Khiem, that he was shackled by the legs for 10 days straight as punishment for writing letters of complaint; he alleges he had to urinate and defecate in place. Per the family report, as soon as Tu told Khiem that he was beaten, the guards immediately ended the visit and dragged him away as he yelled something unintelligible. Nghe An's Prison No. 6, where Tu is being held, is notorious for abuses. Do Cong Duong, who had been jailed there, died after being transferred to a hospital in August, and the family was not allowed to bring his body home for a proper burial.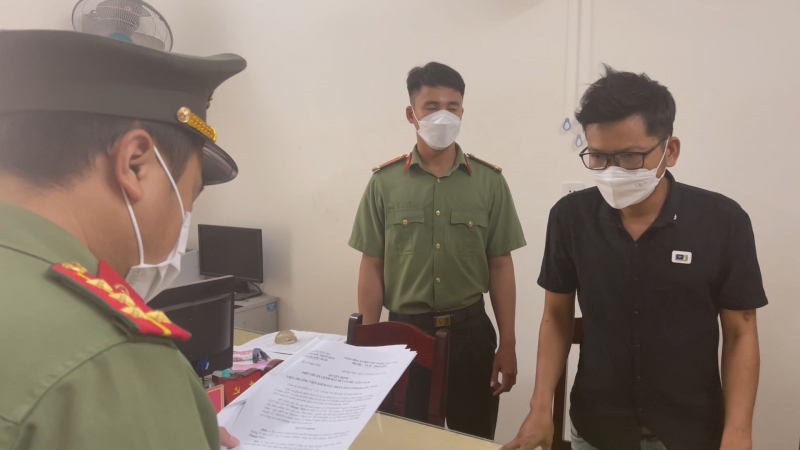 Vo Thanh Thoi during his arrest, Source: Cong An Nhan Dan
Police in Quang Ngai Province have arrested Vo Thanh Thoi, 33, for Facebook postings which they say "abuse democratic freedoms," "go against the Party," and  "smear the reputation of Chairman Ho Chi Minh and other party leaders…." Police also searched Thoi's home while he was being held in pre-trial detention. He is presumably held without access to a lawyer or to his family, as is the norm in Vietnam, in direct violation of international standards.
Bui Van Thuan
Thirteen months after Bui Van Thuan was arrested, the Thanh Hoa provincial police finished their investigation on September 10 and charged Thuan for online postings deemed "detrimental to the security of the nation." Trinh Thi Nhung, Thuan's wife, told RFA she only found out about this when she went to the prison to bring him food on September 20. Nhung said Thuan also had told the Procuracy he wanted to have a lawyer to represent him in court.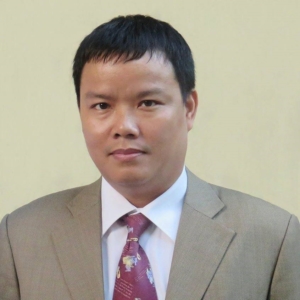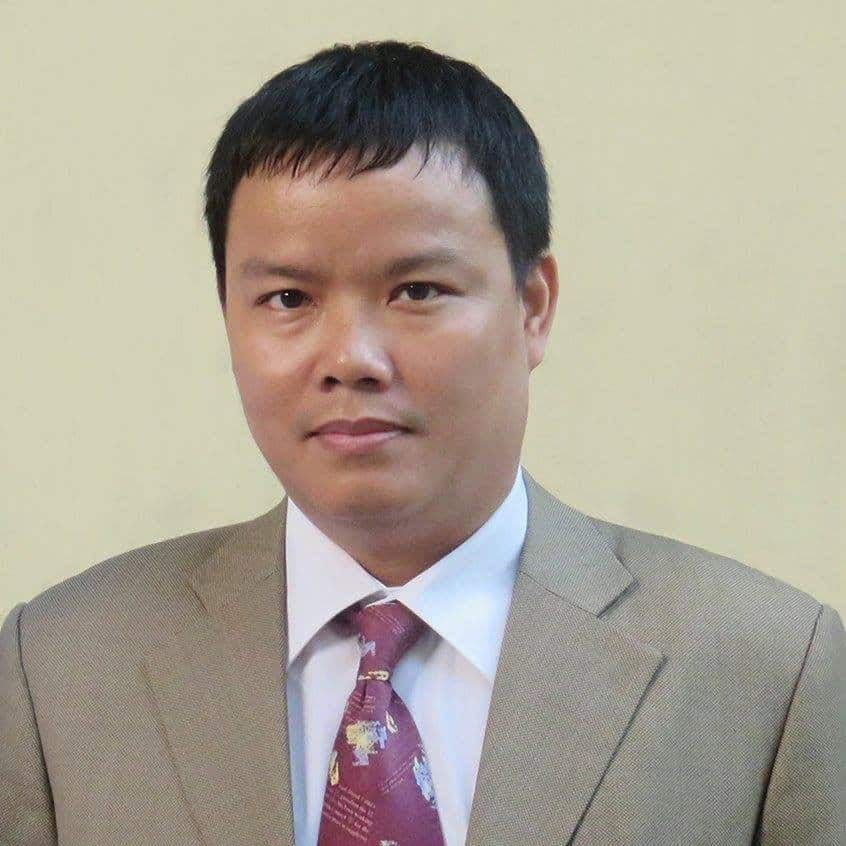 Le Anh Hung
Journalist Le Anh Hung, 39, has launched an appeal of his five-year sentence for "abusing democratic freedoms." Arrested in July 2018, Hung spent several years in forced mental treatment before finally being tried in August in secret, without a lawyer. Prison officials have told Hung's mother that she can not visit her son while the appeal is in process. The law, however, specifies that "Those held in temporary custody can meet their relatives once a month."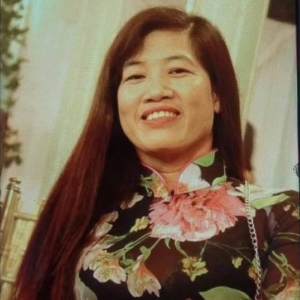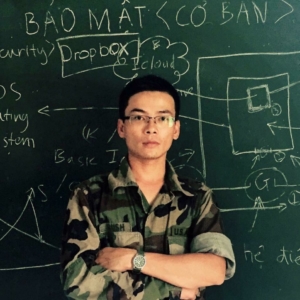 Nguyen Thi Tam and Nguyen Viet Dung
This week, we think of the birthdays and arrest anniversaries of the following political prisoners:
Land rights activist Nguyen Thi Tam, birthday September 28, serving six years in prison on charges of conducting "anti-state propaganda"
Democracy activist and founder of the Republican Party of Vietnam, Nguyen Viet Dung, arrested on September 27, 2017, and sentenced to seven years in prison for spreading "anti-state propaganda," reduced to six years on appeal; Dung is expected to be released from prison this week.
At Risk
Tran Dinh Son, 29, a YouTuber, was assaulted by police officers while videotaping himself fishing at a park. He said he sustained head injuries that caused bleeding and nausea. Son said he was beaten again after being taken to a police station. According to RFA, Son runs a YouTube channel which has "just over 10 followers."
Internet Freedom
International observers are wondering how a new decree could affect the operations of foreign NGOs in Vietnam. Decree No. 58/2022/ND-CP  takes effect on November 1 and replaces Decree No. 1/2012. Decree 58 builds upon the state definition of "prohibited activities" by international NGOs. Decree No.1/2012's original prohibited conducts included "carrying out their main activities within political or religious spheres, or activities that go against the interests of Vietnam's national security, defence, and unity." The new decree adds "public order" and "social safety," to this list, which is even more broad.
Decree 58 (Article 6) also adds a provision for the creation of a national database of international NGOs, as well as imposes new requirements on the length of time of in-country work proposals and the process of selection of in-country representatives (Article 10). The immediate effects of this updated law may be unclear, but the addition of vaguely-worded clauses could potentially offer the government another tool for control of civil society groups.
NEWS & ANALYSIS
How Vietnam Utilizes "Fake News" Accusations To Justify Digital Repression. Jason Nguyen, The Vietnamese; September 20, 2022: Force 47, an army of 10,000 strong state-sponsored cyber troops, remains at the forefront of the Vietnamese government's effort in surveilling, collecting, and censoring information deemed inappropriate on social media, particularly Facebook. Force 47 is simultaneously tasked with engaging in online debates to maintain "a healthy cyberspace," as well as influence public opinion and defend the regime from "wrongful opinions" or "hostile views."
Former residents of HCMC settlement petition city government demanding justice. RFA Vietnamese; September 16, 2022: The petition called for the Government Inspectorate to look into the Loc Hung Vegetable Garden Project as soon as possible to uphold householders' legal rights. It demanded that Tan Binh District authorities and the Ho Chi Minh City government release legal documents and papers on the ongoing redevelopment project, and detailing land allocation and the amount of compensation to be offered.
The Resettlement of Vietnamese and Montagnard Refugees Residing in Thailand. Grace Bui, National Bureau of Asian Research; September 10, 2022: After the fall of South Vietnam in April 1975 and the withdrawal of U.S. troops from the country, the world saw one of the largest mass migrations of asylum seekers in modern history. Now 47 years later, there are still thousands of refugees who escaped from Vietnam due to persecution based on religion, political activism, and ethnicity. This commentary will discuss the groups of Vietnamese and Montagnard residing in Thailand and consider options for resettling these populations. … There are six different groups of Vietnamese and Montagnard asylum seekers and refugees in Thailand, totaling approximately 1,700 people: "boat people," former prisoners of conscience and activists at risk, the Montagnards, the Hmong, and the Khmer Krom.
TAKE ACTION
Take action by sharing Amnesty International's call for investigation into the serious allegation that prison officials at Nghe An's Prison No. 6. tortured imprisoned land rights activist Trinh Ba Tu. "Being beaten, placed in solitary confinement and shackled for days on end amounts to torture or other ill-treatment. Authorities in Viet Nam must urgently investigate these allegations and any perpetrators must be held accountable," said Ming Yu Hah, Amnesty International's Deputy Regional Director for Campaigns.
https://the88project.org/wp-content/uploads/2022/09/Vo-Thanh-Thoi-arrest_Cong-an-nhan-dan-online.jpg
450
800
kayleedolen
https://the88project.org/wp-content/uploads/2019/01/88project.png
kayleedolen
2022-09-26 14:05:01
2022-09-26 14:05:01
Vietnam Free Expression Newsletter No. 36/2022 – Week of September 19-25