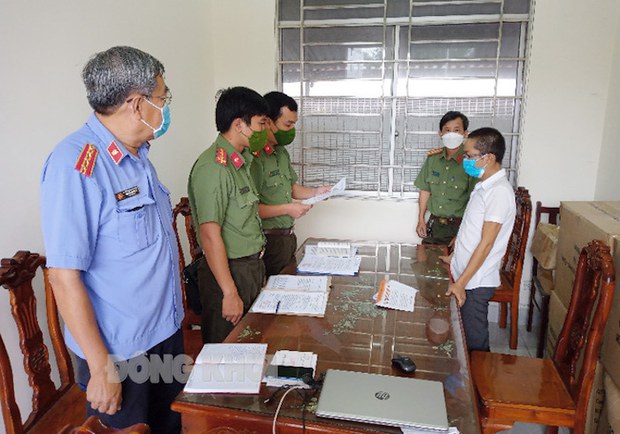 Nguyen Duy Linh becomes the latest social media user to be jailed in Vietnam
Above: Nguyen Duy Linh with Ben Tre Province police; Source: Bao Dong Khoi via RFA Vietnamese
Nguyen Duy Linh was today sentenced to five years in prison and five years of probation after a court in the southern province of Ben Tre convicted him of "opposing" the government on social media. 
Linh was arrested in September last year after he was charged with violating Article 117, a deliberately vague law which criminalizes spreading "distorted" or "fabricated" information to "oppose" the government.  While criticism of the government is possible in Vietnam, Article 117 provides a mechanism for the regime to silence critics who it believes have overstepped the mark. State media reported that local police "repeatedly" invited Linh to discuss posts he had made on his Facebook account. Undeterred, Linh continued to make posts until his arrest. 
The omens never looked good for Linh. He was one of 38 people arrested in 2021 for their political activity, and one of 14 arrested for violating Article 117. Ten of those charged under Article 117 had already faced trial before Linh's conviction, with all ten handed prison sentences ranging from between 5 and 10 years. Like Linh, many of them had never participated in offline activism. Five of the 14 arrested are what The 88 Project describes as "online commentators": individuals who are persecuted solely for their online activity. 2021 was a particularly bad year for these people. According to our database 16 people were arrested for their social media use in 2021, up from 12 the previous year. 
The rise of the internet was once forecast to bring about revolutionary change in authoritarian regimes. In 2005, Nicholas D. Kristof predicted that by giving the Chinese people broadband, the Communist Party was digging its own grave. It would be difficult to find anybody who maintains this optimism 17 years later. Similarly, it is becoming increasingly difficult to speak freely on social media in Vietnam. Vietnam introduced a new cybersecurity law in 2019 which compels technology companies to censor information and hand over user data when requested. The following year Facebook agreed to step up censorship on behalf of the Vietnamese government.The Vietnamese government had previously accused Facebook of failing to comply with the new law. The government also appears to be making new preparations to compel social media firms to remove "illegal" content within 24 hours. The new rules also reportedly require firms to block active "illegal" live streams within three hours.
The success of the Vietnamese Communist Party's (VCP) approach to regulating social media may already be bearing fruit. While 16 people have been arrested since the beginning of this year only three have been identified as "online commentators". This lull may of course be temporary. Vietnam is this year running for membership of the Human Rights Council and may be looking to avoid extra criticism in the build up to elections. It may, however, demonstrate that social media users are increasingly refraining from expressing criticism online. It could also indicate that arrests are no longer necessary as long as censorship is outsourced to social media companies. Either way, as Vietnam increasingly censors social media, arrests may no longer serve as an indicator of the level of repression in the country in the future, as social media users are prevented from expressing discontent by social media platforms themselves.
In the short term at least, however, vocal critics of the VCP will continue to be jailed. 37 political prisoners are currently awaiting trial in Vietnam, eight of whom are charged with violating Article 117. The majority have spent many months awaiting trial; some for more than a year. Like Linh, they are unlikely to be set free any time soon.
© 2022 The 88 Project
https://the88project.org/wp-content/uploads/2021/09/Nguyen-Duy-Linh-with-Ben-Tre-Province-police_Source-Bao-Dong-Khoi-via-RFA-Viet.jpeg
434
620
kayleedolen
https://the88project.org/wp-content/uploads/2019/01/88project.png
kayleedolen
2022-06-09 13:12:22
2022-06-09 13:12:22
Nguyen Duy Linh becomes the latest social media user to be jailed in Vietnam