Vietnam Free Expression Newsletter No. 22/2022 – Week of May 30-June 5
Greetings from The 88 Project. We bring you news, analysis, and actions regarding human rights and civil society in Vietnam during the week of May 30-June 5. A Facebook user will go on trial next week for postings the government deemed to be "anti-state propaganda." A jailed independent journalist is not recognizable to his family after spending two years behind bars. A bus carrying delegates to a National Assembly meeting tried to run over protesters. The Martin Ennals Award was given to Pham Doan Trang's mother in Geneva. A second Vietnamese national was extradited to Germany for involvement in the kidnapping of Trinh Xuan Thanh. Read analyses of the US-Russia-Vietnam complicated relationship and Vietnam's ever deepening ties to the EU. There is a new in-depth study on the evolution of Vietnam's Communist Party as it gradually moves from the periphery to the center of elite politics.
HUMAN RIGHTS & CIVIL SOCIETY
Political Prisoners
Facebooker Nguyen Duy Linh from Ben Tre Province will go on trial on June 9, his wife Nguyen Tuyet announced on her Facebook page. Linh is accused of "anti-state propaganda." Most of his posts before his arrest in September 2021 were complaints and criticisms of the government's poor handling of the Covid pandemic; many were lighthearted jabs and satire. It is not known if Linh will have a lawyer. Despite being charged, Linh's Facebook page has not been removed or blocked and remains publicly available.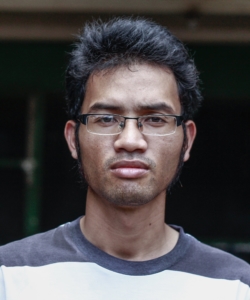 Le Huu Minh Tuan
Le Huu Minh Tuan, a member of the Vietnam Independent Journalists Association currently serving an 11-year sentence for "anti-state propaganda," is in failing health, said his sister Na. The family learned of his conditions after seeing him on May 26 for the first time since his arrest in June 2020. "My brother is in very bad health. I couldn't recognize him," Na said. She said during the first two years in detention, Tuan was held in horrific conditions at a detention center in Binh Thanh District which caused his health to quickly deteriorate. He has since been transferred to the Bo La facility in Binh Duong Province, where he is allowed to go outside for 15-30 minutes a day.
This week, we think of the birthdays, arrests, and trial anniversaries of the following political prisoners:

Nguyen Trung Truc and Cao Van Dung
Activists at Risk
On May 30, a bus carrying National Assembly delegates going to a meeting tried to run over a group of land grab victims who were protesting in Hanoi. Fortunately, the protesters were able to get out of the way and no one was hurt. Prior to that, another group gathered in front of Prime Minister Pham Minh Chinh's residence but was forced onto a bus and dropped off at another location.
In Dak Lak, hundreds of ethnic Ede have been protesting since last month to reclaim about 40 hectares of their land from a coffee grower, after working for it as laborers for the past 40 years. Videos and photos shared on social media showed riot police clashing with villagers from Lang Village, Ea Pok Township, and Cu Mgar District who were protesting the company's destruction of their diminishing arable land. State media has so far not reported any of these incidents.
International Advocacy 

Pham Doan Trang
The Martin Ennals Award ceremony was held in Geneva on June 2. Pham Doan Trang's mother, Bui Thi Thien Can, accepted the award on Trang's behalf and made a short but impassioned statement. A few days prior, the organization called on UN member states to reject Vietnam's candidacy for the Human Rights Council for 2023-2025 due to its continued disregard of international obligations regarding human rights.
The US Ambassador to the UN Human Rights Council, Mme Michelle Taylor, also met with Bui Thi Thien Can and noted that "Today was a vivid reminder of the importance of the work we do in Geneva."
Authoritarian governments are increasingly using transnational repression to silence dissidents living outside the country, taking advantage of digital tools and working with other governments with similar illiberal values. Read Freedom House's latest research on the phenomenon here.
NEWS & ANALYSIS
Vietnamese man extradited to Germany over oil executive kidnapping. Agence France-Presse Berlin; June 2, 2022: In July 2017, the fugitive Vietnamese state company official Trinh Xuan Thanh was abducted during the day from a Berlin park and taken back to Hanoi. "The kidnapping was carried about by members of the Vietnamese secret service and employees of the Vietnamese embassy in Berlin as well as several Vietnamese nationals living in Europe, among them Ahn TL," the public prosecutor general at the federal court of justice said in a statement. The suspect "was involved in carrying out the operation, spying on the victim and acting as a driver of vehicles used in the operation", it said.
Religious freedom violations continue around world. Tom Strode, Kentucky Today; June 4, 2022: "In many parts of the world, governments are failing to respect their citizens' basic rights," [Secretary of State Antony] Blinken said, adding all societies "must do more to combat rising forms of hate, including anti-Semitism and anti-Muslim sentiment." Afghanistan, Burma (Myanmar), China, Eritrea, Pakistan and Saudi Arabia are examples of countries where religious freedom is violated, Blinken told reporters at a briefing. Also, the rights of religious minorities "are under threat" in such countries as India, Nigeria and Vietnam, he said. Yet, Iraq, Morocco, Taiwan and Timor-Leste are among the countries where "notable progress" was achieved, Blinken said.
The US-Russia-Vietnam Triangle: Decoding Hanoi's Strategic Balancing. Huynh Tam Sang, The Diplomat; June 1, 2022: In his address at the Washington-based Center for Strategic and International Studies on May 11, Vietnamese Prime Minister Pham Minh Chinh said, "In a world full of turbulence, strategic competition, and a great many choices, Vietnam picks no side. Instead, it chooses justice, fairness, and goodness, based on the principles of international law and the U.N. Charter." … Chinh's remarks also revolved around common principles and widely shared values, with the keywords sincerity, trust, and responsibility appearing more than 60 times in his talk (and again in his response to questions from onsite attendees). … Though not explicit, Chinh's message reveals that Vietnam has not leaned toward Russia, especially amid the Russia-U.S. rivalry, let alone thrown its support behind Russian President Vladimir Putin's invasion of Ukraine. To Vietnamese leaders, it would be a false analogy to assume that Vietnam's failure to condemn Russia is equal to Hanoi's support of Moscow's invasion of Kyiv.
Vietnam's Growing Strategic Partnerships with European Countries. Hai Hong Nguyen, The Diplomat; May 30, 2022: Vietnam's strategic partnerships with the five European countries have continued to grow over the past two years, despite the complications of COVID-19. The EVFTA (which came into effect on August 1, 2020) and the U.K.-Vietnam Free Trade Agreement, which entered into force on January 1, 2021, are the two new momentous agreements that further deepen Vietnam's strategic partnerships with the five countries through both bilateral and multilateral channels. In 2021, three of the top four Vietnamese leaders, including the president, prime minister, and chairperson of the National Assembly, paid visits to Europe or held telephone talks with their counterparts in France, the U.K., and Germany. The recent adoption of Indo-Pacific strategies by the EU, Germany, the U.K., and France have signaled their strategic pivot to the region. Vietnam's geopolitical position makes it a natural strategic partner for the EU and the five European countries that intend to engage more deeply in the region.
From Periphery to Centre: The Self-evolution of the Vietnamese Communist Party's Central Committee. Nguyen Khac Giang and Nguyen Quang Thai, Southeast Asian Studies; May 29, 2022: Based on a new biographical dataset of 626 CC members from the 6th to the 12th National Congress of the VCP, as well as Party's internal documents, this article examines the institutional self-evolution of the CC in three key aspects: (1) its changing structure and composition; (2) its decision-making principles; and (3) its norms of elite promotion. In so doing, we argue that the CC has moved from the periphery to the centre of Vietnamese elite politics, resembling the role of a "shadow parliament" where major policies are deliberated and passed and where top leaders are chosen. The CC has achieved this position by developing and maintaining a considerably high level of intra-party democracy, expanding the selectorate by accommodating provincial elites and the National Assembly while greatly standardizing the norms of elite promotion.
IN CASE YOU MISSED IT
In case you missed it, check out this cartoon, entitled 
"Hanoi's heavy hand,"
 by Rebel Pepper, featured in Radio Free Asia.
TAKE ACTION
© 2022 The 88 Project
https://the88project.org/wp-content/uploads/2021/01/Le-Huu-Minh-Tuan-2-scaled.jpeg
2560
2137
kayleedolen
https://the88project.org/wp-content/uploads/2019/01/88project.png
kayleedolen
2022-06-06 15:08:07
2022-06-06 15:08:08
Vietnam Free Expression Newsletter No. 22/2022 – Week of May 30-June 5