Cao Van Dung
Current Status: Sentenced to prison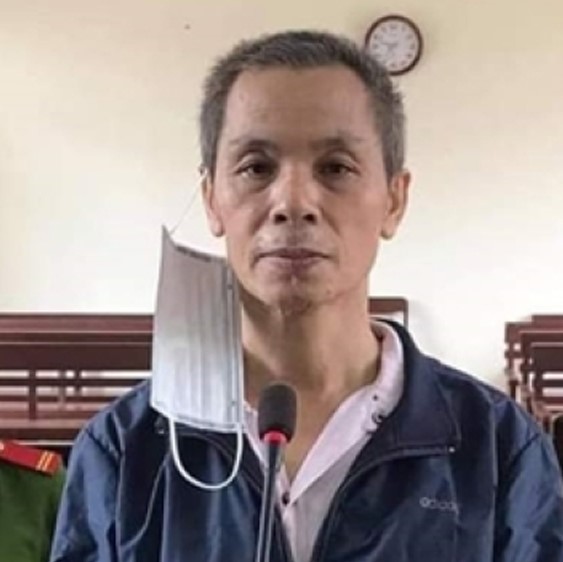 Other Names: Cao Văn Dũng
Date of Birth: 1968
Gender: M
Ethnicity: Kinh
Details - Background, History of Activism.
Dung's hometown is Chau Thanh District, An Giang Province. He lives and works in Quang Ngai Province.
Profile picture: Cao Van Dung at his trial. Source: Bao Quang Ngai
Dung has no prior history as a political activist. He is reportedly a founder of the Facebook group Hội Anh Em Yêu Dân Chủ và Nhân Quyền Cho Nhân Dân Việt Nam (Brothers who want democracy and human rights for the people of Vietnam). He is also said to have participated in protests against the Cybersecurity and Economic Zones in 2018.
Arrested June 9, 2021. Sentenced to 9 years in prison and 3 years probation under Art. 117 (2015 Code). Expected Release is June 9, 2030.
June 9, 2021
Quang Ngai province public security, Quang Ngai province
Quang Ngai Province (
map
)
June 9, 2021
The People's Court of Quang Ngai province
9 years in prison and 3 years probation
June 9, 2030
freedom from arbitrary arrest or detention
liberty and security of the person
freedom of expression
fair trial
June 2021:
Facebooker Cao Van Dung, 53, has been sentenced to nine years in prison by a court in Quang Ngai for "anti-state propaganda" under Article 117. Concerning his "unlawful conduct," the state media reported that Dung used his Facebook account called "Dung Caovan," beginning in February 2019, to write and post "defamatory" content against the Party's leadership and State policies.
It is unclear whether Dung had legal representation at the trial.
Note: Dung's arrest date is unknown. Thus, we consider the trial date the arrest date for the purpose of compiling his profile.
Profile last updated: 2021-07-08 16:36:29