Vietnam Free Expression Newsletter No. 36/2023 – Week of September 1-25
Greetings from The 88 Project. We bring you news, analysis, and actions regarding human rights and civil society in Vietnam during the week of September 19-25.
The U.S. president had no sooner left Hanoi than Vietnam resumed arresting activists and executing its citizens. Two recently released democracy activists share harrowing accounts of physical abuse in prison. Hoang Thi Minh Hong faces trial for "tax evasion" on September 28. Several publications from UN experts raise concerns for the human rights situation in Vietnam. Read more analyses on the Biden trip, including a scathing critique of his administration's rights record.
***
"Over the past two years, Vietnam's one-party state has imprisoned the entire leadership of [the] country's climate change movement on false charges of tax evasion," Ben Swanton, co-director of The 88 Project, tells TIME, adding that the spate of arrests reveals a Vietnamese government that thinks it "can do whatever [it] wants."
–What to Know About Vietnam's Persistent Crackdown on Environmentalists

HUMAN RIGHTS & CIVIL SOCIETY
Human Rights and Political Prisoner Updates
Le Van Manh was executed on Sept. 22 despite calls for a stay from the EU and multiple international organizations. According to Euronews, "In 2005, Le Van Manh was accused of theft and the rape and murder of a 13-year-old girl in the northern province of Thanh Hoa. According to the International Commission of Jurists (ICJ), a non-governmental organisation, the police obtained a confession from Le Van Manh under torture, which was subsequently used to convict him. He later recanted, stating that he was coerced into the confession after the police had beaten him severely. The Hanoi Supreme Court handed down his death sentence during an appeal trial back in 2008."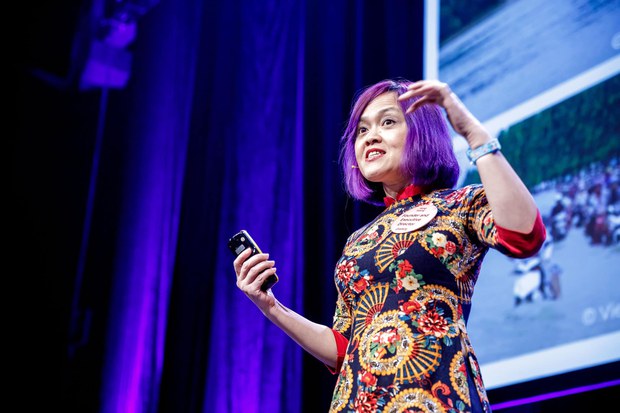 Hoang Thi Minh Hong
The first-instance trial for environmental activist Hoang Thi Minh Hong will take place on September 28. The UN Special Rapporteurs have published their Joint Allegation letter to Hanoi, penned in in July, raising concerns about her arrest. Hong is the sixth climate leader arrested in Vietnam since 2021. To learn more about her case, watch Now This News's video: Why the Arrest of Activist Hoàng Thị Minh Hồng Highlights a Growing Problem in Vietnam and the same video done in Vietnamese by Project 88.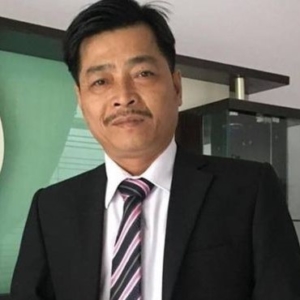 Ngo Van Dung
Ngo Van Dung (penname Biển Mặn), a member of the Hien Phap (Constitution) Group, was released from prison after serving a five-year sentence, 10 days later than necessary because his arrest date was recorded incorrectly. Dung told Project 88 that in early 2020, he and his co-defendant Le Quy Loc went on a hunger strike to demand better treatment at theri pre-trial detention center. After seven days, Dung said Loc was taken outside and beaten. After Dung protested that abuse, about 20 men took him outside and beat him unconscious. Dung says he woke up bleeding with several head wounds. He and Loc were also shackled for seven days. Dung filed a complaint to the Procuracy on April 12, 2020, but no representative checked on him until 40 days later, after his wounds had healed. After the visit, the prison authorities issued a note stating that his health was "perfectly fine!" When Dung was released, prison officials refused to let him take with the 451 poems and songs he had written while behind bars.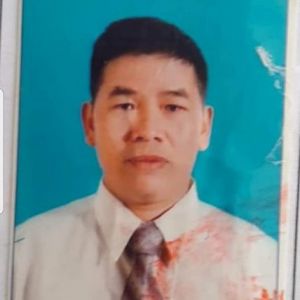 Le Quy Loc
Speaking separately to Project 88 and corroborating Dung's account of the events in early 2020, Le Quy Loc also told Project 88 that in April 2020 he was severely beaten at the Phan Dang Luu Detention Center by an officer named Le Van Nguon, who set a book on his back and used a hammer to pound on the book until he spit out blood. Loc said that Nguon also used a flashlight with a pointed tip to hit him on the head and pierce his body until it bled. When Loc yelled out to the other prisoners that he was being assaulted, Nguon and several others started to punch and kick him, sending him flying against an iron door, which knocked him unconscious.In April 2021, Loc was sent to Chi Hoa Hospital for two weeks. After he came back, he was shackled for seven days straight, and was not allowed to go out to go to the toilet. Loc remained on a hunger strike on and off to protest the mistreatment, and continued to receive abusive treatment throughout his time in prison. Loc was released on Sept.14; he has not had a chance to have a health checkup.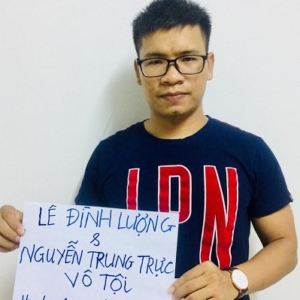 Nguyen Van Trang
Democracy activist Nguyen Van Trang, who's been in Thailand since 2018 seeking asylum, reports that he continues to be harrased by Vietnam's police. In 2016, he was fired from his teaching job at Hong Duc University. In 2017, Trang and three other men were allegedly attacked by unknown assailants with acid in Cambodia; Trang suffered severe injuries and took quite a long time to recover. In 2018, Thanh Hoa police charged him with "attempting to overthrow the government" based on Article 119. In December 2019, they changed the charge to "prostitution broker," believed by some observers to be a way to force the Thai government to extradite him. Since 2021, Trang's mother and his family in Hau Loc, Nghe An, have constantly been harassed by police (home visits, police invitations for questioning etc.) as the police tried to get Trang to turn himself in.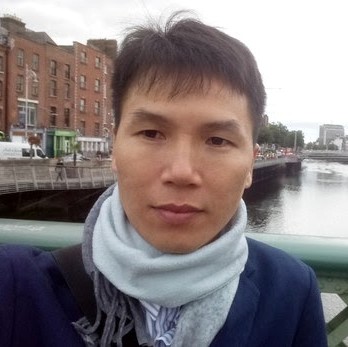 Do Nam Trung
Anh Tuyet, the fiancée of Do Nam Trung, reported to Project 88 that Trung's health is fair. However, she said that since his arrest 17 months ago, she has not been allowed to visit him every month, because they are not yet married; only his direct family members have been able to see him.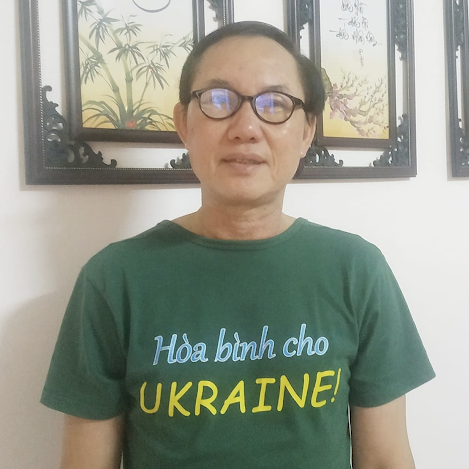 Dang Dang Phuoc
As expected, Dang Dang Phuoc's appeal trial on September 26 resulted in no change to his sentence. The music lecturer at Dak Lak College of Pedagogy was charged with "anti-state propaganda" and in June this year was sentenced to eight years in prison plus two years of probation.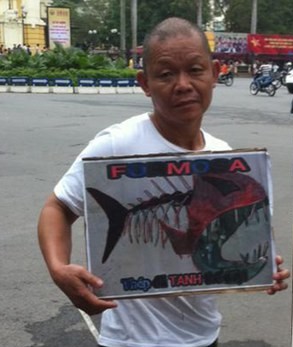 Nguyen Minh Son
The trial for Nguyen Minh Son has been moved from Sept. 20 to Sept. 29, according to his family. Their lawyers only informed them verbally, rather than in written form, to avoid having paper evidence; this was allegedly done in an effort to avoid scrutiny of the authorities, as human rights lawyers, like those in the Bong Lai Temple case, have been recently targeted in the government's crackdown.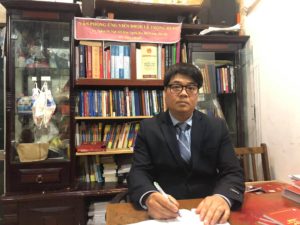 Le Trong Hung
Le Trong Hung's hunger strike has passed the 21-day mark as of Sept 24, according to his wife Do Le Na. She told Project 88 that Hung has lost 9kg. At the last visit, he told her that he could lose 21kg more and that he would keep going until someone from the National Assembly came to hear what he had to say. Although he does not expect them to do so, he believes this is the only way to let the country know how unaccountable they are. Na has posted an urgent letter asking for help from the international community.
International Advocacy
The UN Secretary-General's 2023 report on reprisals notes that "the arbitrary application of restrictive legislation, including vaguely defined provisions in the Criminal Code related to propaganda against the State and the NGO regulatory framework, negatively impacted on the ability and willingness of civil society organizations to engage with the United Nations."
UN Special Rapporteurs sent Vietnam a letter in September raising "strong reservations" about several new laws that restrict freedom of expression and online communication.
NEWS
Tycoon gets three years for 'abusing democratic freedoms'. VNExpress; September 21, 2023: A Ho Chi Minh City court sentenced controversial business mogul Nguyen Phuong Hang to three years in prison on Thursday for "abusing democratic freedoms" in a series of slanderous livestreams. …Her accomplice Dang Anh Quan was given a sentence of 2 years and 6 months in prison, while accomplices Nguyen Thi Mai Nhi, Huynh Cong Tan, and Le Thi Thu Ha were all sentenced to 1 year and 6 months in prison. Along with jail terms, the defendants were ordered to pay VND18 million ($742) to each relevant party, Dang Thi Han Ni and Dinh Thi Lan, as compensation.
Biden aides in talks with Vietnam for arms deal that could irk China. Reuters; September 23, 2023: A package, which could come together within the next year, could consummate the newly upgraded partnership between Washington and Hanoi with the sale of a fleet of American F-16 fighter jets as the Southeast Asian nation faces tensions with Beijing in the disputed South China Sea.
Days after Biden's visit, Vietnam detains energy expert. Reuters; September 20, 2023: Vietnam detained an energy expert [Ngo Thi To Nhien] a few days after U.S. President Joe Biden visited and announced multiple joint initiatives including on protecting human rights, the 88 Project said on Wednesday.
UN worried about Vietnam arrest of energy expert after Biden's visit. Reuters; September 25, 2023: "We are aware of the arrest and are following the developments with concern," Ravina Shamdasani, a spokesperson for the UN Office of the High Commissioner for Human Rights (OHCHR) told Reuters in a statement. Nhien [Thi To Nhien] had worked for the World Bank, with the United Nations Development Programme and the United States aid agency (USAID), according to her profile on LinkedIn.
In Vietnamese
BBC Vietnamese London Office closes. VOA; September 24, 2023: The BBC Vietnamese operation in London, a part of BBC World Service, is closing after 70 years due to financial reasons. All employees will be furloughed. The office in Thailand remains and new employees will be recruited, perhaps from Vietnam.
What Does the Public say About Nguyen Phuong Hang's verdict? RFA; September 22, 2023: "Article 331 is too vague. This should be a civil suit between defendant and those who claim they suffered from her videos and/or live streams." "Three years is too much for what she allegedly did, but it's still too light compared to what other activists got for doing much less."
ANALYSIS
During a recent visit, I noticed large bruises and wounds all over his body [Dang Dinh Bach]. Shortly after my visit, he was struck on the head from behind. I am very worried. Vietnam is betraying its 'Just Energy Transition Partnership' Tran Phuong Thao, Nikkei Asia; September 26, 2023.
While Hanoi took pains to convince Moscow and Beijing that its elevated partnership with Washington would not harm its ties with them, this is still a big diplomatic victory for the U.S. High-Tech Supply Chains and the US-Vietnam Upgrade. Mercy Kuo/Alexander Vuving, The Diplomat; September 25, 2023.
On his trip to Vietnam, one of the worst countries in the world for civil liberties, Biden made "barely a mention of repression there." Biden Couldn't Care Less About Human Rights. Nathan J. Robinson, Foreign Affairs; September 21, 2023.
A poll of Southeast Asia shows it's wrong to assume that it is only autocratic governments that stymie free speech. What to do about 'freedom from speech?' David Hutt, RFA; September 24, 2023.
In its second annual Human Rights Report, Meta describes how it "…invests in countering the misuse of our services by authoritarian governments … who attempt to surveil regime critics, opposition figures, and HRDs. We take action when we see such activity…." Meta Human Rights Report – 2022 Insights and Actions. 
© 2023 The 88 Project
https://the88project.org/wp-content/uploads/2023/06/Hoang-Thi-Minh-Hong_CHANGE-via-RFA.jpeg
413
620
kayleedolen
https://the88project.org/wp-content/uploads/2019/01/88project.png
kayleedolen
2023-09-28 02:01:22
2023-09-28 02:01:22
Vietnam Free Expression Newsletter No. 36/2023 – Week of September 1-25