Ngo Van Dung
Current Status: Pre-trial detention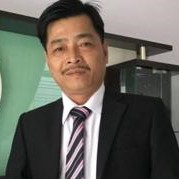 Other Names: Ngô Văn Dũng
Date of Birth:
Gender: M
Ethnicity: Kinh
Occupation: Journalist
Current Prison: HCM city Police detention center, No. 4 Phan Dang Luu, Ho Chi Minh city
Areas of Activism:
Democracy
Freedom of expression
Human rights
Sovereignty
Press
Known Afilliations:
Hiến Pháp
National Movement to Revive Vietnam
October 2019:
On October 4, 2019, Kim Nga, wife of political prisoner Ngo Van Dung, brought their children to visit their dad. Before being allowed to meet with him, she had to meet with investigation officers. They asked her about the petitions she had signed. She told the officers that since her husband was unlawfully arrested, she sent a petition claiming his innocence. After 30 minutes of working with the officers, the family was able to meet with Dung. Dung was happy to see his family, which was only the third time in his 13 months of imprisonment thus far.
**
Relatives of five detained members of the Hien Phap group, which aims to educate citizens about their constitutional rights, are planning to sue the Ho Chi Minh City Police Department, alleging that their loved ones were arrested without warrants and held for many weeks in unknown locations before the families were notified. The five cases represented are those of Ngo Van Dung, Doan Thi Hong, Hoang Thi Thu Vang, Ho Dinh Cuong, and Tran Thanh Phuong. The families also say that they have not received notice on the various extensions of the fives' investigation periods. All were arrested in September 2018 and remain in pre-trial detention. They have also not been permitted to meet with their lawyers and were only allowed to meet with their families for the first time last month.
**
Eight activists will face trial by the People's Court of Ho Chi Minh City on March 10 on charges of "disrupting security" under Article 118 of the 2015 Criminal Code. The eight have been detained without trial for almost a year and a half. Authorities have previously postponed the trial twice. The group of eight defendants includes Nguyen Thi Ngoc Hanh, Hoang Thi Thu Vang, Do The Hoa, Ho Dinh Cuong, Tran Thanh Phuong, Ngo Van Dung, Doan Thi Hong and Le Quy Loc. Some are members of the Hien Phap group, established on June 16, 2017, with the aim to promote peoples' understanding of their human rights under the 2013 Constitution.
Details - Background, History of Activism.
Ngo Van Dung is from Buon Me Thuot City, Dak Lak Province, in the Central Highlands.
Dung is a citizen journalist who filmed the June 2018 protests in Vietnam over proposed Special Economic Zones, and he is a member of the pro-democracy organization the National Movement to Revive Vietnam. Two of its leading members, Vu Quang Thuan and Nguyen Van Dien, are currently serving eight and six and a half years in prison, respectively. He is also a member of the Hien Phap constitutional rights group, which aims to educate citizens about their rights under the law.
March 12, 2018: detained and questioned after filming protests
liberty and security of the person
freedom of expression
Ngo Van Dung and Nguyen Uyen Thuy, two members of the National Movement to Revive Vietnam, were detained in Dak Lak Province after reporting on protests of teachers who had been laid off. Six hundred teachers had been laid off, prompting public reaction; Dung and Thuy filmed and interviewed some protesters. The two were detained, questioned for several hours, and forced to pay a fine. They were released later in the day. Police also confiscated their cell phones, which they had used to film the protests
Arrested September 4, 2018. Charged under Art. 118 (2015 Code).
September 4, 2018
Ho Chi Minh city public security, Ho Chi Minh city
District 1, Ho Chi Minh City (
map
)
freedom from arbitrary arrest or detention
liberty and security of the person
freedom of expression
freedom of peaceful assembly
freedom of association
political participation
Profile last updated: 2020-02-24 03:58:30