Hoang Thi Thu Vang
Current Status: Pre-trial detention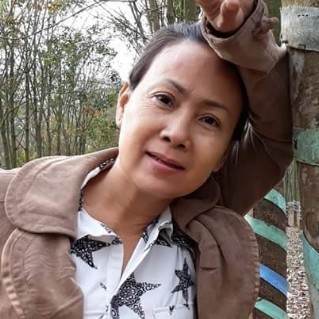 Other Names: Hoàng Thu Vang
Date of Birth: 1966
Gender: F
Ethnicity: Kinh
Areas of Activism:
Food safety
Environment
Freedom of expression
Known Afilliations:
October 2019:
Relatives of five detained members of the Hien Phap group, which aims to educate citizens about their constitutional rights, are planning to sue the Ho Chi Minh City Police Department, alleging that their loved ones were arrested without warrants and held for many weeks in unknown locations before the families were notified. The five cases represented are those of Ngo Van Dung, Doan Thi Hong, Hoang Thi Thu Vang, Ho Dinh Cuong, and Tran Thanh Phuong. The families also say that they have not received notice on the various extensions of the fives' investigation periods. All were arrested in September 2018 and remain in pre-trial detention. They have also not been permitted to meet with their lawyers and were only allowed to meet with their families for the first time last month.
**
January 2020:
Authorities have postponed the trial of eight people under charges of "disrupting security," which was supposed to be held on January 14, 2020; this is the second time the trial was postponed. According to the court decision, the reason for this postponement was to address the request of Le Quy Loc, a defendant in the case, about his invitation for a witness. The group of eight defendants includes Nguyen Thi Ngoc Hanh, Hoang Thi Thu Vang, Do The Hoa, Ho Dinh Cuong, Tran Thanh Phuong, Ngo Van Dung, Doan Thi Hong and Le Quy Loc. Some are members of the Hien Phap group, established on June 16, 2017, with the aim to promote people's understanding of their human rights in the 2013 Constitution.
Details - Background.
She has posted online commentary and advocated for enhanced food safety in the country, and she participated in national demonstrations in June 2018 over draft legistlation on Special Economic Zones and Cybersecurity.
Arrested September 3, 2018. Charged under Art. 118 (2015 Code).
September 3, 2018
Ho Chi Minh city public security, Ho Chi Minh city
freedom from arbitrary arrest or detention
liberty and security of the person
freedom of expression
freedom of peaceful assembly
political participation
On October 2, Vang's family received an announcement of her arrest written by police on September 14. She will be temporarily detained for at least four months under the charge of "disrupting security". During this time, she will not be able to meet her relatives nor her lawyer.
July 2019:
On July 18, 2019, the families of five activists -- Ngo Van Dung, Ho Dinh Cuong, Tran Thanh Phuong, Doan Thi Hong, and Hoang Thi Thu Vang -- sent a letter to the Prime Minister and many other government institutions denouncing the fives' unlawful arrests and detentions over a period of more than 10 months. According to the letter, in September 2018, all of the five activists were arrested without official warrants. Since their arrests, they have been held in Ho Chi Minh City's detention center. The public security of Ho Chi Minh City announced to the families that four of them are charged with "disrupting public order" under Article 118 Penal Code, with a possible sentence of between seven and 15 years in prison. All five still await trial.
Profile last updated: 2020-01-22 16:40:02