Ho Dinh Cuong
Current Status: Pre-trial detention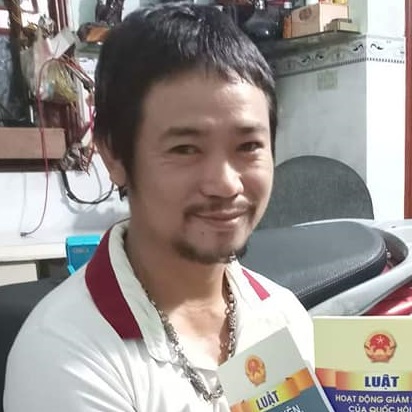 Other Names: Hồ Văn Cương, Hồ Đình Cương, Văn Cương
Date of Birth: December 13, 1979
Gender: M
Ethnicity: Kinh
Occupation: Craft trades
Current Prison: HCM city Police detention center, No. 4 Phan Dang Luu, Ho Chi Minh city
Areas of Activism:
Anti-corruption
Environment
Human rights
Sovereignty
Known Afilliations:
October 2019:
Relatives of five detained members of the Hien Phap group, which aims to educate citizens about their constitutional rights, are planning to sue the Ho Chi Minh City Police Department, alleging that their loved ones were arrested without warrants and held for many weeks in unknown locations before the families were notified. The five cases represented are those of Ngo Van Dung, Doan Thi Hong, Hoang Thi Thu Vang, Ho Dinh Cuong, and Tran Thanh Phuong. The families also say that they have not received notice on the various extensions of the fives' investigation periods. All were arrested in September 2018 and remain in pre-trial detention. They have also not been permitted to meet with their lawyers and were only allowed to meet with their families for the first time last month.
**
December 2019:
The People's Court of Ho Chi Minh City will try eight activists who belong to the Hien Phap group, starting on January 14. They are: Le Quy Loc, Doan Thi Hong, Nguyen Thi Ngoc Hanh, Ngo Van Dung, Tran Thanh Phuong, Do The Hoa, Ho Dinh Cuong, and Hoang Thi Thu Vang. All were arrested ahead of a planned protest in Ho Chi Minh City in September 2018. The eight were supposed to be tried starting on December 25. Some members face up to fifteen years in prison if convicted.
Details - Background, History of Activism, Contact Information.
Arrested September 8, 2018. Charged under Art. 118 (2015 Code).
September 8, 2018
Ho Chi Minh city public security, Ho Chi Minh city
Investigation Agency of Ho Chi Minh City Public Security, No.4, Phan Dang Luu Street, Binh Thanh Ward, Ho Chi Minh City (
map
)
freedom from arbitrary arrest or detention
liberty and security of the person
freedom of expression
freedom of peaceful assembly
freedom of association
political participation
Second Member of Hiến Pháp Group Charged with "Disruption of Security," Facing Severe Sentence, Defend the Defenders, October 5, 2018
Nhiều tù nhân lương tâm Nhóm Hiến Pháp được gặp gia đình sau 11 tháng, Saigon Broadcasting Television Network, August 2, 2019
Bắt cóc dân rồi biệt giam, người vợ đã khụy ngã khi C.A cho gặp lại chồng với thân thể tiều tụy, suy nhược, Nha Nam Media, August 6, 2019
Profile last updated: 2020-01-16 03:03:39