Open letter regarding harassment and reprisals against wife of human rights defender Đặng Đình Bách (Dang Dinh Bach)

H.E. Le Thanh Long
Minister of Justice, Viet Nam
H.E. General To Lam
Minister of Public Security, Viet Nam
April 10, 2023
Your Excellencies,
Re: Harassment and reprisals against wife of human rights defender Đặng Đình Bách (Dang  Dinh Bach).
We are writing in regards to the recent allegations of harassment against Trần Phương Thảo (Tran Phuong Thao), wife of imprisoned human rights defender Dang Dinh Bach. Thao has informed us that she is receiving threats from government agencies to confiscate her home, car, and other possessions if she refuses to pay the tax that Bach is alleged to have evaded, which amounts to VND 1,381,093,134 or $58,000.
Dang Dinh Bach, Director of the non-profit Law and Policy of Sustainable Development (LPSD), was arrested in June 2021 on politically-motivated charges of tax evasion. Despite receiving a disproportionate sentence of five years in prison, Bach's persecution has not ended with his imprisonment. Since the beginning of 2023, Thao has reported numerous instances of administrative and judicial harassment that appear designed to punish her for her advocacy with the United Nations (UN), while forcing Bach to admit to his alleged crime. These instances are detailed below:
On January 18, 2023, an officer  who identified herself as Nguyễn Thị Thuỷ (Nguyen Thi Thuy), from the Department of Civil Judgment Enforcement of Hanoi, called Thao and told her to pay the owed tax debt. She said if the money was not paid, the department would confiscate property belonging to the family. Distressed by the call, Thao then began private preparations with her brother-in-law to sell the family's car.
However, on March 7, the same officer called Thao again and instructed her not to sell any property, as the department was planning to confiscate the family's car and house to settle Bach's unpaid debt.
When Thao later visited Bach in prison on March 17, Bach also told her that an officer from the same government department had visited him in prison and informed him that his personal bank account had been seized.
In a separate but similar incident, on February 8, the Dong Da District Tax Department sent a letter to the LPSD Group Joint Stock Company, of which Thao is the director, stating that Bach had incorrectly declared his personal income tax for the year of 2020. The letter instructed the company to pay a fine of VND 25,000,000 (amounting to $1,054 USD) and summoned Thao to report to the tax office. Over the next two days, an officer who identified herself as Nguyen Thi Hang (Nguyễn Thị Hằng), from the district tax department, called Thao many times, threatening to refer the matter to the police if the fine was not paid. After receiving another letter and summons on March 10, Thao went to the tax office on March 13. Upon arriving at the office, she submitted a written response in person which explained that Bach was unable to pay the fine as he is in prison. She concluded the letter by recommending the department contact Bach directly if they want to pursue the matter.
Bach's case has been garnering international support and was one of several cases featured in a recent article by the Washington Post editorial board. One year after his trial, an international coalition of environmental and human rights organizations launched the #StandWithBach campaign. Thao is a staunch advocate for her husband and has advocated with the UN to call for his release. Attempts to punish Thao for her advocacy amount to reprisals which are prohibited by UN Human Rights Council resolutions 12/2, 24/24, and 42/28. We call on the government of Vietnam to uphold its commitments to its international human rights obligations by immediately ceasing its harassment of Tran Phuong Thao and unconditionally releasing Dang Dinh Bach from prison.
Sincerely,
Ben Swanton, Co-Director
Project 88
***
Background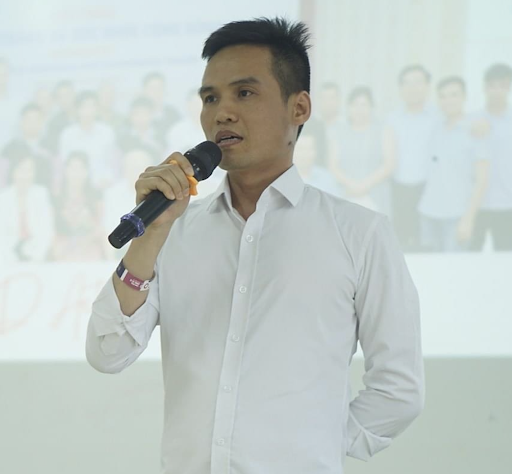 Dang Dinh Bach (pictured above) is currently serving five years in prison on charges of tax evasion. He was the director of the non-profit Law & Policy of Sustainable Development. Preceding his arrest, Bach oversaw a campaign to reduce Vietnam's reliance on coal for electricity generation, while attempting to hold the government accountable to labor and sustainability conditions in its trade agreement with the European Union.
During a family visit on March 17, Bach announced he would stage a partial hunger strike – refusing breakfast and lunch daily – from March 17 until June 24. After June 24, which marks the two-year anniversary of his arbitrary detention, Bach plans to stop eating entirely until he is released or dies in prison. Governments and the UN should take urgent action to secure Bach's release from prison. For more information on Dang Dinh Bach's case, see our profile on Bach.
© 2023 The 88 Project
https://the88project.org/wp-content/uploads/2023/02/Dang-Dinh-Bach_source-family_option-3_via-The-88-Project.png
474
512
kayleedolen
https://the88project.org/wp-content/uploads/2019/01/88project.png
kayleedolen
2023-04-10 15:08:53
2023-04-11 00:46:51
Open letter regarding harassment and reprisals against wife of human rights defender Đặng Đình Bách (Dang Dinh Bach)