Vietnam Free Expression Newsletter No. 46/2021 – Weeks of November 22-28 and November 29-December 5
Greetings from The 88 Project. We bring you news, analysis, and actions regarding human rights and civil society in Vietnam during the weeks of November 22-28 and November 29-December 5. A female activist with young children was sent to prison after her sentence suspension was revoked. A group of political prisoners staged a strike to protest ill treatment. Two prisoners were allowed to see their lawyers. Trial dates have been set for December in four high-profile cases. Vietnam was not invited to the first Democracy Forum by the White House. Facebook removes accounts that target activists in Vietnam. China created fake Facebook accounts to spread misinformation about Covid-19. Domestic workers at foreign manufacturers are forced to live on campus to reduce infection while Hanoians are unreasonably required to quarantine. Vietnamese workers in Serbia and Saudi Arabia suffer from slavery-like abuses and lack of protection. The film industry continues to be held back by censorship, which stymies creativity and funding.
Political Prisoners

Huynh Thuc Vy
Huynh Thuc Vy has been taken into custody after a court in Dak Lak revoked the suspension which allowed her to delay serving her prison sentence. The reason given was that she had violated her terms of suspension by "actions that violate the law which cause dangers to society." The court did not specify what those actions were. A recipient of the Hellman/Hammett Prize in 2012, Vy was arrested in 2018 after she sprayed paint on a Vietnam flag. She was convicted of "defacing the national flag" under Article 276 and sentenced to two years and nine months in prison. According to domestic law, however, she should not have to report to prison until her child is three years old, which he isn't yet.
A group of at least eight political prisoners held at Xuan Loc Prison has staged a strike to demand that they be allowed to go outside for sunlight and exercise. Nguyen Thi Chau, the wife of Nguyen Ngoc Anh, told Radio Free Asia that the group has been refusing prison meals for over 60 days and has survived only on crackers and water. Anh told his wife that the political prisoners have been held inside their cells since June, even though there have been no positive cases of Covid-19 at the prison.
Top row: Trinh Ba Phuong and Nguyen Thi Tam, bottom: Pham Doan Trang and Do Nam Trung
Several trials are scheduled for the coming weeks. Journalist Pham Doan Trang's court date has been set for December 14. The trials for land rights activists Trinh Ba Phuong and Nguyen Thi Tam will take place on December 15. And Do Nam Trung's trial will be held on December 16.
The wife of Do Nam Trung, Bong Tuyet, reported that he was visited by his lawyer, Ha Huy Son, and that Trung's health is stable and that he has regained some of the weight that he had lost. However, Trung said he had not received the full amount of money she'd been sending him, even though Tuyet always got confirmation from the front office that they received her money. She also said Trung has not not yet received any vaccination against Covid. Trung was arrested in July, 2021, and charged with "anti-state propaganda" under Article 117.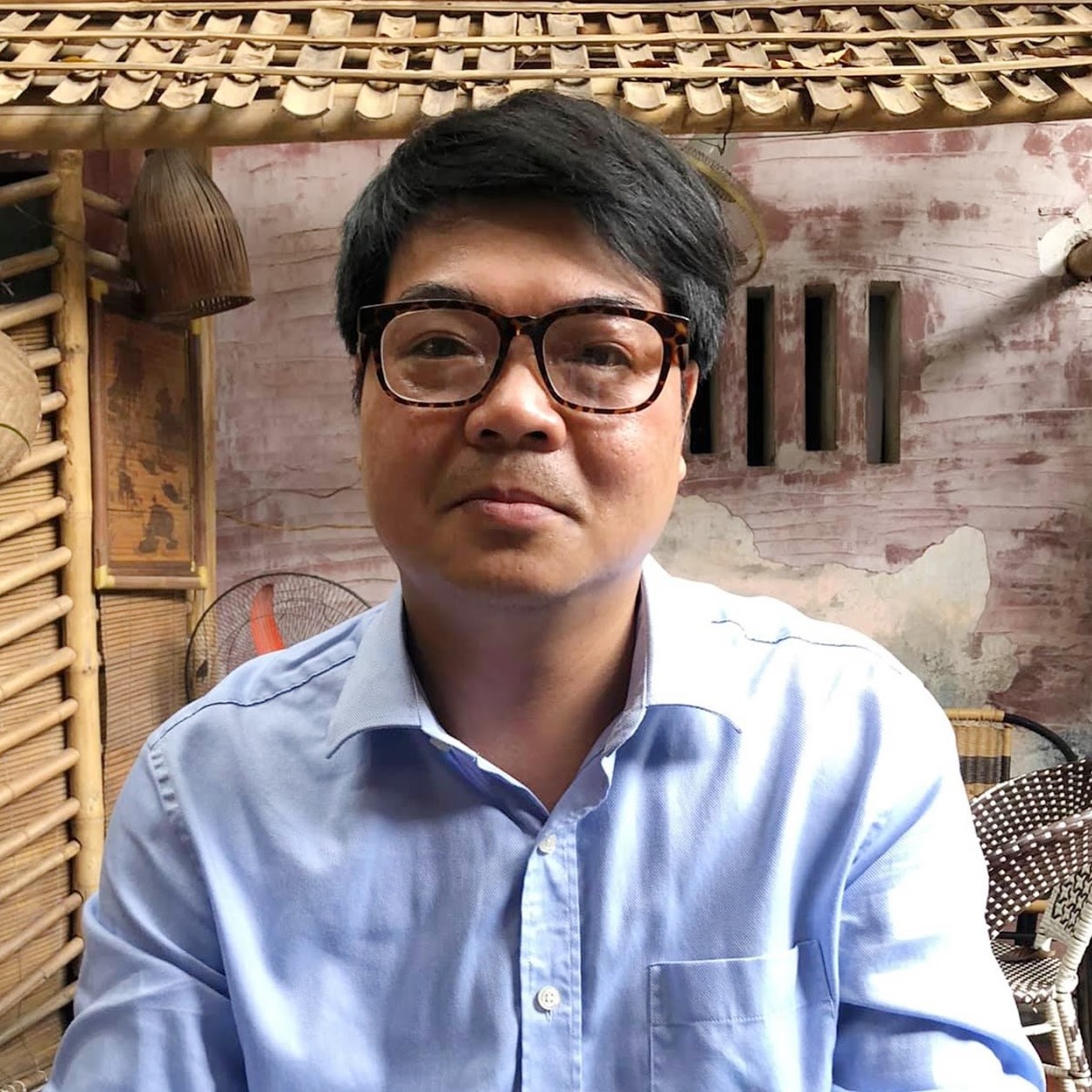 Le Trong Hung
Do Le Na, the visually-impaired wife of Le Trong Hung, said that her husband was allowed to see his lawyer, Ha Huy Son, on November 22 and reported that his eyesight has gotten worse since his detention in March. She also claims that even though her husband is not physically abused, he has been discriminated against as some of his basic requests, such as for books, are routinely denied. Hung tried to run as an independent candidate for the National Assembly in 2021 and has been charged with "anti-state propaganda" under Article 117.
This week, we think of the birthdays and arrest anniversaries of the following political prisoners: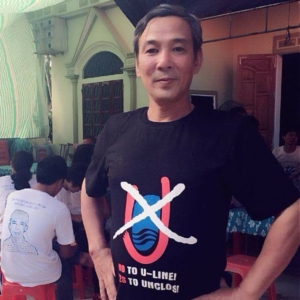 Le Dinh Luong
Democracy activist Vu Quang Thuan, birthday December 5, serving eight years in prison for conducting "anti-state" propaganda
Veteran and environmental activist Le Dinh Luong, birthday December 10, serving 20 years in prison on charges of "subversion"
Civil society member Ho Dinh Cuong, birthday December 13, serving four and a half years in prison for "disrupting security"
International Advocacy
President Biden will host the first Summit on Democracy at the White House next month . However, seven of the 10 ASEAN countries were not invited, including Vietnam.
Facebook says the company has removed from its platform "a network of accounts" that targeted activists critical of the Vietnamese government.
The UN has urged Vietnam and Saudi Arabia to stop the trafficking of workers as stories of deaths and abuses keep rising.
NEWS & ANALYSIS
Vietnamese workers at Chinese factory in Serbia cry for help, Dusan Stojanovic, AP, November 20, 2021: "They are shivering in barracks without heat, going hungry and have no money. They say their passports have been taken by their Chinese employer and that they are now stuck in a grim plainland in Serbia with no help from local authorities. These are the Vietnamese workers who are helping build the first Chinese car tire factory in Europe. The Associated Press visited the construction site in northern Serbia where some 500 of the workers are living in harsh conditions as China's Shandong Linglong Tire Co. sets up the huge facility. … Now, it has caught the attention of human rights groups in Serbia, which have warned that the workers could be victims of human trafficking or even slavery."
Modern-day slavery: Vietnamese women domestic workers in Saudi Arabia, Angie Ngoc Tran, New Mandala, November 29, 2021: "The recent death of an underage woman, H Xuân Siu, an ethnic minority Jarai from DakLak, Vietnam, who was recruited to work as a domestic worker in Saudi Arabia, shocked the world. More details, exposed on Facebook by her sister-in-law and other news outlets reveal an exploitative transnational labour export system that sends young and old women from poor areas in Vietnam to work as domestic workers in the private homes of their visa sponsors in the Gulf states."
'Absurd' quarantine policies irk Hanoians, Quynh Nguyen, VNExpress, November 27, 2021: "Ha Dong District resident Doan Thanh, 31, was notified four days after going into centralized quarantine that he would be able to self-isolate at home if he tested negative for the virus after completing seven days in centralized quarantine. His initial happiness on hearing this evaporated as he faced bureaucratic hurdles ahead. He would need to file a form and send to his ward's Steering Committee for Covid-19 Prevention and Control. An inspection team would come to his house to evaluate whether it satisfied criteria for self-isolation. If it did, the team would send another form to the committee so an approval paper would be issued. 'Way too complicated,' Thanh exclaimed."
Facebook says users in China created a fake Swiss scientist to spread conspiracies that the US was falsely blaming it for COVID-19, Katie Canales, Business Insider, December 1, 2021: "Meta said this is the first time it has discovered an operation that 'included a coordinated cluster of state employees to amplify itself in this way.' The company emphasized repeatedly, however, that there was no 'noticeable authentic engagement' due to the inauthentic amplification efforts, and the false claims were mainly elevated by Chinese state media. The fake biologist was just one of a series of accounts from around the world that were negatively impacting users and society, Meta said. In November alone, the company said it removed accounts and linked suspected coordinated inauthentic behavior to the Belarusian KGB, as well as other incidents in Vietnam, Poland, and Palestine."
Workers in Vietnam lived inside factories to keep Samsung's products on shelves during the pandemic, Lam Le, Rest of World, November 22, 2021: "For the workers, the arrangements came at the price of extreme isolation, fatigue, and mind-numbing monotony. Those who spoke to Rest of World described a summer of seemingly endless labor, compounded by little sleep and no privacy. In those conversations, and publicly on TikTok and Facebook, they shared stories of constant queuing and controls, and workdays that ended asleep on mats, cardboard beds or in tents. 'Those workers … probably saved the economy of Vietnam,' said Julien Brun, managing partner at CEL, a supply chain consultancy based in Ho Chi Minh City. 'Without [them], there'd be just closed factories, no activity'."
Oppression, Statelessness, Demolition Themes Drive Vietnam Projects at Southeast Asia Film Lab – Singapore, Naman Ramachandran, Variety, December 1, 2021: "The biggest issue that emerging filmmakers like Linh Dan Nguyen Phan, Pham Hoang Minh Thy and Mai Huyen Chi face in Vietnam is that of censorship. 'The biggest challenge would probably be the censorship laws that is a big debate in our country right now. There are a lot of restrictions when it comes to the topics we can mention and because there are no set rules, it is very difficult for filmmakers, especially new ones, to navigate,' says Linh Dan Nguyen Phan. 'The filmmakers in Vietnam are working together to initiate positive movements that I hope will help to create a new path for Vietnamese cinema and help emerging filmmakers get a chance to tell their stories truthfully.' 'Vietnam is notorious for its censorship. You do not need graphic images to be censored. You only need some visuals that painted the country 'in the wrong color',' says Mai Huyen Chi, adding that funding, infrastructure and distribution for independent films remain difficult too."
TAKE ACTION
Please share your support for Huynh Thuc Vy by sharing her profile and calling for her release. Vy, a female activist with two young children, was handed a suspended sentence in 2018 and suddenly taken into custody this week after the suspension was revoked.
Correction from 11/21 newsletter: We incorrectly listed Le Dinh Doanh as Duyen Nguyen's husband. Duyen's husband is Le Dinh Uy.
© 2021 The 88 Project
https://the88project.org/wp-content/uploads/2019/01/huynh-thuc-vy_undated-social-media_square.jpg
573
573
kayleedolen
https://the88project.org/wp-content/uploads/2019/01/88project.png
kayleedolen
2021-12-06 03:18:52
2021-12-06 03:18:52
Vietnam Free Expression Newsletter No. 46/2021 – Weeks of November 22-28 and November 29-December 5