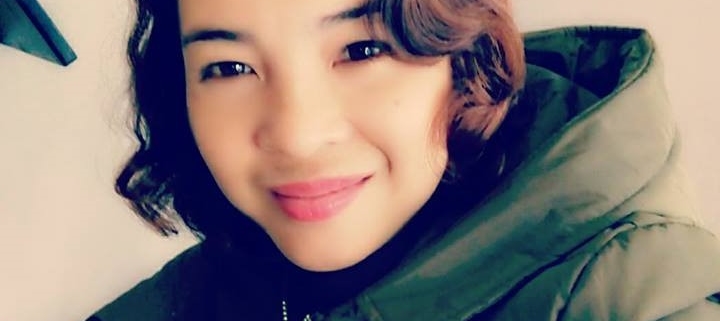 Update on Dang Thi Hue's situation: BOT protester arrested and held on charges of "disturbing public order"
Protests against the improper location of and overcharging at BOT (Build-Operate-Transfer) toll stations have taken place in many sections of highways and bridges nationwide. BOTs are owned/partially owned by private companies, which will recover their capital and earn profits by charging fees to drivers during certain hours of the day, according to the contract with the government. However, many of these are referred to as "dirty" BOTs because of their being improperly located, i.e. collecting fees on roads that should be free, and because they collect fees outside of the designated hours. The fight against "dirty BOTs" has resulted anti-dirty BOT protests by many drivers. Instead of addressing citizens' complaints, the Vietnamese authorities seem to collaborate with BOT investors to continue their illegal fee collecting and carry out crackdowns against BOT protesters, especially prominent ones such as Ha Van Nam, Truong Chau Huu Danh, Dang Thi Hue, or Ngo Oanh Phuong.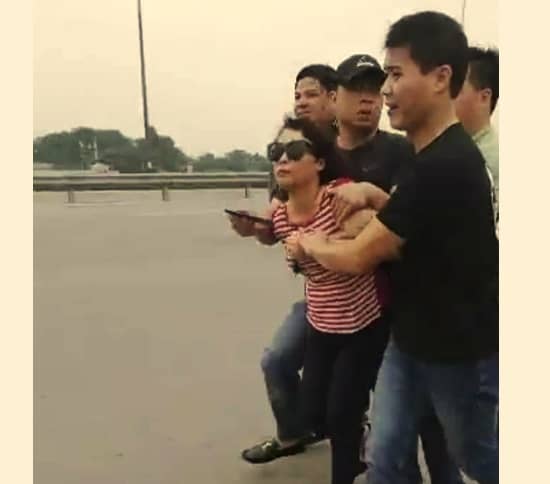 Hue taken away by plainclothes public security on May 20, 2019
The latest arrest was against Dang Thi Hue, also known as Hue Nhu, 38, a single mother of two children and administrative officer in a primary school in Thai Binh Province. Hue is an active activist in BOT protests and in calling for justice for Ha Van Nam, a BOT protester arrested on March 3, 2019. Due to her activism, Hue was beaten violently and suffered from a miscarriage after being attacked during a protest on May 20, 2019. She was also detained for four hours by public security of Soc Son District, Ha Noi while arguing about the legality of the Bac Thang Long – Noi Bai toll booth on June 11. She is in the process of suing the Minister of Transport for allowing the BOTs in Vinh Yen to operate illegally. She also sued the public security of Soc Son for causing her miscarriage, illegally detaining her, and confiscating her car on June 11 without compensating her. 
Facebooker Tran Thi Thu Thuy, a BOT protester who usually accompanied Hue to the protests and witnessed her arrest, reported that the public security of Soc Son District, Ha Noi, mobilized a powerful force to arrest Hue at 8:25 PM on October 16, 2019. They then took Hue to her house in Quang Trung District, Thai Binh City, Thai Binh Province, to be searched. One week after her arrest, Hue's family still had not received any notification from Soc Son public security on her arrest. Her 15-year-old daughter, with the support of Thuy, only received a notice after going and requesting it from the communal public security office where Hue's permanent residence is registered. In the notice, written on October 16 by the Soc Son Investigation Agency, Hue was accused of "disturbing public order," the same accusation against Ha Van Nam. Her arrest took place only two days before the appeal trial against Ha Van Nam, scheduled on October 18, 2019.
On October 25, 2019, lawyer Le Dinh Viet was able to meet with Hue and reported that she lost two kilograms because she is not familiar with the food and eating schedule in prison. Luckily, her inmates were supportive and shared their food with her. Hue thanked people for their support and remained positive about her activism. 
Hue is currently held at Detention Center No.1 of Hanoi Public Security, after being transferred from the Contemporary Detention Center of Soc Son District.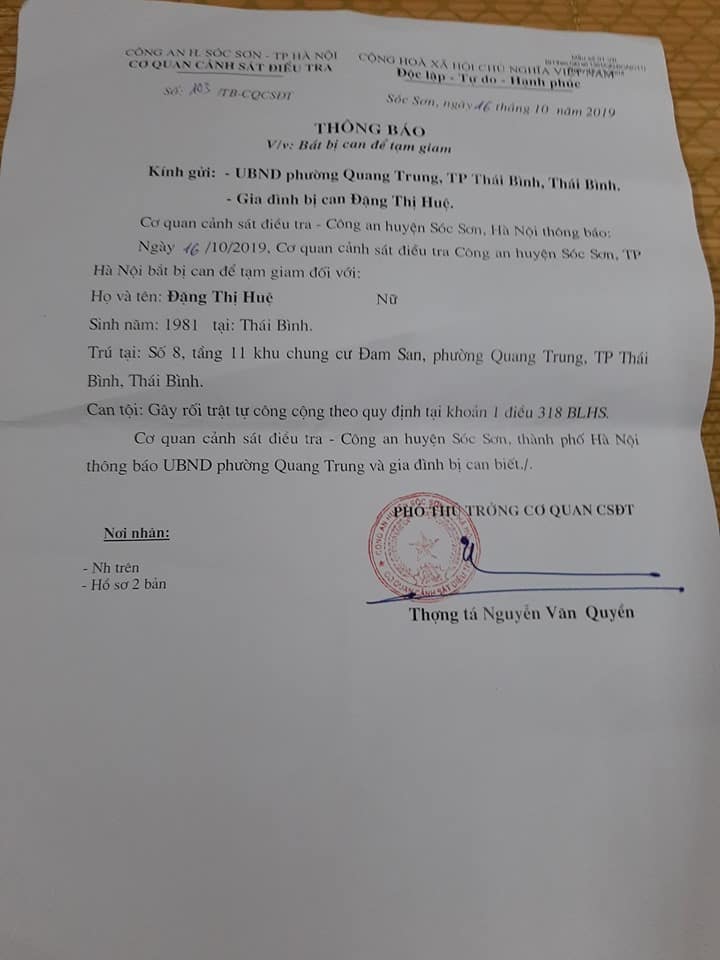 Above: An announcement on Hue's arrest. Source: Facebook Trần Thị Thu Thủy
Sources:
Tài xế Hà Văn Nam bị bắt để điều tra hành vi gây rối, Tien Phong Newspaper, March 6, 2019
Công an Sóc Sơn lại bắt giữ nhà hoạt động chống BOT bẩn Huệ Như, Saigon Broadcasting Televison Network, June 12, 2019
Công an bắt giam Huệ Như, người mẹ đơn thân chống BOT bẩn, Tieng Dan Newspaper, October 17, 2019
Công an bắt giam bà Đặng Thị Huệ sau các cuộc phản đối BOT, Radio Free Asia, October 17, 2019
© 2019 The 88 Project
https://the88project.org/wp-content/uploads/2019/11/Dang-Thi-Hue_Facebook-Dang-Thi-Hue_square.jpg
720
720
kayleedolen
https://the88project.org/wp-content/uploads/2019/01/88project.png
kayleedolen
2019-11-06 14:08:40
2019-11-08 08:46:06
Update on Dang Thi Hue's situation: BOT protester arrested and held on charges of "disturbing public order"