Dang Thi Hue
Current Status: Sentenced to prison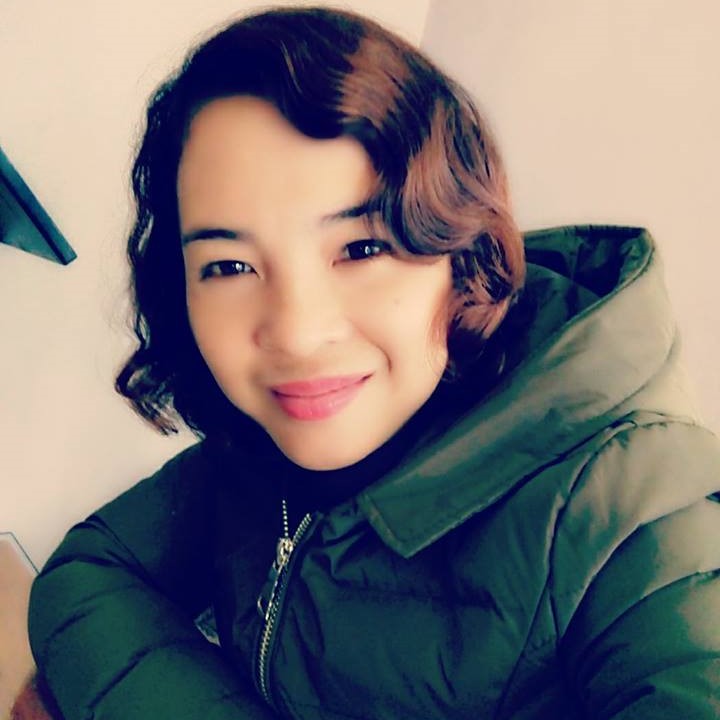 Other Names: Đặng Thị Huệ
Date of Birth: December 25, 1981
Gender: F
Ethnicity: Kinh
Occupation: Teaching professional
Last Known Prison: Hanoi Police Detention Center No. 1, Hanoi
Areas of Activism:
Anti-corruption
Freedom of expression
Details - Background, History of Activism.
Hue's hometown is in Thai Binh Province. She lives and works in Ha Noi.
Profile photo source: Dang Thi Hue's Facebook
Hue is a part of the nationwide protest movement against the installation of toll booths across the country as the result of Build - Operate - Transfer projects (BOT projects). Many have criticized the locations of these toll booths, alleging that they are being charged with or without using the new road built by BOT companies. They also believe that this lucrative business (which can generate billions of Vietnam Dongs per day - approximately 50,000 USD to 100,000 USD per day) is corrupted by cronyism.
In Hue's case, however, her actions specifically focus on Bac Thang Long-Noi Bai toll booth, which was already concluded to be unlawful by the Ha Noi local authority 10 years ago, but has somehow survived through three ministers of the Ministry of Transportation. Yet, activists protesting this toll still face police brutality and mistreatment.
May 20, 2019: detained and assaulted for participating in a peaceful demonstration
Detention
Physical assault in a public space
Intimidation
Harassment against family of activist at risk
May 20, 2019
Public security
Bac Thang Long-Noi Bai toll booth, Hanoi (
map
)
freedom from arbitrary arrest or detention
liberty and security of the person
freedom of expression
freedom of peaceful assembly
not be subjected to torture and degrading treatment
political participation
Frontline Defenders
Defend the Defenders
On the morning of May 20, many drivers and activists in Ha Noi arrived at Bac Thang Long-Noi Bai toll booth to express their opposition toward the existence of the toll booth, since it was denounced as unlawful by the local authorities 10 years ago.
Yet without any public discussion nor reasonable warning, the public security officers arrived and treated the activists like criminals. Many were beaten and harassed.
Hue was pregnant at the time. But after being beaten and violently dragged away, it is confirmed that she suffered a miscarriage. (Hue's confirmation)
Frontline Defenders and Defend the Defenders assisted Hue to cover medical expenses incurred due to the miscarriage.
June 12, 2019: detained at toll booth
Detention
Intimidation
Property confiscation
June 12, 2019
Public security
Bac Thang Long-Noi Bai toll booth, Hanoi (
map
)
freedom from arbitrary arrest or detention
freedom of expression
freedom of peaceful assembly
political participation
On June 12, 2019, Hue and a driver Nguyen Tran Cong were arrested at Bac Thang Long-Noi Bai toll booth, where they had gone to protest the toll booth's fees. They were escorted to the public security office of Soc Son District and detained here for over four hours.
According to Hue's online posts, she accused that the Soc Son's public security force tried to frame her for a criminal conviction. Specifically, when Hue and Cong drove to Bac Thang Long - Noi Bai toll booth and argued about the legality of its location and existence, a group of security officers was already waiting to see if they could have any justification to arrest her and Cong.
Aware of this, after 11 minutes of negotiation, Hue and Cong decided to pay the toll fee, yet Soc Son's police still confiscated the car and arrested both of them.
Hue and Cong filed official complaints to the competent authorities about the arrest and their car.
Arrested October 16, 2019. Sentenced to 1 year in prison under Art. 331 (2015 Code). Expected Release is January 16, 2021.
October 16, 2019
Soc Son District public security, Ha Noi
A cafeteria in Hanoi (
map
)
May 8, 2020
The People's Court of Soc Son, Hanoi
Le Dinh Viet
1 year in prison
January 16, 2021
freedom from arbitrary arrest or detention
liberty and security of the person
freedom of expression
freedom of peaceful assembly
fair trial
political participation
Facebooker Tran Thi Thu Thuy, a BOT protester who usually accompanied Hue to the protests and witnessed her arrest, reported that the public security of Soc Son District, Ha Noi, mobilized a powerful force to arrest Hue at 8:25 PM on October 16, 2019. Hue and Thuy were drinking tea on the street at that time. They then took Hue to her house in Vu Thu District, Thai Binh City, Thai Binh Province, to be searched. The search last for several hours.
One week after her arrest, Hue's family still had not received any notification from Soc Son public security on her arrest. Her 15-year-old daughter, with the support of Thuy, only received a notice after going and requesting it from the communal public security office where Hue's permanent residence is registered. In the notice, written on October 16 by the Soc Son Investigation Agency, Hue was accused of "disturbing public order," the same accusation against imprisoned BOT protester Ha Van Nam. Her arrest took place only two days before the appeal trial against Ha Van Nam.
Hue was held at Detention Center No.1 of Hanoi Public Security, after being transferred from the Contemporary Detention Center of Soc Son District.
Hue, a single mother of two, was charged with "disturbing public order." She lost weight in prison due to being unfamiliar with the eating schedule.
February 2020:
The public security of Ha Noi concluded its investigation against activist Dang Thi Hue, who was arrested in October 2019 for "disturbing public order." They had previously accused her of possessing military equipment, including guns and special knives, after searching her apartment; but in the new investigation report, they crossed out this accusation due to lack of evidence.
May 2020:
On May 8, 2020, The People's Court of Soc Son in Hanoi sentenced Build-Operate-Transfer (BOT) activists Dang Thi Hue and Bui Manh Tien to 15 months in prison each. Both were charged under Article 331 of the 2015 Criminal Code for "abusing democratic freedoms." Due to the addition of time that she will have to serve from a previous suspended sentence, Hue will serve 42 months in prison total. During the trial, several journalists and Hue's friends who tried to attend the trial were beaten.
On October 25, 2019, lawyer Le Dinh Viet was able to meet with Hue and reported that she lost two kilograms because she was familiar with the food and eating schedule in prison. Luckily, her inmates were supportive and shared their food with her. Hue thanked people for their support and remained positive about her activism.
Profile last updated: 2021-05-08 18:19:27