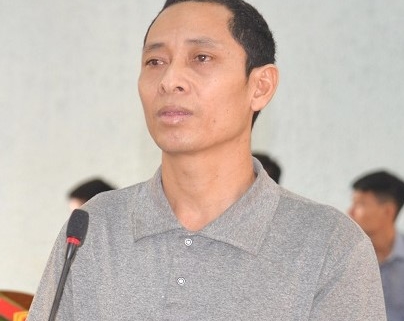 Vietnam Free Expression Newsletter No. 44/2019 – Week of October 28-November 3
Featured Image: Montagnard Christian activist Ksor Ruk, tried one year ago
Greetings from The 88 Project! We are bringing you news, analysis, and actions regarding human rights and civil society in Vietnam during the week of October 28-November 3. Three trials are coming up this week and next. On November 11, Nguyen Van Vien, Chau Van Kham, and Tran Van Quyen will all be tried; the three are alleged to be members of overseas democracy group Viet Tan. Human rights lawyer Tran Vu Hai and his wife will be tried on November 13 for alleged tax evasion in what many believe is a politically-motivated case, and Nguyen Ngoc Anh will face his appeal trial on November 7. This week, former university lecturer Pham Xuan Hao was sentenced to prison for his online posts, and so was Facebooker Nguyen Van Phuoc. Hao was sentenced to one year in prison and Phuoc to five years. In the news, read analysis on the recent tragic deaths of Vietnamese migrants in the UK and the conditions that lead to migration, as well as the latest on fishermen's attempts to sue plastics giant Formosa over the 2016 environmental disaster in central Vietnam. Please take action for those facing trial in the coming weeks by sharing their cases and calling for their release from detention.
HUMAN RIGHTS & CIVIL SOCIETY
Prisoners of Conscience
The People's Court of Ho Chi Minh City will try 
Nguyen Van Vien
, 
Chau Van Kham
, and 
Tran Van Quyen
(above, left to right)
 on November 11. 
All three will be tried
 under Article 113 for "terrorism to oppose the people's government." Also, all three are said to belong to overseas democracy group Viet Tan, which is often targeted by the Vietnamese government. Kham, who is an Australian citizen, is believed to have used fake documents to cross into Vietnam from Cambodia in January. All three men were arrested in January, first under Article 109 of the 2015 Criminal Code, for subversion. Vien is also a member of the Brotherhood for Democracy.

October 28, 2019 marked nine months since Facebooker Huynh Thi To Nga was allegedly kidnapped by plainclothes agents from the hospital where she works. She is now known to be held in Dong Nai province's detention center. Her family told activists in Ho Chi Minh City that they asked the authorities to let them meet with her, but so far, the request has been denied. Authorities told the family that she is under investigation and cannot have visitors. They have not announced charges against her.

On October 31, 2019, the People's Court of Can Tho province sentenced Pham Xuan Hao, a former lecturer of Can Tho University, to one year of imprisonment for "abusing democratic rights and freedoms to infringe upon state interests" in violation of Article 331 of the 2015 Criminal Code, which is often used to silence constructive criticism in Vietnam. Hao has been active on Facebook for several years. At the trial, the Court accused him of being an expert and having high social awareness but still using Facebook to "publish pessimistic information about Vietnam that negatively affects netizens and the public."
On October 29, the People's Court of An Giang province sentenced Facebooker Nguyen Van Phuoc to five years in prison for posting and sharing alleged "anti-state" content between 2016 and 2018. He was sentenced to five years in prison under Article 117 of the 2015 Criminal Code for conducting propaganda against the state. Phuoc and Hao are two of many online users arrested and convicted for their Internet postings in recent months.

On November 13, the People's Court of Khanh Hoa province will try prominent lawyer Tran Vu Hai and his wife Ngo Tuyet Phuong. The couple has been under investigation for a case of alleged tax evasion involving a property purchase, though Hai is also a well-known human rights lawyer, leading some observers to believe that the case is politically-motivated. Police searched Hai's office and confiscated many materials unrelated to this case. These materials included the dossiers of multiple important cases, such as the case of Truong Duy Nhat. The Ministry of Public Security recently refused Hai's request to represent Truong Duy Nhat at trial.
This week, we remember the arrest and trial anniversaries of the following political prisoners:
Y Yem Hwing, Montagnard Christian activist, arrested October 29, 2012 and sentenced to 8 years in prison
Ksor Ruk, Montagnard Christian activist, arrested October 30, 2018 and sentenced to 10 years in prison
Ho Van Hai, doctor and blogger, arrested November 2, 2016 and sentenced to four years in prison
Thirty June 2018 protesters tried on October 31, 2018 and sentenced to prison terms
Activists at Risk
An Ninh ("Security") TV (antv.gov.vn), a state-owned channel dedicated to security-related news, has been airing a series of programs to defame well-known political activists. On October 27, 2019, An Ninh TV, 
aired a program
 in which it identified several activists as "subversives," among them: Le Trung Khoa, 
Le Dung Vova
, 
Nguyen Thuy Hanh
, 
Pham Doan Trang
, and 
Dung Truong
. The program also provided ways to recognize those activists on social media. On October 31, 2019, 
Le Dung Vova
 and his CHTV channel were 
publicly-accused of igniting some people to question the government
. It went further to accuse 
Vu Quang Thuan
, Nguyen Van Viet, 
Tran Hoang Phuc
, and Le Dung Vova of organizing a movement called "The National Movement to Revive Vietnam," through which they allegedly propagate against the government and the Party. Thuan and Phuc have been sentenced to prison for their peaceful expressions. Earlier in October, Pham Doan Trang was also subject to a similar denunciation 
video
.
NEWS & ANALYSIS
Montagnard pastor to testify before Congress about rights abuses in Vietnam
, Cindy Loman, Greensboro Times, October 26, 2019: "Nie and others testifying Monday will share stories of religious persecution, stolen land, and human trafficking, he said. Nie hasn't been back to the communist country since he left, but he has many connections there, including his son, who pastors an evangelical church there. Only, he's not allowed to call it that, Nie said. Churches must be called 'houses of prayer.' He said Vietnam's 1992 constitution includes 'freedom of religion,' but it's not a reality. Nie said the government allows a few Christmas-type programs and special annual events, for show, in tourist areas."
Postcards from a poisoned coast: Vietnam's people-smuggling heartland, James Pearson, Reuters, October 28, 2019: "Thousands of people respond to the lure of a better life abroad every year, but many take the underground route – via smugglers and sometimes dangerous journeys by sea and road. That phenomenon is now in sharp focus after 39 bodies were discovered in a truck outside London last week. Many are feared to be Vietnamese from Nghe An and Ha Tinh, rice-growing areas in the northern-central part of the country. Poor job prospects, encouragement by authorities, smuggling gangs, environmental disaster and government pressure on Catholics are all local factors behind the wave of migrants."
Why Vietnam Can't Stop Risky Migration to Richer Countries, Ralph Jennings, Voice of America, November 1, 2019: "Blue-collar wages of less than $200 per month, however, hardly compare to wages in the countries where trafficked people often end up today. Vietnamese still jump at chances to work in factories in Russia, do construction work in Libya and get hired on British farms. About 10% of Vietnam's 95 million people live in poverty, sometimes in 'pockets of extreme poverty' far from industrial job centers, IHS Markit Asia-Pacific chief economist Rajiv Biswas said."
Vietnam: Intolerance, injustice become state law, Nguyen Hoang Bao Viet, Asia Times. October 25, 2019: "Enforced disappearances inside the country and abroad will not be stopped. As a reminder, Vietnamese fugitives were abducted and secretly taken to Hanoi. One of them, kidnapped in broad daylight in Berlin, Germany, another, Truong Duy Nhat, known journalist, disappeared in Bangkok, Thailand, after contacting the UNHCR in early 2019. The kidnapped fugitives have been in prison since they were forcibly returned. After these kidnappings, Vietnamese boat people refugees, dissidents and former prisoners living in exile in Europe and Southeast Asia no longer feel safe."
Taipei Court Dismisses Lawsuit Filed by 8,000 Vietnam Marine Disaster Victims
, The News Lens, October 31, 2019: "On October 14, 2019, the Taipei District Court dismissed a lawsuit filed by nearly 8,000 Vietnamese fishermen against Taiwan-based Formosa Plastics Group (FPG) over a 2016 marine disaster in Vietnam. The court said that it had no jurisdiction to rule on the case, but the plaintiff's lawyers filed an appeal on October 24. The marine disaster, which took place on April 6, 2016, is seen as the most serious environmental disaster in Vietnamese history. The incident, caused by the discharge of toxic waste into the sea by FPG subsidiary Ha Tinh Steel Corporation, led to the death of massive amounts of fish and marine life in central Vietnam."
COMING UP
Political prisoner 
Nguyen Ngoc Anh's
appeal trial will be held
 on November 7, 2019. Lawyer Dang Dinh Manh just received the announcement from the People's Supreme Court of Ho Chi Minh City on October 22, 2019. Nguyen Ngoc Anh was charged under Article 117 of the 2015 Penal Code for "making, storing, spreading information, materials, items for the purpose of opposing the State of Socialist Republic of Vietnam" and sentenced to six years in prison. He has been facing serious mistreatment in prison, including death threats, possibly at the command of prison authorities.
TAKE ACTION
Please take action for Nguyen Ngoc Anh ahead of his appeal trial, and Tran Van Quyen, Chau Van Kham, Nguyen Van Vien, and Tran Vu Hai and his wife Ngo Tuyet Phuong ahead of their first instance trials coming up in the next two weeks by sharing information about their arrests and cases and calling for their releases from prison/for authorities to drop all charges against them.
© 2019 The 88 Project
https://the88project.org/wp-content/uploads/2019/11/Ksor-Ruk_Source-Cong-An-Gia-Lai-online-newspaper.jpg
405
404
kayleedolen
https://the88project.org/wp-content/uploads/2019/01/88project.png
kayleedolen
2019-11-04 15:30:00
2019-11-04 15:30:00
Vietnam Free Expression Newsletter No. 44/2019 – Week of October 28-November 3