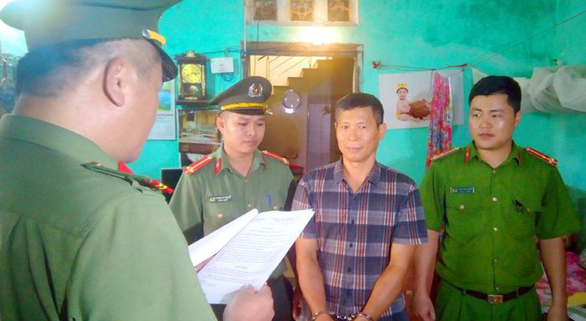 Vietnam Free Expression Newsletter No. 26/2019 – Week of June 24-30
Greetings from The 88 Project! We are bringing you news, analysis, and actions regarding human rights and civil society in Vietnam during the week of June 24-30. In two separate trials, five activists, Michael Nguyen, Huynh Duc Thanh Binh, Tran Long Phi, Huynh Duc Thinh, and Truong Huu Loc were sentenced to heavy terms this week, ranging from one to 12 years in prison. Activist Pham Van Diep was arrested in Thanh Hoa province on June 29. Political prisoners are now on the 19th day of a collective hunger strike in Prison No. 6 in Nghe An province to protest against prison officials' refusal to provide electric fans during an ongoing extreme heat wave. We have an update on the situation of political prisoner Nguyen Viet Dung, and we are thinking of student activist Tran Hoang Phuc on the second anniversary of his arrest and religious leader Phan Van Thu as he spends another birthday serving a life sentence. In international advocacy, read about Vietnam's response to the 2019 UPR recommendations, and a joint communication by the OHCHR Asia to the Thai and Vietnamese governments regarding the situation of Truong Duy Nhat and Bach Hong Quyen. In the news and analysis section, don't miss David Brown's review of Benedict Kerkvliet's new and timely book "Speaking Out in Vietnam: Public Political Criticism in a Communist Party-Ruled Nation" and John Reed's comprehensive report in the Financial Times on the rise of Vingroup and its unchecked power. Please take action for Truong Duy Nhat who is now in temporary detention after being forcibly returned by the Thai government to Vietnam, and for Tran Hoang Phuc to ensure his health and safety in prison.
HUMAN RIGHTS & CIVIL SOCIETY
Prisoners of Conscience

Michael Nguyen, Huynh Duc Thanh Binh, and Huynh Duc Thinh
Michael Phuong Minh Nguyen, Tran Long Phi, Huynh Duc Thanh Binh and Huynh Duc Thinh were tried in a short and speedy trial in Ho Chi Minh city on Monday, June 24. Scheduled to be a two day trial, it was finished in less than four  hours. The court has assigned these sentences:
1. Michael Phuong Minh Nguyen: 12 years imprisonment under Article 109 of the 2015 Criminal Code ("carrying out activities aimed at overthrowing the people's administration), and will be deported immediately after finishing his sentence.
2.  Huynh Duc Thanh Bình: 10 years prison plus 3 years house arrest under Article 109.
3. Tran Long Phi: 8 years prison plus 3 years house arrest under Article 109.
4. Huynh Duc Thinh: 1 year prison under Article 130 of the 2015 Criminal Code for "not denouncing criminals."
The four were arrested in July, 2018. Another person, Truong Quoc Bao (Thomas Quoc Bao), was also arrested at the same time, but he managed to escape when the police took him back to his home for a search. There is no news on his whereabouts.
On June 24, 2019, the office of Congressman Lowenthal issued a statement regarding the sentencing of Michael Phuong Minh Nguyen, an American citizen, requesting the Vietnamese government to release him immediately.

Truong Huu Loc at trial in HCMC on June 28. Source: VNExpress
On June 28, the People's Court of Ho Chi Minh City tried and sentenced Truong Huu Loc to eight years imprisonment under Article 118 of the 2015 Criminal Code for "disrupting security." Loc was taken into custody a day after large-scale protests against two draft bills on Cybersecurity and Special Economic Zones swept the country on June 10, 2018. Four days later, he was charged with "disruption of security" for allegedly livestreaming to call for protests and supplying protesters with food and water. According to a fellow activist, the family only heard about Loc's sentence from the neighbor reading the newspaper. His wife collapsed after hearing the news.

Pham Van Diep's arrest on June 29. Source: Tuoi Tre Newspaper
On June 29, Thanh Hoa province police arrested and prosecuted Pham Van Diep, a Vietnamese Russian, under Article 117 of the 2015 Criminal Code ("making, storing and dispersing or disseminating information and documents against the Socialist Republic of Vietnam") for his online postings. On the same day, the Security Investigation Department of Thanh Hoa Provincial Police made an emergency search of Pham's residence in Quang Tien Ward, Sam Son City. Mr. Diep will be held in temporary detention for the next four months for investigation. In June 2016, Diep was arrested and sentenced to 21 months imprisonment in Laos for distributing leaflets against Vietnam, under the charges of "using the territory of Laos for activities against neighboring countries."

Truong Minh Duc and his wife, Nguyen Kim Thanh. Source: RFA
As of June 30, 2019, The political prisoners in Prison No. 6, Thanh Chuong, Nghe An, including Truong Minh Duc, Dao Quang Thuc, Nguyen Van Tuc, are on their 19th day of a collective hunger strike. They are striking to protest the abusive conditions in the prison camp: despite the extreme heat, the prison refuses to provide fans. Mrs. Nguyen Kim Thanh, Truong Minh Duc's wife, asked everyone to speak up against the cruel treatment by the authorities in Prison No. 6. Mr. Duc also asked all embassies and human rights organizations, overseas and inside Vietnam, to speak up to improve the conditions in all the prisons in order to save these prisoners of conscience's lives. Read our full report on their situation here.

On June 28, 2019, Nguyen Viet Dung's family went to visit him at prison camp Nam Ha, Ha Nam province but they were not supposed to see Dung because Dung was still being disciplined. However, due to the fact that the family had traveled far in hot temperatures, Dung's father was allowed to see him. Last month, Nguyen's family was not allowed to see him when they went to visit him in prison on May 28. Prison guards said he was being disciplined and transferred to another section of the prison (from section 1 to section 2) and was not allowed to receive visitors. It is unclear why he was being disciplined. During the last phone call before Dung was put to solitary confinement, Dung told his father that he was sending a petition to the Vietnamese parliament to plea for his release because he is innocent.

Tran Hoang Phuc (left) and Phan Van Thu (right). Artworks by Dinh Truong Chinh for The 88 Project
This week, we think of:
Young student activist Tran Hoang Phuc, as June 29 was the second anniversary of his arrest. He was sentenced to six years in prison. There, he has been subject to mistreatment and yet continues to speak up for the rights of the imprisoned.
Imprisoned religious leader Phan Van Thu as June 25 was his birthday. He is the founder and leader of An Dan Dai Dao, a Buddhist sect. He was arrested in 2012 and sentenced to life in prison, where he's currently suffering from health issues.
International Advocacy
On Tuesday July 25, 2019, the OHCHR Asia made public a joint communication to the Thai and Vietnamese governments on 
Truong Duy Nhat
 and 
Bach Hong Quyen
, in which UN human rights experts expressed concerns about the two activists' arbitrary arrest, in particular, the arbitrary arrest, enforced disappearance, and subsequent forced repatriation of Truong Duy Nhat, and the surveillance and intimidation of Bach Hong Quyen. The communication can be read 
here
.
Out of the 
291 UPR recommendations
 received in January 2019, 
Vietnam announced the acceptance of 241 recommendations
, among which 22 are accepted in part. Among the recommendations rejected by Vietnam are those that urge Vietnam to "protect human rights defenders," "ensure an independent and pluralistic media landscape," and "lay the ground for political plurality and democracy"; the reason for the rejection being that the recommendation "use[s] 
contentious terms that do not reflect the consensus of UN Member States, or imply assessments that are inaccurate or alien to the reality in Viet Nam, or being improper vis-à-vis the right of self-determination enshrined in the ICCPR, by the virtue of which the people of Viet Nam freely determined their political status." See Vietnam's full responses list 
here
.
NEWS & ANALYSIS
Vietnam's Imperiled Bloggers
, Al Jazeera, June 25, 2019: "Bloggers have also attracted the attention, and ire, of the authorities. Facing a mix of old laws and new ones, intimidation and closed trials, many have been disciplined, silenced and put away. Last year alone, 18 bloggers and activists were jailed."
The rise and rise of a Vietnamese corporate empire, John Reed, Financial Times, June 26, 2019: "In more than two decades as a foreign correspondent, I have found Vietnam's communist government to be one of the most business-friendly I have encountered. As in China, the combination of a vibrant business environment with a non-democratic single-party state has helped to create the conditions for economic take-off. But in the absence of the normal checks and balances, such as a free press and a citizenry allowed to speak its mind, there is a risk of big companies gaining too much power — even one with Vingroup's mission 'to create a better life for the Vietnamese people.'"
Book Review: Speaking Out in Vietnam. Public Political Criticism in a Communist Party-Ruled Nation, David Brow, Asia Sentinel, June 25, 2019: "[T]here is the sphere that Kerkvliet has focused on, what he calls 'public political criticism,' the 'dialogical relationship' between the regime and citizens who have grievances. The squabbles he analyzes are mainly local: workers striking for better pay and conditions against foreign factory managers, farmers who resist surrendering their land at a fraction of its value, or people whose livelihoods have been blighted by industrial pollution. When these citizens speak out, Kerkvliet argues, 'party-state authorities will react with a combination of responsiveness, toleration and repression.' Repression comes, normally, when officials have brokered what they think is a fair deal, but can't sell it to the last ten or twenty percent of the original protesters."
TAKE ACTION
Take action with Amnesty International for Truong Duy Nhat, a blogger and former political prisoner who was forcibly returned to Vietnam while attempting to seek asylum in Thailand. Call on Thai authorities to investigate his kidnapping, which they are now believed to have assisted in facilitating.
Please share the family's petition regarding Tran Hoang Phuc and his treatment in prison, asking that prison authorities take steps to ensure Phuc's health and safety.
https://the88project.org/wp-content/uploads/2019/07/Pham-Van-Diep-Arrest-in-thanh-hoa_June-29-2019_Source-Tuoi-Tre.jpg
346
586
Huong Nguyen
https://the88project.org/wp-content/uploads/2019/01/88project.png
Huong Nguyen
2019-07-01 18:25:06
2019-07-01 18:25:06
Vietnam Free Expression Newsletter No. 26/2019 – Week of June 24-30