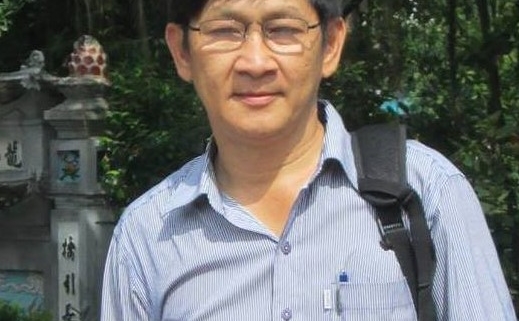 Vietnam Free Expression Newsletter No. 25/2019 – Week of June 17-23
Featured Image: Political prisoner Truong Minh Duc
Greetings from The 88 Project! We are bringing you news, analysis, and actions regarding human rights and civil society in Vietnam during the week of June 17-23. Political prisoner Truong Minh Duc has reported on extreme heat in his prison; prisoners launched a hunger strike to demand improved conditions. Michael Nguyen, Huynh Duc Thanh Binh, Tran Long Phi, and Huynh Duc Thinh will be tried on June 24, almost a year after their arrests. It is now thought that Thai authorities helped Vietnamese security agents kidnap and return blogger Truong Duy Nhat while he was attempting to seek asylum in Thailand. And there is another possible case of police brutality, as a man died in police custody after turning himself in at the station. In the news, read about digital monitoring and the unsettling trade of exiled activists across Asia. Coming up, we will be releasing our next interview as part of our series with female Vietnamese activists. Check out the preview of the interview with Ha Thuy Nguyen, here. And please take action for Truong Duy Nhat; ask the Thai authorities to investigate his kidnapping.
Please subscribe to the newsletter!
HUMAN RIGHTS & CIVIL SOCIETY
Prisoners of Conscience
On June 20, Mrs. Nguyen Kim Thanh, wife of political prisoner 
Truong Minh Duc
, went to 
visit him at prison camp No. 6
 in Thanh Chuong district, Nghe An province. Truong Minh Duc is a journalist and member of Brotherhood for Democracy, arrested in 2017 and sentenced to 12 years in prison. At the visit, Duc was having trouble walking and holding his head up. He reported extreme heat in the cells, and no fans. Duc said many prisoners got together and filed a request to demand new fans, but the prison authorities refused and gave them different excuses. Duc also said that the inmates were willing to pay for the electric bill just to have the fans put back in. Mrs. Thanh told the prison guards that the family would buy a fan, but at that point the guard stopped her from discussing the problem further. Due to this issue, several political prisoners started a hunger strike for over ten days to demand better conditions. Duc asked embassies, human rights organizations, and others to speak up to improve the conditions.

Michael Nguyen, Huynh Duc Thanh Binh, and Huynh Duc Thinh
The People's Court of Ho Chi Minh City will try Michael Nguyen, Huynh Duc Thanh Binh, Tran Long Phi, and Huynh Duc Thinh (Binh's father) on Monday June 24, 2019. The trial is expected to last two days. The four were arrested in July of 2018. Nguyen, a US citizen, was visiting family while arrested; his family has maintained that he is not involved in any activism efforts. Tran Long Phi and Huynh Duc Thanh Binh are young activists; Huynh Duc Thinh is a former political prisoner.
Attorney Nguyen Van Tam will defend Huynh Duc Thanh Binh, per the request of Binh's mother. A court-appointed attorney will defend Michael Nguyen and Tran Long Phi. Michael Nguyen, Huynh Duc Thanh Binh, and Tran Long Phi will be tried on charges of "Activities aimed at overthrowing the people's administration" under Clause 1, Article 109 of the 2015 Criminal Code. Huynh Duc Thinh will be tried under Clause 1 of Article 390 of the Criminal Code for "not denouncing criminals." It is a public trial, but Tran Long Phi's family was told that the family members will not be allowed to be present in the court room. After some effort, the family was able to send clothes to Phi, but they were not allowed to see him before the trial.

Political prisoner Nguyen Dang Minh Man will be released on August 2, 2019. Man was arrested in August 2, 2011 together with her mother, brother, and 13 other individuals as part of a crackdown on Catholic activists. She was tried on August 8, 2013 under Article 79 of the 1999 Criminal Code for alleged subversion and sentenced to eight years in prison. Recently, Mrs. Dang Minh, Man's mother, went to visit her; she said Man is in good health and spirits.

After his first instance trial on October 25, 2017, blogger and student activist Phan Kim Khanh, who was sentenced to six years in prison, filed an appeal. However, Khanh's request was ignored. Since then, he has made several efforts to request an appeal trial according to the law. Khanh's family thought Khanh decided not to appeal because of the communication difficulties. Now they think the law enforcement agency of Vietnam has blatantly acted to block his efforts to appeal.
It is now believed that 
Thai authorities assisted Vietnam in the kidnapping
 of blogger and former political prisoner 
Truong Duy Nhat
 in January, according to information obtained by 
Amnesty International
. Nhat was attempting to seek asylum in Thailand, when he was abducted and returned to Vietnam. This is indicative of a larger 
pattern of cooperation between Asian authorities
 to detain and deport activists in coordinated forced disappearances. Local officers detained Nhat and stayed with him for a few hours before driving him to meet with Vietnamese officials. Nhat's location was unknown for several months before he was discovered to be in a Hanoi prison. He is still being held there, where he is charged in an allegedly fraudulent land case.
This week, we remember the birthdays of the following political prisoners:

Nguyen Viet Dung, birthday June 19, engineer, activist, and founder of Vietnam Republican Party, sentenced to seven years (reduced to six on appeal).
Nguyen Van Oai, birthday June 18, Catholic activist and blogger sentenced to five years in prison.
Activists at Risk
The 
use of plainclothes agents to intimidate and attack activists
 continues to be a strategy employed to suppress dissent in Vietnam. Many activists have attested to a partnership between authorities and hired thugs to harass people in many types of activist communities. There are also reports that non-uniformed police officers attack activists under the guise of being thugs. Some observers fear that this alliance will continue to corrode institutions in the country.
Mr. Truong Minh Huong, a 70-year-old man, was attacked by thugs in Ha Nam province on June 16 after he went to visit seven political prisoners at Nam Ha prison camp with a group of friends. Truong Minh Huong is victim of land grabbing, and he has participated in many sovereignty protests. After the visit, the group went to eat and noticed that they were being watched by security officers. After eating, Mr Huong was heading home on his motor bike, and four young men chased after him. He was forced to stop, and these men started beating him with their helmets and kicking him, breaking a rib.
Police Brutality
On the morning of June 13, Nguyen Xuan Thang went to the Chi Linh City Police Department to confess a property theft that he had committed. However, at about 8 pm on the same day, the police informed the family that 
Thang had died during the interrogation
. The police told the family that Thang plugged a water heater wire into the electrical outlet in the interrogation room, then touched the wire to his hand and chest. Thang's family told the press that they did not agree with the police's explanation and that the family only saw Mr. Thang's body in the morgue of Chi Linh City Medical Center. There have been many 
unexplained deaths or "suicides"
 in Vietnam that have occurred once the offenders came in to police stations for questioning.
NEWS & ANALYSIS
Will Vietnam follows China's model for digital dictatorship
?, The Diplomat, June 22, 2019: "Alongside the use of state propaganda to boost information and telecommunication companies, support for applying AI according to the Chinese practice seems to be evident across state media (though this has been somewhat downplayed during the recent China-U.S. trade war, as Chinese internet and communication corporations become the center of scrutiny). The adopting of a Chinese-style citizen monitoring system seems to be in the interest of the Vietnamese government to achieve better control of their people; it is also in the interest of the vested interest groups that have economically benefited from political status quo."
Sham trial awaits American citizen from Orange County in Vietnam, OC Register, June 21, 2019:  "Detained for nearly a year, accused of conspiring against the Vietnamese government, Nguyen's trial is expected to be short. There will be little discussion. Charges will be read before a panel of judges. Witnesses may or may not be called in. And Nguyen will be allowed some final words. Then, according to people familiar with the Vietnamese legal system, Nguyen will be pronounced guilty – the verdict that many say come at the end of every political trial in Vietnam."
COMING UP
"…I think that changing people's mindset and improving people awareness and knowledge are as important as fighting for their basic human rights."
— Ha Thuy Nguyen in our interview with her. Watch the trailer, here. Full interview coming soon!
TAKE ACTION
Take action with Amnesty International for Truong Duy Nhat, a blogger and former political prisoner who was forcibly returned to Vietnam while attempting to seek asylum in Thailand. Call on Thai authorities to investigate his kidnapping, which they are now believed to have assisted in facilitating.
© 2019 The 88 Project
https://the88project.org/wp-content/uploads/2018/07/truong-minh-duc_square.jpg
520
519
kayleedolen
https://the88project.org/wp-content/uploads/2019/01/88project.png
kayleedolen
2019-06-24 13:44:24
2019-06-26 00:36:42
Vietnam Free Expression Newsletter No. 25/2019 – Week of June 17-23