Nguyen Van Dien
Current Status: Sentenced to prison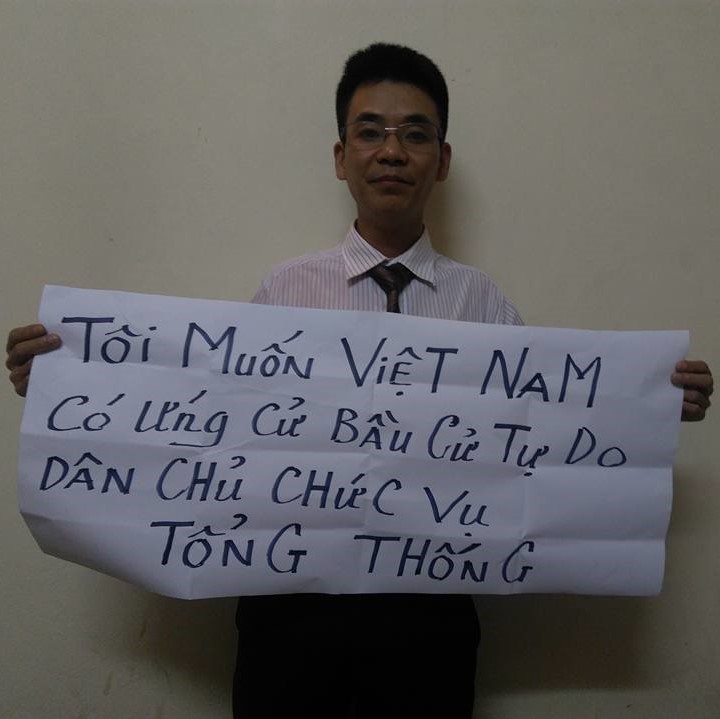 Other Names: Nguyễn Văn Điển, Điển Ái Quốc
Date of Birth: May 19, 1983
Gender: M
Religion: Christian (Catholic)
Ethnicity: Kinh
Current Prison: Prison No. 5, Thanh Hoa province
Areas of Activism:
Democracy
Human rights
Labor rights
Sovereignty
Known Afilliations:
National Movement to Revive Vietnam
July 2019:
On June 30, 2019, during a phone call to family, Nguyen Van Dien said he would begin a hunger strike starting July 1, 2019. Before he could tell his family the reason of the hunger strike, the call was abruptly ended. Meanwhile, Vu Quang Thuan also discussed with his family about his wish to hire a lawyer review his case and draft his will before he starts a hunger strike to protest against cruelty in prison. Nguyen Van Dien and Vu Quang Thuan were arrested March 2017 and tried together in January 2018.
Vietnamese civil organizations issued an "Urgent appeal against Torture and Maltreatment of Prisoners of Conscience in Vietnam," urging the Vietnamese government to "immediately order an end to the torture and maltreatment of prisoners in every prison across Vietnam, especially Prison Camp No. 5 and 6 and to "conduct visits to the above-mentioned prison camps for inspection and scrutiny, and punish those who violate the UNCAT." As of July 2, 2019, twelve civil society organizations and more than 550 individuals had signed the urgent appeal.
**
As of July 10, Dien has been on hunger strike for 10 days.
Details - History of Activism.
Together with Vu Quang Thuan, Nguyen Van Dien is a leading member of Phong Trào Dân Tộc Chấn Hưng Nước Việt ("National Movement to Revive Vietnam"), which has as its principle the motto "Democracy, Progress, Humanity, Peace." After the arrest of a founding member of the Movement, former political prisoner Lê Thăng Long, in Vietnam in a major political crackdown in 2009, Thuận and Điển fled to Malaysia, but they were arrested, deported back to Vietnam, and detained at the Detention Center 34 in Hồ Chí Minh city. Điển was then released, but Thuận was coerced into an internment at a mental hospital in Đồng Nai. After Thuận's discharge from the hospital (year unknown), Điển and Thuận has been continuing to work together in their advocating efforts.
The duo have been producing and running a YouTube video channel through which Vũ Quang Thuận discusses political issues, advocates for the respect of human rights and democracy. The last video series they uploaded two days ago is entitled "Guide to Lawful Protest," which could be one of the reasons that triggered their arrests.
Arrested March 2, 2017. Sentenced to 6 years 6 months in prison under Art. 88 (1999 Code). Expected Release is September 2, 2023.
January 31, 2018
Ha Huy Son
6 years 6 months in prison
September 2, 2023
Profile last updated: 2019-07-18 23:30:38