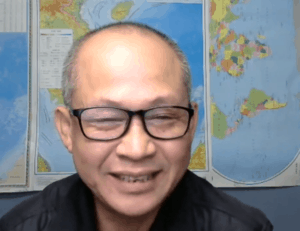 Vietnam Free Expression Newsletter No. 45/2019 – Week of November 4-10
Featured Image: Nguyen Van Nghiem, who was arrested this week, Source: Defend the Defenders
Greetings from The 88 Project! We are bringing you news, analysis, and actions regarding human rights and civil society in Vietnam during the week of November 4-10. Nguyen Ngoc Anh's appeal of his six-year sentence was denied this week, as was U.S. citizen Michael Nguyen's appeal of his 12-year sentence. Facebooker Nguyen Van Nghiem of Hoa Binh province was arrested this week. Also, we have news that BOT protester Dang Thi Hue was arrested on October 16. Several activists face trial next week: Australian citizen Chau Van Kham, Tran Van Quyen, and Brotherhood for Democracy member Nguyen Van Vien on November 11, human rights lawyer Tran Vu Hai and his wife Ngo Tuyet Phuong on November 13, and music teacher Nguyen Nang Tinh on November 15. Behind bars, political prisoner Le Anh Hung is still being forcibly medicated. In international advocacy, The 88 Project and others have called on the European Parliament to delay final approval of the EU-Vietnam Free Trade Agreement, and Freedom House has once again deemed Vietnam as "Not Free" in its 2019 Freedom on the Net report. In the news, read about Vietnam's chairmanship of ASEAN in 2020 and an opinion about the rule of law in regards to the tragic deaths of 39 Vietnamese migrants in the U.K. In case you missed it, we released the preview of our interview with female environmental activist Cao Vinh Thinh. Please take action and call for the release of those who face trial next week, as well as an immediate end to the forced medication of Le Anh Hung.
HUMAN RIGHTS & CIVIL SOCIETY
Political Prisoners
Nguyen Ngoc Anh's wife, Nguyen Phu An Duong, traveled to Ho Chi Minh City in preparation to participate in her husband's appeal trial. According to her, the undercover public security forces followed her all the way from Ben Tre to Ho Chi Minh City and watched her very closely. On the day of the trial, November 7, it is believed that when some supporters of Anh tried to enter the courtroom, they were required to present a birth certificate, not an regular identification, which is what is normally requested. This was likely in a bid to prevent supporters from attending the trial. The public security forces patrolling the National High Court at Ho Chi Minh City said that because the courtroom was very small, only people with an "invitation" could enter. At 10:30 am, the Court quickly reached its final conclusion and upheld the judgment against Anh and his six-year prison sentence. While this was expected, it still shows how the judicial mechanisms utilized by the activists and their families cannot produce any real results against the systematic injustices facing political prisoners. Arrested in 2018, Nguyen Ngoc Anh has faced grave mistreatment in prison.

U.S. citizen Michael Nguyen's 12-year prison sentence was upheld after a short appeal trial on November 6. While the family has been involved in extensive advocacy efforts with the US government, "support of U.S. lawmakers appears to have done little to convince the Vietnamese government to ease Nguyen's sentence." Former political prisoner Huynh Duc Thinh's sentence was also upheld. Nguyen was arrested while traveling in Vietnam in July 2018.

Nguyen Van Nghiem, Source: Defend the Defenders
Another Facebooker was arrested this week. The public security of Hoa Binh province arrested Nguyen Van Nghiem (Facebook account: Nghiem Nguyen). According to Pham Thi Xuan, Nghiem's wife, the arrest warrant and search warrant noted that the accusation against Nghiem is for "producing, storing, disseminating information and propaganda against the state," in accordance with Article 117 of the 2015 Criminal Code. At the end of October, local authorities convicted Facebookers Pham Xuan Hao and Nguyen Van Phuoc in a continued crackdown on online dissent.

On October 16, police arrested Build -Operate -Transfer (BOT) protester and anti-corruption activist Dang Thi Hue. Hue has been a part of several protests against the toll station projects, which many argue are improperly placed or collect fees past their contract times. Hue is also a vocal supporter of Ha Van Nam, a driver and fellow protester who was arrested and sentenced to prison earlier this year. Hue, a single mother of two, is charged with "disturbing public order."  She has lost weight in prison due to being unfamiliar with the eating schedule. She is currently held at Detention Center No.1 of Hanoi Public Security.

The People's Court of Nghe An province will hold the first instance trial of activist Nguyen Nang Tinh on November 15 after it was postponed last month. Tinh is being tried under Article 117 of the 2015 Criminal Code for alleged propaganda against the state. Just a few days before his previously-scheduled trial on October 17, the Court prohibited Tinh's attorneys from copying his case files, so his lawyers submitted a request to postpone the trial until the files could be copied. Tinh is a member of many civil society groups that are deemed to be opposition groups, and he has sung many songs with content also allegedly "distorting the policy and guidance of state and party."

Political prisoner Le Anh Hung's mother visited him and reported that the doctor kept increasing Hung's anti-psychotic medication. Hung said it made him feel very sick, however, he is forced to take it. Hung asked his mother to call on the international community to raise awareness for his case. Hung is a journalist who was arrested in July 2018 and still awaits trial in pre-trial detention; while detained, he has suffered from forced mental health treatment and other abuses.
This week, we remember the arrest and trial anniversaries of the following political prisoners:


Luu Van Vinh and Nguyen Van Duc Do
Community at Risk
On November 5, a 
small incident between Loc Hung land petitioners
 and the communal security force occurred where a plainclothes member of the force performed a blasphemous action in front of the statue of Mother Maria within the Loc Hung vegetable garden area. When the residents came forward and voiced their dissatisfaction, the plainclothes officer sought refuge in an elementary school nearby. This incident highlights ten months of unresolved conflict between Loc Hung land petitioners and Vietnamese local and national authorities. The Loc Hung area, which is home to many dissidents and veterans of the former Republic of Vietnam and was 
subjected to mass forced evictions
 in January, continues to be guarded by a large number of communal security officers with a hostile mentality. However, the calls and official complaints from Loc Hung residents have received no response.
International Advocacy
Freedom House's new Freedom on the Net report lists Vietnam once again as "Not Free," with no improvement in its ranking since last year.  The report states, "Between July and December 2018, over 1,500 pieces of content were removed by Facebook at the request of the government, tripling the amount from the previous six months. Content from activists, civil society organizations, and ordinary users alike was removed." In addition, the government has created a new division to track online content.
The 88 Project and several other international organizations signed a letter calling on the European Parliament to delay final approval of the EU-Vietnam Free Trade Agreement and Investment Protection Agreement until measurable human rights improvements are made. We call upon the government to release political prisoners, repeal and amend provisions of the Criminal Code routinely used to criminalize dissent, and to protect the rights to freedom of expression and publication, including through revision of the Law on Cybersecurity.
NEWS & ANALYSIS
39 Vietnamese Froze To Death In England: A Question On The Rule Of Law
, Khoa Le, The Vietnamese, November 6, 2019: "Some people say that the 39 people who died deserved their fate because they broke the law and had to pay the price, that they should've seen it coming. These 39 people, of course, would've broken several laws had they been successful in their (supposed) attempts. Are any of these laws punishable by death? Not that I know of. Do you think anyone who violates these laws should be given the death penalty? I don't, and I'm fairly sure most people don't either."
Vietnam mulls legal action over South China Sea dispute, James Pearson and Khanh Vu, Reuters, November 6, 2019: "In the new spat, Vietnam has made repeated statements regarding its claims and demanded that China remove the survey vessel and its escorts from the area, but had not mentioned possible legal action publicly until Wednesday. 'It would have major political ramifications for the Vietnam-China relationship, but maybe that's the only thing left for Vietnam,' said Bill Hayton, a South China Sea expert at the Chatham House think tank."
How Will Vietnam's 2020 ASEAN Chairmanship Play Out?, Prashanth Parameswaran, The Diplomat, November 8, 2019: "While it may be tempting to simply project the exact same outcome for Vietnam's 2020 chairmanship, it is also important to recognize that the context for Vietnam's chairmanship in 2020 is different from the one we saw in 2010. Since then, Vietnam has made significant inroads in strengthening its relationships with major powers – including the United States, Japan, Australia, and the European Union – even as it has encountered rising domestic challenges at home such as protests and succession issues with respect to its leadership. The regional and international environment is also facing growing stresses and challenges: China's assertiveness and its inroads in the South China Sea have increased markedly since then; uncertainties about the U.S. future role have risen with the Trump administration despite some gains that Washington has made; and forces such as populism and protectionism have also created new complications for key countries."
IN CASE YOU MISSED IT
Vietnam has its own face to fight for environmental change: 
Cao Vinh Thinh
 has been campaigning, along with fellow activists, to protect the environment. Due to Vietnam's repressive regime, she has to endure harassment and live in fear of prosecution on a daily basis. 
Watch the preview of our interview with her, here
.
COMING UP
The People's Court of Ho Chi Minh City will try 
Nguyen Van Vien
, 
Chau Van Kham
, and 
Tran Van Quyen
(above, left to right)
 on November 11. 
All three will be tried
 under Article 113 for "terrorism to oppose the people's government." Also, all three are said to belong to overseas democracy group Viet Tan, which is often targeted by the Vietnamese government. The men were arrested in January, first under Article 109 of the 2015 Criminal Code, for subversion. Vien is also a member of the Brotherhood for Democracy. It is believed that Kham has only been allowed one meeting with his lawyer up until at least November 5. 
Human Rights Watch
 has called for all three's release.
On November 13, the People's Court of Khanh Hoa province will 
try prominent lawyer
Tran Vu Hai
 and his wife Ngo Tuyet Phuong. The couple has been under investigation for a case of alleged tax evasion involving a property purchase, though Hai is also a well-known human rights lawyer. 
Police searched Hai's office
 and confiscated many materials unrelated to this case. These materials included the dossiers of multiple important cases, such as the case of 
Truong Duy Nhat.
 The Ministry of Public Security 
recently refused Hai's request
 to represent Truong Duy Nhat at trial. 
Many lawyers have registered
 to defend Hai at trial in a display of support for Hai against what many believe is a politically-motivated case.
TAKE ACTION
Please take action for Nguyen Nang Tinh, Tran Van Quyen, Chau Van Kham, Nguyen Van Vien, and Tran Vu Hai and his wife Ngo Tuyet Phuong ahead of their first instance trials coming up next week by sharing information about their arrests and cases and calling for their releases from prison/for authorities to drop all charges against them.
Also, share the latest news on Le Anh Hung and call on Vietnamese authorities to end his forced medication and release him from prison immediately.
© 2019 The 88 Project
https://the88project.org/wp-content/uploads/2019/11/Nguyen-Van-Nghiem_Defend-the-Defenders.png
231
300
kayleedolen
https://the88project.org/wp-content/uploads/2019/01/88project.png
kayleedolen
2019-11-11 14:05:14
2019-11-11 14:05:14
Vietnam Free Expression Newsletter No. 45/2019 – Week of November 4-10