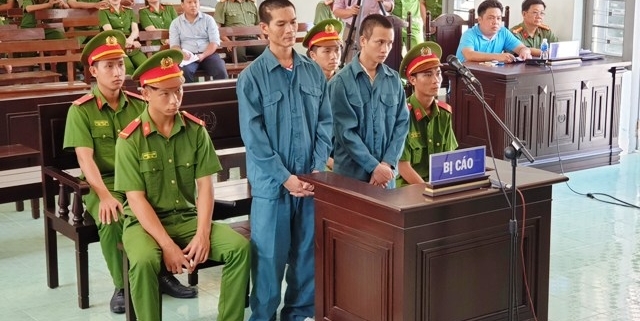 Vietnam Free Expression Newsletter No. 21/2019 – Week of May 20-26
Featured Image: Dang Ngoc Tan and Pham Thanh at trial. Source: Nhan Dan
Greetings from The 88 Project! We are bringing you news, analysis, and actions regarding human rights and civil society in Vietnam during the week of May 20-26. Several prisoners are on hunger strike protesting the treatment of imprisoned journalist Nguyen Van Hoa, which Amnesty International calls torture. Two protesters were sentenced this week in Binh Thuan province; they had both been sentenced in previous trials and now will have to serve 24 and 15.5 years in prison. In another trial in Quang Ngai province, 15 protesters were convicted after demonstrating against a waste treatment plant. We have updates from prison on Luu Van Vinh, Tu Cong Nghia, Tran Hoang Phuc, Phan Kim Khanh, Tran Thanh Giang, Ha Van Nam, Tran Thi Xuan, and Phan Van Thu, many of whom are under pressure from prison authorities or suffering from severe health issues. This week, we remember several political prisoners on the anniversaries of their arrests and trials, including Tran Huynh Duy Thuc, who was arrested ten years ago and still refuses to be forcibly exiled in exchange for early release, as well as several Montagnard religious activists. Several activists also remain at risk this week, including Buddhist monk Thich Dong Long, who was arrested while protesting outside of the Consulate General of the United States; he may now be on hunger strike in detention. In the news, read about media control and Facebook content restrictions in Vietnam. Don't forget to check out the trailer for our second interview with environmental activist Nguyen Thi Khiem Nhu, which is part of our interview series with Vietnamese female activists. And please take action for Nguyen Van Hoa and Tran Huynh Duy Thuc.
Please subscribe to the newsletter!
HUMAN RIGHTS & CIVIL SOCIETY
Prisoners of Conscience
Hoang Duc Binh, Nguyen Bac Truyen, and Nguyen Van Hoa
On May 23, 
Hoang Duc Binh
's family went to visit him at An Diem Detention Center, Quang Nam province. Binh was in very 
poor health due to being on hunger strike
. Binh, political prisoner 
Nguyen Bac Truyen
, and other prisoners started a hunger strike on May 12 to protest against the detention center torturing fellow political prisoner 
Nguyen Van Hoa
. On May 12, 2019, a detention center officer at An Diem forced Hoa to sign a report with many blank spaces. Hoa revealed to other prisoners that he refused to sign because the authorities could later fill those blank spaces with false content to punish him. After that, public security forces and detention officers beat him harshly, causing bruises, and took him away without an official punishment decision. Hoa is thought to be in solitary confinement. He was also assaulted by police and placed in a chokehold earlier in May. Amnesty International 
urged authorities
 to release Hoa, condemning the actions against him as being in violation of international laws against torture. Hoa is a freelance journalist serving seven years in prison.
Dang Ngoc Tan and Pham Thanh at trial. Source: Nhan Dan
On May 21, 2019, the People's Court of Binh Thuan Province held a trial against 
Dang Ngoc Tan
 and 
Pham Thanh
, two protesters who had participated in mass demonstrations against the bills on Special Economic Zones and Cybersecurity on June 10 and 11, 2018 in Binh Thuan province. They were sentenced to 
17 years and 11 years in prison
, respectively, for "deliberate destruction of public property," under Article 178, Clause 4 of the 2015 Criminal Code. The two had already been tried before under a different charge, and Dang Ngoc Tan tried two times previously, all for their involvement in the protest. In total, Dang Ngoc Tan and Pham Thanh have been sentenced to 24 and 15.5 years in prison, respectively. Dang Ngoc Tan is only 19 years-old. Read more, 
here
.

Trial of 15 protesters from Quang Nai province on May 21, 2019. Source: Radio Free Asia (via CAND)
A court in Quang Nai province convicted fifteen protesters this week after they protested the re-opening of a solid waste treatment plan near their village. A group of 200 implored local officials to help and set roadblocks along the route to the facility. Three protesters received sentences of prison time, while 12 received sentences of house arrest.


On May 21, 2019, Luu Van Vinh and his family met for only the third time since Vinh was detained in Bo La Center. Vinh was in good health and spirits. In this meeting, Vinh's wife, Le Thi Thap, brought their daughter, who did not understand Vinh's sentence, but believed that Vinh was there pursuing a Ph.D. According to news from Le Thi Thap, authorities transferred Tu Cong Nghia, one of Vinh's co-defendants, from Bo La to Xuyen Moc Detention Center, Ba Ria – Vung Tau province on May 20, 2019. However, the detention center did not inform Nghia's family directly. Thap also confirmed that only Nghia was transferred, while the other co-defendants are still held in Bo La Detention Center. Vinh founded a group called the Coalition for Self-Determination for the Vietnamese People, which he had left a few days before his arrest; others were implicated as allegedly belonging to the group, which called for political change in Vietnam.

Huynh Thuc Vy received a third invitation from The People's Committee of Thong Nhat District, Dak Lak province on May 21, 2019. She was asked to work on issues related to her suspended prison sentence, despite approaching her due date with her second child. She previously received a summons and an invitation to work with police on May 9 and May 14. Huynh Thuc Vy is a well-known blogger and women's rights advocate sentenced to two years and nine months in prison on November 30, 2018 for "offending the national flag" for spray-painting a flag in 2017 as a sign of protest. At the time of the trial, she had a toddler and was pregnant with her second child. As such, her sentence will be put on hold until the unborn child turns three, but she will still have to serve it out in its entirety.
Political prisoner 
Tran Hoang Phuc
's mother, Huynh Thi Ut, revealed on May 21, 2019 that in the last meeting with him on May 5, Phuc told her that a detention officer named Dinh Ngoc Quynh requested that Phuc 
plead guilty
 so that he would be allowed to call his family again. In a phone call on May 21, 2019, Phuc also claimed that the detention center processed food with a rusty knife and scissors, which can infect the food with tetanus, cause heavy metals toxicity, and threaten the health of prisoners. In addition, Phuc told his family to copy his medical prescription into three to four documents and not to send him medicine. There was a problem that Phuc said he would tell them about at their next meeting. Phuc's family now believes that someone is preventing him from receiving medicine. Phuc, a pro-democracy activist serving a six-year sentence, has been vocal about prisoners' rights while behind bars.
Phan Kim Khanh
's father, Phan Van Dung, wrote an 
open letter
, in which he shared the worsening condition of Khanh in prison, due to Khanh's determination to appeal the first instance trial's decision. He has been threatened with isolation and no family communications if he does not stop his appeal process. "I strongly believe that my son's conviction is wrong and unfair," Dung writes. "Khanh was only trying to report the wrongdoings of the government officials and promoting change for a better Vietnam." Khanh was in his final year of university before he was arrested and was sentenced to six years in prison for administering websites and Facebook pages with alleged "anti-state" content and for working with overseas activist groups.
It has been one month since religious activist Tran Thanh Giang was arrested under the accusation of "making, storing, spreading, or propagating information, materials, items for the purpose of opposing the State of Socialist Republic of Vietnam," Article 117 of the 2015 Criminal Code. On May 20, 2019, the detention center of An Giang Province 
requested his family send him some medicine
, saying that he contracted many diseases and kept vomiting. His daughter, with her three-month-old child, went on May 22 but was not allowed to meet with Giang. Despite asking the family to bring medicine for Giang, detention center officers refused to receive it because Giang's daughter asked for his signature, confirming that he actually did receive the medicine.
On May 21, 2019, 
Ha Van Nam
's family announced that Nam 
refused all proposed defense
 counsels. This news was 
released by lawyer Tran Thu Nam
, one of the six proposed lawyers who are willing to support him. Ha Van Nam was active in protesting against corrupt BOT toll stations and has been detained by the public security of Bac Ninh Province since early March. His refusal to accept defense counsel is likely derived from the pressure of public security.

Phan Van Thu and Nguyen Trung Ton
Prison authorities at Gia Trung prison camp are refusing to provide Phan Van Thu with medical treatment, despite having diabetes, arthritis, hypertension, and being in heart failure. He is being housed with Nguyen Trung Ton, who is also suffering from untreated health issues after a brutal attack from unknown thugs with special police equipment in February 2017. Phan Van Thu is the founder and leader of An Dan Dai Dao, a Buddhist sect founded in 1969 but outlawed after the Communist regime took over South Vietnam in April 1975. He is serving life in prison. Nguyen Trung Ton, sentenced to 12 years, is a Protestant pastor and was the president of The Brotherhood for Democracy.
Tran Thi Xuan. Artwork by Dinh Truong Chinh for The 88 Project
Tran Thi Xuan
's family is being very concerned about her health in prison. Since February, she has fainted often and had to be taken to the emergency room every month. Her family has requested that she be treated at a hospital but prison authorities have denied their request. Her family also sent medicine to prison, but whether Xuan could take those medicines or not depends on the prison's infirmary's decision. Xuan is a Catholic activist and member of the Brotherhood for Democracy. She is only 1.5 years into her 9-year sentence. She is one of 35 women currently sentenced to prison, probation, or awaiting trial in Vietnam.
This week, we remember the arrest and trial anniversaries of the following political prisoners:

Venerable Thach Thuol, a Khmer Krom Buddhist monk arrested May 20, 2013, sentenced to six years in prison. He is due for release from prison this month, though we have not yet been able to confirm the release.
Activists at Risk
On May 18, 2019, the public security of Tinh Gia District, Thanh Hoa province 
issued administrative sanctioning decisions
 against four local residents because of their posts on Facebook. Le Quang Cuong (40, Hai Yen Commune), Nguyen Thi Loan (28, Truc Lam Commune), Le Khac Linh (37, Phu Lam Commune) and Dang Nguyen Tung (25, Nguyen Binh Commune) were fined 7.5 million VND each (approximately 320 USD). They were accused of using Facebook to post, share, and comment with content defaming party leaders, the State, and public security forces of Tinh Gia District.
On May 20, authorities attacked a protester named Dang Thi Hue and 
detained six other people
 who were protesting the Bac Thang Long-Noi Bai Build-Operate-Transfer (BOT) toll station. There is now concern that Dang Thi Hue 
could suffer a miscarriage
 after the incident on May 20. Authorities have cracked down on these types of protests recently. Protesters claim the toll stations are incorrectly placed and/or charge fees past their contract collection times.
At 2:30 pm on May 22, 2019, the Public Security of Ho Chi Minh City arrested Thich Dong Long, a Buddhist monk, and took him away when he was alone protesting against Vietnamese violations of religious freedom and human rights in front of the Consulate General of the United States. As of May 23, authorities still held Long at the police station of Ben Nghe Ward, District 1, Ho Chi Minh City, according to Facebooker Nguyen Khanh. Long was said to be on hunger strike to protest his arbitrary arrest.
NEWS & ANALYSIS
Grandma Ca: the 99-year-old standing up to Vietnam's coal rush
, AFP, May 22, 2019: "The 99-year-old was offered money to move as authorities hoovered up land for a planned $2.6 billion Japanese-funded coal plant in the remote Van Phong Bay she has called home since birth. But when she said no, around 100 authorities showed up, forcibly removed her from the house and bulldozed it as she and her grandson looked on."
'Fear and paranoia': How Vietnam controls its media, Al Jazeera, May 20, 2019: "Every Tuesday, officials from the Ministry of Information have a meeting with chief editors to discuss upcoming news stories and current restrictions.The guidelines are then passed down the chain of command. 'Transgressors are invariably warned, fined and if they persist suspended or even jailed,' said Carl Thayer, emeritus professor at the University of New South Wales."
Facebook increased Vietnam content restrictions by 500% during 2018 – report, Reuters, May 24, 2019: "From July to December last year, Facebook's Transparency Report said it had restricted access to 1,553 posts and three profiles in Vietnam, compared to just 265 such 'restrictions' in the first six months of 2018."
Vietnam War left a painful legacy for indigenous minority that fought alongside U.S., LA Times, May 21, 2019: "The Hanoi government rarely allows journalists or other outsiders into Montagnard areas. This reporter traveled to the region without authorization and spoke with nearly a dozen Montagnard veterans. Each told a version of the same tale: They were recruited by U.S. Army Special Forces, fought against the North Vietnamese forces, spent years in squalid postwar labor camps, and continue to be persecuted by the government and marginalized by Vietnam's Kinh majority."
COMING UP 
"To a lot of people from the outside, Vietnam seems open, but it's not at all." –Khiem Nhu
Khiem Nhu was watched for six months; her complete private life was under a magnifying glass because she spoke up against the Vietnamese regime. Watch the preview of her interview, here! It is part of our video interview series with female activists. The complete interview is coming soon!
TAKE ACTION
Take Amnesty International's Urgent Action for imprisoned journalist Nguyen Van Hoa, who has been tortured in prison and is in solitary confinement.
Share our article remembering political prisoner Tran Huynh Duy Thuc on the occasion of his tenth arrest anniversary. This is the latest update from Thuc's family – an open letter calling for assistance. Please also share Thuc's family's letter to call for international support for Thuc's unconditional and immediate release. You can also assist Thuc's family in covering the costs of the continued legal battle by making a donation to Quỹ Lương Tâm (Conscience Foundation), managed by Mr. Nguyen Quang A and other activists inside Vietnam, with a note specifying that funds should be disbursed to Thuc's family.
© 2019 The 88 Project
https://the88project.org/wp-content/uploads/2019/05/Dang-Ngoc-Tan-and-Pham-Thanh-trial_Source-Nhan-Dan.jpg
443
640
kayleedolen
https://the88project.org/wp-content/uploads/2019/01/88project.png
kayleedolen
2019-05-27 14:16:03
2019-05-27 14:16:03
Vietnam Free Expression Newsletter No. 21/2019 – Week of May 20-26