Thach Thuol
Current Status: Likely released - at risk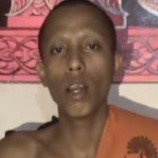 Other Names: Thạch Thươl
Date of Birth: 1985
Gender: M
Religion: Buddhist
Ethnicity: Khmer Krom
Last Known Prison: Xuan Loc prison, Dong Nai province
Areas of Activism:
Human rights
Religious freedom
Highlighted Human Rights Concerns:
Former Political Prisoner
Details - Background, History of Activism.
Venerable Thạch Thươl is a Khmer Krom Buddhist monk and deputy abbot of Serei Ta Sek Temple in Sóc Trăng province.
As the head monk of Ta Set Pagoda, he often spoke out against the government's mistreatement of Khmer Krom Buddhists who refused to be absorbed into the government-created Vietnam Buddhist Sangha. Venerable Thach Thuol also criticized the government for rejecting his multiple requests that his temple be allowed to teach Khmer language to Khmer Krom children. At the order of the government, the Patriotic Monks Association ordered Thạch Thươl and two other Khmer Krom monks to defrock or face imprisonment, alleging that the three were spreading "fabricated information" abroad about rights violations in Viet Nam, through interviews with foreign media and contact with the Khmer Krom Federation, a US-based advocacy group. As the representative of this association, escorted by the police, came to evict him from his own temple, his followers put up resistance. As he and three other Khmer Krom Buddhists attempted to flee to a safe location to seek political asylum, they were arrested on 05/20/2013.
Arrested May 20, 2013. Sentenced to 6 years in prison under Art. 91 (1999 Code). Expected Release is May 20, 2019.
September 27, 2013
6 years in prison
May 20, 2019
He was arrested on May 20, 2013 and charged under Article 91 of the 1999 Penal Code (Fleeing abroad to oppose the people's administration). In pre-trial detention, Thạch Thươl was beaten by police but refused to confess to any crimes. He was tried on September 27, 2013 and sentenced to six years imprisonment. He is currently detained at Xuân Lộc Prison in Đồng Nai Province.
***
He was due for release from prison in May 2019. The 88 Project has been unable to verify his release, and thus, we have listed him as "likely released - at risk." We acknowledge that he may still be imprisoned, and if he was released, he may still be at risk of harassment or even rearrest.
Profile last updated: 2020-08-23 20:10:19