Vietnam Free Expression Newsletter No. 11/2022 – Week of March 14-20
Greetings from The 88 Project. We bring you news, analysis, and actions regarding human rights and civil society in Vietnam during the week of March 14-20. A political prisoner is being held in a psychiatric ward. A former fugitive and his helper will be put on trial. A prisoner's wife was summoned by the police. Appeal trials will take place next week for two activists, one of whom is a former police captain. Vietnam responded to human trafficking charges by the UN; publicly acknowledged the Johnson Reef attack by China; and returned a sacred relic to a revered monument by the Saigon River. Many activists were harassed and prevented from attending an event held by the Ukraine Embassy in Hanoi. Villagers in Lao Cai Province protesting a hydropower plant were attacked by thugs. Coffee growers in the highlands protested against land grabs. Vietnam complained about jailed activist Pham Doan Trang receiving a prize from the US. The arrest of a prominent environmentalist is seen through the lens of coal power. The war in Ukraine continues to create fissures in Vietnamese society.
HUMAN RIGHTS & CIVIL SOCIETY
Political Prisoners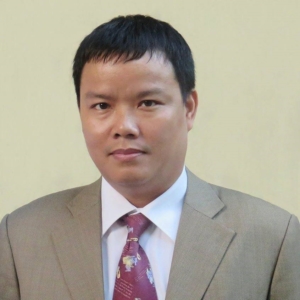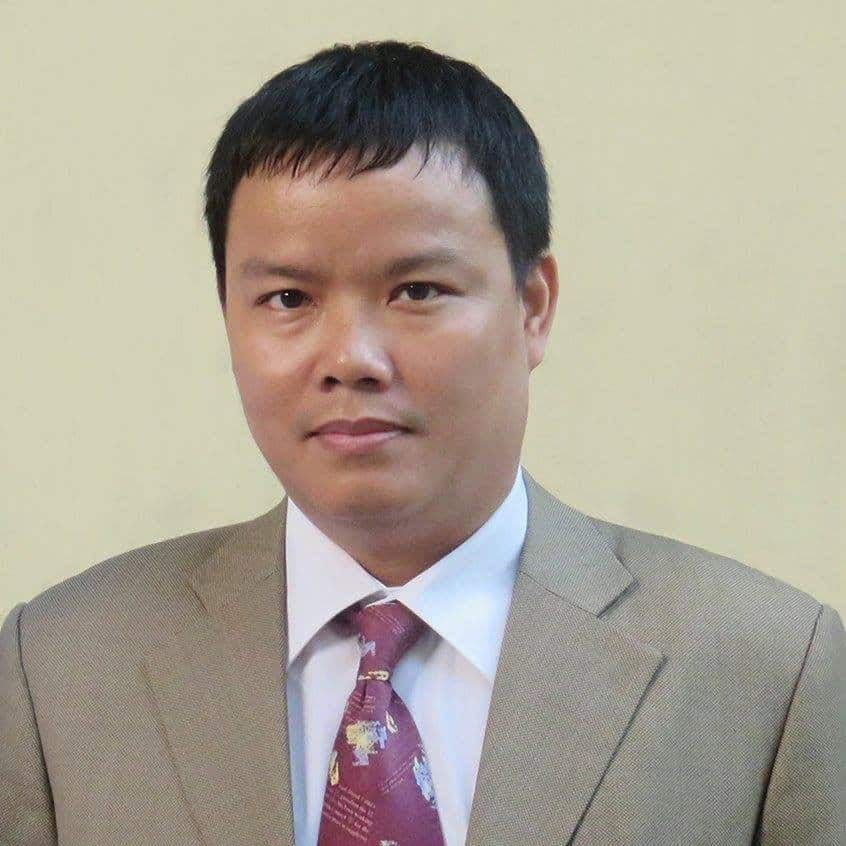 Le Anh Hung and Le Van Dung
On March 13, 2022, our staff in Vietnam visited Mrs. Niem, mother of Le Anh Hung, and learned that he was still held at the National Psychiatric Hospital No.1 in Hanoi. Hung is reported to be healthy and is no longer forced to take medication. He has been allowed to call home regularly to talk to his family.
The first instance trial of Le Van Dung, aka Le Dung Vova, charged with "anti-state propaganda" according to Article 88, will take place on March 23 in Hanoi. Dung evaded the police for a few months before he was finally arrested at a relative's house. The relative, Nguyen Van Son, will be tried on the same day on the charge of "harboring fugitives," according to Article 389 of the Criminal Code.
Trinh Nhung, Bui Van Thuan's wife, received a summons from the Thanh Hoa Police Department discussing details related to the case of Bui Van Thuan, who allegedly stored documents and "items that oppose the state" on his computer.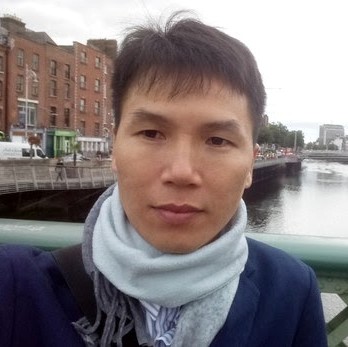 Do Nam Trung and Le Chi Thanh
The appeals trial for activist Do Nam Trung has been scheduled for March 24 at the People's Court of Nam Dinh Province. Trung was sentenced in December of last year to ten years in prison and four years of probation for "anti-state propaganda" under Article 117 of the 2015 Code.
The appeals trial for former police Captain Le Chi Thanh has been set for March 31, according to RFA. Thanh's YouTube channel, which exposed police corruption, led to his arrest and sentence of two years in prison for "abusing democratic freedom" according to Article 331 of the Criminal Code.
Nguyen Thi Hue, mother of Huynh Duc Thanh Binh, visited him at Xuan Loc prison on March 11, 2022, and was allowed to give him homemade food and books. Binh and his inmates are okay but suffering from mange and ringworm caused by acidic polluted water. Xuan Loc prisoners have complained many times to no avail.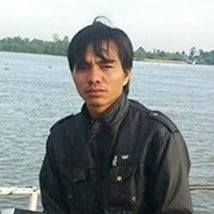 Nguyen Ngoc Anh and Ho Dinh Cuong
The wife of Nguyen Ngoc Anh reported on her Facebook that she and the wife of Ho Dinh Cuong also went to visit their husbands at Xuan Loc on March 12, 2022. Anh is healthy, but he reconfirmed what Huynh Duc Thanh Binh shared with his mother: that the prisoners in Xuan Loc Prison are suffering from mange and ringworm, but prison officials have ignored their repeated complaints.
Nguyen Tuong Thuy's wife, Nguyen Thi Lan, visited him on March 12, 2022. Thuy is not losing weight but looks unhealthy. It is likely that there is a white film covering his eyes; he could not see things well. His hearing has also become poor; he is also suffering from ulcerative colitis.
This week, we think of the birthdays and arrest anniversaries of the following political prisoners: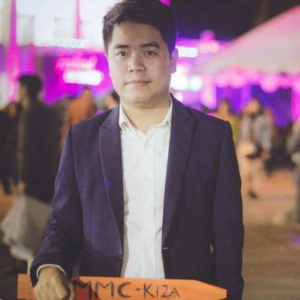 Phan Kim Khanh and Nguyen Duy Huong
Blogger Do Cong Duong, birthday March 24, serving seven years in prison for "abusing democratic freedoms" and "causing public disorder"
Student blogger Phan Kim Khanh, arrested on March 21, 2017, and sentenced to six years in prison for conducting "anti-state propaganda"
Physician Nguyen Duy Huong, arrested March 22, 2021, and still awaiting trial on charges of conducting "anti-state propaganda"
Activists and Communities at Risk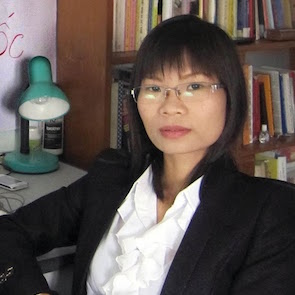 Pham Thanh Nghien
Pham Thanh Nghien said on March 15, 2022, that she and four other victims of the Loc Hung Vegetable Garden incident were invited by representatives of the US Consulate in HCMC and the Embassy of the United Kingdom to a meeting at a coffee shop in HCMC. Everything was okay until Pham Thanh Nghien arrived. Plainclothes police who recognized Nghien tried to take a video of the group and tried to intimidate them. Nghien and her friends all returned home safely.
The Ukrainian Embassy held a charity event to raise funds for people in need in Ukraine. Security agents prevented at least eight democracy campaigners from going to the event: Nguyen Xuan Dien, Hoang Ha, Nguyen Nguyen Binh, Nguyen Khanh Tram, Nguyen Van Vien, Pham Thi Lan (wife of political prisoner Nguyen Tuong Thuy), Dang Bich Phuong, and Nguyen Hoang Anh.
 Don't miss these articles on recent public protests and communities at risk:
"Thugs with steel pipes attacked members of the Yao ethnic minority community in Vietnam's Lao Cai province on Monday as they protested the construction of a hydropower plant they said would block the water source they rely on for salmon farming."
"About 100 coffee growers in Vietnam's Central Highlands staged a protest to regain land rights they lost after they stopped sending some of their crops to a forestry company that had allotted the parcels to them but did not invest in production, farmers involved in the demonstration said Thursday."
International Advocacy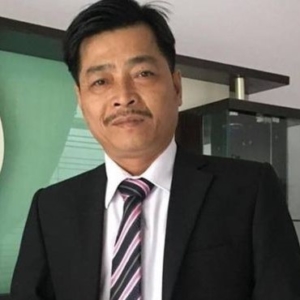 Ngo Van Dung
Vietnam formally responding to the UN Special Procedures regarding human trafficking in Saudi Arabia said it's actively working with the Saudi government "to find the solutions to disputes with employers, and to guarantee the safety and legitimate rights for Vietnamese workers in Saudi Arabia, particularly workers in vulnerable groups such as female workers."
For the first time in recent memory, a Vietnamese Prime Minister formally acknowledges the sacrifice of 64 soldiers who died at the hands of the Chinese Navy at Johnson Reef in 1988. In years past, commemorations by the people were often harassed or prevented by security agents. At the 30th anniversary in March 2018, two protesters were detained; Ngo Van Dung, who was arrested later that year during a Facebook livestream, is currently serving a five-year sentence for "disturbing security" under Article 118 of the Criminal Code.
After relentless pressure from Ho Chi Minh City residents and cultural groups for the past two years, the incense urn in front of the statue of General Tran Hung Dao at Me Linh Square on the Saigon River waterfront, which was unceremoniously removed two years ago, was finally returned to its old spot, albeit in a totally different color. The urn was replaced in a solemn but unannounced ceremony at midnight on March 16, so as to attract the least amount of public attention.
NEWS & ANALYSIS
Vietnam irked by 'unsuitable' U.S. prize for jailed dissident, Reuters, March 17, 2022: "Vietnam on Thursday objected to the United States granting a prize for courage to a dissident writer jailed for nine years for anti-state propaganda, describing her award as 'unobjective and unsuitable'. U.S. Secretary of State Antony Blinken announced Pham Doan Trang as winner on Monday of an International Women of Courage prize at a ceremony attended by first lady Jill Biden, where he condemned what he called an unjust imprisonment. Vietnam's foreign ministry spokesperson Le Thi Thu Hang said Trang had violated Vietnamese law, so the U.S. prize was 'not conducive for the development of bilateral relations.' Hang at a regular briefing said Vietnam's policy was to 'always safeguard and promote the basic rights of our citizens, including women's rights.'"
Analysis: Elite power struggle sees Vietnam abandon coal, but leaves collateral damage, David Brown, Mongabay, January 15, 2022: "Before Prime Minister Chinh overruled MOIT's Energy Department, it is likely that he made sure of continued backing by Vietnam's Politburo. His interventions seem to have settled the direction of Vietnam's power development. But the tug-of-war has come at a cost to the NGO community: Just a few months after publishing her letter outing the MOIT energy officials, GreenID's leader was arrested. The charge against Nguy Thi Khanh is tax evasion. According to local sources, it's alleged that when she was awarded the 2018 Goldman Prize, sometimes called the 'Green Nobel,' Khanh failed to pay taxes before she deposited her $200,000 award in GreenID's bank account. GreenID has been, arguably, Vietnam's most effective civil society group. Khanh's detention closely followed the arrest of two other prominent clean energy campaigners, also on charges of tax fraud, and has sent a shudder through the nation's NGO community. 'Who ordered Khanh's arrest and why? That's still a mystery.'"
The Russia-Ukraine War: Parallels and Lessons for Vietnam, Hoang Thi Ha, Fulcrum, March 14, 2022: "Vinh's take on the Ukraine crisis is also instructive for observers seeking to read the tea leaves of how Hanoi could weigh the order of its priorities in Vietnam's external security relations. He reaffirmed the 'Three Nos' policy — no military alliances, no aligning with one country against another and no foreign military bases — as fundamental to Vietnam's independent foreign policy. The 2019 Vietnam National Defence White Paper, however, also contained a new provision that subject to specific conditions, Vietnam will develop 'necessary, appropriate defence and military relations with other countries' in furthering its security interests. Granted, there is an inherent tension between the former and the latter. But this Three Nos-plus formula is also seen as striking a fine balance between Hanoi's security guarantees towards Beijing and its pursuit of military ties with the US and other like-minded countries to counter-balance China's advances in the South China Sea."
Vietnam Blocks Activists From Attending Ukrainian Embassy Charity Event, Sebastian Strangio, The Diplomat, March 18, 2022: "The incident was relatively minor, but sheds some interesting light on the Vietnamese Communist Party (VCP)'s worldview and perceptions of its own vulnerabilities. The first reasons why the ruling government would block democracy campaigners from attending the Ukrainian embassy event is fairly clear, if frankly paranoid. This is its perennial desire to prevent local dissidents from interfacing with foreign governments and prospective foreign supporters. Similarly, while Ukraine has not indulged in the sorts of democracy promotion activities and rhetoric that Hanoi's securocrats most fear, the narrative of democratic resistance against authoritarian control is anathema to Hanoi. In its eyes, allowing Vietnamese pro-democracy campaigners to express solidarity with the besieged people of Ukraine would no doubt set an 'unwholesome' precedent."
Vietnam blocks Sony movie 'Uncharted' over 'nine-dash-line' map, Nikkei Asia, March 13, 2022: "Vietnam has banned Sony's action movie 'Uncharted' from domestic distribution over a scene featuring a map that shows a disputed line declared by China to stake its claim to large parts of the South China Sea, state media reported on Saturday. The U-shaped 'nine-dash line' is used on Chinese maps to illustrate its claims over vast areas of the resource-rich South China Sea, including swaths of what Vietnam regards as its continental shelf, where it has awarded oil concessions. 'Uncharted,' an action and adventure film based on a video game series about treasure hunting, stars Tom Holland and was due to hit cinemas nationwide on March 18. … Vietnam pulled DreamWorks' animated film 'Abominable' from cinemas in 2019 and ordered Netflix in 2021 to remove some episodes of the 'Pine Gap' series over the same issue."
TAKE ACTION

Catholic activist and member of the Brotherhood for Democracy Tran Thi Xuan is currently serving a nine-year prison sentence on charges of "subversion"
Did you know there are 91 women activists currently behind bars or at risk of harassment and imprisonment in Vietnam? This Women's History Month, we invite you to read about their inspiring histories of activism and to share their words. You can filter our Database of Persecuted Activists in Vietnam by gender, area of activism, occupation, and much more.
© 2022 The 88 Project
https://the88project.org/wp-content/uploads/2019/01/le-anh-hung_square_new.jpg
846
846
kayleedolen
https://the88project.org/wp-content/uploads/2019/01/88project.png
kayleedolen
2022-03-21 14:00:08
2022-03-21 14:00:08
Vietnam Free Expression Newsletter No. 11/2022 – Week of March 14-20