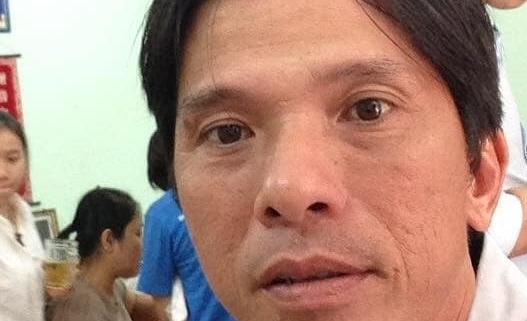 Vietnam Free Expression Newsletter No. 51/2019 – Week of December 16-22
Greetings from The 88 Project! We are bringing you news, analysis, and actions regarding human rights and civil society in Vietnam during the week of December 16-22. Loc Hung vegetable garden representative Cao Ha Truc was arrested this week when giving gifts to unrecognized veterans. A member of the Falun Gong spiritual movement was also detained this week for encouraging factory workers to join the movement. Political prisoners Nguyen Trung Truc and Ho Duc Hoa are both in poor health in prison; both have been denied adequate medical care by the authorities over long periods of time. A trial of eight Hien Phap activists, which was supposed to take place on December 25, has been moved to January 10. And four members of US Congress have written a letter in support of Ha Van Thanh, an activist who was arrested in Vietnam after being deported from the U.S. In the news, read about new labor union provisions in Vietnam and an update on the aftermath of the Formosa environmental disaster. In case you missed it, a court in Thanh Hoa province sentenced two residents to nine and seven months in prison after simply voicing their opinions about a mega-development project at a local meeting. Finally, please take action for the many families affected by the imprisonment of a loved one this year and consider donating to an organization that supports health, education, and other expenses for families of political prisoners.
This is the last newsletter of 2019; there will be no newsletter on December 29. We thank you for subscribing to our newsletter and for your support of The 88 Project. Happy Holidays!
HUMAN RIGHTS & CIVIL SOCIETY
Political Prisoners
It is reported that the public security force of Binh Tu Ward, Quang Ngai Province detained 
Cao Ha Truc
, a well-known activist in Vietnam and also a victim of the 
forced evictions carried out against Loc Hung vegetable garden residents
 at the beginning of this year. 
He was arrested when giving Christmas gifts
 to the veterans of the former Republic of Vietnam. The charity event happened in a peaceful environment, with no signs of political intentions. Truc is familiar with this type of 
arbitrary action
 by the local authorities. In January 2019, the security forces of Tan Binh District, Ho Chi Minh City kidnapped and detained him for a short period of time, accusing him of involvement with the Loc Hung residents' protests. Truc was 
elected as a representative of the residents of Loc Hung
 in their land dispute with the local authorities of Ho Chi Minh City. He has supported the community in the negotiations with the authorities over the past 20 years.

From top left, clockwise: Doan Thi Hong, Ngo Van Dung, Do The Hoa, Ho Dinh Cuong, and Hoang Thi Thu Vang
The People's Court of Ho Chi Minh City will try eight activists who belong to the Hien Phap group, starting on January 10. They are: Le Quy Loc, Doan Thi Hong, Nguyen Thi Ngoc Hanh, Ngo Van Dung, Tran Thanh Phuong, Do The Hoa, Ho Dinh Cuong, and Hoang Thi Thu Vang. All were arrested ahead of a planned protest in Ho Chi Minh City in September 2018. The eight were supposed to be tried starting on December 25. Some members face up to fifteen years in prison if convicted. The Hien Phap (Constitution) group was established on June 16, 2017 with the aim to promote peoples' understanding of their human rights in the 2013 Constitution.

Nguyen Trung Truc and Ho Duc Hoa
Nguyen Trung Truc continues to be in poor health behind bars. He is now suffering from inflammation of the eye, and the prison's course of treatment did not help. It was also reported this week that political prisoner Ho Duc Hoa has liver disease and potentially cancer. Hoa had previously told his family that he had been refused medical treatment for other issues in prison. Truc and Hoa are serving twelve and thirteen-year prison sentences, respectively, for their peaceful activism.
This week, we remember the trial anniversaries, as well as the birthdays, of the following political prisoners:

Pro-democracy activists and veterans Le Thanh Tung (left) and Tran Anh Kim (right), tried December 16, 2016, and sentenced to twelve and thirteen years in prison, respectively
Dang Thi Hue, birthday December 25, anti-corruption activist arrested in October 2019 and currently held in pre-trial detention
Tran Thanh Giang, birthday December 27, religious freedom activist sentenced to eight years in prison
Activists at Risk
Police in Quang Ninh province 
detained Dang Thi Hau
 this week. Hau, a factory worker, was detained on the accusation of promoting the Falun Gong spiritual movement. It is unclear if Hau has been formally arrested. The Falun Gong movement is heavily restricted in Vietnam.
International Advocacy
Four members of the US Congress 
this week wrote a letter to US Secretary of State Mike Pompeo
 asking for him to press for the release of 
Ha Van Thanh
, an environmental activist who was deported back to Vietnam in October after the U.S. rejected his asylum case. He was detained upon re-entry into Vietnam and is awaiting trial, charged with human trafficking in what many believe to be a politically-motivated charge.
NEWS & ANALYSIS
Vietnam's workers finally lose their chains, David Hutt, Asia Times, December 16, 2019: "Local opinion-makers are less sanguine, however. Pham Chi Dung, a prominent independent journalist who was arrested in November on charges of 'conducting anti-state propaganda,' had called on the European Parliament not to ratify the EUVFTA because, he says, Hanoi has already failed to meet most of its human rights pledges under the trade pact and will likely flout its new vows on labor rights, too. Dung, who formed a prominent association of independent journalists, said that Hanoi has long considered independent unions as 'reactionary' due to fears that they could play a similar role to the Polish 'Solidarity' trade union that helped to bring down that country's communist system in the 1980s. Indeed, the long-ruling Party has battled for decades to prevent civil society organizations from growing and providing alternative avenues for popular participation to its tightly controlled 'mass organizations.'"
Warning Systems Still Not Built in Vietnam Provinces Hit by Toxic Waste Spill, Radio Free Asia, December 17, 2019: "A monitoring and warning system to prevent pollution from future spills was to have been built with VND 200 billion (U.S. $8,618,598) offered in compensation by the Formosa firm, with VND 70 billion going to Ha Tinh province, VND 40 billion going each to Quang Tri and to Thua Thien-Hue, and the remainder going to Quang Binh. Provincial authorities have now asked for a postponement of the plan's completion until 2021, however, as no money has been received to do the work, media sources say."
Vietnam disavows China's 'nine-dash line', Dave Makichuk, Asia Times, December 18, 2019: "A Pew Research Center survey conducted in 2017, the most recent available, found 92% of Vietnamese viewed Chinese power and influence as a threat to their country. There were anti-China protests throughout Vietnam last year, sparked by fears that a new government policy allowing foreigners to lease land in three special economic zones would be dominated by Chinese investors. The China relationship is one of the few areas where the government gives people a little more space for comment in a society that is tightly controlled. Vietnam ranks 176th of the 180 countries on Reporters Without Borders' 2019 World Press Freedom Index, one spot above China."
IN CASE YOU MISSED IT
Le Cao Dong and Le Van Tuan at their trial. Source: Bao Thanh Hoa
On November 27, 2019, in a trial at the People's Court of Sam Son city, Le Cao Dong, 60, and Le Van Tuan, 34, 
were sentenced to nine months and seven months of imprisonment
, respectively, under Article 318 of the 2015 Criminal Code for "disturbing public order," simply because of their speech at a local cell meeting of the Communist Party on April 2, 2019. The two had voiced their concerns at a meeting about the Sea Square mega-development project, led by Sungroup, one of the largest real estate investors in the country, and urged that the authorities consult with local residents who are at risk of losing their homes under the development plan.
The Sea Square project would affect 1,500 households, with the possibility of forced eviction if any homeowner disagrees with the resettlement plan or compensation bill. The provincial People's Committee has also initiated an intensive media propaganda campaign, antagonizing households or individuals who show dissatisfaction over the uncertainty of the project. The imprisonment of Le Cao Dong and Le Van Tuan is the latest violation of the right to freedom of expression and a continuation of a worrisome trend in which ordinary citizens are being persecuted under national security charges for simple expressions of concerns for their legitimate interests within the forums allowed by the regime.
TAKE ACTION
As we near the end of another brutal year for activists, political prisoners, and their communities in Vietnam, please consider donating to an organization that supports families of political prisoners. 
Check out this page to learn about opportunities to donate
 to verified individuals who work to support living expenses, health, and/or education for a family member or dependent of a political prisoner in Vietnam.
© 2019 The 88 Project
https://the88project.org/wp-content/uploads/2019/12/Cao-Ha-Truc_Source-Facebook-Vo-Hong-Ly.jpg
526
527
kayleedolen
https://the88project.org/wp-content/uploads/2019/01/88project.png
kayleedolen
2019-12-23 14:42:54
2019-12-23 14:42:54
Vietnam Free Expression Newsletter No. 51/2019 – Week of December 16-22