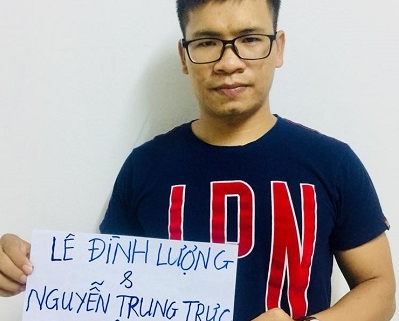 Vietnam Free Expression Newsletter No. 1/2020 – Weeks of December 23-29 and December 30-January 5
Featured Image: Nguyen Van Trang, a member of the Brotherhood for Democracy who was originally charged with "activities aimed at overthrowing the people's administration" but now is charged with "procuring prostitutes" in an apparent attempt to make it easier to extradite him
Greetings and Happy New Year from The 88 Project! We are bringing you news, analysis, and actions regarding human rights and civil society in Vietnam during the weeks of December 23-29 and December 30-January 5. Journalist Pham Chi Dung still has not been able to meet with a lawyer, as he remains under pre-trial investigation after his November arrest. Music teacher Nguyen Nang Tinh has appealed his 11-year sentence. And the Vietnamese authorities are reportedly changing political activists' charges to non-political, criminal offenses with the intention of making it easier to extradite and prosecute them. This week, more people were targeted in connection with the government's continued crackdown on the independent Liberal Publishing House. Ho Sy Quyet and his wife were detained, questioned for several hours, and had their house searched and property confiscated. State journalists were blocked from reporting on a construction project recently, and land use issues are anticipated after the authorities designated a Catholic convent as a "heritage site." Moreover, a massive outdoor trial of nine criminal defendants is anticipated, even though Vietnam agreed it would do away with the outdated practice as part of a recommendation from Denmark at Vietnam's Universal Periodic Review. In the news, read about possible directions and roles for Vietnam within Asia and the international order in 2020. Coming up next week, the People's Court of Ho Chi Minh City will try eight activists who are members of the Hien Phap civil society group. Please take action in support of the Liberal Publishing House by sharing Amnesty International and Human Rights Watch's joint statement condemning recent months of harassment against the organization and its affiliates.
HUMAN RIGHTS & CIVIL SOCIETY
Political Prisoners
Journalist 
Pham Chi Dung
 is being 
denied contact with a lawyer
, almost two months since he was arrested. A well-known commentator on Vietnamese politics, society, and economy, Dung was arrested in November and is charged under Article117 of the 2015 Criminal Code for alleged propaganda against the state. Under the terms of his pre-trial detention, he will not be allowed to meet with a lawyer until authorities have finished their initial investigation. Though this is a provision of Vietnamese law, it violates international rights to legal representation, and former political prisoners have often recounted after their release their troubles communicating with their lawyers even after the initial investigation period ended.
Music teacher 
Nguyen Nang Tinh
 has 
appealed his 11-year prison sentence
. The Supreme People's Court sent verification of the appeal proceedings to his lawyer, Dang Dinh Manh. On November 15, Tinh was 
sentenced to 11 years in prison
 for his Facebook posts with alleged "anti-state" content. A video of him teaching students the famous song "Give back to the people" attracted a lot of attention and the support of Vietnamese people both inside and outside of Vietnam.
This week, we remember the birthday of 
Ha Van Nam,
 a driver who is part of the national movement to protest Build-Operate-Transfer projects. Since 2018, Ha Van Nam, with his friends in the Facebook group named "Friends on the Long Road," has protested against the stations, which were allegedly placed in the wrong areas and have earned money unreasonably and for a prolonged period of time. In July 2019, a court in Bac Ninh province 
sentenced
 him to 30 months in prison for "causing public disorder." In October 2019, an appellate court upheld the sentence.
Activists at Risk
Defend the Defenders has noted
 that the Vietnamese government is changing charges against political activists to crimes like "procuring prostitutes" in order to make them easier to extradite and prosecute. The tactic is apparently being used with the aim to make processes like applying for asylum claims and garnering local and international support for their cases more difficult for the activists. This is especially relevant in the cases of activists who have fled abroad fearing arrest who may now be more easily deported back to the country under the new charges. "This criminalization of political activities will put political activists in a difficult situation," 
Trang Van Nguyen
, a member of the Brotherhood for Democracy, 
told Radio Free Asia
. RFA reports that Nguyen was "formerly charged with 'activities aimed at overthrowing the people's administration' but now [is] accused of procuring prostitutes." The police of Thanh Hoa province released a wanted notice for him on December 5, 2018. Besides participating in demonstrations, he was alleged to incite others as well as create, post, and share distorted content against the regime on his Facebook account.
Authorities detained activist 
Ho Sy Quyet and his wife for several hours this week,
 targeting them for reading books from the Liberal Publishing House. Hung Yen province police stormed into their home on January 3 and searched it without a warrant, and then they detained and questioned the two about the publishing house and confiscated their personal property before finally 
releasing them later on the same day
 (Quyet after his wife). Quyet is still under surveillance. He had uploaded and reviewed several books from the publishing house, and the authorities are "suspicious" that Quyet might be a member of this entity. The public security demanded that Quyet present himself next Tuesday to continue to "work" with them. As Quyet explained, the unit that directly interrogated him was not from Hung Yen province, but was the A02 unit of the Ministry of Public Security, the same unit that was involved in the case of artist 
Thinh Nguyen
. Quyet and his wife are the 
latest in a string of people to be harassed and detained for their alleged affiliation with the publishing house
, which publishes books by independent authors covering a wide range of topics, including democracy and human rights. The 88 Project also briefly discussed the harassment against the publishing house in our 
report
 on freedom of publication 2018 – 2019.
Environmental Activism/Community at Risk
Vietnamese authorities have 
designated Thu Thiem Convent and Church as a "heritage site," causing concern in the local Catholic community
. While on one hand, the move prevents development on the land from private sector groups, it also limits parishioners' ability to use the land for their own purposes. Any new project on the land, including buildings to maintain the convent and its attractiveness to tourists, will have to be approved by the state. Land conflicts are common in the one-party state, as are clashes between the government and religious groups, who are heavily restricted and monitored by the former.
Press Freedom
Reporters from the newspaper "Nhà báo và Công luận" (a state-controlled outlet) were 
arrested and detained by public security officers
 and the force of the local People' Committee, with the condition for release that they had to delete all the videos recorded concerning a construction project in My Duc district, Ha Noi. According to the newspaper, they have received a lot of complaints from local residents concerning the project, which allegedly cost almost 2 million dollars but has been implemented in a reckless manner. After arriving at the location and securing approval from the Chairman of My Duc People' Committee to operate and collect news in the area, the reporters were confronted by several public security officers and plainclothes individuals who said that they did not have the right to record the project. The group was then escorted back to the office of the People's Committee and made to delete all of their files. The incident reminds us that not only independent journalists and commentators, but also state-sanctioned reporters and journalists, can become the victims of the current restrictive press system. The news on the incident, which had previously been posted on the website of Cong Luan newspaper, has since been deleted.
Fair Trial
In January 2019, the Vietnamese government agreed with no reservation, concerning Denmark's Universal Periodic Review recommendation, to abolish immediately and at all levels, the exercise of conducting outdoor trials. This recommendation was made to ensure the right to presumption of innocence, effective legal representation, and fair trials. Most Vietnamese lawyers and activists were happy that the country could leave the outdated trial model behind. However, it is now certain that another outdoor trial will indeed be carried out, in a stadium where approximately 4,000 people will attend, to try nine defendants accused of rape and murder. While the case might bring up strong public opinions, there is no reason that this ancient method of judicial remedy should be applied. It also questions the integrity of Vietnamese government in implementing their UPR commitments.
NEWS & ANALYSIS
Ranked 32nd Most Powerful Country in the World, Communist Vietnam Set to Assume Greater International Role in 2020
, Will Nguyen, The Vietnamese, December 30, 2019: "Communist Vietnam rose two spots in the rankings from 2018, bolstered in particular by its high score for 'strong military'. The country's weakest attribute was its lack of 'strong international alliances', an area which is unlikely to improve, according to the country's recently released 
defense white paper
."
Assessing Southeast Asia in the 2010s: 5 Big Strategic Trends and How They May Shape the 2020s, Prashanth Parameswaran, The Diplomat, January 1, 2020: "Indeed, as my colleague Ankit Panda and I discussed in a recent podcast, 2020 may in fact see heightened tensions, with China continuing to get into run ins with Southeast Asian claimants, hopes for a meaningful ASEAN-China code of conduct dimming, the South China Sea continuing to be one of a series of pressure points in U.S.-China competition, and Vietnam – the most active and capable South China Sea claimant – holding the ASEAN chairmanship."
Downside risks abound for Vietnam's 2020 economy, David Hutt, Asia Times, January 2, 2020: "The country will also serve in 2020 as rotating chairman of the Association of Southeast Asian Nations (ASEAN), in a year when tensions in the South China Sea between rival Southeast Asian claimants and China could come to a head. Vietnam will also take up a non-permanent seat on the United Nations' Security Council, a position that could herald the nation's arrival as a responsible global actor after previous decades of international isolation. But despite all those political happenings, the Party and its planners would be ill-advised to lose sight of the economy."
COMING UP
Clockwise, from top left: Le Quy Loc, Doan Thi Hong, Ngo Van Dung, Hoang Thi Thu Vang, Ho Dinh Cuong, and Do The Ha
The People's Court of Ho Chi Minh City will 
try eight activists who belong to the Hien Phap group
 starting on January 10. They are: 
Le Quy Loc
, 
Doan Thi Hong
, 
Nguyen Thi Ngoc Hanh
, 
Ngo Van Dung
, 
Tran Thanh Phuong
, 
Do The Hoa
, 
Ho Dinh Cuong
, and 
Hoang Thi Thu Vang
. All were arrested ahead of a planned protest in Ho Chi Minh City in September 2018. Some members face up to fifteen years in prison if convicted. The Hien Phap (Constitution) group was established on June 16, 2017 with the aim to promote peoples' understanding of their human rights in the 2013 Constitution. In December 2018, fellow Hien Phap member 
Huynh Truong Ca 
was sentenced to five and a half years in prison.
TAKE ACTION
Amnesty International and Human Rights Watch 
released a joint statement
 in support of the Liberal Publishing House, an independent publisher that has been under pressure from authorities in recent months. The publishing house's staff, authors who publish with them, and book buyers themselves, have been subject to harassment from the authorities, including detention and interrogation. Please share the statement to call for an end to the harassment and protection of freedom of publication.
© 2020 The 88 Project
https://the88project.org/wp-content/uploads/2020/01/Nguyen-Van-Trang.jpg
399
399
kayleedolen
https://the88project.org/wp-content/uploads/2019/01/88project.png
kayleedolen
2020-01-06 14:00:36
2020-01-06 14:00:36
Vietnam Free Expression Newsletter No. 1/2020 – Weeks of December 23-29 and December 30-January 5