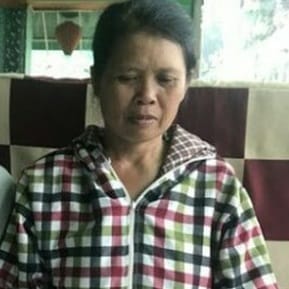 Vietnam Free Expression Newsletter No. 42/2019 – Week of October 14-20
Featured Image: Nguyen Thi Hue, who was sentenced to 2.5 years in prison this week. 
Greetings from The 88 Project! We are bringing you news, analysis, and actions regarding human rights and civil society in Vietnam during the week of October 14-20. On October 17, Nguyen Thi Hue was sentenced to 2 1/2 years in prison for "abusing democratic freedoms." One day later, the People's Court of Bac Ninh province upheld the 2 1/2-year sentence of driver and BOT protester Ha Van Nam. And music teacher Nguyen Nang Tinh's trial, which was originally scheduled for October 17, was postponed because his lawyers refused to participate as they were denied copies of case files. We are also reporting on the case of Rah Lan Hip, who was sentenced to seven years in prison in August for "undermining the unity policy." Hoa Hao Buddhist Nguyen Hoang Nam and Nguyen Van Duc Do are on hunger strike in Xuan Loc prison, as is Huynh Truong Ca. In the news, read about digital authoritarianism and new rules on funerals in Vietnam, which some say single out the Hmong ethnic minority. Please take action for Huynh Truong Ca; he is suffering from several health issues in prison, including diabetes and high blood pressure.
HUMAN RIGHTS & CIVIL SOCIETY
Prisoners of Conscience

On October 17, 2019, the People's Court of la Grai district in Gia Lai province tried Nguyen Thi Hue. She was charged with "abusing personal freedom to undermine the interest of the State, the rights and interests of organizations and individuals." She did not have legal representation at trial. According to the indictment, from July 2017 to March 2019, Hue often went to the prosecution office, receptionist office, and many different government buildings in la Grai district and Gia Lai province to appeal to officers at work. She used Facebook accounts such as "Nguyễn Thị Huệ," "Công Lý Về Tôi," "Nguyễn Huệ," "Vũ Quỳnh Hương," and "Den Quang" to live-stream and talk about the Party, the State, and officers who were dealing with cases related to her family. Hue is known as a "victim of injustice," or "Dan Oan" in Vietnamese. Besides suing on behalf of her husband, who was falsely accused in a traffic accident, Hue also sent a petition on a case in which she and others lost money due to the local administration's corruption. Because local administrative agencies ignored her petitions, she continued to sue many times in Hanoi. The court sentenced Hue to two years and six months of imprisonment

On October 11, 2019, the People's Court of Nghe An province prohibited Nguyen Nang Tinh's attorneys from copying his case files, even though six days later Tinh was to be tried for "making, storing and distributing documents that are anti-state and the government of Vietnam." In his Facebook post, lawyer Nguyen Van Mieng, one of the two defense lawyers, wrote that the court didn't allow him to copy Tinh's files because they were related to national security and, therefore, confidential. On the same day, the two lawyers submitted a request to postpone the trial until the files can be copied. However, according to the lawyers and Tinh's family, the People's Court of Nghe An warned that the next trial will be conducted with or without the lawyers. Arrested in late May, Tinh now faces up to 12 years behind bars. In addition to his other forms of activism, Tinh often sings songs that have been outlawed by the Communist regime.
On August 9, 2019, The People's Court of Gia Lai province held a mobile trial for Rah Lan Hip. According to the indictment, Rah Lan Hip used his Facebook account "Kieu Rah Lan" to share many posts about "Tin Lanh De Ga." From June 2018 to March 2019, Rah Lan Hip worked with Kpă Chế and Rơ Châm Chung to gather information about two ethnic minority people having served prison terms and to gather 1,304 people to follow Tin Lanh De Ga. Rah Lan Hip organized four meetings to spread information to 21 ethnic people not to leave Tin Lanh De Ga and to continue to believe in the organization. Kpă Chế and Rơ Châm Chung sent Rah Lan Hip 18,000,000 VND, about $775 USD. Eventually, Rah Lan Hip was charged with "undermining the unity policy" and was sentenced to seven years in prison and three years of probation.

On October 18, 2019, the People's Court of Bac Ninh province upheld the two year and six-month sentence for driver Ha Van Nam for "disturbing the public order," under Article 318 of the 2015 Penal Code. Nam was not permitted to defend himself at the appeal trial. Since 2018, Ha Van Nam, with his friends in the Facebook group named "Friends on the Long Road," has protested against toll stations, or Build-Operate-Transfer (BOT), which are allegedly placed in the wrong areas and have earned money unreasonably and for a prolonged period of time from the drivers. On March 5, 2019, dozens of security officers of Que Vo district, Bac Ninh province arrested Nam under an arrest order while he was at home. Six other drivers — Nguyễn Quỳnh Phong, Lê Văn Khiển, Nguyễn Tuấn Quân, Vũ Văn Hà, Ngô Quang Hùng and Trần Quang Hải — also received sentences ranging from 18 months to 36 months of imprisonment for protesting BOT Pha Lai. Since early 2019, the Vietnamese government has arrested about 10 drivers for protesting BOT.

Hoa Hao Buddhist Nguyen Hoang Nam (left) and Nguyen Van Duc Do (right) are on hunger strike in Xuan Loc prison camp in Dong Nai province. Nam began the strike on October 11 to protest being transferred to a cell with a prisoner sentenced on drug charges. It is not uncommon for prison authorities to detain dissidents with criminal cellmates as a means of intimidation. Nam is part of an unsanctioned branch of Hoa Hao Buddhism that is often harassed by authorities. He and several others were jailed for "disturbing public order" while trying to attend a death ceremony; Nam was sentenced to four years. Nam has undergone other prison transfers and was also attacked by officers in a previous incident, which left his eyes and head with prolonged pain.
Also in Xuan Loc camp, Nguyen Van Duc Do has entered his seventh day of hunger strike. On October 18, his family visited him in prison and learned about the ongoing incident. Do is protesting against the restrictive supply policy in prison. Prisoners are only allowed to receive five kilograms of supply from their family, and often have to purchase extra food from the prison's canteen at a price that is four or five times higher than the market price, so they are always short of what they need. Do was arrested on November 6, 2016, while visiting Luu Van Vinh, founder of the Coalition for Self-determined Vietnamese People, for alleged ties to the group, which he denies. He was sentenced to 11 years in prison under Article 79 of the 1999 Criminal Code on October 5, 2018.

In case you missed it, Huynh Truong Ca has also begun a hunger strike in Xuan Loc prison camp on October 4 to protest a lack of medical treatment. Ca is suffering from several medical issues, such as diabetes and high blood pressure. Other political prisoners are also now striking in solidarity with him. At the most recent family visit, prison officials prohibited Ca from receiving food that the family brought. A member of the constitutional rights group, Hien Phap, Huynh Truong Ca was arrested in a 2018 crackdown on the group and sentenced to five years and six months in prison.

On October 13, 2019, Huyen Trang, wife of political prisoner Pham Van Troi went to visit him in prison. According to her, Troi was in very bad health. He had been submitting a petition to be medically examined at the hospital for months because he was very tired and sometimes passed out while working. Finally, the prison managers took him to the General Hospital of Ha Nam province. However, when he was at the hospital, his hands were always handcuffed, and he drew a lot of attention from other people. He was only free from being handcuffed while inside the exam room.
This week, we remember the arrest and trial anniversaries of the following prisoners:


Nguyen Thi Ngoc Suong and Vu Thi Dung at their May 2019 trial, Source: Tuoi Tre Newspaper
Tran Thi Xuan, Catholic activist and member of the Brotherhood for Democracy, arrested October 17, 2017, and sentenced to nine years in prison
Three Pouyuen Company protesters, tried October 17, 2018, and sentenced to three years and three months, two years and six months, and two years and three months in prison, respectively.
Relatives of five detained members of the Hien Phap group, which aims to educate citizens about their constitutional rights, are 
planning to sue the Ho Chi Minh City Police Department
, alleging that their loved ones were arrested without warrants and held for many weeks in unknown locations before the families were notified. The five cases represented are those of 
Ngo Van Dun
g, 
Doan Thi Hong
, 
Hoang Thi Thu Vang
, 
Ho Dinh Cuong
, and 
Tran Thanh Phuong
. The families also say that they have not received notice on the various extensions of the fives' investigation periods. All were arrested in September 2018 and remain in pre-trial detention. They have also not been permitted to meet with their lawyers and were only allowed to meet with their families for the first time last month.
Freedom of Publication
On October 14, 2019, 30 copies of books published by Freedom Publisher were 
stopped and lost during the shipping process
. These were the last copies of 
Pham Doan Trang
's "Phan khang phi bao luc, A Handbook for Freedom Fighters" and "Cam nang nuoi tu, A Handbook for Families of Prisoners." The bank account of the shipping company was also blocked within five minutes after the shipper reported the incident to the recipients of the books.  Read about incidents of violations of freedom of publication in Vietnam from 2018-2019 in our report, 
here.
NEWS & ANALYSIS
Southeast Asia 'fake news' laws open the door to digital authoritarianism
, Emmy Sasipornkarn, Deutsche Welle, October 16, 2019: "Vietnam enacted its cybersecurity law in January 2019, placing stringent controls on tech firms including setting up offices in the country, storing data locally and complying with Hanoi's demands to delete content on social media. In Cambodia, a regulation was signed in May 2018 allowing investigation of media websites spreading what it considers fake news ahead of the national election, which saw Prime Minister Hun Sen re-elected to a sixth term. Phil Robertson, deputy Asia director of Human Rights Watch (HRW), said that fake news has been 'inflated to be the 21st century bogeyman that all people should fear.' The excuse of fake news has 'become the new rationale to censor anything a government does not like that appears on the internet,' said Robertson."
'Abominable' pulled from Vietnamese cinemas because of a map of China
, Ryan Faughnder, LA Times, October 14, 2019: "Vietnam has reportedly pulled the DreamWorks Animation cartoon 'Abominable' from theaters because of the movie's depiction of a map of China that includes the nation's 'nine-dash line,' which unilaterally lays claim to a vast expanse of the South China Sea. China has used its assertion of territorial rights in the region to move into areas claimed by other countries, including Vietnam. The Philippines, Taiwan, Malaysia and Brunei also have claims in the area, which is rich in natural resources, including fish, oil and gas. Tensions between China and Vietnam were inflamed in July, when the larger communist nation sent a ship into Vietnamese-controlled waters for an energy survey."
Vietnamese Rights Group: Government Campaign to Limit the Scale of Funerals Unfairly Targets Hmong Minority, Eugene Whong, Radio Free Asia, October 17, 2019: "Authorities in Vietnam have initiated a campaign that would limit the length and scale of traditional funerals, but ethnic minority rights advocates say that the plan unfairly targets the country's Hmong minority, known for holding wakes that last several days to a week. The campaign, loosely translated as "Improving the Civilized Funeral" was announced in local media on October 9."
© 2019 The 88 Project
https://the88project.org/wp-content/uploads/2019/07/Nguyen-Thi-Hue.jpeg
289
289
kayleedolen
https://the88project.org/wp-content/uploads/2019/01/88project.png
kayleedolen
2019-10-21 13:50:55
2019-10-21 13:53:37
Vietnam Free Expression Newsletter No. 42/2019 – Week of October 14-20