Pham Van Troi
Current Status: Sentenced to prison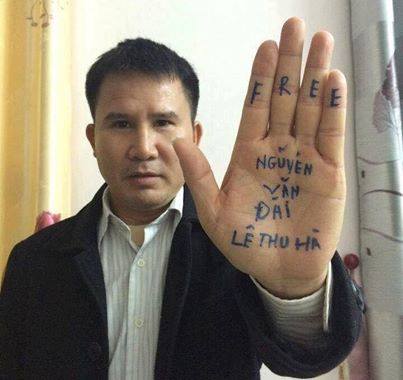 Other Names: Phạm Văn Trội
Date of Birth: October 10, 1972
Gender: M
Ethnicity: Kinh
Occupation: Author
Last Known Prison: Ba Sao prison, Nam Ha province
Areas of Activism:
Democracy
Human rights
Labor rights
Land rights
Known Affiliations:
Highlighted Human Rights Concerns:
Former Political Prisoner
Harsh Physical and Administrative Conditions
Denial of Family Visit/Punitive Prison Transfer
March 2023:
Update on writer Pham Van Troi from his wife Nguyen Huyen Trang, given to Project 88 after she visited him in Nam Ha Prison on March 12, 2023: When fellow cellmate Le Dung Vova was transferred to a different camp, he gave all his books to Troi, but prison officials did not let Troi keep them. They don't let him use pen and paper to write or learn English. When Troi spoke in English to his son to bypass the guards that were listening in, they cut off his phone. Troi's mental health has declined.
According to doctors in the Ha Nam Hospital, Troi suffers from diabetes, abnormal blood pressure, and scabies on his skin. Nam Ha does not allow families to send food to inmates, so Troi has to buy supplemental nutrition and supplies from the canteen at an exorbitant cost. Families are allowed to visit only once a month and are limited in what they can bring. Many political prisoners are allegedly kept in the Disciplinary Section, which consists of rooms about seven square meters in size with only one window. Four persons are kept in each room. They're allowed to go out to a small courtyard twice a day. Sanitary conditions, especially the water, are allegedly very poor.
Details - History of Activism.
Pham Van Troi is a human rights and pro-democracy activist and member of the Broterhood for Democracy, which was founded by imprisoned human rights lawyey Nguyen Van Dai. He was previously president of the group. Troi has faced harassment for authorities for his activism. In May 2015, he was one of many activists barred from meeting with US diplomats during the US and Vietnam's Human Righs Diailogue. His home was also attacked by plainclothes agents in December 2016.
Arrested September 11, 2008. Sentenced to 4 years in prison under Art. 88 (1999 Code). Released September 11, 2012.
October 8, 2009
4 years in prison
September 11, 2012
Arrested July 30, 2017. Sentenced to 7 years in prison under Art. 79 (1999 Code). Expected Release is July 30, 2024.
April 5, 2018
Ngo Anh Tuan
7 years in prison
July 30, 2024
Profile last updated: 2023-04-07 19:07:26