Nguyen Hoang Nam
Current Status: Pre-trial detention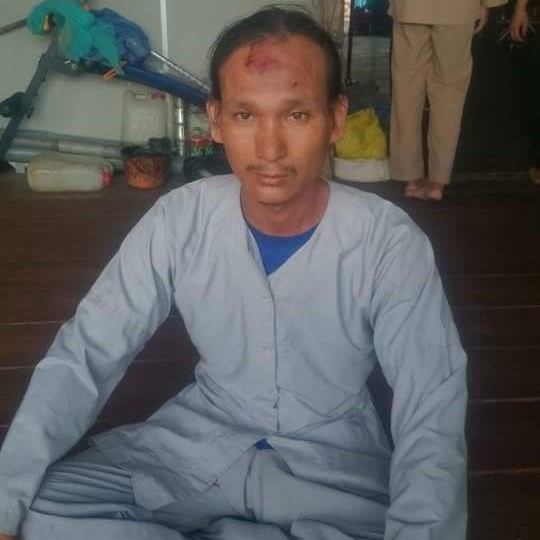 Other Names: Nguyễn Hoàng Nam
Date of Birth: 1982
Gender: M
Religion: Buddhist (Hòa Hảo)
Ethnicity: Kinh
Areas of Activism:
Highlighted Human Rights Concerns:
Torture
Former Political Prisoner
Denial of Adequate Medical Treatment or Supplies
Harsh Physical and Administrative Conditions
Denial of Family Visit/Punitive Prison Transfer
Infliction of Physical and Psychological Pain
August 2023:
In late July, Nguyen Hoang Nam, former political prisoner and member of the Hoa Hao Buddhist Church in An Giang province was re-arrested two years after his release. He is accused of making postings on social media that "undermine national and religious unity." A church leader said Nam's video clips only show him and his family doing charity work, cooking meals for poor people etc. Sometimes he would repost articles by others that investigators claim are critical of the government.
Update: Project 88 has learned from a source familiar with the matter that Nguyen Hoang Nam is being held incommunicado. His wife, Yen Trinh, is not able to send him supplies either.
Details - Background.
For more background on the harassment of members of the Hoa Hao Buddhist sect, you can view this video (in Vietnamese, with English subtitles), which highlights the struggle of Hoa Hao Buddhist and former political prisoner Mai Thi Dung, who endured horrible treatment in prison.
Arrested June 27, 2017. Sentenced to 4 years in prison under Art. 245 (1999 Code). Expected Release is June 27, 2021.
June 27, 2017
An Phu district public security, An Giang province
February 9, 2018
The People's Court of An Phu district, An Giang province
4 years in prison
June 27, 2021
freedom from arbitrary arrest or detention
liberty and security of the person
freedom of expression
freedom of peaceful assembly
fair trial
freedom of belief and religion
February 2018:
Six Hoa Hao Buddhists: Bui Van Trung, Bui Van Tham, Nguyen Hoang Nam, Le Thi Hong Hanh, Le Thi Hen, and Bui Thi Bich Tuyen were tried on February 9 in An Giang province. Bui Van Tham was charged under Article 257 ("resisting persons in the performance of their official duties") and Article 245 ("causing public disorder"), while the other five were charged under Article 245 of the 1999 Criminal Code. Trung and Tham were sentenced to six years in prison; Nam was sentenced to four; Hanh and Tuyen were sentenced to three; and Hen was given a two-year suspended sentence. According to the indictment by the People's Procuracy of An Phu district on November 30, 2017 (available in Vietnamese here), the defendants "disturbed the public order and impacted the safety and order of the traffic, causing a traffic jam on national route 91C by hindering, obstructing, pushing, and screaming to provoke and denounce transportation police." According to supporters, this is a case of repression against Hoa Hao Buddhist disciples who came for the commemoration of the death of Bui Van Trung's mother at Ut Trung sangha. The cermony was violently attacked by authorities.
May 2018:
On May 24, a Vietnamese Court in An Giang province denied Nguyen Hoang Nam's and five other Hoa Hao Buddhists' appeals of their February 2018 sentences. Authorities tried to prohibit relatives and other Hoa Hao Buddhist followers from attending the appeal trial in support of the six.
November 2018:
News from a monk on Facebook revealed that political prisoners Bui Van Trung and Nguyen Hoang Nam were transferred away from Phuoc Hoa detention center in Tien Giang Province on November 14 because of their protests against forced labor in prison. Bui Van Trung was transferred to An Phuoc detention center in Binh Duong Province, while Nguyen Hoang Nam was moved to Xuan Loc detention center in Dong Nai Province. The monk also reminded his followers of Nguyen Hoang Nam's previous incident when he protested against police at Bang Lang detention center, Kien Giang Province, for handcuffing Trung's hands on the way to Phuoc Ha detention center during a previous transfer. Two officers shot at his eyes with electric rods, causing prolonged pain in his eyes and head that has persisted.
October 2019:
Nguyen Hoang Nam and Nguyen Van Duc Do were on hunger strike in Xuan Loc prison camp in Dong Nai province. Nam began the strike on October 11 to protest being transferred to a cell with a prisoner sentenced on drug charges. It is not uncommon for prison authorities to detain dissidents with criminal cellmates as a means of intimidation.
**
Update: On October 25, 2019, Nguyen Hoang Nam stopped his hunger strike after six days. After six days, the prison managers moved him back to his old cell, so he stopped the strike.
July 2021:
Nguyen Hoang Nam, an independent Hoa Hao Buddhist in An Giang Province who just got out of prison after serving his four years for "causing public disorder," told VOA that detention conditions at the Xuan Loc Prison are very harsh. He said prisoners are confined to a narrow space, are not allowed to exercise, that food provided to prisoners is not hygienic, soup is very dirty, that food from the canteen is often expired and with a bad smell, and that drinking water is contaminated. Worse yet, prices are 20-40 percent higher than outside.
February 2018:
Human Rights Watch called on the Vietnamese government to halt the trial and take time to evaluate whether this was a case of persecution and discrimination based on religious belief. "The government should stop harassing and arresting those who belong to unsanctioned religious groups and leave people to practice their faith as they see fit," said Brad Adams, Asia Director, in the appeal.
The EU's External Action division also denounced the sentences, calling on Vietnam to release those jailed for their beliefs and peaceful practices and to uphold international human rights obligations to protect freedom of religion.
Arrested July 24, 2023. Charged under Art. 117 (2015 Code).
July 24, 2023
An Giang province public security, An Giang province
Chau Doc city, An Giang province (
map
)
freedom from arbitrary arrest or detention
liberty and security of the person
freedom of expression
Two years after his release on a prior political charge, Nguyen Hoang Nam was arrested in a coordinated effort by the An Giang police and the Ministry of Public Security's Department of Cybersecurity and High-Tech Crime Prevention and Control.
On July 24, police searched his home and confiscated seven mobile phones, two USB sticks, a laptop, 307 pages of documents, and 10 videos.
Nam is accused of spreading "anti-state propaganda," harming the reputation of the Party and State, under Article 117 of the 2015 Criminal Code.
Profile last updated: 2023-08-16 00:38:32