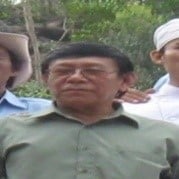 Vietnam Free Expression Newsletter No. 40/2019 – Week of September 30 – October 6
Greetings from The 88 Project! We are bringing you news, analysis, and actions regarding human rights and civil society in Vietnam during the week of September 30-October 6.On October 5, An Dan Dai Dao Buddhist Doan Dinh Nam passed away in prison from kidney failure, just months after his family had petitioned the authorities to release Nam so he could live out the rest of his life at home. Political prisoner Ngo Van Dung was able to meet with his family this week, but his wife was questioned before being allowed to see him. Doan Thi Hong was also able to meet with her young daughter, for only the second time since she was arrested in September 2018. And political prisoner Nguyen Trung Ton's wife has been threatened not to speak out about her husband's condition. Several activists were at risk this week as they were put under surveillance and followed to prevent demonstrations during China's National Day. Read our report on incidents against freedom of publication, as well as our third-quarter report on human rights violations in Vietnam. In the news, read about wrongful death penalty cases and continued disputes over sovereignty in the South China Sea. Please take action for Kieu Dinh Lieu, a journalist who was beaten unconscious while on a reporting assignment.
HUMAN RIGHTS & CIVIL SOCIETY
Prisoners of Conscience
On October 5, political prisoner 
Doan Dinh Nam
 passed away in prison at Xuyen Moc Detention Center. He 
died of kidney failure
. It is reported that the family asked prison authorities to send his body home for a funeral, but they refused the request. Several months ago, Nam's family sent a request to cancel his sentence and allow him to be taken care of in the last days of his life and die at home. However, instead of approving their request, the public security of Phu Yen Province went to their house and threatened them to not attempt to generate support for Nam. Nam was an An Dan Dai Dao Buddhist and who was arrested in the "Council for the Laws and Public Affairs of Bia Son" affair. He and 21 other group members were charged with subversion and accused of writing documents critical of the government, setting up two companies, and investing in an eco-tourism park as a cover for recruiting supporters. However, those affiliated with the group maintained that the activities of the group were purely religious and that the authorities interpreted their religious teaching in political terms. Human rights groups and supporters consider the arrests a repression by the State of the peaceful religious group.
On October 4, 2019, Kim Nga, wife of political prisoner Ngo Van Dung, brought their children to visit their dad. Before being allowed to meet with him, she had to meet with investigation officers. They asked her about the petitions she had signed. She told the officers that since her husband was unlawfully arrested, she sent a petition claiming his innocence. After 30 minutes of working with the officers, the family was able to meet with Dung. Dung was happy to see his family, which was only the third time in his 13 months of imprisonment thus far. Dung is a member of the Hien Phap constitutional rights group and was arrested during a Facebook live-stream in September 2018; he awaits trial under charges of "disrupting security."
Nguyen Thi Lanh, wife of political prisoner Nguyen Trung Ton, has been threatened not speak to international media about her husband's condition. Lanh was summoned for police questioning about her advocacy activities. Ton is suffering from leg pain after an injury– from an attack by unknown thugs with special police equipment– back in 2017. He's been denied medical treatment for this condition while in prison. Ton, a pastor and member of the Brotherhood for Democracy, is serving a 12-year prison sentence.
On October 4, Doan Thi Hong's daughter was able to visit her mother in prison. Hong is a member of the Hien Phap civil society group and was arrested ahead of planned public protests in September 2018. She is suffering from poor health in prison, where she continues to await trial. In case you missed it, we recently published an analysis of the procedural irregularities in Hong's case, most notably the unlawfulness of her detention as a mother of a child under 36 months old.
This week, we remember the arrest and trial anniversaries of the following political prisoners:
Dao Quang Thuc, former teacher arrested on October 5, 2017 and sentenced to 13 years in prison

Luu Van Vinh, Nguyen Van Duc Do, and Thich Nhat Hue
Activists at Risk
On September 26, 2019, journalist Kieu Dinh Lieu was beaten by three unidentified men. He suffered from a brain injury and had to seek medical treatment. On October 2, 2019, Reporters Without Borders released a statement to urge the Vietnamese government to punish those involved. Lieu is working for Vietnam's Lawyers Magazine, and before being attacked, he was out in the field in the middle of an investigation of a land conflict and alleged illegal logging in Duc Co district, Gia Lai province. On the way back, he spotted two trucks carrying large logs, which he believed to be illegal products. He immediately reported the incident to the Duc Co District's Chief Officer of Forestry Police. Right after that, when he went to a coffee shop with his friends in Pleiku city, three men coming out of a semi-truck approached him and beat his face and head until he fell unconscious. The attackers also ripped through his car in an attempt to destroy any potential evidence.
Plainclothes officers outside of Dao Thu's home. Source: Facebook Dao Thu
On China's National Day, several activists were watched at home, followed while in public, and even forced to return home, probably in an attempt to quell public demonstrations. On his Facebook, activist Trinh Ba Phuong reported that two plain-clothes security officers stood outside his house. When Phuong left, one of the two officers followed him until he went back home. Activist Dao Thu Hue, a university lecturer, was in the same situation, but she managed to escape from surveillance and went to the Ward's People's Committee Office to report the situation. However, when she arrived at the office, the man who had been following her also arrived there. She quickly walked into the reception room to report the case, but the officers there refused to take her statement because she didn't have her identity card with her at that time. Even though the man who followed her stood outside in the corridor, she couldn't make the officers work on her case. Other affected by travel restrictions and surveillance were Tran Thi Thao, Phan Khang, and Nguyen Nguyen Binh, among others.
Freedom of Publication
Read our report 
on incidents against freedom of publication in Vietnam in 2018 and 2019. Vietnam continues to violate its constitutional and international obligations to uphold freedom of publication. Books, authors, and publishing houses that attempt to publish outside the purview of the authorities usually face harassment or confiscation of the published works. The situation is not appreciably better for lawful publishers and licensed publications.
NEWS & ANALYSIS
Wrongful Death Penalty Cases And The Families That The Inmates Left Behind
, Vi Tran, The Vietnamese, September 26, 2019: "In Vietnam, there is no organization that really focuses on the issue of the anti-death penalty or that assists people with wrongful convictions. And even though I work on this issue, my non-profit organization is not recognized by the Vietnamese government and our work is classified as 'reactionary' conduct. More than that, none of the death row inmates would be allowed visitations by an organization or non-family persons, not even the International Committee of the Red Cross. The inmates are shut off from society entirely and can not have any contact with people and organizations that care about their cases. In fact, visitations by independent organizations working on behalf of inmates, including those sitting on death row, was a request made by the Committee Against Torture in its concluding observations for Vietnam in 2018."
More government actors using social media to manipulate public sentiment, Gabrielle Andres, Channel News Asia, October 2, 2019: "In particular, there is evidence that fake accounts – including bots and those manned by humans – are being used by cyber troopers to spread pro-government propaganda, censor freedom of speech, mount smear campaigns or to drown out dissenting opinions. Evidence of manipulation was found in 70 countries and territories, including seven in Southeast Asia – Cambodia, Indonesia, Malaysia, Myanmar, the Philippines, Thailand and Vietnam."
Vietnam Reasserts South China Sea Claims Amid Chinese Ship Onslaught, Eugene Whong, Radio Free Asia, October 3, 2019: "RFA columnist Carl Thayer, emeritus professor at The University of New South Wales at the Australian Defence Force Academy in Canberra, said Vietnamese leaders face three options in dealing with Chinese assertiveness. Hanoi can 'continue to muddle through by 'cooperating and struggling' with China, back down in order to relieve unrelenting Chinese pressure, or counter-balance Chinese pressure by stepping up security and defense cooperation with the United States,' Thayer wrote in an RFA column published on Wednesday. Another option would be for Vietnam to sue China in international court, and according to Pham Ngoc Minh Trang, a lecturer at Vietnam National University, Hanoi has a clear case."
IN CASE YOU MISSED IT
Le Van Sinh at trial in Ninh Binh on September 5, 2019. Source RFA
In the past three months in Vietnam, one activist was arrested and 12 people were tried under vague criminal provisions. In just the month of September, authorities sentenced two Facebookers and one public protester to prison terms. The People's Court of Ninh Binh Province tried Le Van Sinh on September 5, 2019 and sentenced him to five years for his Facebook posts. On September 17, the People's Court of Ben Tre Province also sentenced Facebooker Nguyen Van Cong Em to five years for his online posts and for calling for public protests. One day later, Build-Operate-Transfer protester Tran Dinh Sang was sentenced to two years in prison. In addition, on September 23, the public security of Lam Dong province raided popular Facebooker Nguyen Quoc Duc Vuong's house and arrested him.
In 2019 so far, authorities have arrested 21 activists (at least 12 are online commentators) and have tried and convicted 38. Read more about arrests, trials, and harassment incidents over the last three months in our quarterly human rights report.
TAKE ACTION
Take action for journalist Kieu Dinh Lieu
, who was beaten unconscious while reporting on illegal logging and corruption, by sharing Reporters Without Borders's statement calling for an investigation into the case.
© 2019 The 88 Project
https://the88project.org/wp-content/uploads/2019/06/Doan-Dinh-Nam.jpg
179
179
kayleedolen
https://the88project.org/wp-content/uploads/2019/01/88project.png
kayleedolen
2019-10-07 13:35:26
2019-10-07 03:12:23
Vietnam Free Expression Newsletter No. 40/2019 – Week of September 30 – October 6