Dao Thu
Current Status: At risk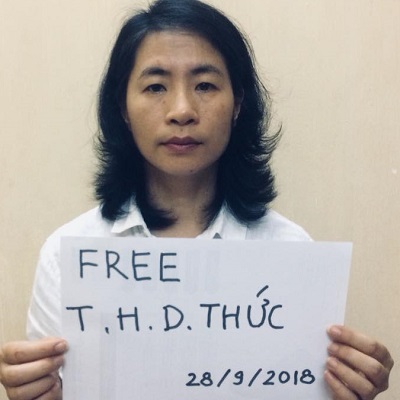 Other Names: Đào Thu
Date of Birth:
Gender: F
Ethnicity: Kinh
Occupation: Teaching professional
Areas of Activism:
Known Afilliations:
No-U Football Club- Hanoi
"If I see something that's wrong, I have to point it out." It takes strength and courage to be an activist in Vietnam. Teacher Dao Thu Hue is one of the women we spoke to about the lifestyle of a female activist – watch the full interview now!
Details - Background, History of Activism.
Dao Thu is a teacher at the School of Languages and International Studies at Vietnam National University. Her area of study is Chinese Studies.
Profile photo souce: Facebook Dao Thu
Dao Thu participates in activities of the No-U football group, which is called a "reactionary organization" by state media. She also protests on the issues of environment and national sovereignty.
October 27, 2018: prevented from leaving her home
Travel restriction
Surveillance
October 27-28, 2018
Public security
Tay Ho district, Ha Noi (
map
)
On October 27, Dao Thu reported an incident on her Facebook.
In the afternoon of October 27, public security forces went to Thu's house and watched her. In the early morning of October 28, a security officer of Tay Ho Ward, named Duy, stopped her from going out to exercise at 5:40 am.
At 7:10 AM, three security officers, including Duy, and some local government officials, kept her bicycle when she was on the way to teach at university, causing her to have to cancel class. These actions were reported on her Facebook.

At 12:00 PM, she was still under surveillance. She was able to ride her bicycle to the university in spite of being followed. After her class finished, two men were waiting for her at the park area, asking her if she planned to go somewhere. She declined to answer and went home safely at 17:30 PM, with the two men following her all the way.

At 19:00 PM, her house was again under surveillance. The reason for the surveillance remains unknown.
Profile last updated: 2019-10-28 15:25:07