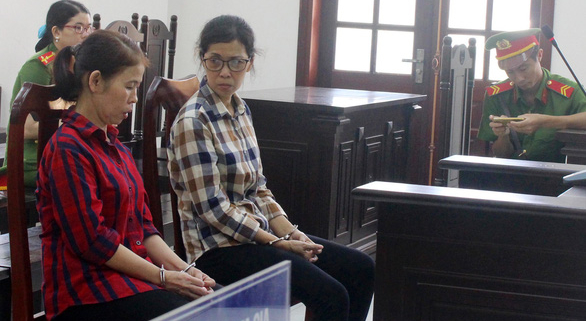 Vietnam Free Expression Newsletter No. 39/2019 – Week of September 23-29
Featured photo: Nguyen Thi Ngoc Suong (left) and Vu Thi Dung at their first instance trial on May 10, 2019. Source: Tuoi Tre Newspaper
Greetings from The 88 Project! We are bringing you news, analysis, and actions regarding human rights and civil society in Vietnam during the week of September 23-29. Two female Facebookers, Vu Thi Dung and Nguyen Thi Ngoc Suong, had their appeals of their sentences denied this week. And Facebooker Nguyen Quoc Duc Vuong, from Lam Dong province, was arrested. Another, Trong Nhan Tran, was also "invited" to work with public security this week. In addition, BOT toll booth protester Tran Dinh Sang was sentenced to two years in prison. Behind bars, video blogger Nguyen Van Dien is on hunger strike for the second time this year. Plus, new information has surfaced regarding threats against freelancer Nguyen Van Hoa while he was in solitary confinement for four months this summer. This week, we have analysis on the indictment against blogger Truong Duy Nhat for alleged "abuse of position and power," a charge that we believe is politically-motivated. Dissident writer Pham Doan Trang is going on a social media hiatus to receive medical treatment for injuries related to her activism. In the news, read about social media in Vietnam and community support for detained Australian citizen Chau Van Kham. In case you missed it, watch our full interview with land rights activist and former political prisoner Can Thi Theu. And please take action for detained single mother Doan Thi Hong, who is suffering from health issues and is detained in violation of domestic criminal law.
HUMAN RIGHTS & CIVIL SOCIETY
Prisoners of Conscience
Suong (left) and Dung at their first instance trial on May 10, 2019. Source: Tuoi Tre Newspaper
On September 23, 2019, the People's Supreme Court of Ho Chi Minh City 
upheld the sentences
 of
 Vu Thi Dung
 and
 Nguyen Thi Ngoc Suong
 in an 
appeal trial
. In May, the People's Court of Dong Nai province held the first instance trial against the two and sentenced them to six and five years in prison, respectively, for their Facebook posts with 
content critical of the state
, calling on others to participate in protests, and distributing leaflets. They were convicted of "making, storing, spreading information, materials, items for the purpose of opposing the State of Socialist Republic of Vietnam," under Article 117 of the 2015 Penal Code. They had three lawyers at the appeal trial: Trinh Vinh Phuc, Nguyen Van Mieng, and Dang Dinh Manh.
On September 18, 
Tran Dinh Sang
 was 
sentenced to two years
 in prison for "resisting a law enforcement officer in performance of his/her official duties" under Article 330 in the 2015 Penal Code. Sang, a driver, often protests against traffic issues, such as the Build-Operate-Transfer tolls, which many allege are corrupt. His 
Facebook account
, where he updates his activities, has attracted more than 100,000 followers. Sang 
filmed some police officers
 while they were on patrol in late March; the officers told him to stop, but he asserted his right to film them. Police, without evidence, say that Sang was aggressive towards them. 
Several activists
 have been harassed or jailed in 2019 for their connections to BOT protests.
A profile picture on Vuong's Facebook with a caption that calls for the release of political prisoner Tran Huynh Duy Thuc. 
Source: 
Facebook Vuong Nguyen
On September 23, 2019, the public security of Lam Dong province 
arrested Facebooker Nguyen Quoc Duc Vuong.
 On September 27, state-owned newspaper 
confirmed
 the arrest of Vuong by the Public Security of Lam Dong province, which has issued a prosecution order against Vuong under Article 117 of the 2015 Code for "making, storing, spreading information, materials, items for the purpose of opposing the State of Socialist Republic of Vietnam." Police confiscated his cell phone and laptop at the time of his arrest. In addition to sharing news articles, Vuong often live-streams to express his opinions and debate on national and social issues such as sovereignty, corruption, and land rights.
On September 24, 2019, Nguyen Thai Van, father of political prisoner 
Nguyen Van Dien
, told Radio Free Asia 
that Dien started a hunger strike
 on September 22, 2019. The reason for Dien's hunger strike is to protest the maltreatment of the political prisoners. Van also told RFA that each month Dien is only permitted one meeting with his family, for one hour. This is Dien's second hunger strike in 2019; he staged one in July, also protesting prison conditions for political prisoners. Dien is a member of the National Movement to Revive Vietnam and was sentenced to six years and six months in prison for creating video blogs with democracy and human rights content.
On September 20, 2019, Nguyen Thi Hue, sister of political prisoner
 Nguyen Van Hoa
, reported that prison authorities 
threatened Hoa that they would cut the tendons
 in his legs back in July 2019 while he was in solitary confinement. Hue also reported that during his four months of confinement, he wasn't allowed to go outside and was also put under camera surveillance. Nguyen Van Hoa 
completed his punishment
 of solitary confinement on September 14, 2019. He was placed there shortly after fellow political prisoner 
Hoang Duc Binh
 had reported that prison officers had gripped Hoa's neck and beat him. Hoa is a freelance journalist who is serving seven years in prison. He has asked embassies and international organizations to visit political prisoners to understand more about their lives in prison.
The Supreme People's Procuracy of Vietnam has finalized the indictment against prominent blogger 
Truong Duy Nhat
, not for any of his journalistic activities but for alleged 
"abuse of position and power when carrying out public duty"
 under Article 356.2 of the 2015 Criminal Code. It should be noted that Nhat was already imprisoned from 2013-2015 for the contents of his blog – "A Different Viewpoint." We wrote 
analysis of the indictment here
, including how Nhat's case raises questions regarding Vietnamese land law and why the charge against him is politically-motivated. Nhat is behind bars for the second time after being kidnapped by Vietnamese security agents in Thailand in January while attempting to seek asylum there. Nhat allegedly left Vietnam for Thailand after he found out that he
 faced risk of re-arrest
. Some say Nhat potentially had 
information that could be damaging
 to the Vietnamese Prime Minister.
This week, we remember the arrest and trial anniversaries of the following political prisoners:
Activists at Risk
Journalist and activist
 Pham Doan Trang
 announced her hiatus from social media for at least one month to receive medical treatment in Vietnam. Trinh Huu Long, her colleague and co-founder of Luat Khoa magazine, said that 
Trang's illness stems from
 severe wounds of the spine, arms, and legs, which she received over the last four years while fighting for democracy in Vietnam. Trang has been followed, harassed, and attacked by police multiple times, including being violently assaulted 
during a friend's private music show
 in 2018.
On September 26, 2019, Facebooker Trong Nhan Tran was 
invited to work
 with public security of Dak Mik district, Dac Nong province regarding his activities on Facebook. Tran has been active on Facebook for several years, and he sometimes shares posts to raise awareness on the environment, politics, and other issues.
NEWS & ANALYSIS
Is Vietnam's Trong Still Going Strong?
, David Hutt, The Diplomat, September 27, 2019: "It is widely thought that both the United States and Vietnam want Trong to visit Washington next month, in what could be a major bilateral meeting that sees their relationship upgraded to a 'strategic partnership.' Washington doesn't like having meetings with Communist Party chiefs. Indeed, when Trong became the first-ever sitting party chief to visit the United State in 2015, it put U.S. authorities in a bind. With Trong now also state president, it simplifies matters. But all this could be scuttled by his reported ill-health."
Persecution in Vietnam: a Christian human rights lawyer's story, Christian Today, September 26, 2019: "CT: You spent four years in prison. What were the conditions like? Did your Christian faith help you through this time? Nguyen [Van Dai]: The first time I was in prison there was lots of suffering, especially in the first ten months. We had no clean water for drinking and had to use a sock to filter it at least five times so it was drinkable. They also gave us vegetables which were very dirty – they would put them on the floor and there were slugs and leeches on them. We would get a very small bit of meat on one day each week."
The Political Economy of Social Media in Vietnam
, Le Hong Hiep, ISEAS– Yusof Ishak Institute, September 27, 2019: "This essay explores the economic and political factors that shape Vietnam's relatively open approach to social media. It argues that Vietnam's smaller market and its lower technological capabilities prevented Vietnam from emulating China's strategy to block international players and grow domestic alternative platforms. Some government authorities find social media a useful tool for reaching out to the domestic audience and to spread its propaganda, and certain political camps also wish to use social media to promote their own agenda. As a result, the Vietnamese government accommodates western social media platforms and prefers to enforce their compliance with local rules and regulations rather than ban them altogether."
Supporters rally for Australian retiree detained in Vietnam, Lin Evlin, SBS News, September 28, 2019: "Mr Chau [Van Kham]'s son Dennis Chau, who is based in London, recently delivered a 33-page letter advocating his father's case to Foreign Minister Marise Payne's office in Sydney. 'I thought it'd be a last-ditch effort for the government to take notice … We don't want him to be forgotten,' he said. 'I was told by her office that she would get back to me but I haven't heard anything yet.' Mr Chau wife, Trang Chau said the family is also bitterly disappointed by the lack of vocal support by the Prime Minister for his case."
IN CASE YOU MISSED IT
Our 
full interview with Can Thi Theu
 is out now! As one of the leading activist against land grabs, there is no way back from this lifestyle. But it's all worth it. She explains to us why.
TAKE ACTION
It has been a year since the public security of Ho Chi Minh City arrested Hien Phap member 
Doan Thi Hong
 for "disrupting security" for calling for public protest. 
We have analyzed
 procedural irregularities in this detention of a single mother of a toddler and call for her immediate release. Please 
share her case
 and 
take Amnesty International's Urgent Action
 for her, as her health has decline significantly since her arrest.
© 2019 The 88 Project
https://the88project.org/wp-content/uploads/2019/05/Vu-Thi-Dung-and-Nguyen-Thi-Ngoc-Suong-at-trial-Source-Tuoi-Tre-190510.jpg
391
586
kayleedolen
https://the88project.org/wp-content/uploads/2019/01/88project.png
kayleedolen
2019-09-30 14:19:10
2019-09-30 14:19:10
Vietnam Free Expression Newsletter No. 39/2019 – Week of September 23-29