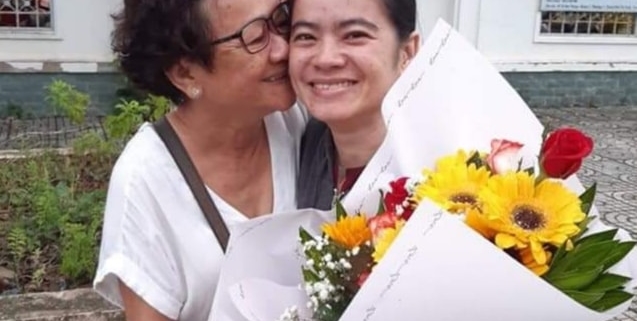 Vietnam Free Expression Newsletter No. 31/2019 – Week of July 29-August 4
Featured Image: Nguyen Dang Minh Man and her mother on her release day. Source: Facebook Nguyen Khanh
Greetings from The 88 Project! We are bringing you news, analysis, and actions regarding human rights and civil society in Vietnam during the week of July 29-August 4. Toll booth protester Ha Van Nam and six others were tried and sentenced to prison this week in Bac Ninh province. The collective hunger strike at Prison No 6 in Nghe An has ended, but troubling incidents persist, as one prisoner's visit with his wife was heavily-monitored and cut short. Female Catholic activist Nguyen Dang Minh Man was released from prison on August 2 after completing her eight-year sentence. And the One Free Press Coalition has named blogger Truong Duy Nhat's case as one of the "10 Most Urgent Press Freedom Cases Around the World." In the news, read about EU-Vietnam deals and relations. In case you missed it, check out the our human rights report on the situation in Vietnam from January through June 2019. Authorities arrested at least 16 activists, tried 26, and harassed 33 activists (in some cases, multiple times). Please take action for Ha Van Nam by sharing Amnesty International's statement calling for his release.
HUMAN RIGHTS & CIVIL SOCIETY
Prisoners of Conscience
A court in Bac Ninh province 
sentenced
 Build-Operate-Transfer (BOT) protester 
Ha Van Nam
 to 30 months in prison this week for "causing public disorder." Authorities allege he incited others to protest and block a highway. Since 2018, Ha Van Nam, with his friends in the Facebook group "Friends on the Long Road," has 
protested against the toll stations
, which are allegedly placed in incorrect areas or have earned money past their allotted contract times. 
Six others
— Nguyen Quynh Phong, Le Van Khiem, Nguyen Tuan Quan, Vu Van Ha, Ngo Quang Hung, and Tran Quang Hai– were convicted in the same trial, receiving sentences of between 18 and 36 months in prison. Supporters were 
barred from entering
 the courtroom. Before the trial, Joanne Mariner, Amnesty International's Senior Crisis Adviser,
 gave a statement
 expressing concern about the trial and demanding Ha Van Nam's immediate and unconditional release. She said, "Ha Van Nam was peacefully reporting allegations of injustice, human rights violations and corruption in Vietnam. This vindictive prosecution simply proves his point."

From top left: Dao Quang Thuc, Nguyen Van Tuc, Truong Minh Duc, and Tran Phi Dung
The political prisoners in Prison No.6, Nghe An province, have stopped their hunger strikes after having been allowed to call home. Their families confirmed the information after visiting the prison on July 29. Dao Quang Thuc, Nguyen Van Tuc, Truong Minh Duc, and Tran Phi Dung had been protesting prison conditions, stemming from the prison authorities' refusal to provide fans during a recent heat wave. Prisoners in other prisons also had joined them in solidarity. They ended the strike on July 21, after being on strike since June 10; the prison finally provided them with fans. However, they are prepared to resume striking if they are denied their legal right to call home in future months.
And indeed, troubling incidents persist at Prison No. 6 even after the end of the hunger strike. On August 2, 2019, Mrs Kim Thanh, wife of political prisoner Truong Minh Duc, met her husband in prison. The meeting was shortened to half an hour, instead of an hour as normal. The procedures for visiting were abnormally long and under tight control. They were allowed to talk to each other only through phones behind glass. The meeting was suddenly interrupted after 10 minutes. Mrs Thanh said that during the meeting, she told Duc about her incident on July 12 after trying to visit him, and suddenly a prison officer stopped the phone call. Mr Duc was angry and beat the phone against the table. Immediately, he was warned that he would be disciplined for damaging public assets.

Nguyen Dang Minh Man and her mother on her release day. Source: Facebook Nguyen Khanh
Nguyen Dang Minh Man was released from prison on August 2, 2019 after completing her eight-year sentence. The Catholic activist and photojournalist was arrested in 2011 for recording peaceful protests. Behind bars, she endured difficult conditions, went on hunger strike, and was allegedly also placed in solitary confinement. She will now have to serve five years of house arrest. Upon her release, Minh Man remarked that she was tired but thanked her supporters. Her mother, Mrs. Dang Ngoc Minh, told the BBCthat she didn't receive any information from the authorities about time and location of her daughter's release.
Lawyer Nguyen Van Mieng said that Michael Phuong Minh Nguyen, a US citizen who was sentenced to 12 years in prison in June, has submitted his petition for appeal, asking for a reduction in his sentence. Nguyen was convicted of subversion for allegedly planning to incite protests and attack government offices. The 88 Project is aware of and investigating the claims of violence involved in these cases. However, in the absence of a free press environment, the defendants should be given the benefit of the doubt, and any accusation by the authorities against them should not be taken for granted. Nguyen's family has maintained that he is not involved in any activism and was in Vietnam solely to visit family.

Kim Nga, political prisoner Ngo Van Dung's wife, finally met with him after 11 months of separation. Dung told his wife that he did nothing wrong and he had filed a petition. However, the police didn't allow Dung to tell Nga what type of petition that he had filed. Dung was arrested on September 4, 2018 and is charged with "disrupting security" under Article 118 of the 2015 Criminal Code. On September 27, 2018, a fan page supporting the state's propaganda formally admitted that Ho Chi Minh city's police arrested nine members of the civil society group Hien Phap, with the intention to investigate them for criminal prosecution. This included Ngo Van Dung. Beginning on September 1, police secretly began to detain the members and withheld information about their detentions from their families. The group had planned to promote peaceful demonstrations in early September and aims to educate citizens about their constitutional rights.
This week, we remember the arrest and trial anniversaries of the following political prisoners:

From top left: Nguyen Bac Truyen, Pham Van Troi, Truong Minh Duc, Nguyen Trung Ton, and Nguyen Trung Truc
Montagnard religious freedom activist Y Hriam Kpa, arrested June 30, 2015, sentenced to 7 years
Religious freedom activist Nguyen Bac Truyen, arrested June 30, 2017, sentenced to 11 years
Writer Pham Van Troi, arrested June 30, 2017, sentenced to 7 years
Journalist Truong Minh Duc, arrested June 30, 2017, sentenced to 12 years
Pastor Nguyen Trung Ton, arrested June 30, 2017, sentenced to 12 years
Democracy activist Nguyen Trung Truc, arrested August 4, 2017, sentenced to 12 years
Twenty June 2018 protesters tried on July 30, 2018 and sentenced to between eight to 18 months in prison (five were given suspended sentences)
International Advocacy
The One Free Press Coalition of media organizations released their updated list of T
he 10 Most Urgent Press Freedom Cases Around the World
. On the list, they named Vietnamese blogger and former political prisoner 
Truong Duy Nhat
. Nhat was kidnapped, allegedly with the help of Thai forces, while trying to claim asylum in Bangkok in January; he was missing for several weeks and later located in prison in Hanoi, where he remains. He is now charged with abuse of authority from a position several years ago after authorities failed to make a case against him for an alleged fraudulent land purchase; he denies all charges.
NEWS & ANALYSIS
EU, Vietnam to become brothers in arms
, David Hutt, Asia Times, August 1, 2019: "It is the latest indication that the EU is trying to forge a closer defense relationship with the region and Vietnam in particular, which is at the heart of disputes with China in the South China Sea."
Silencing Vietnam's activists, Sheith Khidhir, The ASEAN Post, August 4, 2019: "With the lack of freedom apparent in Vietnam, it would not be too far a stretch of the imagination to think that Nam was indeed arrested more so for being vocal on corruption as opposed to 'causing public disorder'. However, if these practices are to stop in a Communist state like Vietnam, then it is more than likely that there would have to be some form of foreign pressure to support local activists in the country."
Vietnamese fishermen call for action against China, Channel News Asia, July 30, 2019: "On Jul 20, the US State Department said it was concerned by reports of China's interference with oil and gas activities in the South China Sea, including Vietnam's long-standing exploration and production activities. In response, China's foreign ministry described the US comments as slanderous. A recent spate of articles in Vietnam's tightly controlled media has condemned Chinese activities as provocative and unacceptable. Social media users have also called on the government to launch a lawsuit against China."
EU looks past ASEAN for deals and pacts, David Hutt, Asia Times, August 2, 2019: "The problem with an EU-ASEAN FTA, analysts say, is that Brussels would lose its leverage over individual states as it is forced to treat all on the same terms. Indeed, given the widely discrepant standards of human rights and democracy in Southeast Asia, a one-size-fits-all deal would reward the worst offenders with better trade terms without asking for any political progress in return. But bilateral deals, such as the one signed with Vietnam in late June, means the EU can cherry-pick and more strictly enforce human rights reforms that it wants to see in return for improved trade terms."
IN CASE YOU MISSED IT

Provisions of the 2015 Criminal Code Used Against Activists by Level of Authority in 2019
The crackdown on dissent in Vietnam continues into 2019. Read 
our report
 on the human rights situation from January-June.
— 16 activists arrested
— at least 33 activists at risk in various harassment incidents
— 26 people tried (5 sentenced to 10+ years)
Fifty percent of charges against political prisoners in 2019 have been under Article 117 of the 2015 Criminal Code ("propaganda against the state"), followed by 14% under Article 331 (""abusing democratic freedoms"). The majority of activists were charged at the provincial/municipality level (see the above chart).
TAKE ACTION
Share Amnesty International's statement from March, when he was arrested, calling for the release of anti-corruption activist Ha Van Nam from prison. He was sentenced to 30 months in prison this week for peacefully protesting toll stations; six others were sentenced to between 18 and 36 months.
© 2019 The 88 Project
https://the88project.org/wp-content/uploads/2019/08/Nguyen-Dang-Minh-Man-and-mother_Facebook-Nguyen-Khanh.jpg
583
637
kayleedolen
https://the88project.org/wp-content/uploads/2019/01/88project.png
kayleedolen
2019-08-05 13:52:43
2019-08-05 13:52:43
Vietnam Free Expression Newsletter No. 31/2019 – Week of July 29-August 4