Vietnam Free Expression Newsletter No. 28/2020 – Week of July 13-19
Featured Image: Imprisoned journalist Le Anh Hung
Greetings from The 88 Project! We bring you news, analysis, and actions regarding human rights and civil society in Vietnam during the week of July 13-19. Nguyen Van Tuc's family was unable to complete their visit with Tuc in prison due to restrictions on the number of visitors and a broken phone, the type that is usually used to communicate with prisoners during visits. On July 31, eight defendants, some of whom are members of the Hien Phap group, will face trial nearly two years after their arrests. Imprisoned blogger Le Anh Hung continues to be forcibly medicated and was reported to be restrained recently as well. A state-run television channel denounced the group Vietnam Women for Human Rights. And local security officers summoned Can Thi Theu's son-in-law for questioning in an apparent bid to break into Facebook accounts. Vietnamese activists have released a letter calling for the EU to take action in response to the violent police raid in Dong Tam, and the US government released its official position on the maritime conflict in the South China Sea. In the news and analysis section, read two takes on the future of US-Vietnam relations. And please take action this week by sharing a joint letter calling on international governments to pressure Vietnam to reform its human rights practices following a string of recent arrests.
HUMAN RIGHTS & CIVIL SOCIETY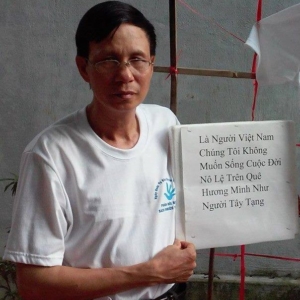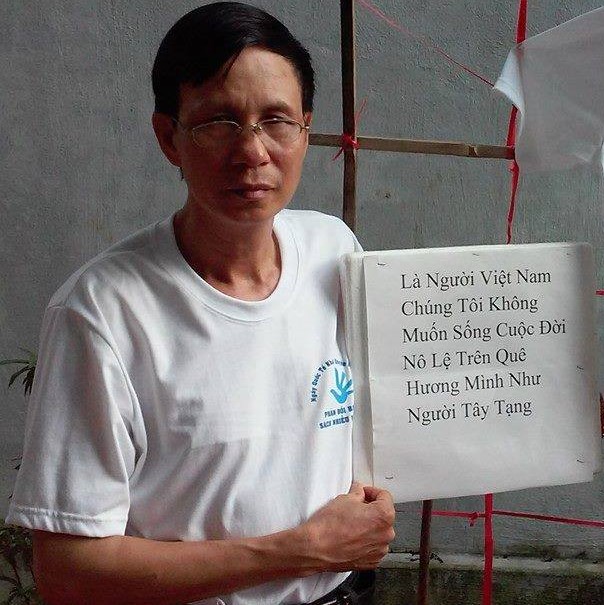 Political Prisoners
Political prisoner Nguyen Van Tuc's wife tried to visit him recently but was unable to due to the prison's restrictive policies. "On July 12, I went to Camp 6, Nghe An, with my two children to visit Tuc. The weather was very hot, we left at 1 pm and arrived at 7 am the next day. The police said they could only allow one person in, so I let my son go in and I stayed outside with my other child. My son said Tuc is very thin, only 50kg. Tuc could not sleep. My son said the [visitor's] phone stopped working after 5 minutes. The phone was broken during our last visit." They had traveled a long way but only one person was allowed to go in, and the phone broke after only five minutes. She asks for supporters to speak up for improved prison conditions. Tuc, a member of the Brotherhood for Democracy, is serving 13 years in prison. He is suffering from several health problems, including high blood pressure and spinal issues.


Top row from left: Hoang Thi Thu Vang, Doan Thi Hong, Ngo Van Dung
Bottom row: Do The Hoa, Le Quy Loc, and Ho Dinh Cuong
The first instance trial for eight defendants, some of whom are members of the Hien Phap constitutional rights group, will take place on July 31, according to the People's Court of Ho Chi Minh City. The defendants are: Nguyen Thi Ngoc Hanh, Hoang Thi Thu Vang, Doan Thi Hong, Ngo Van Dung, Do The Hoa, Le Quy Loc, Tran Thanh Phuong, and Ho Dinh Cuong. In September 2018 they were kidnapped by security police and charged with "disrupting public security." They were held incommunicado for many months, in violation of Vietnamese law, before their families were notified of their whereabouts. Afterwards, they were kept in isolation for another year. The group was formed in 2017 with the aim of educating the public about Vietnam's latest Constitution, which was approved in 2013. If convicted, some could face anywhere from 7 to 15 years in prison under Article 118 of the Constitution.
Le Anh Hung confined in detention. Source: Facebook Nguyen Thuy Hanh 
Le Anh Hung, a member of the Brotherhood of Democracy, was arrested in July 2018 on charges of "abusing democratic freedoms." He is still awaiting trial. In April 2019, Hung was transferred from jail to Hanoi's Mental Hospital No. 1, where he has been forced to take medication against his will. Insisting he is not suffering from mental health issues, Hung has resisted the medication. According to a fellow blogger named Nguyen Vu Binh, "Early this week, a nurse named An used a metal folding chair to beat him and then fastened him to his bed, injecting him with sedatives that left him unconscious."
Hung's mother, Tran Thi Niem, said she had called for her son's release from the mental ward in June 2019 but was not successful. She said after her visit in May last year she found out that her son was forced to take medication and that he was abused mentally and physically. It is not known when Hung's trial will take place. If convicted, he could face a sentence of up to seven years in prison.
This week, we remember the arrest and trial anniversaries of the following political prisoners:
Activists at Risk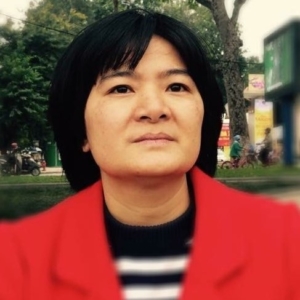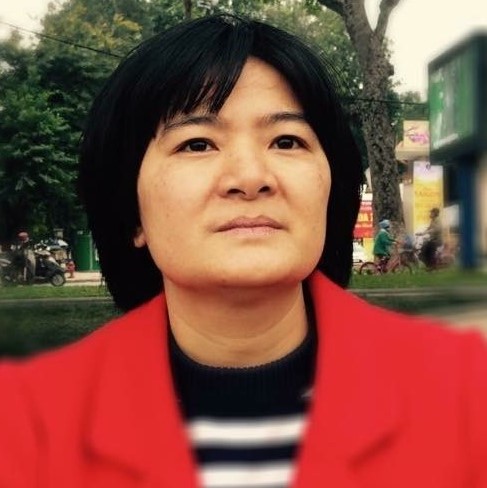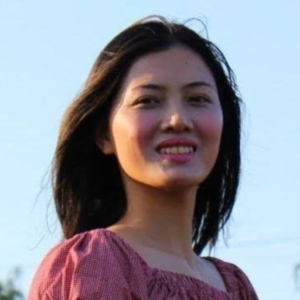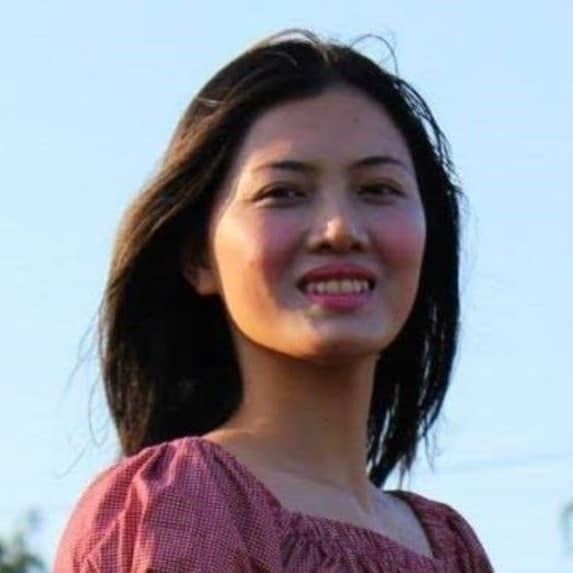 Tran Thi Nga and Huynh Thuc Vy
The group Vietnamese Women for Human Rights (VWHR) was publicly denounced as a "reactionary force" by the Indoctrination Committee of the Communist Party of Vietnam (VCP) on state-run channel National Defense Television on July 4, 2020. Such actions typically signal impending crackdowns. Formed in 2013, founders of VWHR have been targeted for attacks and persecutions by police. One of its founders, Tran Thi Nga, was sentenced to nine years in prison but was released and exiled to the US earlier this year. Several other founding members have also been persecuted, like Pham Thi Hong, the wife of Pastor Nguyen Cong Chinh, and blogger Huynh Thuc Vy.
On the religious front, Tran Ngoc Suong, a lay leader of the Cao Dai religion, was excommunicated by the state-run Cao Dai sect created by the Communist party in 1997. He was accused of trying to revive the church's Sacerdotal Council, which the government banned in 1978.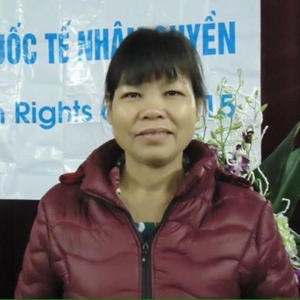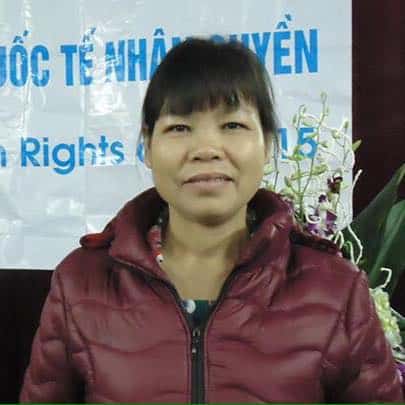 Can Thi Theu, Trinh Ba Tu, and Trinh Ba Phuong
On July 16, security police summoned Pham Xuan Truong, son-in-law of imprisoned land rights activist Can Thi Theu, to inquire about the phone number that his mother-in-law had been using. Truong's wife, Trinh Thi Thao, said "They asked my husband who was using one of the phone numbers under his name. He told them that he bought that SIM for my mother to use. Then they asked if he knew about the Facebook accounts belonging to my mother and to my brother Trịnh Bá Tư. They also warned us not to participate in activism, and told us my mother asked us to send her some medication."
Theu and her two sons, Trinh Ba Tu and Trinh Ba Phuong, were arrested on June 24, along with another woman, Nguyen Thi Tam, for "making, storing, and distributing materials against the government," Article 117 of the 2015 Criminal Code. They have been speaking out against the police raid on Dong Tam Village in January of this year. It is believed that the police wanted to use the phone numbers to get through the two-step security password on the Facebook accounts of the accused. Not long after they were arrested, all four of their Facebook accounts disappeared.
International Advocacy
A group of Vietnamese journalists and human rights activists released an open letter this week urging the EU to take action to remedy human rights issues as stipulated under the EU-Vietnam Free Trade Agreement, before it enters into force next month. The letter specifically focuses on the violent police raid in Dong Tam Commune in January 2020– which led to the arrest of dozens of land rights activists and the death of a local leader– and the aftermath of the raid, in which the government has harassed and detained many people for sharing news and advocating for a legal remedy to the situation. Read the letter here.
The US Department of State released its official position on the maritime conflict in the South China Sea, in which Vietnam is often embroiled. The statement takes a clear stance against China's contested claims, saying: "Today we are strengthening U.S. policy in a vital, contentious part of that region — the South China Sea. We are making clear: Beijing's claims to offshore resources across most of the South China Sea are completely unlawful, as is its campaign of bullying to control them."
Press Freedom
IJAVN's President Pham Chi Dung in a 2016 demonstration against China's aggressions in the China Sea. Source
Six months into 2020, the intensive crackdown against activists and journalists carried out by the Vietnamese government continues. Its latest victim includes arguably the last independent journalist organization in the country– the Independent Journalists Association of Vietnam. Read our in-depth analysis of the history of crackdowns on journalists and the highly-controlled journalism profession in Vietnam and why we expect to see little meaningful change moving forward unless international stakeholders advocate for abolishing state-controlled journalism.
In extreme irony, Hanoi last month saw its grand opening of a museum dedicated to press freedom. Costing nearly US$1 million to build, the carefully curated museum houses a collection of items designed to highlight the struggle for press freedom under French rule and artifacts and photos from the war era. The opening followed on the heels of the arrests of two independent journalists who have been critical of the government and its state-owned media monopoly. Vietnam is currently ranked 175th out of 180 in terms of press freedom, according to Reporters Without Borders, but that apparently did not deter museum director Tran Thi Kim Hoa from telling AFP: "With the press freedom law that the French brought to Vietnam, we have always been highly aware of what freedom of the press was."
NEWS & ANALYSIS
US, Vietnam ties have never been better, David Hutt, Asia Times, July 13, 2020: "Not everyone in Washington is happy with how successive US administrations have ignored Vietnam's abysmal human rights record. Representative Christopher Smith has noted that American diplomats 'are so focused on the fact that Vietnam is not China that this oppressive police state is granted trade and security benefits without conditionality.' This is hardly new, as Smith noted back in 2018, because historically America has 'overlooked civil rights abuses in countries when we are trying to have alliances that support our national security.' But today, Smith went on, "US policy has failed the Vietnamese people.'"
Will We See a US-Vietnam Strategic Partnership?, Bich T. Tran, The Diplomat, July 15, 2020: "Despite remarkable achievements, there are challenges in U.S.-Vietnam relations. Although Hanoi has improved its human rights record, concerns remain in several areas, including freedom of expression and labor rights. Members of the U.S. Congress, especially those whose constituencies include large Vietnamese American populations, have put pressure on the U.S. government to criticize Vietnam over rights issues. This leads to suspicion from Hanoi about a perceived 'peaceful evolution' — that U.S. support of pro-democracy dissidents and promotion of higher human rights standards aims at overthrowing the Vietnamese Communist Party."
US aircraft carriers return to South China Sea amid rising tensions, Channel News Asia/Reuters, July 17, 2020: "For the second time in two weeks, the United States has deployed two aircraft carriers to the South China Sea, the US Navy said on Friday (Jul 17), as China and the United States accuse each other of stoking tensions in the region. The USS Nimitz and USS Ronald Reagan carried out operations and military exercises in the waterway between Jul 4 and Jul 6, and returned to the region on Friday, according to a US Navy statement."
TAKE ACTION
Take action this week with The 88 Project and nine other international human rights organizations, urging Vietnam to move beyond repression of human rights advocates. "While the Vietnamese government has been widely lauded for its handling of the COVID-19 pandemic, with higher international standing comes greater obligations: Viet Nam must improve its appalling human rights record." Read the letter, and share it, here.
© 2020 The 88 Project
https://the88project.org/wp-content/uploads/2019/01/le-anh-hung_square_new.jpg
846
846
kayleedolen
https://the88project.org/wp-content/uploads/2019/01/88project.png
kayleedolen
2020-07-20 13:46:10
2020-07-20 13:46:10
Vietnam Free Expression Newsletter No. 28/2020 – Week of July 13-19