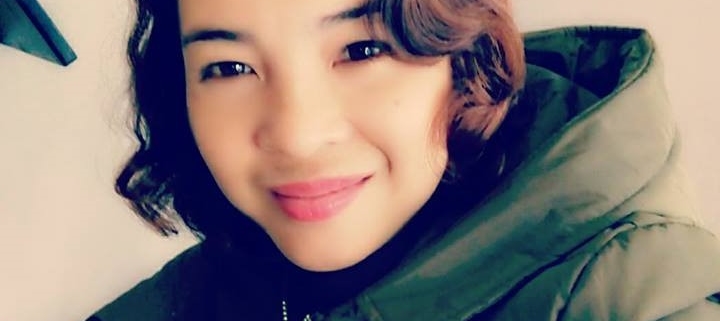 Vietnam Free Expression Newsletter No. 29/2020 – Week of July 20-26
Greetings from The 88 Project! We bring you news, analysis, and actions regarding human rights and civil society in Vietnam during the week of July 20-26. The appeal trial for two BOT protesters has been delayed. Legal Initiatives for Vietnam has launched a new database focusing on violations of religious freedom. And despite its dismal human rights record, Vietnam attended the 44th session of the UN Human Rights Council. In the news and analysis section, read about US-Vietnam and Vietnam-China relations. Coming up this week, eight defendants face trial– some for their activities as part of the Hien Phap rights group– almost two years after their initial arrests. In case you missed it, check out our analysis of the journalism profession in Vietnam and the state of press freedom. And please take action by sharing The 88 Project and nine other organizations' open letter urging Vietnam to cease repression of journalists, land rights defenders, and other activists.
HUMAN RIGHTS & CIVIL SOCIETY
Political Prisoners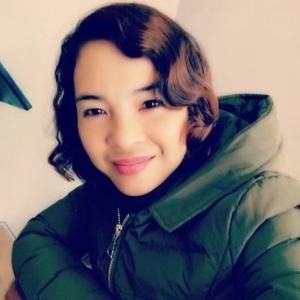 Dang Thi Hue
On July 21, Hanoi's higher court delayed for the second time the appeal trial of Dang Thi Hue and Bui Manh Tien on charges of "disturbing the peace" for protesting against Build Operate Transfer (BOT) toll booths. The reason given for the delay was that one defendant did not show up. Hue said that Tien, her driver, never received a summons from the higher court. In May, a lower court in Soc Son District found the two guilty and sentenced them each to 15 months in prison. The next court date may potentially be July 29, 2020. Many have criticized the locations of thes BOT toll booths, alleging that they are being charged with or without using the new road built by BOT companies. They also believe that this lucrative business (which can generate billions of Vietnam Dongs per day – approximately 50,000 USD to 100,000 USD per day) is corrupted by cronyism.
This week, we remember the arrests and trial anniversaries of the following political prisoners: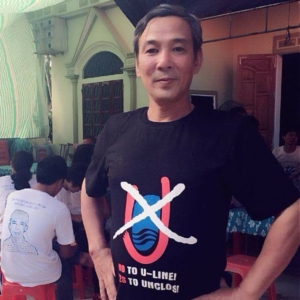 Le Dinh Luong, democracy and environmental activist, arrested, July 24, 2017, and sentenced to 20 years in prison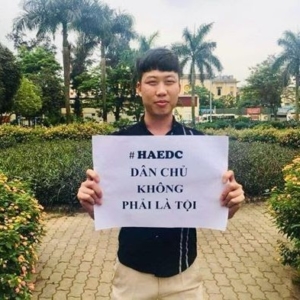 Ha Hai Ninh, civil society activist tried July 23, 2019; little information is currently available about his case
Defendants at trial on July 23, 2018, Source: Infonet
International Advocacy
Legal Initiatives for Vietnam (LIV), a non-profit organization based in California, has launched a Database on Religious Freedom in Vietnam. The database will be updated regularly to document cases related to violations of religious freedom. LIV is the organization that oversees Luật Khoa tạp chí (Law Magazine) and The Vietnamese. Vietnam has a wide range of religions and sects; many resist folding into state-sanctioned churches and therefore are considered illegal. Activities deemed reactionary by the government could be anything from land disputes to ethnic-based resistance efforts, and even practices by Falun Gong members which make up a large number of cases currently. Readers can read about and report on cases.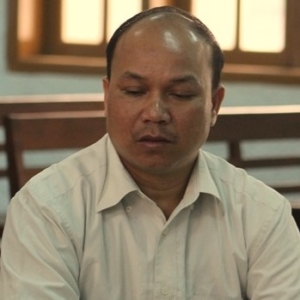 A Dao
This year's Vietnam Advocacy Day, organized by BPSOS, will feature three series of webinars as follows:
1. Friday, July 31: Freedom of Religion and Belief, and the Rights of Indigenous Peoples.
2. Friday, August 7: Freedom of Expression, Press and the Internet; Prisoners of Conscience and Torture.
3. Friday, August 14: Human Rights mechanisms and sanctions regimes.
Speakers lined up for the first webinar are:
1. James Carr, member of US Commission on International Religious Freedom (USCIRF), who  is a sponsor of ethnic Baptist minister A Dao from Tay Nguyen (the Highlands);
2. U.S. Representative Glenn Grothman (R-WI) who will discuss the current situation in Tay Nguyen and the Hmong ethnic group;
3. Attorney Anurima Barghava, member of USCIRF, who traveled to Tay Nguyen in September of last year to see how Vietnam implements its law on Religious Rights. After that trip, USCIRF issued a report stating that the law violates international standards and recommended that Vietnam be put on the CPC list of countries of particular concern.
To register for this webinar, please go to this link. For future webinars, click here.
Despite its numerous documented cases of human rights violations, Vietnam participated in the UN Human Rights Council's 44th Session in Geneva, Switzerland. During the three-week event which ended last week, Ambassador Le Thi Tuyet Mai led a delegation in attending nine working sessions and meetings. The delegates made speeches touting the country's commitment to and protection of human rights, "with priorities given to vulnerable groups" in society — particularly children and the elderly.
As ASEAN chair for 2020, the delegation also represented the group in addressing a variety of subjects related to human rights in the era of COVID-19. The session concluded with participants approving two Universal Periodic Reviews. At the 41st Session held last year, Vietnam said it "accepted 241, or 83%, of the 291 human rights recommendations," although it isn't clear how many of those have actually been implemented or followed.
NEWS & ANALYSIS
Advancing US-Vietnam Relations: Past, Present, and Future, Prashanth Parameswaran,The Diplomat, July 15, 2020: "Lastly, the occasion should also serve as a reminder of the work that remains to be done, which policymakers on both sides are well aware of. Some of this involves the bilateral relationship itself, be it speeding up the pace of defense cooperation or reinvigorating economic ties, an agenda item that Vietnam's Ambassador to the United States Ha Kim Ngoc has highlighted following the loss of steam following the U.S. withdrawal from the Trans-Pacific Partnership and broader regional concerns about some aspects of the Trump administration's foreign policy. But other aspects involve managing the broader environment in which the U.S.-Vietnam relationship develops, be it the strategic landscape in the Asia-Pacific, with an increasingly assertive China making gains in the security domain, or the domestic dynamics of two different political systems with differences in areas such as human rights, which will be at play as the United States holds presidential elections in November 2020 and Vietnam holds its quinquennial Party Congress in early 2021."
Did China Block Vietnam Offshore Oil Contract?, Ralph Jennings, Voice of America, July 20, 2020: "London-based drilling contractor Noble Corp. said July 9 its Noble Clyde Boudreaux semi-submersible had cancelled a previously announced project with Vietnam. News reports placed the drilling site off Vietnam's east coast in a zone watched by Chinese survey vessels. It's unclear whether officials from Beijing forced the cancelation, but they have pressured other Vietnamese seabed oil drilling contracts in the past. The two countries contest nearby tracts of the broader South China Sea."
Covid-19 could loosen communist rule in Vietnam, David Hutt, Asia Times, July 23, 2020: "That divide, which did indeed worsen after 2013, is now likely to widen further because of economic interruption caused by the Covid-19 pandemic. It may also cause the Communist Party to rethink how it views social welfare and its own role in society."
COMING UP
Le Quy Loc, Ngo Van Dung, and Doan Thi Hong
The first instance trial for eight defendants
, some of whom are members of the Hien Phap constitutional rights group, will take place on July 31, according to the People's Court of Ho Chi Minh City. The defendants are: 
Nguyen Thi Ngoc Hanh
, 
Hoang Thi Thu Vang
, 
Doan Thi Hong
, 
Ngo Van Dung
,
 Do The Hoa
, 
Le Quy Loc
, 
Tran Thanh Phuong
, and 
Ho Dinh Cuong
. In September 2018 they were kidnapped by security police and charged with "disrupting public security." The group was formed in 2017 with the aim of educating the public about Vietnam's latest Constitution, which was approved in 2013. If convicted, some could face anywhere from seven to 15 years in prison under Article 118 of the Constitution. 
According to Defend the Defenders
, two members of the defendant group– Loc and Dung– were beaten so harshly at Phan Dang Luu Temporary Detention Center that they had to be sent for external treatment for several days at a hospital; in addition, Doan Thi Hong has reported extremely difficult prison conditions, possibly even torture.
IN CASE YOU MISSED IT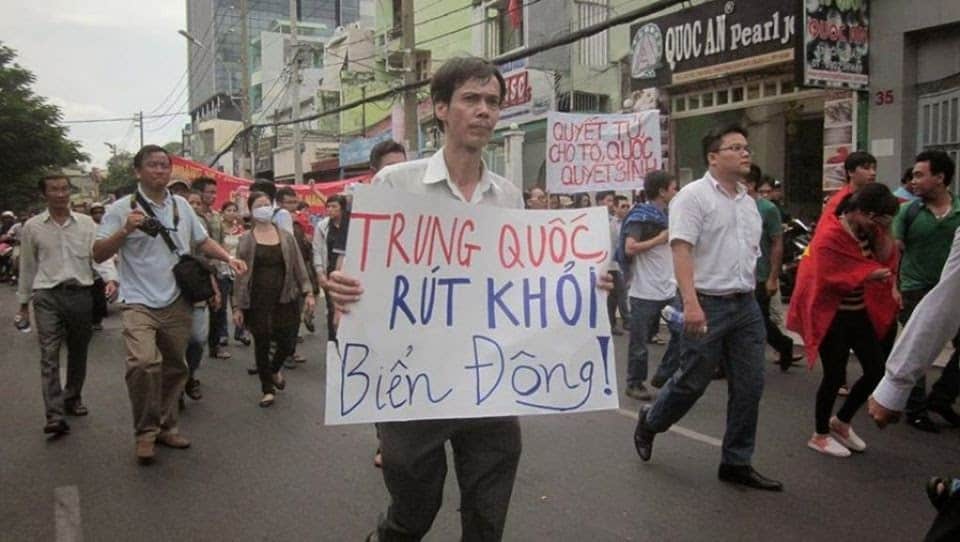 IJAVN's President Pham Chi Dung in a 2016 demonstration against China's aggressions in the China Sea. 
Source
Six months into 2020, the intensive crackdown against activists and journalists carried out by the Vietnamese government continues. Its latest victim includes arguably the last independent journalist organization in the country– the Independent Journalists Association of Vietnam. 
Read our in-depth analysis
 of the history of crackdowns on journalists and the highly-controlled journalism profession in Vietnam and why we expect to see little meaningful change moving forward unless international stakeholders advocate for abolishing state-controlled journalism.
TAKE ACTION
Take action this week with The 88 Project and nine other international human rights organizations, urging Vietnam to move beyond repression of human rights advocates. These organizations include the
 International Publishers Association
, which awarded the targeted Liberal Publishing House its prestigious Prix Voltaire Award in June. The letter states: "We remind the Vietnamese authorities that as a State party to the International Covenant on Civil and Political Rights (ICCPR), it is obliged to protect, promote, and fulfill the rights to free expression, opinion, and information under article 19 of the ICCPR." Read the letter, and share it, 
here
.
© 2020 The 88 Project
https://the88project.org/wp-content/uploads/2019/11/Dang-Thi-Hue_Facebook-Dang-Thi-Hue_square.jpg
720
720
kayleedolen
https://the88project.org/wp-content/uploads/2019/01/88project.png
kayleedolen
2020-07-27 13:43:05
2020-08-02 15:26:18
Vietnam Free Expression Newsletter No. 29/2020 – Week of July 20-26