Can Thi Theu
Current Status: Sentenced to prison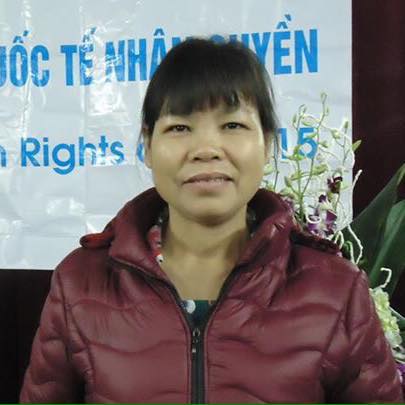 Other Names: Cấn Thị Thêu
Date of Birth: August 14, 1962
Gender: F
Ethnicity: Kinh
Last Known Prison: Cham Mat Detention Center
Areas of Activism:
Communities At Risk:
Highlighted Human Rights Concerns:
Solitary Confinement
Former Political Prisoner
Denial of Adequate Medical Treatment or Supplies
Prolonged Incommunicado Detention
Harsh Physical and Administrative Conditions
September 2021:
The appeals hearing for Can Thi Theu and Trinh Ba Tu has been scheduled for September 17, 2021. They were convicted of "anti-state propaganda" in May and were sentenced to eight years each. Tu's sister, Trinh Thi Thao, said that investigators were told her brother if he admitted guilt that he could have his sentence reduced to six years. It is not clear if family members will be allowed into the alleged open trial.
***
Update: On September 13, the family of Can Thi Theu and Trinh Ba Tu requested that their appeal trial, scheduled for September 17, be postponed due to COVID-19. The current lockdown requirements, they said, make it too difficult for the family and the lawyers to travel to attend the trial. They did not receive any response from the court. As a result, the family had to leave its house at 4am on the morning of September 17, according to daughter Trinh Thi Thao, and had to travel 100km to the courthouse. When they arrived, they were told verbally that the trial had been postponed. There was no official notice of any kind.
July 2021:
Can Thi Theu's daughter, Trinh Thi Thao, reported that her mother was put in solitary confinement under harsh summer conditions in a Hanoi prison. Her request to send her mom an electric fan was denied by prison officials. Theu asked to see a lawyer, but her request was ignored.
Later in the month, Thao sent another letter of complaint to the Hoa Binh Prison authorities requesting that the illegal isolation confinement of her mother and brother be stopped. In her letter, she accused prison guards of abusive treatment during the hot summer months and reminded them that by law those in temporary detention are allowed one family visit and one call home a month.
Details - Background, History of Activism, Family Situation.
Arrested April 25, 2014. Sentenced to 1 year 3 months in prison under Art. 104 (1999 Code), Art. 257 (1999 Code). Released July 27, 2015.
Arrested June 11, 2016. Sentenced to 1 year 8 months in prison under Art. 245 (1999 Code). Released February 10, 2018.
September 19, 2018: watched by local commune officials
July 12, 2019: beaten by thugs when visiting prison No. 6
March 5, 2020: harassed at family home regarding household registration process
Arrested June 24, 2020. Sentenced to 8 years in prison and 3 years probation under Art. 117 (2015 Code). Expected Release is June 24, 2028.
Profile last updated: 2021-09-20 15:05:26