Can Thi Theu
Current Status: Sentenced to prison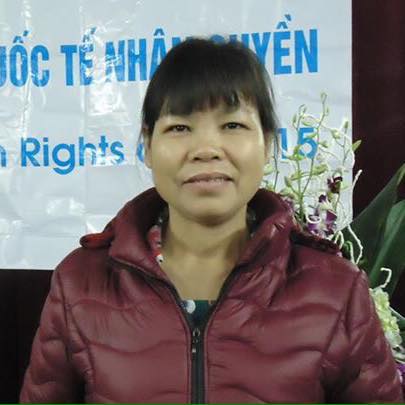 Other Names: Cấn Thị Thêu
Date of Birth: August 14, 1962
Gender: F
Ethnicity: Kinh
Last Known Prison: Cham Mat Detention Center
Areas of Activism:
Communities At Risk:
Highlighted Human Rights Concerns:
Former Political Prisoner
Denial of Adequate Medical Treatment or Supplies
Prolonged Incommunicado Detention
Harsh Physical and Administrative Conditions
May 2021:
A court in Hoa Binh Province sentenced land rights activists Can Thi Theu and her son Trinh Ba Tu to eight years in prison each, with three years of probation to follow, for conducting "anti-state propaganda" under Article 117 of the 2015 Criminal Code. The trial lasted just a few hours. Two relatives were allowed into the courtroom, but Theu's husband, Trinh Ba Khiem, was not.
Their lawyer, Manh Dang, reported that in front of the judges, his clients stated their name as "Victim of Communism," maintained their innocence, and reiterated that they only spoke the truth. He said their level of defiance is something he'd never witnessed in a courtroom before.
After the trial, Theu's daughter reported that her mother is being held in a small cell with common criminals, some of whom allegedly are HIV-positive. She was denied a request to be tested after trying to break up a fight between other prisoners, which caused her to bleed.
Details - Background, History of Activism, Family Situation.
Arrested April 25, 2014. Sentenced to 1 year 3 months in prison under Art. 104 (1999 Code), Art. 257 (1999 Code). Released July 27, 2015.
Arrested June 11, 2016. Sentenced to 1 year 8 months in prison under Art. 245 (1999 Code). Released February 10, 2018.
September 19, 2018: watched by local commune officials
July 12, 2019: beaten by thugs when visiting prison No. 6
March 5, 2020: harassed at family home regarding household registration process
Arrested June 24, 2020. Sentenced to 8 years in prison and 3 years probation under Art. 117 (2015 Code). Expected Release is June 24, 2028.
Profile last updated: 2021-05-25 02:48:00