Can Thi Theu
Current Status: Pre-trial detention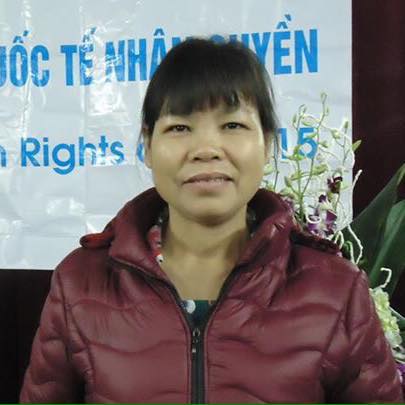 Other Names: Cấn Thị Thêu
Date of Birth: August 14, 1962
Gender: F
Ethnicity: Kinh
Last Known Prison: Cham Mat Detention Center
Areas of Activism:
Communities At Risk:
Highlighted Human Rights Concerns:
Former Political Prisoner
July 2020:
On July 16, security police summoned Pham Xuan Truong, son-in-law of Can Thi Theu, to inquire about the phone number that his mother-in-law had been using. Truong's wife, Trinh Thi Thao, said "They asked my husband who was using one of the phone numbers under his name. He told them that he bought that SIM for my mother to use. Then they asked if he knew about the Facebook accounts belonging to my mother and to my brother Trinh Ba Tu. They also warned us not to participate in activism, and told us my mother asked us to send her some medication."https://the88project.org/profile/449/trinh-ba-phuong/
Details - Background, History of Activism, Family Situation.
Arrested April 25, 2014. Sentenced to 1 year 3 months in prison under Art. 104 (1999 Code), Art. 257 (1999 Code). Released July 27, 2015.
Arrested June 11, 2016. Sentenced to 1 year 8 months in prison under Art. 245 (1999 Code). Released February 10, 2018.
September 19, 2018: watched by local commune officials
July 12, 2019: beaten by thugs when visiting prison No. 6
March 5, 2020: harassed at family home regarding household registration process
Arrested June 24, 2020. Charged under Art. 117 (2015 Code).
Profile last updated: 2021-02-22 00:40:05