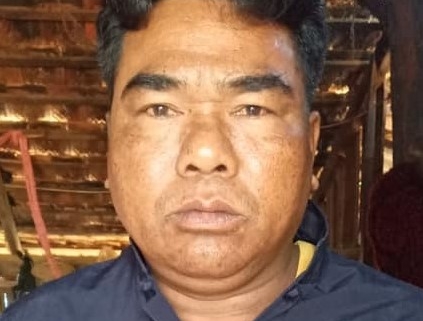 Vietnam Free Expression Newsletter No. 10/2020 – Week of March 2-8
Y Ngun Knul, Source: Nguyen Kim Thanh Facebook
Greetings from The 88 Project! We are bringing you news, analysis, and actions regarding human rights and civil society in Vietnam during the week of March 2-8. Chau Van Kham, Nguyen Van Vien, and Tran Van Quyen's appeals of their 12, 11, and 10-year prison sentences were denied this week. On March 18, music teacher Nguyen Nang Tinh will face an appeal of his 11-year sentence. Long-serving Montagnard political prisoner Y Ngun Knul was released from prison this week but is in very poor health. We have updates from prison from democracy activist Nguyen Van Tuc and environmental activist Hoang Duc Binh. In addition, several activists and communities are at risk this week, including blogger Bui Thanh Hieu and land rights activist Trinh Ba Phuong. We also have updates on the statuses of some of the people arrested in the violent raid on Dong Tam commune on January 9, 2020. In international advocacy, read Freedom House's latest report and check out an interactive feature on imprisoned women journalists from the Committee to Protect Journalists. In the news, read about dissident musician Mai Khoi and the recent US Navy aircraft carrier visit to Vietnam. Coming up, tomorrow dissident blogger Truong Duy Nhat faces trial after his original trial on February 28 was postponed. Please take action for Nhat ahead of his trial. And on this International Women's Day, we think of the 75 female political prisoners and activists at risk in Vietnam who risk their safety to further their visions for peaceful change in Vietnam.
HUMAN RIGHTS & CIVIL SOCIETY
Political Prisoners
Chau Van Kham (left) and Tran Van Quyen at trial, Source: Vietnam News Agency/AFP
On March 2, 2020, the High People's Court, Ho Chi Minh City branch, 
upheld the decisions from lower courts
 in the case of 
Chau Van Kham
, 
Nguyen Van Vien
, and 
Tran Van Quyen
, upholding also their prison sentences of 12, 11 and 10 years, respectively. Kham, Vien, and Quyen were accused of being involved in "terrorist activities against the people's regime." They are allegedly members of Viet Tan, a pro-democracy political organization which is considered a terrorist group by Vietnamese government. Kham is an Australian citizen and was accused of using a 
fake ID
 to go to Vietnam; 
he argues that other than this, he has committed no crime
 and only wishes for improved conditions in Vietnam. He is facing 
several health issues
. Vien and Quyen were accused of receiving money from Kham. Many attorneys have said that the sentences and accusations are harsh and arbitrary.

Y Ngun Knul, Source: Nguyen Kim Thanh Facebook
Y Ngun Knul, who was sentenced to 18 years of prison (later slightly reduced), was released from prison on February 28, 2020.  Knul is reportedly in critical health and suffering severe kidney failure, gastritis, foot issues, and high blood pressure. Knul was imprisoned far away from his home in Dak Lak province. Throughout his prison sentence, his family had such difficulty travelling to see him that they were only able to visit four times; they also lost their home. Knul was arrested for participating in demonstrations demanding freedom of religion for the Montagnard Protestant community.

Nguyen Nang Tinh at trial on November 15, 2019, Source: State media via Radio Free Asia
Music teacher Nguyen Nang Tinh will appeal his 11-year prison sentence on March 18, 2020 in the People's Court of Nghe An. Tinh was arrested in May 2019, targeted for his Facebook posts with alleged "anti-state" content and teaching students songs with "reactionary" lyrics. At his original trial in November, Trinh Vinh Phuc, Tinh's defense lawyer, reported that Tinh was very calm and determined, stating: "10 years, 20 years… No matter how harsh the sentence will be, I will never change my opinions."

In a letter sent to his family, political prisoner Nguyen Van Tuc said that his health seems to have worsened since he has not received any proper medical treatment from the prison. Currently held in Prison Camp 6, Nghe An province, Tuc wrote that his hemorrhoids have continued to worsen, his high blood pressure is now being treated with two antibiotic pills everyday, and his degenerative spine disease has not improved. Yet, he thanked the community and other activists that have helped him while he is in prison and looks forward to meeting with his family after the visit restriction is lifted once the current coronavirus outbreak ends. Tuc is a member of the Brotherhood for Democracy who is serving a 13-year prison sentence for his peaceful activism.

On March 4, 2020, the family of political prisoner Hoang Duc Binh received his letter dated February 2, 2020. Writing from An Diem Prison, Quang Nam province, Binh said that the prison officials always check his letters before sending them out, violating his privacy and personal freedom. More importantly, they even summon Binh and interrogate him about the contents of the letters. However, he noted that he has been able to receive most of the books sent to him, and he also sent his Lunar New Year greetings to friends, activists, and supporters who have helped and written many letters to him during his imprisonment. Binh is a labor and environmental rights activist who was jailed in the wake of Formosa environmental disaster and sentenced to 14 years in prison.

On March 3, 2020, Nguyen Phu An Duong, the wife of political prisoner Nguyen Ngoc Anh (above), was again "invited" to work with the local public security about her online posts and current activities. They insisted that this meeting was urgent and related to her husband's condition, so Duong decided to go to the meeting to obtain more information. However, at the meeting, they mostly tried to interrogate her about her online posts and her activities. An Duong and the wives of many political prisoners have organized a small association to support each other. Ms. Duong declined to answer the authorities' questions and left. This was not the first time authorities have used such tactics to harass her. Engineer Nguyen Ngoc Anh has faced severe mistreatment behind bars since his arrest in August 2018. Authorities transferred Anh to a new prison in January without notifying his family in advance. When his wife finally was able to see him, he reported that he had recently been physically assaulted by prison officers.
This week, we remember the arrest and trial anniversaries of the following political prisoners:

Vu Quang Thuan (right) and Nguyen Van Dien (left), members of the National Movement to Revive Vietnam, arrested March 2, 2017, and sentenced to 8 and 6 1/2 years in prison, respectively
Ha Van Nam, driver and anti-corruption BOT protesters, arrested March 3, 2019, and sentenced to 2 1/2 years in prison
Three of the protesters at their appeal trial in July 2019, Source: RFA Vietnamese
Activists at Risk
Well-known blogger Bui Thanh Hieu, pen name Nguoi Buon Gio, 
has reported that he will stop writing
 due to mounting harassment against his family in Vietnam. Hieu is based in Germany, but his elderly mother in Vietnam has recently been singled out by the police. He explained the reasoning behind his decision in a Facebook post to his followers. 
Reporters Without Borders
 said of the case: "We urge foreign diplomats based in Hanoi, above all the German embassy, to closely monitor the harassment of Bui Thanh Hieu's family."
Catholic priest 
Nguyen Van Ly has suffered from a heart attack
 and is in a worrisome health condition, per reports from a family member. Ly was previously imprisoned several times yet continues his activism efforts. He supported Bloc 8406 and many other civil society efforts.
Community at Risk

Trinh Ba Phuong
Activist Trinh Ba Phuong and attorneys involved in the Dong Tam incidents were able to confirm the conditions of several villagers arrested in the January 9, 2020 raid:
Le Dinh Chuc: According to Attorney Le Van Hoa, Chuc is still alive, contrary to a number of rumors saying that he was killed in the raid on January 9, 2020. However, he is now partially paralyzed and also suffers from a serious concussion. Attorney Hoa is concerned about Chuc's mental stability and memory capacity. This could confirm the brutality of the attack he suffered during the raid.
Le Dinh Cong: Cong seems to have recovered from his injuries since his previous appearance on national television.
Bui Viet Hieu: According to Attorney Ha Huy Son, Hieu (born in 1947) is suffering from severe injuries. He had to go through many surgeries. However, he has received the money and personal supplies that his family sent him.
On January 9, 2020, security officers entered the area of Dong Tam Commune while its residents were still asleep and began a widespread and violent attack against the community. The raid resulted in the death of village leader Le Dinh Kinh (the father of Chuc adn Cong) and the detention and prosecution of 
22 villagers
 on charges of "murder" and "acting against officials in the performance of public duties." The Dong Tam area is home to a longstanding land conflict between locals and the authorities over the use of airport land that has traditionally been agricultural land.

Du Thi Thanh and Le Dinh Kinh, Source: BBC Vietnamese
Le Dinh Kinh's widow, Du Thi Thanh, sent a petition this week to the authorities asking for more details on both her husband's death and the status of arrested family members. Local authorities "invited" Trinh Ba Phuong to work with them this week, but he declined. Phuong has been a vocal supporter of the community in the aftermath of the raid and is a well-known land rights activist.
On March 1, 2020, when Trinh Ba Phuong was travelling home with his wife, the local residential leader gave him another invitation to work with local authorities, this time for his posts and information about the land dispute in Duong Noi, where he lives and works. He noted that he has been all too familiar with these tactics, and they might try to frame him again on charges of "acting against public officials" or "disrupting public order." He said that they tried this once back in 2016, and on January 9, 2020, a plainclothes police official named Nguyen Van Binh also tried to attack and frame him for the above mentioned crimes. Duong Noi is home to another high-profile land dispute between its residents and the authorities.
International Advocacy
In its latest report, Freedom House has once again listed Vietnam as "Not Free" in terms of political rights and civil liberties. Under the former category, Vietnam scored a mere 3/40, and in the latter, a 17/60, making its total score 20/100. This is unchanged from last year's report. Read more, here.

Tran Thi Nga and Huynh Thuc Vy
The Committee to Protect Journalists featured Tran Thi Nga and Huynh Thuc Vy in their interactive feature on the 32 women journalists in prison worldwide. Check it out, here. Tran Thi Nga is labor rights activist and blogger who was released early from her nine-year prison sentence earlier this year. And Huynh Thuc Vy is a blogger and co-founder of Vietnamese Women for Human Rights. She was sentenced to two years and nine months in prison, which she will have to serve once her youngest child turns three.
NEWS & ANALYSIS
Vietnam's own 'Lady Gaga' is a controversial singer who is barred from performing at home
 (audio story), PRI, April Peavey, March 6, 2020: "Vietnamese authorities have raided her private concerts twice, Khoi says, and impacted her freedom to earn a living from music. 'They isolate me from the community. The national media stopped talking about me. No one dared to book me to sing,' Khoi said. Despite not being able to perform in Vietnam, Khoi travels abroad to perform her music and stays positive. 'When artists can't perform, it hurts so much. But it makes you want to create more,' Khoi said."
Background Briefing: Vietnam: Significance of 2nd Visit by U.S. Navy Aircraft Carrier, Carlyle A Thayer, March 3, 2020: "In 2019 the U.S. unsuccessfully lobbied Vietnam to approve the visit of a U.S. aircraft carrier on an annual basis. This proposal was part of a larger U.S. diplomatic initiative to raise bilateral relations to a strategic partnership. It is likely that China's intrusion into Vietnam's Exclusive Economic Zone in waters near Vanguard Bank for several months last year proved to be a tipping point. Late in the year Vietnam released a White Book entitled 2019 Viet Nam National Defence. This policy document declared, 'Viet Nam will consider developing necessary, appropriate defence and military relations with other countries…' The hosting of the USS Theodore Roosevelt from 5-8 March is the likely outcome of this new declaratory policy."
What Does a Second Aircraft Carrier Visit Mean for US-Vietnam Relations?, Prashanth Parameswaran, The Diplomat, March 4, 2020: "To be sure, this aircraft carrier visit should not detract from the broader realities in U.S.-Vietnam ties. As I have observed before, the challenges for U.S.-Vietnam ties that have complicated ongoing efforts, including the official elevation of relations to a strategic partnership, lie more outside the defense realm, be it trade tensions or Vietnam's continued commitment to carefully balancing ties between various powers in line with its various domestic, regional, and international realities. More broadly, some in Hanoi continue to be uncertain about the current status and future trajectory of Washington's commitment on issues such as China and the South China Sea, as well as how China will react to Vietnam's moves. Seen from this perspective, the gap between the first and second carrier visits also illustrates the "slowly but surely" progress of defense ties, which is partly the consequence of these broader dynamics."
COMING UP
Truong Duy Nhat at the trial on February 28, 2020 in Hanoi. Source: tuoitre.vn
The trial of 
Truong Duy Nhat
, originally scheduled for February 28, was 
rescheduled to March 9
, due to the absence of lawyers and concerned parties. The decision to reschedule was announced 10 minutes into the trial. As we reported in our 
previous newsletter
, one of Truong Duy Nhat's lawyers, attorney Ngo Anh Tuan, had not received any official notice about the trial from the court, resulting in his inability to prepare for the trial on time. And as the coronavirus pandemic is yet to be controlled, the attorneys requested the court to postpone this trial. Right after the rescheduling announcement, the court clerk 
served the summons
 to attorney Ngo Anh Tuan to attend the trial on March 9. Truong Duy Nhat is a prominent dissident journalist who was forcibly kidnapped from Thailand while applying for asylum there in January 2019; he has been awaiting trial for an alleged fraudulent land purchase ever since in what many believe is a politically-motivated case.
TAKE ACTION

Take action for Truong Duy Nhat, who faces trial in the coming week. Share your support for him on social media and take action with Amnesty International to call for a complete investigation by the Thai authorities into his abduction.
© 2020 The 88 Project
https://the88project.org/wp-content/uploads/2020/03/Y-Ngun-Knul_Facebook-Source-Nguyen-Kim-Thanh_square.jpg
422
423
kayleedolen
https://the88project.org/wp-content/uploads/2019/01/88project.png
kayleedolen
2020-03-09 22:44:59
2020-03-11 12:52:11
Vietnam Free Expression Newsletter No. 10/2020 – Week of March 2-8