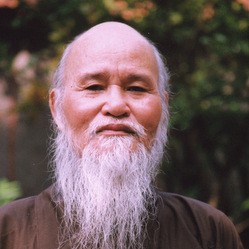 Vietnam Free Expression Newsletter No. 8/2020 – Week of February 17-23
Featured Image: the Venerable Thich Quang Do
Greetings from The 88 Project! We are bringing you news, analysis, and actions regarding human rights and civil society in Vietnam during the week of February 17-23. The Venerable Thich Quang Do, patriarch of the Unified Buddhist Church of Vietnam, died this week after more than 15 years under house arrest. Journalist Truong Duy Nhat is set to face trial on February 28, but his lawyers have asked for a postponement. Many observers consider the case against him to be politically motivated. Eight activists will also face trial on March 10 after their first two trials were postponed; some of the eight are members of the Hien Phap civil society group. Human rights lawyer Tran Vu Hai and his wife's sentences of one year of house arrest were upheld this week. Authorities harassed Du Thi Thanh, widow of slain land rights activist Le Dinh Kinh, at her home this week as well, in violation of the Minnesota Protocol on the Investigation of Unlawful Death. In international advocacy, human rights organizations submitted materials ahead of the EU-Vietnam human rights dialogue this week. And in the news, read about Vietnam's relations with the UK and Russia. Take action for Truong Duy Nhat this week ahead of his scheduled trial.
HUMAN RIGHTS & CIVIL SOCIETY
Political Prisoners
The People's Court of Ha Noi City has announced that the trial against journalist 
Truong Duy Nhat
 will be held on February 28, 2020. However, up until this point, only attorney Dang Dinh Manh has received the Court's decision on the first-instance trial, while attorney Ngo Anh Tuan has yet to receive any official update from the court, resulting in his inability to prepare for the trial on time. In addition, as the coronavirus pandemic is yet to be controlled, the attorneys requested the court to postpone this trial. Attorney 
Le Cong Dinh
 also 
notes
 that the People's Court of Ha Noi City has no jurisdiction over the case, since the alleged crime was committed in Da Nang, not Ha Noi. He asserts that the judgment could be considered null and void.
Truong Duy Nhat worked as a journalist for state-run media before leaving to start his own blog, Một Góc Nhìn Khác ("A Different Viewpoint"). In 2013, he was arrested for this blog, which often featured content critical of the state, and was later sentenced to two years in prison on charges of "abusing democratic freedoms" under Article 258 of the 1999 Criminal Code. Prior to his most recent arrest, he had recently been working as a Vietnamese-language contributor for Radio Free Asia. In January 2019, he was kidnapped from Thailand, where he had been attempting to apply for asylum, and was forcibly returned to Vietnam.

Luu Van Vinh
On February 18, 2020, the wife of political prisoner Luu Van Vinh visited him in Gia Trung prison camp, Gia Lai, and was notified that Vinh was moved to another block, allegedly because he opposed the way they treated his daily diet and made it inedible. The new prison block is for prisoners convicted of economic crimes, and they seem to have alienated Vinh. Vinh and his friend, Nguyen Van Duc Do, were both arrested for their roles in protesting Chinese activity in the South China Sea and the toxic Formosa spill that began in April 2016. Vinh founded a group called the Coalition for Self-Determination for Vietnamese People but had allegedly left the group prior to his arrest; he was sentenced to 15 years in prison and Nguyen Van Duc Do to 11 years.
Eight activists will face trial by the People's Court of Ho Chi Minh City on March 10 on charges of "disrupting security" under Article 118 of the 2015 Criminal Code. The eight have been detained without trial for almost a year and a half. Authorities have previously 
postponed the trial
 twice. The group of eight defendants includes 
Nguyen Thi Ngoc Hanh
,
 Hoang Thi Thu Vang
, 
Do The Hoa
, 
Ho Dinh Cuong
, 
Tran Thanh Phuong
, 
Ngo Van Dung
, 
Doan Thi Hong
 and 
Le Quy Loc
. Some are members of the Hien Phap group, established on June 16, 2017, with the aim to promote peoples' understanding of their human rights under the 2013 Constitution. The Hien Phap members were arrested after planned protests in September 2018.
Tran Vu Hai at his appeal trial, Source: Defend the Defenders
On February 21, 2020, the People's Court of Khanh Hoa Province 
denied
 lawyer 
Tran Vu Hai
 and his wife Ngo Tuyet Phuong's appeal of the one-year house arrest sentences for tax evasion. The tax authority itself did not request that the public security in Nha Trang investigate suspicious tax evasion activities. This, combined with the fact that Hai had previously agreed to represent dissident blogger 
Truong Duy Nhat
, leads many to believe that the charges against them are politically-motivated. After the appeal trial, Hai posted on his Facebook page a 
summary
 of his 60-minute final statement before the trial, in which he detailed the 10 abnormalities of his case.
Activists at Risk

The Venerable Thich Quang Do passed away on February 20, 2020. Thich Quang Do is one of the last leaders of the An Quang Temple, or The Unified Buddhist Church of Vietnam (different from The Buddhist Sangha of Vietnam), the religious association established during the existence of the Republic of Vietnam during the Vietnam War. The Unified Buddhist Church in general, and the Venerable Thich Quang Do in particular, have faced serious harassment and human rights violations after the reunification of the country. He was imprisoned in re-education camps and the regime's rehabilitation centers for over ten years and was put under house arrest starting in 2003. Thich Quang Do was nominated for the Nobel Peace Prize and received many other human rights honors.

The police invitation sent to Truong Minh Huong, Source: Facebook Truong Minh Huong
On February 6, 2020, activist Truong Minh Huong was "invited" to work with the public security of Kim Bang District, Ha Nam Province concerning his online posts and video clips. As the activist points out, the "invitation" has several issues, such as being titled as an "invitation," but referred to as a "summons" within the text. This is illegal under Vietnamese law since the authorities can only summon a person for judicial purposes after a crime is officially prosecuted. Due to concern for his personal safety, Huong decided not to comply with the invitation. Huong is a victim of land grabbing, and he has participated in many sovereignty protests.
On February 17, 2020, the public security of Ha Noi City surrounded the house of the famous blogger "Nguoi Buon Gio," or Bui Thanh Hieu. According to Hieu, many public security officers and surveillance forces flooded his house to "search" for illegal and smuggled goods. However, he had only sent face masks from Germany to Vietnam for charity purposes during the outbreak of coronavirus. Bui Thanh Hieu was part of the first generation of bloggers and activists in Vietnam. He has reported on and provided the public with important information about the ruling party and has advocated for democracy. He is currently living in Germany.
Community at Risk
Source: Facebook Trinh Ba Phuong
At 10:00 am on February 20, 2020, twenty 
public security officers surrounded Du Thi Thanh's house
. They proceeded to read out loud a search warrant and request to access the house. This house is where public security officials killed Thanh's husband, land rights activist Le Dinh Kinh, in a raid in Dong Tam Commune on January 9, 2020. Many observers believe that the authorities wanted to take the condolence money, which had been sent directly to Le Dinh Kinh's family after the authorities successfully froze the condolence money in the bank account of activist 
Nguyen Thuy Hanh
. According to witnesses and a security camera, Ms. Thanh's blood pressure spiked, resulting in her fainting. The police force refused to let her go to a nearby hospital and only allowed a medical worker to help her when her health was in a serious state. After an hour, many other villagers came to the house and recorded the event, and the public security forces decided to leave.
This harassment of the family of Le Dinh Kinh, whose death might have resulted from an extrajudicial killing by public officials, would constitute a direct violation of the Minnesota Protocol on the Investigation of Unlawful Death, which requires that "Family members should be protected from any ill-treatment, intimidation or sanction as a result of their participation in an investigation or their search for information concerning a deceased or disappeared person. Appropriate measures should be taken to ensure their safety, physical and psychological well-being, and privacy."
In case you missed it, on January 9, 2020, security officers entered the area of Dong Tam Commune while its residents were still asleep and began a widespread and violent attack against the community. The raid resulted in the death of village leader Le Dinh Kinh and the detention of over 20 people. The Dong Tam area is the site of a long-running land conflict, as farmers there claim that the government is seizing the traditional agricultural land for the development of a military airport without providing proper compensation.
International Advocacy
The EU and Vietnam held a human rights dialogue in Hanoi on February 19. The event came just days after the European Parliament 
voted to approve
 two pending trade deals with Vietnam, 
despite calls for stronger human rights
 protections in the agreements. Concerned stakeholders submitted materials to the EU and released statements ahead of the dialogue. Human Rights Watch 
urged Vietnam to specifically focus on
 "1) political prisoners and detainees; 2) repression of freedom of speech, association, assembly, and movement; 3) repression of freedom of information; 4) repression of the right to freely practice religion; and 5) police brutality." Read HRW's full submission, 
here.
 FIDH and the Vietnam Committee on Human Rights also released a briefing paper with 
six highlighted human rights concerns
: "1) Escalating crackdown on dissent; 2) Repressive 'national security' laws; 3) Labor rights; 4) Land disputes; 5) Inhumane prison conditions and deaths in custody; and 6) The death penalty."
NEWS & ANALYSIS
UK Navy Vessel Vietnam Visit Highlights Defense Cooperation
, Prashanth Parameswaran, The Diplomat, February 21, 2020: "The United Kingdom and Vietnam have a bilateral relationship that also includes a defense aspect as well, with manifestations including the U.K.'s sharing of its expertise to help Vietnam in its first UN peacekeeping mission in South Sudan, functional areas such as military medicine and hydrography, and the setting up of a new defense policy dialogue."
Vietnam's Rights Record Deteriorating Despite Regular Dialogue With West: Experts, Radio Free Asia, February 19, 2020: "Vietnam's human rights situation continues to deteriorate despite regular dialogues between Hanoi and Western nations, a social analyst and a former political prisoner said Wednesday, as representatives of the European Union and the one-party communist state sat down for talks on the latter's rights record. Independent researcher Ha Hoang Hop told RFA's Vietnamese Service that while Vietnam signed the Universal Declaration on Human Rights in 2007, its government has failed to live up to its obligations, despite monitoring by the international community."
Vietnam Advancing Ties With Russia to Hedge Against China, US, Ralph Jennings, Voice of America, February 21, 2020: "That means Russia will keep Vietnam well armed and equipped with oil while acting as a counterweight against other big countries, analysts believe, in exchange for deals and more global military clout. The outcome matches Vietnam's goal of getting along with all world powers without growing so cozy with any that it cannot stand on its own, they say."
United States Strips Vietnam of Developing Country Status, Carl Thayer, February 15, 2020: "Q5: The US would hurt Vietnam, Malaysia and Thailand's economies. How does such move affect the US' calculations over Washington's diplomatic and security relations in the region, especially when the foreign ministers are set to meet in Washington next month? ANSWER: Since 2017, ASEAN leaders clearly understood that Trump would pursue a policy of 'free and reciprocal trade' bilaterally and not through multilateral arrangements such as the Trans-Pacific Partnership. President Trump did not consult Southeast Asian countries after he imposed tariffs on Chinese goods. And Trump did not notify the affected countries that they would be taken off the list of developing countries. Malaysia, Thailand and Vietnam will have to negotiate bilaterally with the United States to secure their interests. Trump's actions will only reinforce negative views of the United States held by regional elites."
© 2020 The 88 Project
https://the88project.org/wp-content/uploads/2018/03/thich-quang-do.jpg
249
249
kayleedolen
https://the88project.org/wp-content/uploads/2019/01/88project.png
kayleedolen
2020-02-24 14:28:04
2020-02-24 14:28:04
Vietnam Free Expression Newsletter No. 8/2020 – Week of February 17-23