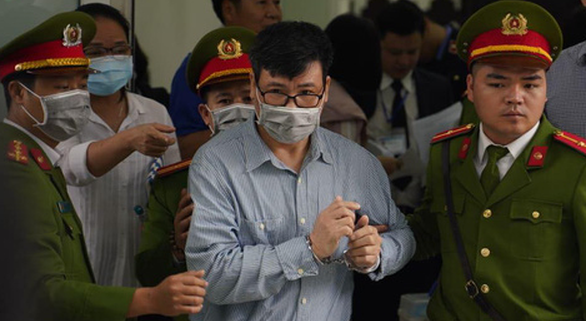 Vietnam Free Expression Newsletter No. 9/2020 – Week of February 24-March 1
Featured Image: Truong Duy Nhat at the trial on February 28, 2020 in Hanoi. Source: tuoitre.vn
Greetings from The 88 Project! We are bringing you news, analysis, and actions regarding human rights and civil society in Vietnam during the week of February 24-March 1. The much anticipated trial of journalist Truong Duy Nhat, originally scheduled for February 28, was postponed until March 9. Public security of Hanoi concluded the investigation on Dang Thi Hue's case. Political prisoner Vo Thuong Trung was transferred to another prison, much farther away from his family. Don't miss the Committee to Protect Journalists's interview with former political prisoner Tran Thi Nga, who was released early from her nine-year prison sentence in January and is currently living in exile in the U.S. Activist at risk Nguyen Thuy Hanh continues to be the target of attack by public security for her activities that support political prisoners and their families; this time she was the subject of an hour-long TV program that discredited and verbally attacked her. More lawyers have been approved to represent Dong Tam villagers who were arrested during the raid on January 9, yet there is still concern about fair trials as public security might designate some lawyers to represent the families against the families' will. More Falun Gong practitioners are being harassed by the public security for practicing or sharing their religious practice. In the News and Analysis section, read about the late venerable Thich Quang Do's life and activism for democracy and religious freedom in Vietnam, the fight for LGBT rights in Vietnam, and Vietnam's move to internationalize the Mekong river's fate. Please take action for Dong Tam villagers by calling for an independent investigation into the brutality against villagers on January 9, and sharing independent reports and testimony about the raid.
HUMAN RIGHTS & CIVIL SOCIETY
Prisoners of Conscience
Truong Duy Nhat at the trial on February 28, 2020 in Hanoi. Source: tuoitre.vn
The trial of 
Truong Duy Nhat
, originally scheduled for February 28, was 
rescheduled to March 9
, due to the absence of lawyers and concerned parties. The decision to reschedule was announced 10 minutes into the trial. As we reported in our 
previous newsletter
, one of Truong Duy Nhat's lawyers, attorney Ngo Anh Tuan, had not received any official notice about the trial from the court, resulting in his inability to prepare for the trial on time. And as the coronavirus pandemic is yet to be controlled, the attorneys requested the court to postpone this trial. Right after the rescheduling announcement, the court clerk 
served the summons
 to attorney Ngo Anh Tuan to attend the trial on March 9.

The public security of Ha Noi has concluded its investigation against activist Dang Thi Hue, who was arrested in October 2019 for "disturbing public order." They had previously accused her of possessing military equipment including guns and special knives after searching her apartment, but in the new investigation report, they conveniently crossed out this accusation due to lack of evidence. Hue was a part of the nationwide protest movement against the installation of toll booths across the country as the result of Build – Operate – Transfer (BOT) projects. Many have criticized the locations of these toll booths, alleging that they are being charged whether or not they use the new roads built by BOT companies. They also believe that this lucrative business (which can generate 50,000 USD to 100,000 USD per day) is corrupted by cronyism. In Hue's case, however, her actions specifically focus on Bac Thang Long-Noi Bai toll booth, which was already determined to be unlawful by the Ha Noi local authority ten years ago, but has somehow survived through three Ministers of Transportation. And activists protesting this toll, like Hue, still face police brutality and mistreatment. Hue is a single mother of two young children. In May 2019, she was beaten by the police during an anti-BOT protest and suffered a miscarriage as a result.

Political prisoner Vo Thuong Trung has been transferred to Gia Trung prison in Gia Lai province without his family knowing about it in advance. His wife only learnt about the transfer after she came to visit him in prison in Dong Nai province on February 27. The transfer will make it more difficult for his family to visit him, as his wife has to care for their two children, the youngest is only two years old. Vo Thuong Trung had participated in the nationwide protests in June 2018, and was arrested in April 2019 and sentenced to three years in prison under Article 118 for "disrupting security." Together with his co-defendant, he was accused of plotting an attack with explosives. However, according to lawyer Nguyen Van Mieng, the court could not provide evidence to prove that they were planning to use explosive materials since police failed to find any material to make explosive devices and confiscated their phones instead. Mieng also claimed that the four defendants only wanted to protest against a price hike in electricity and gas, as well as against the bill on Special Economic Zones.

The Committee to Protect Journalists published an interview with former political prisoner Tran Thi Nga, who was recently released from prison and exiled to the United States. In the interview, she details the torture she endured in prison, and how exile was a hard decision she had to make to protect herself and for the future of her children. About the treatment she received in prison, she said: "I endured so much. They tortured me so that I would plead guilty to the crimes of which they accused me, but I wouldn't do it. Police used guns to intimidate me, they used batons to beat me. They forcibly made me take off my clothes and then used violence, which they recorded on camcorders. They used violence to force me to put my fingerprints on documents they claimed was evidence that I admitted the accusations against me. They didn't let me see my children. They isolated me in prison and locked me in solitary confinement. They didn't allow me to buy food. They ordered other inmates to beat me and even threatened to kill me because I would not plead guilty to their accusations." Read the full interview, here.
This week, we remember the birthdays and arrest anniversaries of the following political prisoners:
Activists at Risk
Activist Nguyen Thuy Hanh
After the condolence money sent to support Le Dinh Kinh's family in the bank account of activist 
Nguyen Thuy Hanh
 (also the operating account for the 50k Fund) was frozen by the Ministry of Public Security, and Hanh herself was 
detained and interrogated by the forces of the Ministry of Public Security
 for several hours on January 20, 2020, the public security and their mouthpieces continued their campaign to discredit and attack Hanh. On February 21, An Ninh TV (a television channel controlled by the Ministry of Public Security) 
devoted an entire hour-long program
 to antagonize Hanh and her Fund. This type of development was often used in the past as a step to prepare for the arrest and prosecution of certain activists. Hanh created "Quy 50k" (or 50k Fund) to collect money from supporters and distribute it to families of prisoners of conscience. All donations 
have been publicized
 on her 
Facebook page
.
Concerning the Dong Tam case, in February 2020, several attorneys were approved as defense counsel for several villagers arrested during the incident. Attorney Ngo Anh Tuan will 
represent
 Le Dinh Quang. Attorney Ha Huy Son will 
represent
 Bui Viet Hieu, Tran Thi Phuong, and Bui Thi Noi. And according to activist Trinh Ba Phuong, six lawyers have been 
approved
 to represent Le Dinh Chuc and Le Dinh Cong (sons of deceased leader Le Dinh Kinh and his wife Du Thi Thanh) and will attend a questioning session at Detention Center No. 2 in Thuong Tin on Monday, March 2. The news came as a relief for Ms. Thanh, who has 
not received any news
 about her son Chuc since January 9.
On January 9, 2020, security officers entered the area of Dong Tam Commune while its residents were still asleep and began a widespread and violent attack against the community. The raid resulted in the death of village leader Le Dinh Kinh and the detention and prosecution of 22 villagers on charges of "murder" and "acting against officials in the performance of public duties." Families of the detained villagers have invited many more lawyers to represent their family members, but only two lawyers have been accepted so far. Attorney Ngo Anh Tuan said there is information saying the public security will designate lawyers to defend several suspects (instead of approving lawyers requested by the family), which is against the law and the principle of fair trial. Tuan said he and other lawyers will submit a formal complaint against this decision.
Religious Freedom
Falun Gong practitioner Dang Thi Hau at public security office in December 2019. Source: infonet.vietnamnet.info
On February 24, 2020, Nguyen Thi Phuong, a resident of Van Ninh, Khanh Hoa Province, was "
invited
" to have a chat with local public security for simply practicing Falun Gong. This was not the first time Falun Gong practitioners were targeted and harassed in Vietnam. Just in December 2019, Dang Thi Hau, a textile worker working in Hai Duong province, was 
harassed
 by the police in Quang Ninh province, her hometown, for "unauthorized propagating of Falun Gong materials," as she brought with her Falun Gong materials to share on a home visit. In 2011, 
two Falun Gong practitioners
 faced trial in Vietnam for transmitting programs about the spiritual group into China. In Vietnam, Falun Gong is yet to be banned as in China, but its practitioners are generally not welcomed, and the local authorities consider them suspicious.
NEWS & ANALYSIS
Thich Quang Do, Defiant Rights Champion in Vietnam, Dies at 91
, Seth Mydans, The New York Times, February 24, 2020: "Thich Quang Do had for decades repeatedly challenged, and angered, the Communist government on issues of religious and political freedom and had effectively been under house arrest since 2003. He had spent the last 30 years or so in and out of prison, under house arrest or forced into internal exile for refusing to submit the Unified Church to government control."
The Fight for LGBT Rights in Vietnam Still Has a Long Way To Go, Thoi Nguyen, The Diplomat, February 28, 2020: "The amendments to the Law on Marriage and Family 2014 came into effect in January 2015. This was an important stepping stone, paving the way for gay marriage. But there is a major flaw in the law. According to Article 8, Clause 2 of the new law, although it allows same-sex weddings, such couples are neither recognized nor protected under the law. Although Vietnam abolished its ban on same-sex marriage, the law has a very limited effect in practice. If not recognized by the state, such marriages will not be protected by law for matters such as personal and property rights."
Vietnam puts the Mekong's fate on ASEAN's agenda, Marwaan Macan-Markar, Nikkan Asian Review, February 26, 2020: "In a nod to green diplomacy, Vietnam is raising the geopolitical stakes over the Mekong River, Southeast Asia's largest body of water, which has dropped to record lows due to a severe drought and construction of large dams. Hanoi has signaled its intent to raise the issue this year as chair of the Association of Southeast Asian Nations. By putting the Mekong, which is shared by five riparian countries in the river's basin and China, on the 10-nation regional bloc's agenda, Vietnam has transformed the waterway from a subregional issue to one of greater international concern."
IN CASE YOU MISSED IT
Blogger and reporter 
Le Anh Hung
 is being subjected to psychological abuse in prison. We recently interviewed Tran Thi Niem, Hung's mother, about his current condition. 
Watch the full interview here
. Hung has been forced to receive mental health treatment against his will, despite having no history of mental health issues. Due to this and other mistreatment, Hung's physical health has severely deteriorated. His mother petitioned the government in 2019 to release Hung so that he can receive treatment at home, but Hung remains in prison awaiting trial.
TAKE ACTION
It has been one and a half months since Vietnamese security forces raided Dong Tam commune, killing local land rights activist Le Dinh Kinh, arresting community members, and attacking many homes. Many questions still surround the events of January 9, and family members of those affected and local activists are calling for an independent investigation into the events of that day. Call for an independent investigation into the events at Dong Tam commune. Share your support on social media. You can link to one of the translated testimonies from Le Dinh Kinh's wife, Du Thi Thanh, (video script testimony and letter testimony) or to the updated report from the Dong Tam Task Force.
© 2020 The 88 Project
https://the88project.org/wp-content/uploads/2020/03/Truong-Duy-Nhat-trial-2.28.20_Source-Tuoi-Tre.png
405
586
kayleedolen
https://the88project.org/wp-content/uploads/2019/01/88project.png
kayleedolen
2020-03-02 14:33:51
2020-03-06 13:13:38
Vietnam Free Expression Newsletter No. 9/2020 – Week of February 24-March 1